We've reached the fourth visit to the movies with my very own movie club. Which means it's lasted longer than any romantic relationship I've ever been involved in.
Same rules as always. I choose four films drawing on my years of watching movies, with one cult like movie, one balck and white film, one foreign language film and a lesser known movie from the last ten years.
Star Crash 1978
The death penalty is a contentious issue but one thing we can all agree on is that people who use the term "I enjoyed this film in an ironic way," should be shot to death.
Not all films have to be good or well made to be enjoyable. In fact some films can be ropey as hell and still be loads of fun. I can find great joy in passionately made "bad" movies and not in a pompous, mocking "ironic" way, but I'll be charmed by an audacious over the top, cheesy low budget movie that strives to entertain with absolutely no shame.
Like with this beauty that I discovered in my early days of renting betamax tapes, the Italian made sci fantasy romp Star Crash.
Having started filming some five months after Star Wars appeared in cinemas, Star Crash was labelled as a Star Wars ripoff, something that director Luigi Cozzi has denied since the story and design elements were already completed when New Hope hit screens. Therefore similarities such as a space civil war fought by a warlord with a giant weapon planet featuring smugglers, lazer sword duels, robots, escape pods and the rescue of a young royal family member are purely coincidental. Jeez, you even get Han Solo's "Yahoo" mimicked by a robot police officer.
Aside from this many "coincides," Star Crash comes no where near the achievements of Star Wars and stylistically has more of a Barbarella vibe to it. The special effects are poor with the spaceships looking exactly like toy models. The dialogue is silly and the acting unintentionally campy and not helped by some very clumsy lip syncing.
The story is typical pulp sci fi guff, which sees smuggler Stella Star played by Caroline Munro (The helicopter pilot in Spy Who Loved Me who's wink made many a young Bond fan weak at the knees), recruited by the Emperor of the Universe with finding the secret weapon of Count Zarth Arn (He's a Count not a Lord and that's Zarth not Darth) and also rescuing his son the missing Prince Simon.
Now if  you wanted to find some social value in  Star Crash you could look to it's progressive move in featuring a kick ass female lead striving to rescue a male royal family member and hail this as an example of subverting the gender roles of sci fi tropes. This of course would be bollocks, as the film is more concerned with getting Caroline Munro into a number of tight and  revealing outfits as opposed to advancing the cause of feminism in Sci Fi.
So with all it's faults why am I including Star Crash in this here Movie club? Well as a connoisseur of bad movies I think there is a lot of fun to be had with some cheesy camp sci fi. For a start there are laughs to be found in recognising the cast. Aside from  Munroe you my remember the actor playing  Zarth Arn being one of the Corleone hitmen in the Godfather and yes that is a young David Hasseloff playing Prince Simon. And holy shit is that really Christopher Plummer playing the Emperor of the Universe?
Yep, apparently Plummer when asked why he took the role said he'd star in a porno if it meant he could make a film in Rome.
I realise I'm looking at the film with rose tinted nostalgia when I admit to being charmed by the vintage style of the film. There are some endearing psychedelic space oddity vibes in some of the scenes. Though the special effects are cheap and rushed the combination of the stop motion robots and aliens, the clearly model spacecraft, Flash Gordon area costume designs and the gaudy camera filters give the film a lively if corny as hell aesthetic.
The film rarely dawdles and does move at a pleasing pace. There's also some enjoyment to be had in recognising the sheer unabashed nerve in producing such a blatant Star Wars knockoff (this is far from the worst example of Italian  exploitation of Hollywood moves, just check out Cruel Jaws).
Also I have to admit to liking one really creative moment in the climatic space battle blew me away as a child. The visual of torpedoes crashing through the windows of the space cruisers (yeah I know they should all suffocate) and opening up to release pair of troopers into battle always struck me as a cool concept. Now Imagine if Star Wars had done that, Darth Vader and a Storm Trooper popping out of a torpedo would have been awesome.
If you have the right sort of film viewing temperament, then a unintentionally bad movie like  Star Crash can prove entertaining by embracing it's  over the top, cheap and tacky nature. And I'll root for something cheerful like this  over than that last Independence Day movie any day.
Update: After writing this piece I've just found out that Starcrash is one of the films featured on the new Mystery Science Theatre 3000 Netflic series.
Great McGinity 1940
Quite how The Great Mcginity became a favourite film of my parents and attained a permant spot on one of the eight blank videotapes we owned (with the tab removed to prevent accidental tape over) I'll never know. I'm glad they discovered it though as I'm not sure if I'd have actually come across this hilarious political satire.
The Great Mcginity begins with a man at a bar suicidal because he has ruined his life with one crazy minute of dishonesty when stealing from the bank where he worked. The bartender in turn begins to tell him his own story of his downfall that conversely was down to "One crazy minute of honesty" in a life of dishonesty.
Mcginity is played brilliantly by Brian Donlevy and is hilariously full of venomous sarcasm. He starts off as a tramp and becomes embroiled in an election scam to vote under a false identity for $2. Mcginity proceeds to vote thirty seven times during the nigh. Despite his surly attitude and hot temper, Mcginity impresses the gang boss who is rigging the election and soon rises through his empire and eventually finds himself a candidate for Mayor of the city and later Governor of the State.
For it's time it's a subversive film, exposing the corruption of politics where anything in the system can be bought even to manipulate a bum into high office. Mcginity's problems and downfall begin when he tries to rebel against the corruption and use his position to do good at the urging of his forward thinking wife (who he initially married to make himself more electable.) Mcginity finding himself losing everything and exiled to working in a seedy bar as the price for finding his morality leaves a sobering commentay on the American political system that sadly seems just as relevant in the 21st century as it did in  the 40's.
A film of great substance in story and characterisation, combined with a script that bites with wit (it won an Oscar for best screenplay) The Great Mcginity is a classic that is well worth looking out for.
Nikita 1990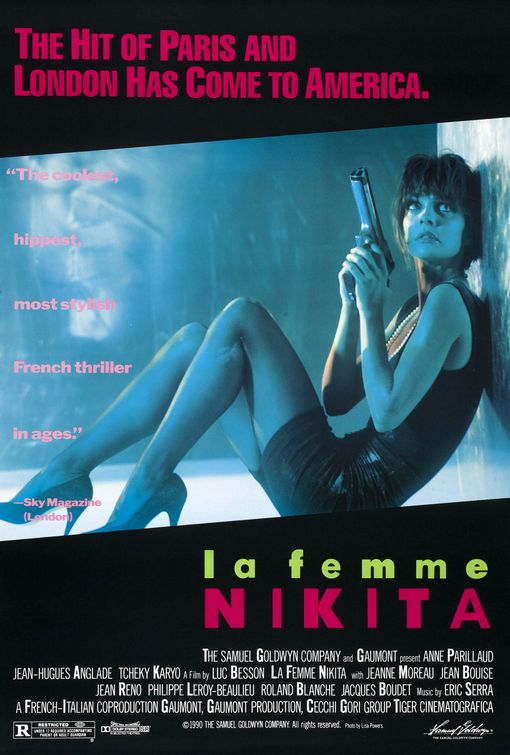 Back in days before television went all digital, if you lived in the UK and had a SKY satellite  dish then you could pick up an assortment of channels from mainland Europe to sample the cultures of our EU brethren. I pretty much used it exclusively to watch WCW Wrestling dubbed with German commentary and, I almost blush to admit it, the gameshow "Tutti Fruiti" (look it up yourselves).
I also got a taste for watching foreign movie trailers. One in particular intrigued me, for a French film called simply "Nikita." Without the benefit of subtitles I had to rely solely on the visuals, which showed a young woman who seemed to be living a double life as some sort of secret agent. The trailer switched between scenes of her enjoying a romance with a sickeningly handsome European gent to others showing her armed with a sniper rifle while in her underwear and a striking shot of her running in a short coctktail dress brandishing a massive handgun, high kicking a guard and diving through a kitchen vent to escape an explosion.
I began to love the trailer with it's deep, moody music and a sweaty, dirty vibe to it that was refreshing in the face of the bright and blandly clean looking Hollywood action films Stallone and Norris were serving up at the time. Yet without knowing where my nearest arthouse cinema was, or even that such a thing actually existed I was doomed to only see this two minutes of this tantalising film.
The day I recognised the lady in the cocktail dress on the sleeve of the video case in my local Blockbuster was one of those Randall in the good video store moments. The film was worth the wait, opening with a long tracking shot of a road and settling on a street gang marching towards a chemist they intend to rob for drugs, while a searingly cool pounding beat plays as the title "Nikita" fills the screen in glorious red letters.
The robbery descends into a shootout with police of which only the drug addicted Nikita survives. Sentenced to prison for murdering a policeman in the battle, Nikita is abducted by a shadowy government agency who fake her suicide and give her the choice of successfully training as their assassin or death.
Overcoming her own self destructive nature she eventually proves herself to have an aptitude for the training and is eventually set free into the outside world, allowed to live a seemingly regular life but with the possibility of the call and a target to eliminate hanging over her constantly.
I found Nikita to be one of the coolest movies I'd ever seen up to that point. Enthused with style that seemed so exotic to me and with tense, violent action scenes the drama of which was  sold incredibly by Anne Parillaud who enthused Nikita with a vulnerability despite her toughness that allowed her to show her fears in near death situations. I also liked how detached Nikita was forced to be from her missions, never knowing more than her shadowy masters needed her to, knowing little of her targets or why she was being ordered to kill them.
The film also featured a chilling character in Victor "The Cleaner" a Mister Fixit sent to clean up the mess when a mission went awry (a concept that Tarantino would also adopt for Harvey Keitel in Pulp Fiction). The cold, ruthless Victor was played by Jean Reno, who would star as a gentler take on the role in  Besson's American made Leon.
I adored Nikita the film and fell in love with the hot headed, brash, tough but emotional character. So enduring was she that she spawned a Hollywood an almost scene for scene remake just a few years later in The Assassin, staring Bridget Fonda and surprisingly was nowhere near as good. Much better was the television series La Femme Nikita in 1997, which although being more outlandish and nearer James Bond in tone than the film was still a fun and popular show. Yet another show appeared in 2010 starring Maggie Q that was a tight modern take on the story, featuring a Nikita who has escaped "The division" and is plotting to bring them down. It was an exciting action series with twists and a serious tone that lasted for four seasons.
Black Widow ain't got nothing on Nikita.
Rubber 2010
If you believe that any film's plot can be summed up in one sentence, then for Rubber it would go something like "A car tyre goes on a killing rampage through smalltown America."
And that's exactly what happens in Rubber. A car tyre comes to life, develops telekinetic powers and the ability to blow people up and  goes on a killing spree (there is a scene where he witnesses a bonfire of burning tyres which may explain the motivation of  his ramp). How and why the tyre comes to life is never explained, in fact that is the crux of the whole film as the philosophy behind the film (as stated in a monologue at the start of the film) is that things happen "for no reason." Personally I love this as I think a problem with films these days is their desire to explain and reveal everything that happens, making me long for a film like Duel where the identity of the mysterious truck driver is left open. And don't get me started on why anyone felt the need to reveal where the Ark of the Covenant actually ended up after the wonderful ending in Raiders of the Lost Ark.
To add to the weirdness of the killer car tyre, there is also a subplot where a group of spectators stand in the desert with binoculars  to watch the movie unfold, commenting  and  asking questions throughout. Later there is an attempt to end the film early by killing this audience and when it fails the film has to continue. Again, remember "for no reason."
Rubber has divided audiences, some loving the creativity and finding it a clever satire on movie watching while others regard it as typically pretentious up it's own arse arthouse bullshit. One review described it as "intellectual wankery of the highest order in the sheepskin of a B-film of the lowest order" which sounds pretty negative to me but is apparently is considered praise of the film.
I personally enjoyed Rubber, finding the tyre's story entertainingly ridiculous and the the fourth wall breaking audience story providing  some clever gags. Either way, love it or hate it, there is nothing quite like it and it can't fail to draw a reaction from the viewer even if it's "What the fuck is this shit?"
Next time out I'll be covering the found footage film of a serial killer, a brother living up to the legacy of his streetfighting brother, a homage to explotation movies and COWBOYS VS DINOSAURS.
Til Next Time
Dazza