Day 3 of my Shimmer weekend started by me being awakened in the early morning by a complaining customer back in San Antonio bitching about not getting her newspaper (one of my jobs is newspaper delivery). One day I will learn to turn my phone off on Sundays.
I had a busy day ahead of me and I had a very early flight Monday morning so I moved from the Hyatt in downtown Chicago to a Quality Inn by Midway Airport. I basically jumped in an Uber drop off my bag, jumped in another Uber and made my way to Berwyn for the Shimmer show. I got there at 1pm when the show was supposed to start but the line was a block long and was not moving. This lead to one of the biggest highlights of the weekend for me as I decided to take a walk and stretch my legs. As I did, I walked right into Kay Lee Ray behind the Eagles club and proceeded to have a very long conversation about all kind of things including her art work. She is a total sweetheart and I feel I went from fan to friend by the time it was over. She Had to go back in and I made my way back to the line which started moving with in a minute so everything worked out perfectly and it was time to watch some more kick ass wrestling.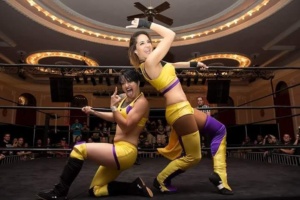 Nixon Newell b Veda Scott
This was a rematch of the very first match from day one, and Nixon came for revenge. Veda had her usual monster heat and the two had an even better match than on day one. Nixon who had already made a great showing the last two nights came into this showing some awesome fire. No matter what Veda did Nixon just wouldn't die and finally got her revenge and the win.
Melanie Cruise & Yumi Ohka b Scarlett  Bordeaux & Solo Darling
When the baby faces came out I had no idea who Solo's partner was other than thinking to myself, goddamn is she good looking. It ended up being the debut of Scarlett who was mainly a valet in ROH. This was not a wrestling classic but it was a very fun match and even though Scarlett was the greenest wrestler in there, she did a good job, mainly at getting her ass kicked but you do have to pay your dues. I think she earned a return. Solo was great at being Solo all weekend and Cruise & Yumi earned a title shot at the next tapings.
Arise Nakajima b Rhia O'Reilly
It seemed like every day and every time Rhia came out she had a few more people cheering and supporting her even though she was the heel in the matches. Really good match. Arise is excellent and Rhia is becoming one of my favorites to watch.
Nicole Matthews b Thunderkitty
Before the match they did one of Portia Perez new interview segments and she pissed of Thunderkitty, so Matthews had to come out and stop her from beating up Portia. She also said since she was the locker room leader she would not just give the young girls a chance but the old ones too. Leader-Taker with the win but Thunderkitty with another great showing.
Tessa Blanchard b LuFisto
This match was set up on one of the other shows where LuFisto challenged Tessa to come out and fight with out her bodyguard Kraven. To everyone's surprise, she did come out to fight on her own and put up a fight. However, LuFisto dominated most of the match until Kraven made her way to the ring to help Tessa win but Tessa claimed she did it on her own.
Ryo Mizunami b Courtney Rush (Rosemary in TNA)
Ryo got rid of the mask and came out with USA themed sunglasses and led the crowd in chanting "USA." Courtney's Demon gimmick just scares the shit out of me and I don't know if I will ever be able to ask her to take a pic with me. Great match.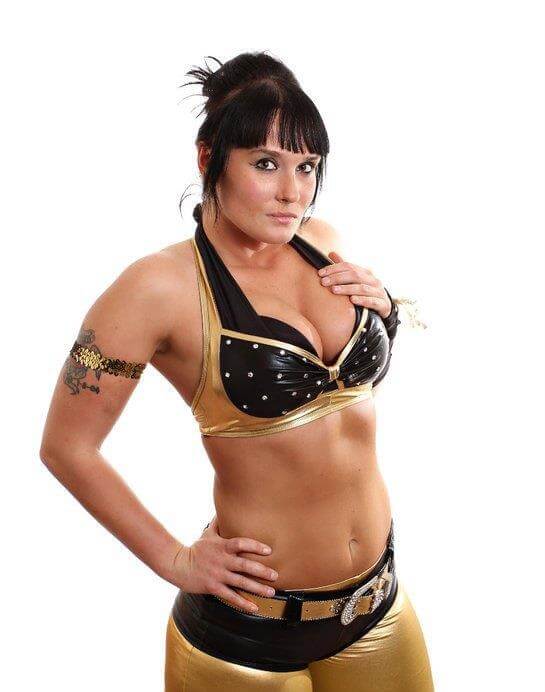 Nicole Savoy b Jessicka Havok to retain the Heart of Shimmer title when  Shayna Baszler hit Havok with a baseball bat
These two were having a great match until the ref went down and Shayna hit the ring and grabbed Havok's baseball bat. She stood over Nicole just waiting to kill her. As she stood there Havok made her way to her feet and Shayna glanced at her, and then back to Nicole, and SWERVE! Shayna smashes Havok and Nicole gets the win and then the two of them destroy Havok like I have never seen in my life. They beat her down bad and it looks like we have a new team. I'm scared for everyone they face.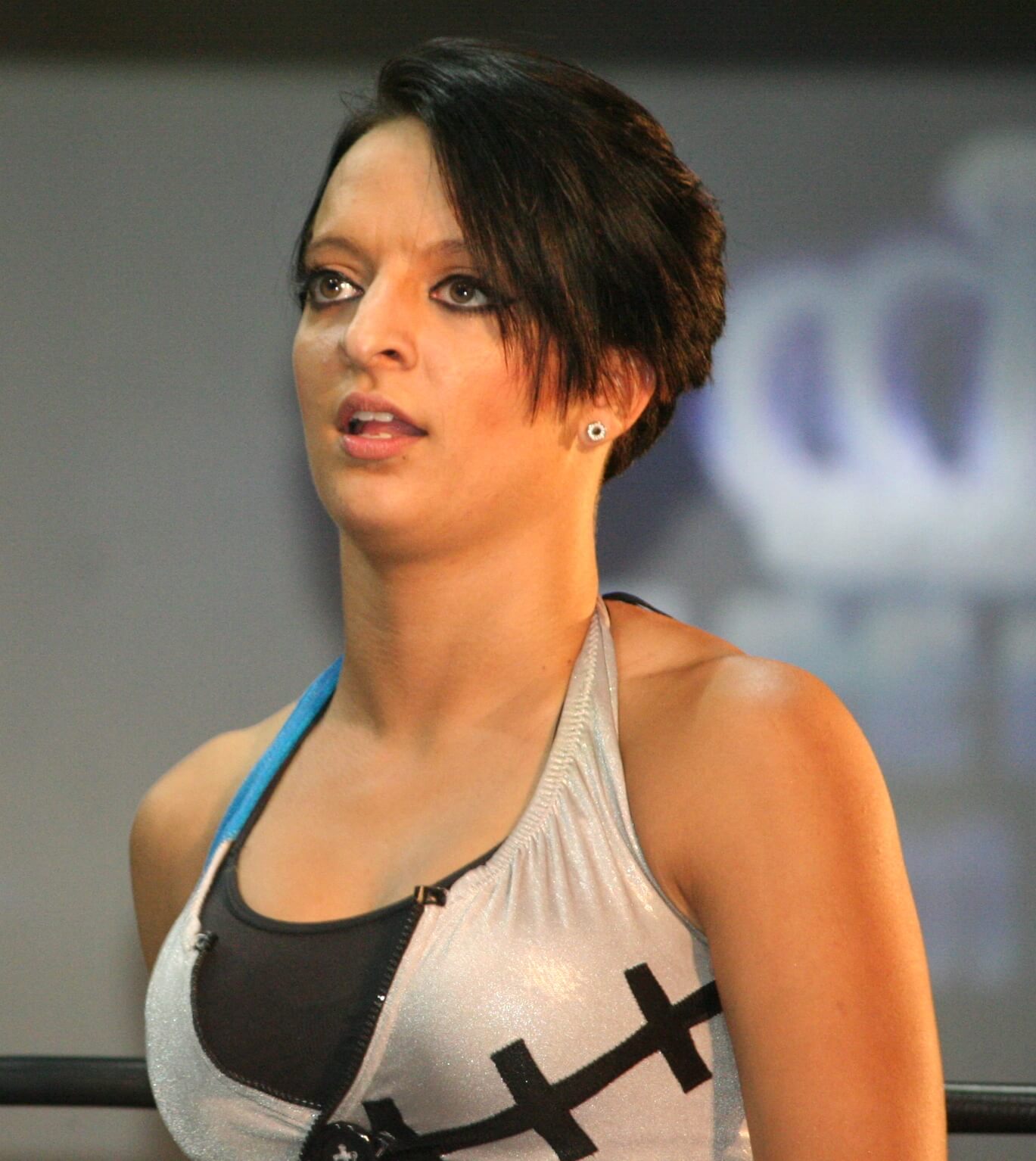 Evie & Heidi Lovelace (Team Slap Happy) b Cherry Bomb & Kimber Lee (The Kimber Bombs), KC Spinelli & Xandra Bale (Bale-Spin) and Kay Lee Ray & Mia Yim (WDSS) in a four-way elimination match to win the Shimmer tag team titles
Friday when Evie & Heidi lost I was devastated and hurt. It was like being a kid and watching Kerry Von Erich thinking he just won the NWA World Title from Ric Flair only to find out that Ric got himself DQ and kept the title. The next day when WDSS didn't win I was just as upset and like I mentioned in the other reports I WANTED TO KICK DAVE PRAZAK IN THE BALLS! I also re-wore my Team Slap Happy shirt in hopes that this time they would win. The match started with one of the funniest things I have ever seen in a ring. The 3 teams threw out Kimber and as Bale-Spin and Slap Happy held Cherry bomb down, Kay Lee Ray and Mia pulled out some tape and they proceeded to cover the mouth of Cherry Bomb to keep her from making those horrible sounds. She dove out of the ring with her eyes bugging out and after trying to scream but unable to, waved at Kimber to remove the tape. Kimber ripped it off which caused Cherry to let out a squeal that had to be the loudest thing I or anyone there has ever heard. The sonic boom from it was so powerful all 6 wrestlers in the ring took a bump (GOD I LOVE PRO WRESTLING). The first few minutes of the match were great, with all 3 teams taking turns killing the Bombs. WDSS eliminated Bale-Spin, and the bombs then quickly rolled up WDSS to eliminate them and then it was down to The Bombs and Team Slap Happy. I was on the edge of my seat and I was freaking the fuck out. I lived and died with every pin attempt. Then the ref went down and here comes the belt shot but this time they missed and TEAM SLAP HAPPY ARE YOUR NEW SHIMMER WORLD TAG TEAM CHAMPIONS! And I, a grown ass man, was jumping up and down holding back tears at what I just saw. I also now just wanted to give Dave Prazak the world's biggest hug.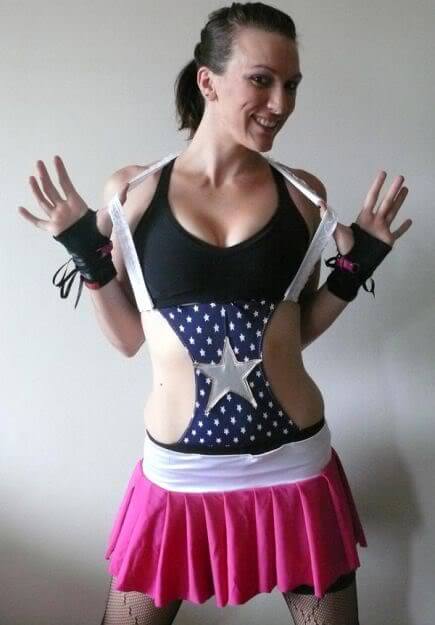 Kellie Skater b Madison Eagles via count out in a Shimmer title match. Eagles retained the title.
Awesome back and forth match between these two. I think one day Kellie will make a great Shimmer Champ. The match ended when Eagles was unable to beat the count back in the ring. When it was over, Eagles got the mic and said that the fans deserved to see a real winner, and If Kellie was going to win, she deserved to win the title. Soe she asked to have another match with Skater so there could be a clear cut winner. Kellie answered with her trade mark I GOT THIS.
INTERMISSION: It was Intermission time and yes I ran over to where Team Slap Happy was going to be because I just had to congratulate the new Champs… And I have written so much about this show I have decided this is now a 4-part Road Trip.