@MichaelCoughlin
The Nevada Athletic Commission (NAC and formerly NSAC), and other state athletic commissions governing MMA Performance Enhancing Drug rulings (as well as rulings on fighter conduct and other potential violations) do not have a proper check on their decisions.  In other words, if they get something wrong, instead of an independent 3rd party evaluating their rulings, the athletic commissions get to review their own work.
Someone being judge, jury, and executioner isn't a problem.  Someone being legislator, detective, and judge is.  It is the latter category athletic commissions everywhere fall into.  Last week's Nevada Athletic Commission hearing addressing Anderson Silva's guilt in using PEDs illustrated the institutional deficiencies in this set-up. It should be changed.  This is how.
WHAT IS WRONG
This is not specific to the NAC but we will use them as our most recent example as they're generally the tail wagging the dog.
We've been inundated with the phrase "checks and balances" for so long that it's easy to forget exactly what that means and why it is important.  It is literally (and I mean literally the way it's supposed to be used) one of the founding principles of the United States government. It's why our country improves over time. Once upon a time, women couldn't vote. It was a law. But laws are not written in stone. The times are always a-changing, and as we the people grow and learn, we update the rules. This is only possible because of the checks and balances our founding fathers put into the Constitution.  And do you know why?
Because they weren't perfect and were smart/honest enough to admit it.
Whilst technically the rules and regulations are passed by statute (as a general rule), in practicality it is the athletic commissions themselves that make up the rules that govern athletes, as that is their raison d'etre.   And of course they also oversee the collection of blood and urine specimens for drug testing purposes, receive the results, and then hand out the penalties for any failures.  An athlete's only viable recourse is to challenge the results – in front of the same group of people who just levied the accusation.
This is clearly outlined in the Nevada Athletic Commission regulations:
467.922 NAC  Complaint: Filing; service of copy on respondent. (NRS 467.030)

The Executive Director or a Commissioner

may institute disciplinary proceedings described in NRS 467.110 to 467.117, inclusive, or 467.157 or 467.158 against a person who is licensed pursuant to this chapter by filing a complaint with the Commission. If a Commissioner institutes disciplinary proceedings pursuant to this subsection, the Commissioner shall not take any part in the adjudication of the matter.

(Added to NAC by Athletic Comm'n by R083-00, eff. 9-22-2000)
(Emphasis added) SOURCE
The "check" is that whichever member signs the charging documents then does not take part in the proceedings. The NAC is a panel of multiple "cops." They all pass the laws. One carries out the arrest. The others then decide the allegedly guilty party's fate.
And in the case of Silva, it was Executive Director Bob Bennet (more on him later) who drafted and issued the initial complaint declaring that Silva had cheated.
Put another way: the members of the commission had their boss tell them someone had cheated and were then expected determine if he'd made a mistake.
This isn't how it works anywhere else in life.  The cop that arrests you doesn't then decide if his own arrest was done right.  Because: duh.
In baseball, a challenge to any drug failure is brought before an independent tribunal because, again: duh.
Society has allowed things with athletic commissions to play out in what is usually deemed a quasi-judicial manner because the stakes aren't as high as being convicted of a crime. But as we've laid out HERE, careers are at stake. Things have to change.
HEARINGS ARE A STAGE AND ALL ARE ACTORS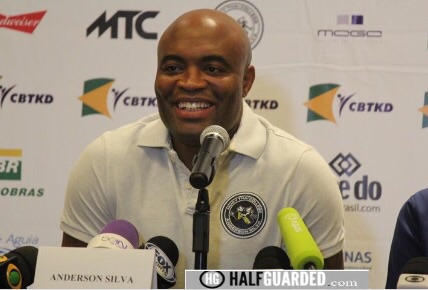 The way the Silva hearing played out shows why this is necessary.   The athletic commission panel members themselves were regularly questioning – often aggressively so – Mr. Silva (and others) during his hearing.  The formal rules of evidence that are sacrosanct within the legal community were glossed over at best and ignored at worst.  They could and did ask leading questions, had multiple interpreters involved, and with little order to the process at all.  Sometimes the state would speak, sometimes Silva's team, sometimes the commissioners themselves would go on diatribes that seemed more aimed at lecturing than questioning.
Then, when it was all over, they deliberated.  In public.
And not just in public, but broadcast to the entire world via UFC Fight Pass.   We want hearings to be public.  This is a good thing.  It lets the public see whether the process plays out in a fair manner or not.  None of the things that were written by the press about the hearing could've been had it been held in private. If the proceedings weren't public we wouldn't know what a joke they were.
But the deliberations?  Their being public encourages poor decision making. Commissioners are human and whether consciously or subconsciously, knowing your thoughts are consumable makes dissenting all the more difficult.  The movie 12 Angry Men doesn't happen if the jurors were on TV.
Courts around America often prohibit cameras from broadcasting trials because of a fear that a lawyer might play to the camera.  If there is a legitimate reason to believe that someone who is supposed to be a biased advocate would play to the public – and that implicitly this would be bad – it is exponentially worse if the decision makers could be victims of that same human flaw.
The issue of whether there should be cameras in Federal Courtrooms was brought up and Federal Judge Julie Robinson laid out the case (ahem) for why she opposed them:
"Court proceedings, said Robinson, are a "search for the truth," and as such can get messy and uncomfortable. Witnesses especially, said Robinson, might be reluctant to testify in full candor knowing that "their boss, their minister, their next-door neighbor" might be watching."
(Credit: The Washington Post)
Supreme Court Justice Anthony Kennedy; March 2007:
… If you introduce cameras, it is human nature for me to suspect that one of my colleagues is saying something for a soundbite. Please don't introduce that insidious dynamic into what is now a collegial court. Our court works…We teach, by having no cameras, that we are different. We are judged by what we write. We are judged over a much longer term. We're not judged by what we say. But, all in all, I think it would destroy a dynamic that is now really quite a splendid one and I don't think we should take that chance."
(Emphasis added)
Whilst having the decision that is eventually rendered be written out and explained is not only good but should be encouraged, the path taken in reaching it should be private.  You don't want to see how sausage is made.
This is to say nothing of the make-up of the commissions themselves.  They aren't all filled with lifelong fight fans who only want to be involved in the betterment of the sport.  Many are political appointees – maybe someone who made a donation or is friends with someone in power.  Or they may be people with their eyes set on a higher profile position – future political ambitions.
We are entrusting politicians with the fate of MMA's biggest stars. Politicians who may run for offices where their primary voters dislike MMA. Taking a tough stance against MMA, regardless of whether their stance is correct, could win them elections.
How many Republicans win elections when they side with President Obama?  How many Democrats are still in office after supporting President Bush?
We have a system where non-experts act as experts, write the rules, play cop to enforce the rules, and then play judge to determine if the rules were actually broken and if they themselves had done their job properly in enforcing the rules.  Human nature being what it is: we tend to cover our own asses when push comes to shove.
And it is fair to say that a good many commissioners around the country if not world are simply good, fair people who want to do the right thing. But process is important. It is boring. It is dry. It is the foundation that prevents good men from doing something bad.  And it fixes mistakes.
THE FIX
Simple enough really.  Checks and Balances.   There should be clear lines of separating those who enforce the rules from those who decide if enforcement was proper.
After word first broke of Silva having failed his drug tests, NAC Executive Director Bob Bennett told Ariel Helwani, "I think it's very unfortunate" and that he was disappointed in the news.
Note: these comments were made before Silva ever had a chance to examine – let alone challenge – the evidence against him.  In the mind of Bennett, Silva was already guilty. And then the very same commission which he runs later decided Silva's fate. Seem fair?
It's the same reason why when someone is convicted of a crime they appeal to an appellate court – an entirely different group of people who are completely removed from the original decision makers.  It isn't that we should expect the original deciders to be purposefully improper, it's that when dealing with years and years of someone's career, and potentially hundreds of thousands, if not millions, of dollars, removing any potential bias – or even the appearance of bias – is necessary.
There should simply be:
An independent tribunal that's only purpose is to hear challenges from fighters alleged to have violated the rules.
All deliberations should be held in private.
All decisions should be delivered via written statement, with a series of facts having been formally found and the basis for the commission's decision made clear. Ideally they should be written out no earlier than 24 hours after a hearing and no later than 72 hours. Give them time to sleep on it but not too much time.
Any dissenting commissioners should be permitted to issue a dissenting opinion, in the same manner the Supreme Court of the United States issues its own decisions.
Further, there should be an effort to present far more normal and orderly hearings. There should be simple opening statements made by the accusing party (the state), rebuttal opening from the defending fighter, the simple presentment of facts and witnesses by each side with an opportunity to cross examine, then closing statements by both sides: like how a trial works.
And due to the less formal nature of the proceedings, questions could be asked by the tribunal but should be done so in written form. Whilst orally asking questions isn't bad per se, it does lend itself to a lack of clarity at times and the chance to pontificate – all of which was on display at the Silva hearing.
Compare the above proposal to how Silva's hearing proceeded. There was little order, no one seemed to know when the proceeding even begun, parties talked over each other, commissioners conducted their own cross examination, and no one was even sure what Silva had actually said.
Pause and consider that again: Anderson Silva ultimately lost in excess of 1/3 of a million dollars and no one present was entirely sure what he had even said in his own defense.
Dana White and the UFC should be considering that some more too.  One of their best and most in-demand fighters (meaning millions of dollars in pay-per view buys) can't fight for a year, and when he comes back will be eternally tainted, as will his legacy, and NO ONE WAS SURE WHAT HE WAS TALKING ABOUT.
It should be boring
All of this sounds boring. It should be. It seems technical and dry. It should be. The mechanisms of the law aren't sexy like on TV. But they're important. How important isn't even a $64,000.00 question, it's a $380,000.00 question. And soon it'll be a two years without a future in question.
Journalists, fighters, and the public at large should not watch a hearing and walk away with near unanimous laughter at what just transpired (seriously, who didn't have at least a bit of a laugh thinking of Anderson Silva's penis pills? That is, other than Silva and the UFC, who lost millions of dollars in potential revenue if he'd been able to fight a few more times this year). Find an outlet that thought the Silva hearing was anything but laughable and I'll find you a liar.
These aren't major changes that are shrouded in controversy. These are feasible. They can be implemented without any issue. If we expect athletes to conduct themselves in an upright and professional manner, why not the same of the athletic commissions?