@MichaelCoughlin
@HalfGuarded
Yesterday, the saga of the Nevada Athletic Commission (NAC or NSAC) continued as justice took a back seat to posturing. Before the proceedings against Nick Diaz even started I wrote:
Remember, NSAC is a joke with no accountability (seriously, read that article for a TON of details on how NSAC is a joke) and they'll fuck Diaz over here no matter what.
And that is exactly what happened: the Nick Diaz suspension embarrasses Nevada more than it did anyone else. It makes me wonder why they even bother having these hearings. The hearing with Anderson Silva was must watch TV for the sheer absurdity of it all: the greatest of all time blaming a steroid failure on black market Viagra. It was a farce.
What happened to Diaz, however, was a farce but not in the same way. Where Silva's lawyers and team seemed confused, out of sorts, and generally just unprepared, Diaz's lawyer had his case down. As most reading probably know, I'm a lawyer. The kind that practices law. I go to court. I prepare evidence. I develop trial strategy: when to present a witness, what they'll say, how to bring out good and bad testimony, all that. So, let me say again: Nick Diaz had one heck of a good lawyer.
He took apart the NAC's case piece by piece, leaving behind nothing but artfully shredded hearsay. Nevada had it's pants around its ankles. And yet at no time did I think for one single second they wouldn't stick to their guns. That's how they roll.
The evidence they used to convict and punish Diaz was twofold:
1. the failed drug test
2. that he "lied" on his pre-fight medical questionnaire about whether he'd used marijuana in the 30 days prior to the fight.
Let's start with number one.
NEVADA DID NOT PROVE NICK USED POT
On the night Diaz fought Silva, he took three tests. Two of the three said he did not have impermissible levels of marijuana in his system. One did.
What they did was tested him before the fight, when he would be at his healthiest. This test was sent to what I'll shorthand call a WADA facility. It said he was clean.
The second test was taken immediately after the fight. Having gone through – I can't say grueling because it wasn't like they had some slugfest but still a professional fight – Nick gave a sample. It was sent to Quest labs. There's a Quest labs down the street from me. It's also, until recently, generally the lab Nevada uses. It said Nick failed.
Then a third test was administered somewhere in the neighborhood of an hour after test two. This test was sent to the WADA lab. It said Nick was clean.
The levels of pot in Diaz's system are important. (This isn't exact. They're ballpark figures and paints the picture for you.)
Failure is 150
Test one: 50
Test two: 700
Test three: 60
One of these is unlike the other two. One of these was the result of a lab which is universally just not as good as the other. One of these was taken by a collector who admitted he didn't affix his initials to the sample, in violation of protocol, which sounds minor but also allows for tampering to take place without anyone knowing and was done with Nick's name shown, depriving him of anonymity which is of utmost importance in drug testing. Further, WADA labs require more urine be collected than does Quest, presumably because the bigger the sample the more accurate it will be.
This is what they used to suspend Nick Diaz for five years. Two out of three ain't bad – except for Nevada.
I praised Diaz's lawyer but credit also to his expert witness. He knew his stuff at a level that no one else in that room did and I'm willing to bet many of the commissioners didn't understand what he was even saying. His command of the material was second to none. He couldn't have been more credible. When commissioners, desperate to find something to hang their hat on, questioned him, they asked irrational questions, nonsensical questions, and mostly just looked stupid.  It's Vegas, so it isn't the dumbest anyone will look this week but it was pretty bad.
NICK DID NOT LIE ON HIS PRE-FIGHT QUESTIONNAIRE
Before every fight, athletes have to list what they've taken and what injuries they have, etc… These are perjury traps within the legal world. No one expects them to be accurate because fighters are injured all the time and aren't ever going to list an injury that could prevent them from fighting. Duh.
Nick did not list that he'd used weed within the past 30 days. Nevada had NO evidence that he had. Instead, what they had was a series of somehow leaked tests, which would very likely not be admissible in a real court of law, where NICK HIMSELF was taking drug tests to see if he'd pass. He supposedly didn't for a bit until he finally did. Then he applied.
(How Nevada knew of privately administered tests is a story for another day. But: shady.)
This isn't a bad thing – it's a SMART thing. I once knew a fighter getting ready for a chance with a major company. The first thing I did was rush out and get an over the counter piss test because I knew it'd be better to turn it down than to fail the test. All I wanted was information. So did Diaz.
Did Diaz have trouble getting a negative test? Maybe. But that doesn't mean he was using in the prior 30 days. Marijuana is a funny drug, one that is tough to always get an accurate half life analysis on. It can show up in hair far longer than it can in saliva vs urine vs blood.
(Side note: ONE OF THE COMMISSIONERS ADMITTED THIS IN THE OPEN HEARING. OMG!!!!!)
It can linger longer depending on body composition, prior usage, etc… Nick uses pot. This isn't a secret. He very well could have smoked pot in December and was simply seeing when his system had cleared it out. Therefore, when he signed the pre-fight questionnaire saying he hadn't used in the prior thirty days he easily could have been telling the truth. The burden of proof is on THEM not HIM.
MONEY MONEY MONEY
That's all that matters. Diaz didn't get officially licensed for the Silva fight until a few days before it actually happened. Nevada knew this. Nevada *knew* what Diaz was doing – we all did. It's Nick, the Lovable Pot Head! How did Nevada respond? They granted him a license to fight. They were all too happy and ready to collect their % of the money the fight would bring in.
And then they were all too happy to collect their % of Diaz's purse (1/3 of $500,000 = $165,000). You can add to this the $380,000 they collected from Anderson Silva following his suspension and those are some fat coffers. All told, Nevada made $545,000 in just fines, plus their % of the gate. The highest paid person at Silva vs. Diaz was … the state!
Compare this to how Nevada works everywhere else. USADA – whom we have detailed in depth in a way no one else had – recently let Floyd Mayweather off the hook for a variety of drug failures and hid them. And in what is truly truly troubling: when Mayweather was sentenced to jail for beating a woman the judge delayed the sentence so Floyd could fight!
"Your honor, I can't go to jail, it's not convenient for me!"

"Oh, well, sure. That makes sense. Let me know when's good for you, ok?"
In contrast, the following exchange occurred at the NAC hearing:
"I move for a lifetime ban."
"I dunno. Lifetime is a lot. I know he's lied but this is weed."
"I could do five years. That's effectively a lifetime ban for someone at his stage in a career."
"Oh, yeah. OK. Five years instead."
One commissioner went on the record as saying she wanted a lifetime suspension, some thought that was too harsh, and so then gave him five years while admitting that it was the same thing as a lifetime ban. A lifetime pot suspension!  Maybe Nick should have asked for – and received – a job after using multiple forms of steroids ala Chael Sonnen.
What Comes Next
And should – and I really hope they do – Diaz's team take the next step, it will be to appeal to one of those same judges. Maybe not Mayweather's buddy but the appeals process (in Illinois – so I confess if it's somewhat different in Nevada but these things are usually somewhat uniform) is generally that someone unhappy with a commission decision can challenge it in a Real Big Boy Court.
As a COMPLETELY irrelevant aside, these were the initial proposals for punishments under the NEW drug guidelines: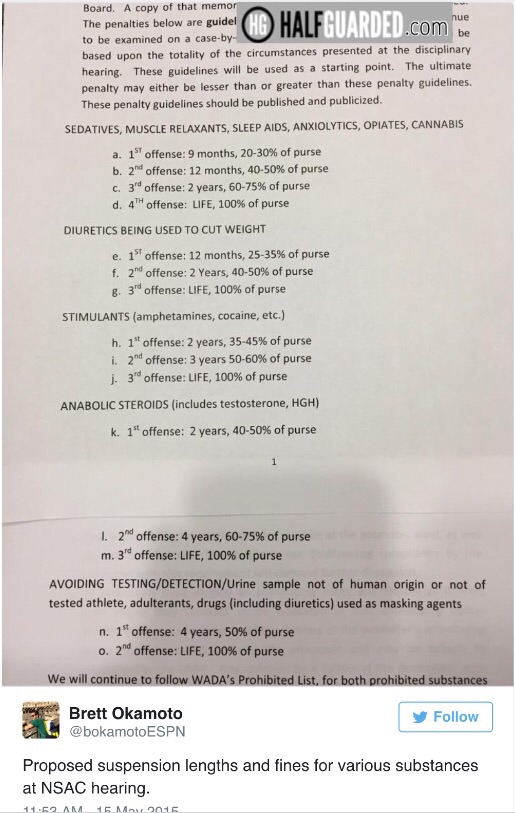 I don't see five years for weed on that one at all. Congrats, Nick: you're the last fighter to NOT benefit from new guidelines.
Nick has a strong case to beat this. He should beat this. I'd tell him to not worry and be happy but even Bob Marley wouldn't have enough weed to make any of this be alright.