My first Couch Zone Movie Club was such a roaring success (I personally know of three people who read it and there were many more who clicked on it by mistake thinking it was the latest episode of Comic Conversations) that inevitably it has spawned this sequel. This  instalment, which in the tradition of sequels will be no where as good as the first, will once again highlight  four lesser known movies from my misspent life. As always the four categories are a cult like movie, a black and white film, a foreign language film and a lesser known film from the last ten years.
All the Marbles 1981 (also known as The California Dolls)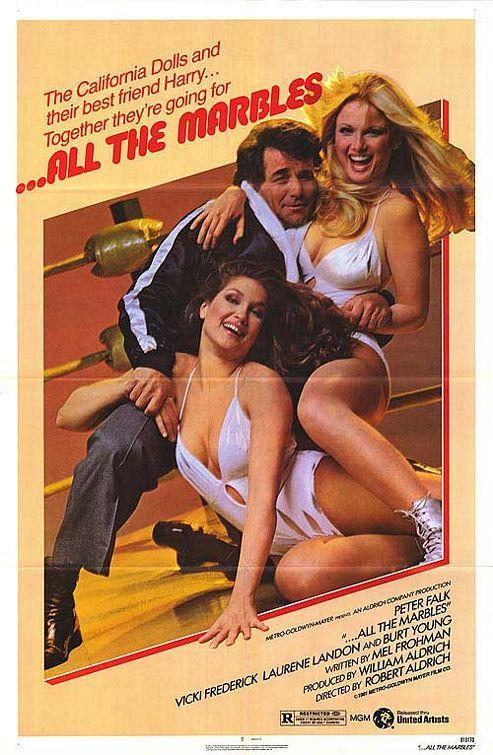 Another movie that I saw on BBC's excellent Moviedrome season, All the Marbles is possibly the only good wrestling movie that came out before Mickey Rourke donned a pair of tights 2008.  It features Peter Falk (you know, Columbo) as the manager of a ladies tag team The California Dolls trying to make a living on the pro circuit.
Along with clashing with crooked promoters and trying to make ends meet with the stresses of life on the road the team find themselves in a feud with tag champions the Toledo Tigers.
This is not a realistic behind the scenes story like Rourke's celebrated film and is instead a Rocky style underdog story, where wrestling is presented as a real contest (a nice touch is just before the title match where the referee orders the ladies to wash their makeup off so he can see cuts properly). Although there are nods to wrestling not being totally on the level, the feud between the teams begins when the Tigers complain that the Dolls didn't allow them to win in front of their home crowd.
Wrestling legend Mildred Burke trained the women for the wrestling scenes and this is probably why the action is phenomenal. The final match between the Dolls and Tigers goes on for a blistering twenty minutes of a non stop back and forth war that gets brutal towards the end. Seeing as it features non wrestlers it's to the actresses credit that it  flows and feels like an actual proper wrestling match. Ironically more so than Hulk Hogan or Roddy Piper's piss poor wrestling movies years later.
The film was not a commercial success, which is a shame because a sequel had been considered which would have seen the Dolls touring the Japanese scene. Considering the women wrestling over there at the time this would have had so many possibilities.
Some will baulk at wrestling being presented as real, but this is one of the finest advertisements for wrestling being a fun entertainment form to watch. For me personally it opened my eyes to the trying women's wrestling for the first time having held a prejudice against it when I first got interested in the American scene.
A Better Tomorrow 
This isn't just my favourite foreign movie of all time, this is one of my favourite movies full stop.
In the mid nineties a wave of Hong Kong movies hit British Video stores, absolutely wowing action films fans with over the top violence as sunglasses wearing gangsters clad in cool as fuck suits, went to war in the genre that became known as Heroic Bloodshed.
I devoured any of these films I could get my hands on but the one that stood out from the pack and stole my heart was the one that started it all. The film that cemented John Woo as the Michelangelo of action movies and Chow Yun Fat as the coolest guy to fire two guns at the same time.
A Better Tomorrow is an admittedly romanticised portrayal of two gangsters Mark and Ho (rumours have abounded that the Triads influenced the Hong Kong film industry to use it as a recruiting tool) working as heavies in the counterfeit money rackets. The two are well respected and successful but Ho is determined to leave the business to avoid conflict with his younger brother Kit who has joined the police.
On his final job Ho is double crossed by a young gangster and winds up in jail. Mark goes for  revenge against the betrayers and ends up crippled by a bullet to the leg.
When Ho is released from jail his brother has disowned him and Mark is a shell of himself, his injury reducing him to odd jobs and cleaning the car of the new, arrogant boss of the crime family. When Ho and Mark are reunited it's a truly moving and heartbreaking moment.
Ho attempts to live a clean life and to build bridges with his Kit, who hates him as being the brother of a criminal has ruined his police career. Ho and Mark  find themselves harassed both by Kit attempting to bring Ho's former  gang down and by the new gang boss who wants Ho back in his ranks.
A Better Tomorrow is a wonderful story of loyalty, friendship and brotherhood. It has a heart that puts it high above the rest of genre and has action scenes that are beautifully choreographed. One shootout in particular has become the stuff of legend where Mark hides a trail of guns in plant pots in readiness of his escape after killing the man who betrayed Ho.
As well as Woo's excellent  direction the film is complimented by an exhilarating score that hits all the emotional moods perfectly.
It may have been outdone and overshadowed in the all out action stakes by Woo's later films The Killer and Hard Boiled, but A Better Tomorrow is his masterpiece, a rousing display of cinema.
Fury 1936
For every Casablanca, High Noon and Twelve Angry there are hundreds of movies from the history of Classical Hollywood that have slipped into being practically unknown.  Case in point Fritz Lang's first American movie (after getting the hell out of Germany when Hitler rose to power) a celebrated and successful movie (with two Oscar nominations), which I'd never come across in all my years of afternoon  classic movie watching until a showing in my film studies class.
Based loosely on a true incident, Fury sees Spencer Tracey falsely arrested under suspicion of kidnapping while passing through a small town. Gossip and rumours spread amongst and town residents and the resulting hysteria incites a riot where an angry mob descends on the jail in order to lynch the innocent man.
Tracey barely survives but goes along with the belief he was killed in order to exact revenge on the townsfolk who close ranks and attempt a cover up in the face of their trial for murder .
For it's time this is a dark movie, highlighting how regular people can commit evils when subcoming to mob rule and giving in to rage. The first half of the film is frightening in the town's build towards violence and just as unsettling is  Tracey's descent into hatred when seeking revenge on his attackers.
It's not the most widely screened film but it's definitely worth a watch if you come across it.
Final Girls 2015
Comedy spoofs, particularly on horror movies are a nauseating epidemic. Often rushed, uncreative and painfully unfunny they're  nothing more than a cynical and catty cash grab.
It's therefore refreshing when something like Final Girls comes along which pokes fun at the tropes of slasher movies but is done with some thought and creativity and comes across with a degree of affection for the target of it's satire.
A young woman Max is attending a anniversary screening of a cult film Cabin Bloodbath that starred her recently deceased mother. A bizarre set of events causes an accident in the theatre that transports Max and a group of her friends into the movie. The team initially find they have to play along with the script but later find themselves able to influence the direction of the story.
There are lots of comedic gore as both the film characters and the real kids are slain at the hands of the films killer Billy (a homage to Jason). There are also pokes at the cliches of slasher movies where the real kids use their knowledge of the genre to attempt to save the film characters from their designated deaths, such as  trying to prevent them from having sex as this typically leads straight to death in the genre.
Aside from the comedy there is also some genuine moving scenes between Max and her mother's character in the film.
Final girls only received a limited cinema release with the intention to market the movie through streaming channels and internationally went straight to DVD. It's therefore reasonably accessible if you know to look for it and is definitely an enjoyable film that shouldn't be lumped in with the other groan inducing spoof movies out there.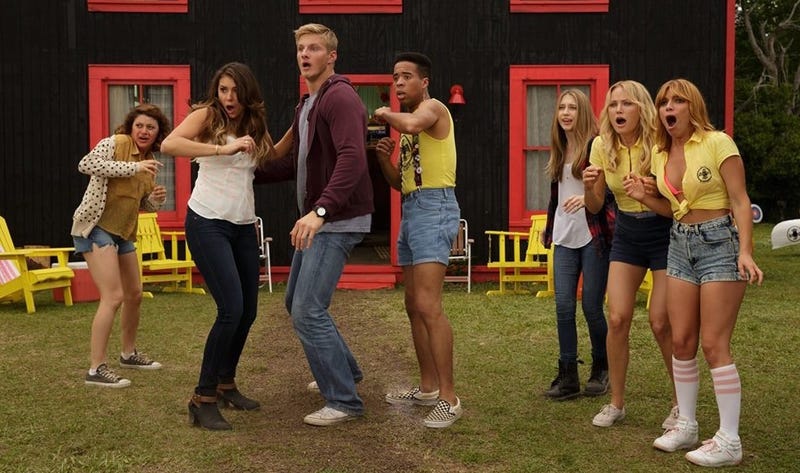 Next week's Movie Club will see a Vampire road movie, a very early anime classic, a British comedy with an unlikely serial killer couple and an exploitation film so derided upon it's release it that it was actually banned for 30 years in the UK.
BONUS AFTER CREDITS SCENE
If you read my last article you may remember how I teased that the next one would feature a British Godzilla ripoff. Well what happened is this, the film in question was Gorgo and was intended to be included in the article in the black and white section. Except that when I came to research the film I realised that my memory has been playing tricks on me (I last saw the film when I was about six) and the film is actually in Colour, in fact not just colour but Technicolour no less! (THERE IS NO "U" IN COLOR. -M)
Therefore in only my second episode of this article I'm already breaking the format rules and given you a brief bonus fifth film. You're welcome.
GORGO 1961
A fun giant monster movie that doesn't need subtitles and sees London instead of Tokyo getting fucked up? Count me in.
Gorgo is a British homage/ripoff of the Godzilla movies, which is more in keeping with the spirit of the original 1954 movie than the ridiculousness of that franchise's sequels. It also draws somewhat on the original King Kong vibe in that there is a sympathetic portrayal of the creatures (in a rarity the monster gets a happy ending) . There is an environmental friendly message with the idea that it's the meddling of mankind that leads to  the later destruction.
Gorgo sees a crew of treasure seekers discover volcanic island that is home to a 65 ft high prehistoric like creature. The crew manage to capture the creature and like arseholes sell it to a circus in London where it's put on show under the name Gorgo. Shit then hits the fan when the creatures 200 ft enraged mother comes to reclaim her kid and rampages through London to free the little un.
Gorgo utilises the Godzilla style  special effects with a guy in a monster suit stomping on miniature cities. Cynics may scoff at the dated effects, but the scenes of destruction are fun and match up well with Godzilla at it's best. There is also some nice mixing of live action in the same scenes as the monster set pieces.
I have a soft spot for Gorgo with it being unique for being a British monster movie and having an epic scale that was quite rare for the normally grounded British films of the sixties. It's a fun movie and has aged as well as most pulpy sci fi movies of that decade.
Plus Londoners getting a kicking is always fun.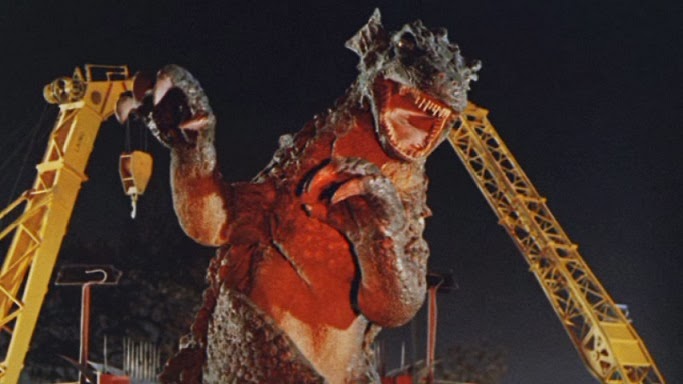 til next time
Dazza
Like my movie club or choices? Give me a tweet on @dazzabookseller I genuinely would love feedback.