One of the things I love about movies is how many you can get through in a lifetime. All you need to invest is roughly two hours of your time and bang another one to add to the video library in your mind and file under love/hate or indifferent. But no matter how many you watch they are just drops in an ocean of how many more movies there are out there waiting to catch your eye.
Visit the Cinema every week, look through your streaming channels everyday and channel surf all night long and you'll still find yourself having friends recommend you films you've never even heard of. It's also great to be able to return the favour and introduce them to movies they'd never come across normally.
That's why I'm starting this grandiosely titled movie club, where I'll be sharing some lesser known movies that I've come across over the years while studying the TV guides, taking a punt on a rental during the video store days or those evenings when I just couldn't be bothered to change the channel.
In order to give some structure to this, I'm going to be covering four films per instalment of this series. Each instalment will include one  Cultish film, one black and white movie, one foreign language movie and one largely little film from the last ten years.
So without further adieu
Knight Riders 1981
I first came across this George A Romero movie during the BBC's much missed cult film series Moviedrome. It's a weird little movie that starts with a then unknown Ed Harris in what appears to be a medieval woodland setting, dressing into his Knight gear and getting upon his trust stead which happens to be a….. motorcycle.
The Knight Riders are a travelling troupe of motorbike stunt riders, performing medieval themed jousting tournaments in small towns. Harris is the troupe's leader who wants to conduct affairs on a code of honour based upon the court of Camelot. However as the troupe's fame grows the rider's become split on the direction of the act, especially when a promoter offers them an opportunity of television and leading to a disillusioned younger rider (played by cult actor Tom Savini) making a bid for Harris's leadership.
Along the way there are clashes with corrupt local police, battles with copycat local motorbike gangs and the relationships between the troupe members.
It's a fun unique, movie, with some impressive motorbike action. There are themes of honour, integrity in the face of commercialism and Harris's own struggles with making his romantic ideals work in the modern world.
Also look out for a cameo from Stephen King as a loudmouth member of the audience.
Hell Drivers 1957
A film that appears regularly on weekday afternoon UK television (which was a source of black and white movies for me as a child) Hell Drivers was a classic of British cinema which is probably forgotten by current generations and I'm guess little known overseas.
It's a gritty, downbeat social drama (that was a staple of 50's British Cinema) that follows British legend Stanley Baker who upon release from prison gets a job as a truck driver, transporting gravel to a building site on gruelling and dangerous runs. Drivers are forced to take reckless risks at high speeds in order to make the quotas of deliveries. In one memorable scene where Baker is given an audition run, his examiner asks him to drive faster on  a tight winding road. When Baker comments that they may meet someone coming the other way the examiner shrugs and remarks "Suppose we don't. Look on the bright side."
Despite trying to keep his head down Baker raises the ire of the bullying top driver Red (played menacingly by Patrick Mcgoohan) especially when he starts to threaten his record for most runs a day. It's a rivalry that inevitably leads to violence.
This is a film that anyone interested in classic British cinema should check out, especially as it features some small roles for familiar faces in Carry on star Sid James, Man from Uncle's David Mcallum and a pre Bond Sean Connery.
Volere volare (To Want to Fly) 1991
If I remember correctly I stumbled across this Italian comedy late one night while in bed watching Channel 4 (once a godsend of a channel for anyone interested in foreign movies) and wondered what the hell I was watching. The film is about a woman who is a sort of sex worker who plays out weird fantasies and fetishes for a bizarre range of clients. Her roleplay for these weirdos involves helping a couple live out a funeral fantasy, acting as a scared passenger for a driver who likes to speed and getting dressed in front of a twin couple.
Along the way she meets a nice but  socially awkward voice actor who inadvertently becomes a part of her work. Then when the two start dating the voice actor starts to slowly turn into a cartoon. I have no chuffing idea why he starts to turn into a cartoon, he just does.
It's actually quite a fun and sweet film and the animation is done really well, with the cartoon character having to interact with the real world ala Who framed Roger Rabbit. Also there is a scene where the voice actor now completely a cartoon gets it on with his lady friend and you never saw Bob Hoskins do that did you?
From what I gather the actor and director Maurizio Nichetti, is kind of a Woody Allen figure in Italy. Certainly if you don't mind subtitles (and if you are put off by them open your horizons) this is a weirdly easy going, surreal comedy.
Assault on Wall Street 2013 
God bless Netflix for taking over from the video stores in giving a home to cheap straight to video/DVD B-movies. That's where I found this  curious cult favourite that proves exploitation movies are alive and well in the 21st century.
The work of the often derided director Uwe Boll (sometimes regarded  as a German Ed Wood and notorious for challenging and beating his harshest critics in boxing matched) this is a thriller that takes the typical revenge movie format and targets it at the general public's current hatred of the financial institutions that get rich by screwing us poor saps over on a regular basis.
Dominic Purcell (who you may recognise from the DC television universe as Heat Wave) is a working class everyman who's life falls apart when he looses his savings, pensions and home due to the dealings of a bad financial advisor and when his health insurance does not cover his wife's illness she commits suicide. He even loses his job as a security driver because his financial problems mean he cannot be trusted with large sums of cash.
Enraged at the financial systems he embarks on a Deathwish like crusade, tracking down and shooting those he feels responsible for his downfall. His final act is a one man assault on a office block, where he rampages through the building killing every worker he comes across until he reaches the greedy banker who is ultimately responsible for all he has lost.
It's a no compromisingly brutal film and it can be uncomfortable at times especially in those scenes where it's perversely satisfying seeing a smug, greedy business men getting a bullet in the head. It's also challenging, in that having followed this man's journey you understand and empathise with his rage yet at the same time are disturbed with what he does in the bloody finale.
I personally was surprised at how much I liked this movie, finding the story quite believable and thought it was  tightly well made.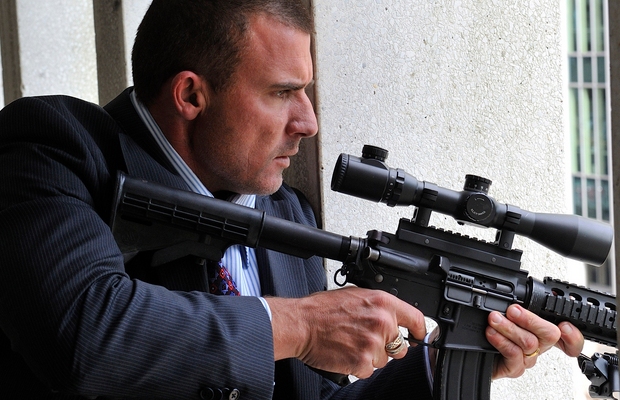 In my next movie club I'll be featuring a pro wrestling movie, a British Godzilla rip off, a Hong Kong gangster movie and a homage to slasher movies.
Til then
Dazza