With this installment Couch Zone Movie Club becomes a trilogy, one more and it's that franchise that just seems to never go away.
Same rules as always, I'll be highlighting four movies, one a general cult movie, one a black and white movie, one a foreign language film and lastly a lesser known film from the last ten years.
Near Dark (1987)
Of the many novel ideas I've never got around to writing, one that I actually managed to put words onto paper was for the ultimate modern vampire story. I wanted to have cool vampires in the 20th Century, wearing denim and leather jackets or snazzy suits and sunglasses. Outlaws that used guns just as much as fangs and would listen to rock music and ride motorcycles rather than ponce about in stately homes.
I never got that far, especially once I saw a screening of Kathryn Bigelow's Near Dark in a  film studies class because it was frankly the perfect portrayal of what I wanted to achieve. It's a modern day western following Caleb (Adrian Pasdar from Heroes) who is accidentally turned into a vampire when making out with a young woman  Mae (Jenny Wright) and is forced to join her biker gang like family of vampires to survive.
The film has inspired casting, reuniting from Aliens Lance Henriksen, Jennette Goldstein and Bill Paxton (stealing scenes left right and centre as the punk outlaw Severn) as the vampire gang along with one other vampire who in age wise is an adult but is forever trapped in the body of a child. This dysfunctional family travel in a boarded up camper van along the remote roads of America, hunting and feeding on victims while evading the local authorities.
Along the way there are wild west style shoot outs with police and a massacre at a bar where the term "going out for a drink" takes new meaning. All the time Caleb is battling with being accepted into the family and his refusal to kill to feed his need for blood.
It's a wonderful genre mixing movie, full of dark, gritty style and has enough elements of horror and action that will keep viewers of many tastes happy.
Space Firebird (1980)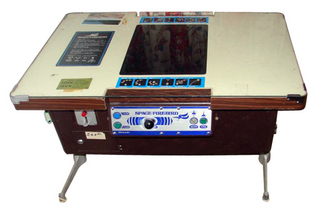 Oh the forgotten joys of the video rental stores!
Video stores were a joy for a growing film fan in the early 80's. Especially in the days when some studios still treated the technology with mistrust and were unwilling to share their blockbusters. As such the films that made it onto video store shelves could sometimes prove quite random and weird, case in point this Anime that made it to Western audiences years before Akira appeared.
Space Firebird was originally Phoenix 2772 (like much anime based on a long running Manga) and was edited down by about half an hour for it's video release. I discovered this curiosity in a rough Video store in a slightly dodgy area of town (as they all were in the pre BlockBuster days) tucked between copies of Smokey and the Bandit ripoffs and repackaged Italian B movies. What I saw when I popped the tape into the Betamax video recorder (the salesman told Dad Betamax was going to be the dominant brand!) was unlike no cartoon I'd seen before.
It wasn't just the vibrant colours and weird imagery of odd robots and cartoon like aliens and the Japanese style depictions of gender. It was the strange plot that while typical of Japanese culture was almost alien to me, of a dystopian  society, ruled by corporations and attempting to solve an energy crisis by tracking down a mythical space creature. The weirdness never subsides and builds to what at the time seemed a  very bizarre ending. To be fair I had trouble following the story, as well as the elements of cloning, artificial intelligence, resurrections and at times the themes were way more metaphysical than I could really appreciate.
But the film was fun and action packed and had a real edge to it that I was not used to in cartoons, especially when the crew of cute alien characters I'd become attached to began dying off in the battle with the Firebird. There is also a relationship between our hero Godo and his female robot maid Olga that despite society regarding her as a simple machine develops into friendship and eventually love.
By today's standards it'd probably primitive but I loved it on first viewing and rushed to watch it again the next morning before it had to be returned to the video store. It probably would have started an obsession with Anime for me, but search though I did I found  nothing else like it until the early 90's when the genre exploded onto Western sensibilities.
And I really want to see it again.
Freaks (1932)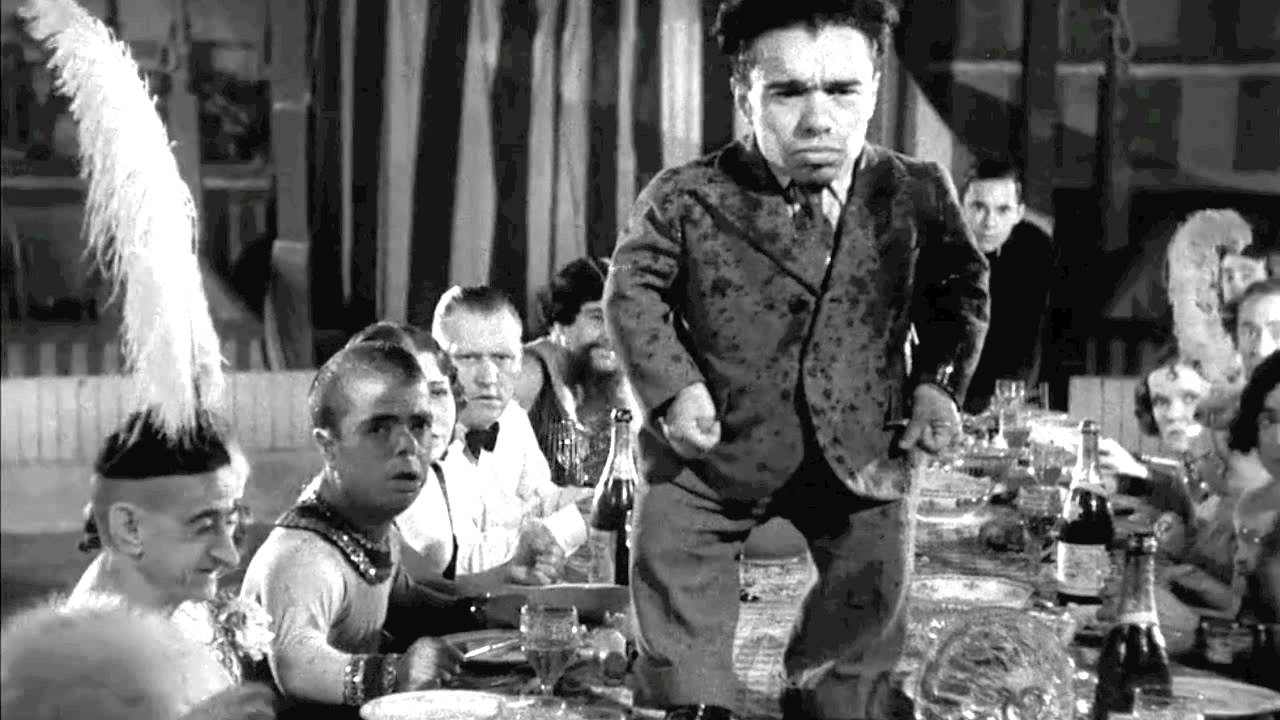 It's hard to think of a film that was so daring to be made in 1930's Hollywood as Freaks, and as a result it was received with disgust and shock by an audience that wasn't ready for it and destroyed the career of it's director Tod Browning.
Freaks is set in a travelling freakshow, where  two of "normal" members of the crew the beautiful acrobat Cleopatra and the strongman Hercules attempt to con the circus from it's owner the midget Hans, by having Cleopatra seduce and marry him and then poison him. When the plot is discovered the freaks respond with frightening revenge.
Freaks unsettled audiences by starring real life "Freaks" and was immediately controversial. It can be deemed as exploitative, although the handling of the circus members is  sympathetic and successfully portrays them as a loving community that looks out for each other. One nice scene early on sees the performers gathering to visit the Bearded Lady after she has given birth to the new member of their family.
MGM panicked over test screenings and cut the film from 90 minutes to just over an hour, the missing footage of the Freaks revenge (originally Hercules is castrated and forced to perform as a singer) some comedy numbers and scenes of the love triangle between the Siamese Twins and a Clown have seemingly been lost forever. Even edited the film was received horribly by audiences and critics (many reviews of the time would appear sickeningly prejudiced today) and never completed it's theatrical tour. Internationally the film was received little better and was even banned in some countries such as the UK.
In the sixties and the age of counter culture, the film was rediscovered by a new audience and seized upon as a cult classic. It became a regular attraction at horror festivals and midnight showings and today is regarded as one of the greatest and most important horror films of all time.
I first saw Freaks when it was shown on British Television I think sometime in the early 90's and was part of a season of formerly banned movies on Channel Four (I seem to remember a disclaimer at the start warning some scenes may be disturbing). Although it's often cited as a horror movie due to it's ending as the freaks go on the rampage as they chase Cleopatra and Hercules into the woods (and those scenes do become disturbing), for the most part it felt to me more like a soap opera of the everyday lives and relationships of the performers.
Freaks is rough around the edges in it's production and it's acting, but it's a film which is unforgettable once viewed. The iconic scenes of the Freaks chorus of "One of us, One of us, We accept you, one of us," and the bizarre visual of Cleopatra's fate as being transformed into a duck lady etch themselves into the memories of viewers forever.
Sightseers (2012)
Sightseers is splendid example of British comedy at it's best, dark, subtle, satirical and subversive. It was the brainchild of Alice Lowe and Steve Oram who as well as writing the script took the two leading roles in the film.
It follows an average couple going on a camping holiday, where slowly it is revealed that Oram's character Chris while generally friendly has psychotic tendencies which drive him to commit several murders along the journey, generally people who annoy him (his first victim which initially seems an accident drops litter which he refuses to pick up). After Lowe's character Tina witnesses one of the murders (a walker who complains at her for allowing her dog to foul in the countryside) she herself follows suit and begins committing murders, starting with a drunk girl on a hen night who flirts heavily with Chris.
Sightseers is very funny (the film kicks off with a accident with a dog and knitting needles that made me howl in the cinema) but also very dark and brutal. The murders are not presented in a comic fashion, but with understated realism and the ordinariness of the couple adds to the frightening nature of the acts. As well as a story of serial killers it's also a satire on the Great British holiday which inspired Oram and Lowe to begin writing the film and which many British viewers will be able to relate to. There's a scene where Tina visits a pencil museum and buys a giant pencil from the giftshop, which really sums up the banal sort of activities we all did with our families when trying to fill time on these excursions to the middle of nowhere.
Performances across the board are great, it's directed by Ben Wheatley who has become one of the hot prospects of the British film industry (which means he'll probably be ditching this country for Hollywood soon and I don't chuffing blame him) and the critical response to Sightseers was very positive.
It deserves to be remembered in the same regard as Withnail and I and Shaun of the Dead and is one of the best movies to come from these shores in a long time
In the next instalment of the Couch Zone Movie Club I'll be looking at films featuring a French hitwoman, a tramp rising to State Governor in a political satire, a car tire and a star wars ripoff featuring a woman with big knockers.
See ya
Dazza.