Great Britain prides itself on producing excellent, classy television dramas such as Downton Abbey and The Night Manager. Both examples of wonderfully written shows with excellent performances by some of the greatest actors and actresses in the world, ensuring our country can hold it's own with the very cream of television excellence.
But we can still produce absolute trash TV with the best of them and for perfect example I give you 1989's game show The Interceptor, a show that was set in some of the most beautiful, idyllic locations England has to offer and proceeded to fositer on it a maniac in a black helicopter, firing a lazer gun while screaming "I LIKE IT!"
The genesis for Interceptor actually occurred some seven years earlier when the newly established station Channel 4 (that's right kids before then we only had three television channels to choose from and aside from the wrestling and Doctor Who they were mostly crap), began airing Treasure Hunt which proved to be one of it's earliest hits. Treasure Hunt was a game show where contestants in a studio would attempt to decipher a trail of clues spread across the more rural areas of the country. With the aid of maps and compasses and other shit like that the contestants would attempt to direct a bubbly blonde called Anneka Rice to find the clues, who would travel between locations via a helicopter and often have to perform various stunts to grab the clue.
Large sections of the shows would require Anneka running in a tight, colourful tracksuit that just about got away with being seen as innocently practical. In any case since the accompanying camera man was always filming from behind as he tried to keep up with Anneka, viewers were generally treated with long stretches of footage her arse as she stormed into English Statley homes screaming "Which way to the kitchen with a suit of armour?"
No we didn't have internet porn at our fingertips when I was a teenager but we had Anneka's bouncing buttocks every teatime on Channel 4 to get our jollies to.

Despite the energy of Treasure Hunt it was a fairly gentle and civillised show and quite how it led into Interceptor we'll never know for sure. But I like to think it started with a drunken Christmas party at Chatsworth Television where the creative team were stoned off their arses and one of them said "That Treasure Hunt is ok, but imagine if there was a mercenary in a black helicopter hunting down Anneka and firing lazers at her!"
And so Interceptor was born…maybe!

Interceptor appeared on ITV in the Summer of 1989 with astonished cries of "What the fuck is this?" "Is this for real?" and "Shut up Dad, this is awesome!"
The rules of Interceptor were simple, actually it's a real bugger of a show to describe so stay with me here.
Interceptor was similar to Treasure hunt except the roles were reversed now with the contestants doing the actual running, while the host would try to direct them along their way via radio. The host incidentally was sadly not Anneka Rice but Annabel Croft who was once Britain's number one women's tennis player which means in global terms she was still frankly crap and a product of the snooty British tennis system that meant only weak willed posh players ever got a shot. Annabel was even worse as a presenter than a tennis player with an annoying high pitched voice, wooden delivery and why anyone would think a toff like her would appeal to a predominately working class early evening audience as they tucked into their meat raffle prizes is beyond me.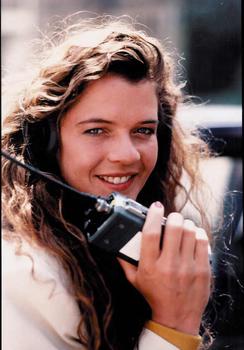 Anyhoo, the two constants would have an uncomfotably bulky locked back pack each, one of which would contain £1000. They would be blindfolded and then transported by helicopter to two separate locations in the English countryside several miles from each other. The aim of the game was for each contestant to find the key to their team mates back pack (guided by Annabel's shrill clueless instructions) and then make their way through country lanes, farms and villages to reunite before the 40 minute time limit was up and use the keys to open each other's backpack and win the £1000.
However standing in their way was THE INTERCEPTOR! Dressed in a long, black leather coat and with a helicopter, motorbike and sportscar at his disposal (and apparently a hovercraft though it never came in to play) his job was to track down and fire a lazer gun (a genuinely sophsicated infra red device borrowed from the armed forces) strapped to his arm at the contestants. You see the back packs had sensors on which if the Interceptor managed to hit with his lazer would cause them to permanently lock even with the key being unable to open it and thus robbing them of the cash prize. Although it wouldn't be revealed if the backpacks had been successfully locked by the interceptor until the end of the show.
The Interceptor's lazer made a futuristic zapping sound when fired although this was actually edited into the footage afterwards and if viewers wondered why he was so sparring with his lazers the equipment was limited for twenty shots.

So who would ITV choose to fill the mantle of The Interceptor? A hardened Vietnam veteran with years of experience of tracking, concealment and stealth tactics? A former SAS specialist with a 100% success record in combat missions behind enemy lines? A grizzled soldier for hire who'd seen action in the hottest warzones around the world?
Well no actually, they choose Sean O'Kane whose resume aside from a stint in the territorial army as a teenager consisted in a few episodes of Cagney and Lacey and then swanning around Europe for a few years as a model. The main skills he seemed to bring to the role were looking cool in a long black leather coat, screaming the catch phrase "I LIKE IT!" in a thick Glaswegian accent and his weird habit of adopting a the stance of a clawing, wild animal and screeching like an Eagle.
To be fair to Sean O'Kane he was actually pretty great in the role, coming out with lots of quips and jibes at the expense of his frankly gormless prey. A great example of this is at the 30 minute mark of the second episode where there was an hilarious moment where he surprised his trademark screech at an escaping contestant and succeeded in absolutely scaring the shit out of the poor guy. The Interceptor's later remark "I've never seen a big man so scared in all my life!" is classic.
Likewise The Interceptor's banter with his long suffering sidekick and helicopter pilot Mikey who he would always berate when ambushes and chases went wrong was another highlight of the show. Further fun could also be had at watching the dumbfounded old folks and families whose relaxing Sunday afternoon walk though some peaceful country beauty spot was interrupted as screaming Darth Vader like villain and his camera crew stormed through.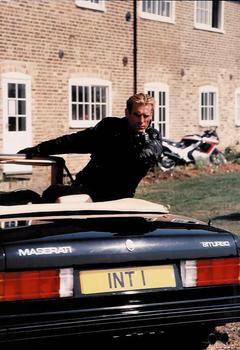 More hilarity of an unintentional kind often came from Annabel's chaotic attempts to navigate the contestants to their respective destinations. It could be hysterical watching her try to hold it all together as she ear piercingly yelled instructions to one contestant that he needed to be on "B0174 to St Olaf's and turn right at a main road and over a river" while simultaneously telling the other to find a large black boat and failing to make herself heard over the noise of helicopter rotas and random screams of "THE INTERCEPTOR IS CHASING ME!"when both contestants were already knackered from running all afternoon and were clearly incapable of finding their arses with both hands anyway.

Realising Annabel alone wasn't going to get the bonehead contestants where they needed to be the producers left some help along the way, with modes of transport manned by conveniently helpful strangers (often with a "I'll help you along the way me love" type greetings) popping up along their route. Other such plants would be utilised by the Interceptor too often secured by way of a small bribe, often of a pitiful amount and an ongoing theme of the series was the cheapskate nature of the Interceptor.
Such moments sometimes lead to obvious staged skits, such as The Interceptor being arrested by river police after the boat he'd commandeered broke the speed limit. One of these led to possibly the Interceptors finest ruse was when he reached one such plant, a farmer with a tractor, before the contestant he was chasing. After bribing the farmer the interceptor put on flat cap and disguised himself as the tractor's driver and while uttering tons of country colloquialisms actually gave the contestant a ride before zapping her at point blank range.

For all the staged campy moments, Annabel's bewildered handling of the show and the uproariously uselessness of the contestants, Interceptor was a bizarrely entertaining show although it always rested heavily on how active the Interceptor was on an episode.
Sadly it only lasted for one season and a mere eight episodes were ever made. The show was extremely expensive to make and producers Thames TV were cost cutting at the time in order to bid for the renewal of their regional ITV franchise. Interceptor ended up on the trash heap, but it's early cancellation left it etched in the romanticism of fans and it's cult status meant repeats found a home on Challenge TV, a station that specialised in rerunning other game shows such as Bullseye and Interceptor's stable mates Treasure Hunt and the also bonkers as hell Crystal Maze (which seemed to have inherited the sort of thick as pigshit contestants that Interceptor attracted).

Although The Interceptor has long disappeared from our screens it's said by some that if you're ever alone in the beautiful scenery of places such as Cornwall, Derbyshire or Cumbria and you listen real carefully you may just hear the faintest of echoes of helicopter blades and a Scottish accent proclaiming "I like it!" followed by a Eagle like screech….or probably not.
Til Next time
Dazza