Doc Rivers was right. The Warriors got fucking lucky.
This is a big one for me. Ranks right up there with "Phoenix would have won the 2007 NBA Title if Robert Horry doesn't cheap shot Steve Nash and get Amar'e and Boris Diaw suspended for game 5 of the WCF" on the "things I KNOW are true" list.
And somehow, nobody even seemed to notice what kind of danger Golden State was in. The Warriors spent the entire regular season and most of the playoffs dropping hot fire on helpless defenses and, at long last, proving a perimeter-first team could win it all. Aside from taking three and a half games to get over the first-time finals jitters, nobody gave them anything approaching a hard time.
Except Memphis.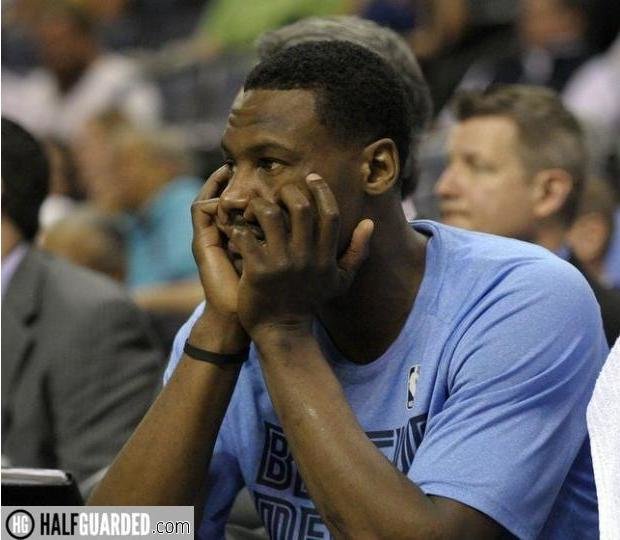 As good as this Warrior team is, as deep and versatile and offensively virile as they've proven to be, there is still one half-ass reliable template to defeat them: You gotta beat 'em up. Get physical. Dirty, even. Drag them through the mud and shit.
It's a 110 point a night team, ffs. You aren't gonna out-score them. If you can slow the pace, pound on their smaller frontline and maybe put the handcuffs on one of the Curry-Thompson (I refuse to call them by that nickname people are so fond of. sorry.) duo, you've got a decent chance. You can win a 95-90 game with them, but you ain't winning if the score is 120-110 or thereabouts, unless you are the Clippers on a good night.
With that in mind, I give you some simple maths to look at:
Game 2: Memphis 97, Golden St. 90
Tony Allen: 37 minutes played, 9 points, 4 steals, +14.
Curry & Thompson: 13-35 shooting, 3-17 on threes.
Game 3: Memphis 99, Golden St. 89
Tony Allen: 33 minutes, 8 points, 4 steals
Curry: 8-21 shooting, 2-10 threes, 4 turnovers.
Remember, Memphis played game 1 of this series without Mike Conley (still recovered from having his face broken in the first round series w/ portland) but managed to win the next two when he returned and Tony Allen was able to put the clamp down on the Warriors finnesse guards. Memphis wins game 2 in Oakland pretty handily and game 3 in Memphis just as easily, with Zach Randolph and Marc Gasol beating on Golden State's undersized power forwards and putting Andrew Bogut in foul trouble.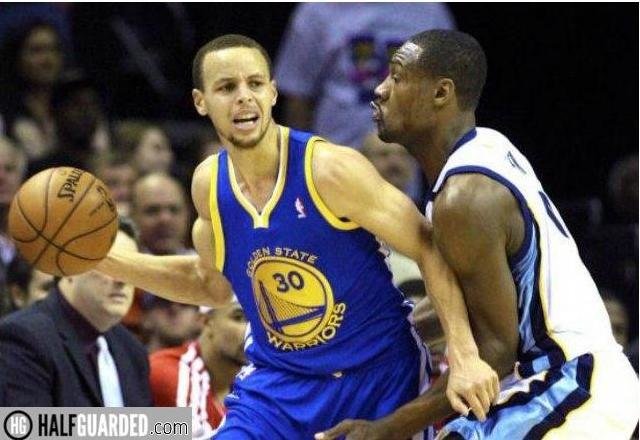 The GSW's had lost the homecourt advantage, they didn't have the girth up front to stop both Randolph AND Gasol, and their guards were getting handcuffed by Memphis' perimeter ruffnecks. The prospect of them winning three of the next four with two more games to play in Memphis? I mean, the Grizzly bigs are gonna get calls at home, you know? The Warriors were in deep shit.
But they caught a break. Or a pull.
Yep. Tony Allen's pulled hamstring changed that whole series. It's not like the Warriors solved the Memphis defense or had some antidote for their physical superiority. They didn't suddenly start stopping Randolph and Gasol. Nope, with Tony Allen getting hurt in the first half of game four and never seeing another meaningful minute of playing time in the series (He tried to play in game 6, lasting about the first 5 minutes before being pulled), the Warriors offense went back to business as usual, scoring 103 points per game in the last three after averaging less than 93 in the games in which Allen played.
The Grizzlies had the Warriors' number. I'm convinced of it. They had the defense and the toughness to go into the Warriors building and completely stifle their vaunted attack. But with Allen out, Memphis had to turn to Jeff Green and Vince Carter, both of whom are tons better offensive players than Allen. Problem is, you don't beat GS with offense. This supposedly more potent Grizzly team never won another game in this series.
What's fascinating about this is that we saw a virtual repeat of this dynamic in the NBA Finals, where the supposedly injury-strapped Cavs fought valiantly, only to fall to the much healthier Warriors in 6 games.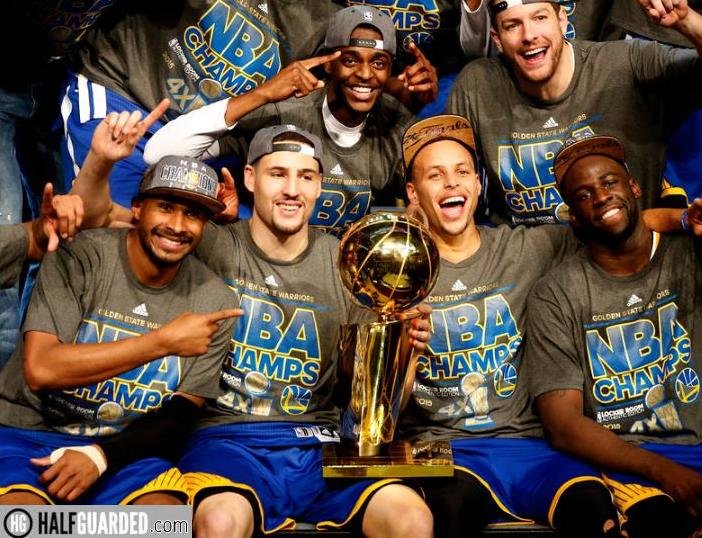 Yep. Cleveland won games two and three by using what they had in the grit and defense department to stifle the Warriors. They won those games by scores of 95-93 and 96-91, because that's the only way you beat the Warriors. Alas, GS figured out Cleveland's defense and overcame their finals nerves to the tune of 103, 105 and 104 points in the next three games and put the underdog Cavs to bed. Assuming Cleveland was going to beat the Warriors if Kyrie Irving and Kevin Lovc were healthy means you think adding two atrocious defenders to a lineup that was already struggling to guard the best offensive basketball team on the planet was somehow going to improve their chances, not diminish them. You know, because that plan worked so well for New Orleans and Houston.
Anyway, like I said, this was a fascinatingly under-reported story last year. Everyone seemed to miss it. Hell, some people even reported that Steve Kerr's awesome defensive schemes led to Memphis benching that hideous self-check Tony Allen, which was a rather hilarious, if bizarre interpretation of what happened in that series.
So what is the lesson here? Well, there are a few. Basketball is about matchups is one lesson. The West is a hideous gauntlet of deadly, brain eating zombie teams of all shapes and sizes, another. Mostly, though, this story serves as reenforcement of the "everyone needs a litle luck to win the title" theory that Doc Rivers got in so much trouble for espousing recently. He is right, buddy. You need all sorts of things to go right to win an NBA championship. Health. A versatile roster. The right playoff seeding. Experience. The Ability to come through in the clutch. And yes, a little luck.
Look, you can go through pretty much every NBA championship run and isolate the similar examples of god fortune. Some more than others. This just happens to be where the Warriors caught a break, even if nobody seemed to notice it at the time.
So yeah. Quit crying and getting all defensive about it, bruhs. It happens to the best of them.
-John Hathwell