One hour!!!! It couldn't have been more than one hour after my Invicta 18 preview hit the internet that the card went through a major overhaul.
Remember those two Brazillan lasses with the impressive on paper unbeaten records but mostly against completely apparent no hopers? Well they ain't coming because some visa type paperwork didn't arrive on time so their debuts are put on ice for now. This is bad for one of their opponents Irene Aldana as she won't be beating the crap out of anyone on Invicta 18 but has been promised a spot on Invicta 19.
However Agnieszka Niedzwiedz (who gets you a good score in MMA scrabble) is still fighting on the show and has been moved up to the co-main event because a late replacement has answered the call on just a few days notice.
That fighter is Christine "knuckles" Stanley and by rights you should really be going "Holy Shit!" right now. Christine Stanley is an absolute bad ass who comes with crazy antics and attitude in the cage like a missing Diaz sister. She's a lover of Game of Thrones and has come out to the theme music in the past and she's a fan of "The Warriors" an awesome gang war cult movie from which she's taken the inspiration for her cos play weigh in outfit and she also quoted the movie when challenging Rachel Ostovich to a match "Ostovich! Come out to play-ay."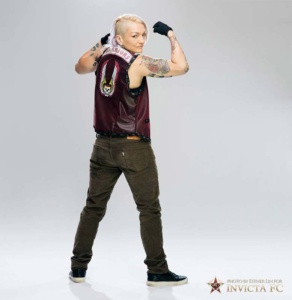 But what's even more awesome is that now we have the one thing that this card was lacking, a bonafide  smash your hearts out grudge match. If you read my Invicta preview you may remember how I happened to mention how Niedzwiedz had set herself in Stanley's sights due to a cocky attitude when she bragged how she was going to dominate the decision. I sensed trouble was brewing and call me a sage because these ladies are going to go at it and violence is going to be in the air.
Niedzwiedz herself has recently shown she's got a bit of a gob on her and is not above trash talking, as on twitter she's called her previous opponent Claudia Rey a "can crusher" (which is a fair point as I've alluded to) and threatened an elbow to her face. She's also been dismissive of Stanley as a replacement "Different victim, same outcome" and today made fun of her not making weight (which is harsh on a few days notice) and said while Invicta punished her with a fine she will punish her with a fist.
Oh Christ this fight is gonna be explosive, I can't wait.
And if you're not sold on what to expect, take a look at this quick win from Stanley. This is the entire fight right here.
Invicta I love you
Dazza