Right Out of the Shower
Now this story I'm about to unfold took place yesterday –just about the time of our conflict with Kim Jong Un and the North Koreans. I only mention it 'cause some- times there's a man… I won't say a hero, 'cause what's a hero? But sometimes there's a man… and I'm talkin' about the Black Beast here… sometimes there's a man, well, he's the man for his time and place, he fits right in there. And that's The Black Beast.
Life isn't easy for Paige VanZant.  From losing fights to losing Dancing with the Stars, the ingenue of MMA can't seem to catch a break in life and now there's yet another setback – a new chapter in the book of life, if you will: she has an ear infection.  And Pink Eye.  And other things.
(If you've ever wondered what Paige looks like completely naked, CLICK HERE! She's not naked there, btw, but that's the closest we've got and we're kinda sorta screwing with Google's SEO machine.)
Who could help in a time like this?  What about Derrick Lewis, resident awesome human being, who tweeted some much needed advice to PVZ: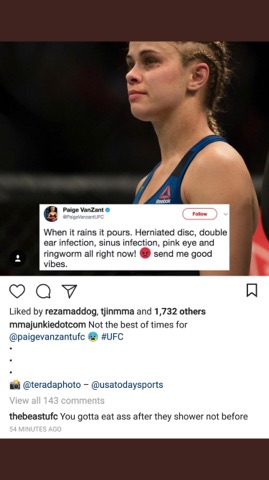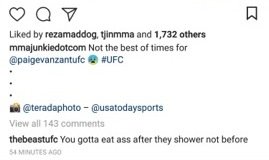 Preach.