In the first part of our look at Invicta FC 19, we focused on the main-event and the chance to see "Foxy Roxy" deliver an emotional moment.  Before all that happens, there is an entire card that is so good you'd be forgiven for thinking Christmas came in September.
Shall we?
Ayaka Hamasaki vs Jinh Yu Frey
More gold will be on the line when Jinh Yu Frey challenges Ayaka Hamasaki for the Atom Weight title. The atom weight division is always worth logging onto fightpass for as it has provided some of Invicta's greatest fights with incredible fast paced action and this title fight could rival the very best of them.
Hamasaki has proven herself to be an absolute terrier in Invicta and proven a force despite admitting that she's found American fighters tougher and physically stronger than those she was used to fighting in the Jewels promotion back in Japan. He first successful title defence against tough Amber Brown earlier in the year saw a spectacular display of wrestling as she relentlessly fought to gain the submission win doing so with a sickeningly brutal armbar.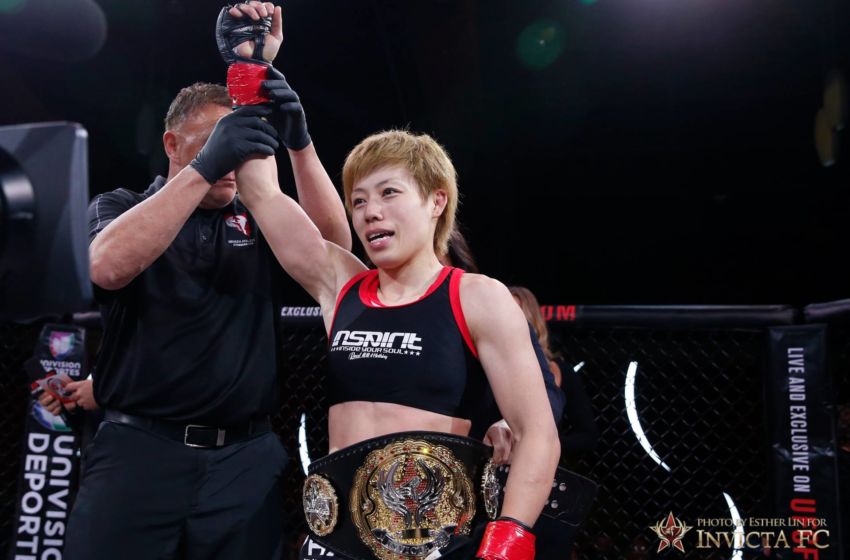 Challenger Frey has proven to be an impressive and exciting striker and in her last fight beat previous champion Herica Tiburcio by unanimous decision despite as far as betting went being the biggest underdog on the show. Despite her clinical stand up more of her wins have come from submissions so it could be intriguing what happens if the fight is taken to the ground.
Wrestling vs striker with two faced paced fighters mean this could be one hell of a contest.
Irene Aldana vs Faith Van Duin.
Irene Aldana finds herself on this card after the Brazillian Tomato can specialist she was supposed to fight on Invicta 18 failed to get her paperwork in check. Aldana is on the quest to get another shot at Tonya Evinger who beat her claim the vacant Bantamweight title, and also to fulfill the superstar potential that her explosive first round wins have been promising. Her wins have been complete dominate displays of whirlwind striking and fast submissions and she's exciting as hell to watch.
Faith Van Duin may bring something different to the table in terms of power and strength, coming down to batamweight from featherweight for this encounter. She hasn't been seen in Invicta since being destroyed by Cyborg back in July 2015 however she did win her last fight by decision in Brace several months back against Charlene Watt.
Speculation has it that Aldana has UFC eyes on her and if she wins on this night I'm sure Invicta will be keen to push her into a rematch with Tonya before she follows her team mate Alexa Grasso to Reebok land.
Manjit Kolekar vs. Kaline Medeiros
Kaline Medeiros did everything right when it came to becoming an Invicta favourite when she was a late stand in on Invicta 17. The blue mohawked one absolutely slammed and pounded the crap out of her opponent, finishing off the performance with a whacky celebration dance. At 37she's come into MMA late in the game (a reason she attributes to being passed over for the straw weight season of Ultimate Fighter), but is currently on a four match win streak which saw her get her hand raised in Legacy and Bellator.
Let's face it, when you come to the cage dressed like a little road warrior you'd better be able to back it up and this woman kicks ass in the most brutally entertaining all action way. She's also got tons of warrior attitude and charisma and is the colourful personality that makes Invicta such a joy to watch, Look just look at this knock out of Stephanie Eggik, it won't take you long.
Manjit Kolekar comes into Invicta with a perfect 9-0 record, although all her fights took place in India and like the Brazillians who failed to appear on the last show has built her wins other some very suspect opponents (a few one and out girls on victory list). She was meant to be on the last show but Visa issues delayed her debut, so hopefully we'll see what she's all about with the step up in competition.
Tiffany Van Soest vs Kalyn Schwartz
Tiffany Van Soest is coming into MMA with a ton of hype behind her (she had one fight way back in 2011, a loss in the first women's MMA fight held on Chinese soil), having been a sensation in Thai Kickboxing since 2009. Van Soest is dividing her time between Invicta and the Kickboxing promotion Glory, since both companies being featured on Fightpass you wonder if UFC has an interest in this deal somehow. Certainly she has the glamorous looks and is a good interview personality that makes her the complete package that Dana practically drools over.
Tiffany comes in with a 14-2-1 record in her Muai Thai and if she's able to successfully transition into MMA we could be seeing the start of a new superstar right here.
Opponent Kalyn Schwartz is making her professional debut and has a 3-0 amateur record.
Julia Jones vs Stephanie Skinner
Julia Jones Invicta 17 debut was put on hold a last minute and after I'd already posted the preview for that show, so why waste a write up?
Julia Jones comes to Invicta with the kind of inspirational story that make the fighters in this sport such amazing people. Growing up in a Russian orphanage and using that experience as a source of motivation and dedication to training and discipline, she's started her pro career with four wins on the lower levels. Her hard work has paid off with a shot in Invicta after one of Shannon Knapp's shopping sprees for promising talent.
Stephanie Skinner showed the sort of heart In her early career that I alluded to earlier. She fell in love with MMA in 2009 when she saw a girl fight on a card in her home town. She begged the promoter to allow her onto the next show and thus began her journey on the wilds of the fringe MMA circuit. Her start was rocky with three first round loses in five months, but she wasn't deterred and learned from the experiences, coming back to win four of her next six fights. A further example of her heart was in her last fight where she had to come back from a first round battering at the hands of Kyra Batra to win on points.
This fight sees Invicta debuts for both women and if the passion they've shown in their careers up to this point is anything to go by this could be the start of something really special.
Amber Leibrock vs Amy Coleman
Amy "Donkey Kong" Coleman has started out her MMA journey with two straight wins looking impressive with a pounding stoppage in her Pro debut over a then 2-0 fighter Jessica Zomcik (who had a lot of experience on the amateur level) and after a layoff through injury won her last fight by decision in May.
On the amateur side she had a stint with 3FC and it's bantamweight title, including a fight with Shanna Young which descended into a swing for the fences brawl in an exciting last round, with Coleman taking the split decision.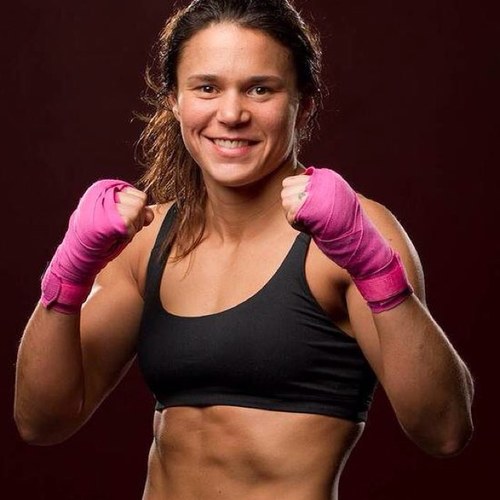 Amber Leibrock made a name for herself by knocking out Horsewoman Marina Shafir in her pro debut but fell foul of heavy hitting Megan Anderson in January. A heavy hitter herself, this could be an exciting match with the Featherweights often bringing a more powerful, harder element to Invicta shows. If there's going to be a highlight reel stoppage this could be the fight to bring it.
Ashley Greenaway vs Sunna Rannveig Davidsdottir
Once again an Invicta card opens with colourful Ashley Greenaway who will look to continue the momentum from wining her long awaited professional debut victory over Sarah Click back in March. Ashley has come into the pro ranks after a long stint paying her dues and fighting through injuries on the Amateur circuit and will no doubt be enjoying the opportunity to get to fight on a more regular basis. Ashley in interviews has a perky personality and it really comes across that sh is absolutely in love with the sport which is practically a day to day part of her life while running a gym with her husband.
Sunna Rannveig Davidsdottir is making her MMA professional debut, bringing with her a wealth of experience in Muay Thai where she lived up to her nickname of Tsunami. She's trained extensively in her native Iceland with Gunnar Nelson and around the world in Ireland, Canada and Thailand. She's also coming in with an unbeaten four fight amateur record where her Muay Thai has displayed itself in a blistering, intense style.
A fight like this opener highlights the importance of Invicta as a dedicated women's promotion, giving opportunities to rising fighters and a place for them to showcase their skills and passion for an appreciative audience rather than the uncertainty and randomness of searching for a spot on bush league promotions.
Passion? Love for the sport? Dedication? Sacrifice? Just put a picture of the Invicta 19 fight card next to each one of those terms, because it will all be on display on Friday September 23rd. Kansas, you don't know how lucky you are.
Dazza