Ok, hands up. This isn't the most in depth Invicta review I've done. Fact is I've been in Vegas for ten days and came back exhausted and jetlagged and with a cold and as I was trying to get over this realised the Invicta show was a week earlier than I originally thought. So this is kinda thrown together without doing a lot of the background reading and searching out grainy fight footage that I normally do and frankly is written while the room seems to spin around me. No enjoy while I get some kip (sleep).
Strawweight Title: Virna Jandiroba (13-0) vs. Janaisa Morandin (10-1)
A variety in MMA these days, not a fight for a vacant or interim title but an actual title defence.
This battle of Brazil should have happened in March for the vacant Straweight title. Now it happens for Virna Jandiroba's title that she outpointed Mizuki Inoue for by using her superior grappling. The champ is undefeated with a 13-0 record and she is finally getting the chance to add some serious scalps after tearing the limbs off tomato cans in Brazil.
The strawweight title is on the line as champion @VirnaJandiroba defends her title against @janaisamma LIVE from the Scottish Rite Temple in Kansas City, MO! #InvictaFC31

📺: @UFCFightPass
🗓: September 1st, 2018
🎟: https://t.co/WTCID5vaqB pic.twitter.com/qcETgh7C4G

— Invicta FC (@InvictaFights) August 13, 2018
Challenger Janaisa Morandin also built her record on questionable opponents (ie fighters who never won a fight and quit before being anything more than a silhouette on their Sherdog profile) however appeared to fulfil some of her hype by outscoring Kinberely Tanaka Novaes last December.
Flyweight: Pearl Gonzalez (8-3) vs. Daiane Firmino (10-2)
Pearl Gonzalez inspirational story of overcoming a rough childhood is back on track after a bumpy experience during her UFC stint. When joining Invicta she beat Kali Robbins by decision and Baraba Acioly by a storming first road armbar. The charismatic lass has added some bling to her bang now that she's away from those drab, Reebok uniforms with some spangling, bright outfits. While it's the fighting that matters, being able to look a star helps fighters stay in the memory and Pearl has certainly brought a fun glamour to her fights. Invicta has been good for her as she has gained in confidence and a win here combined with her popularity would surely propel her to a title shot.
Dainane Firmino makes her Invicta debut having fought almost entirely in Brazil, with a 10-2 record. She's fought against some experienced fighters in her home country and is on a three win streak having last fought just over a month ago with a third round win over Mariana Moras via triangle.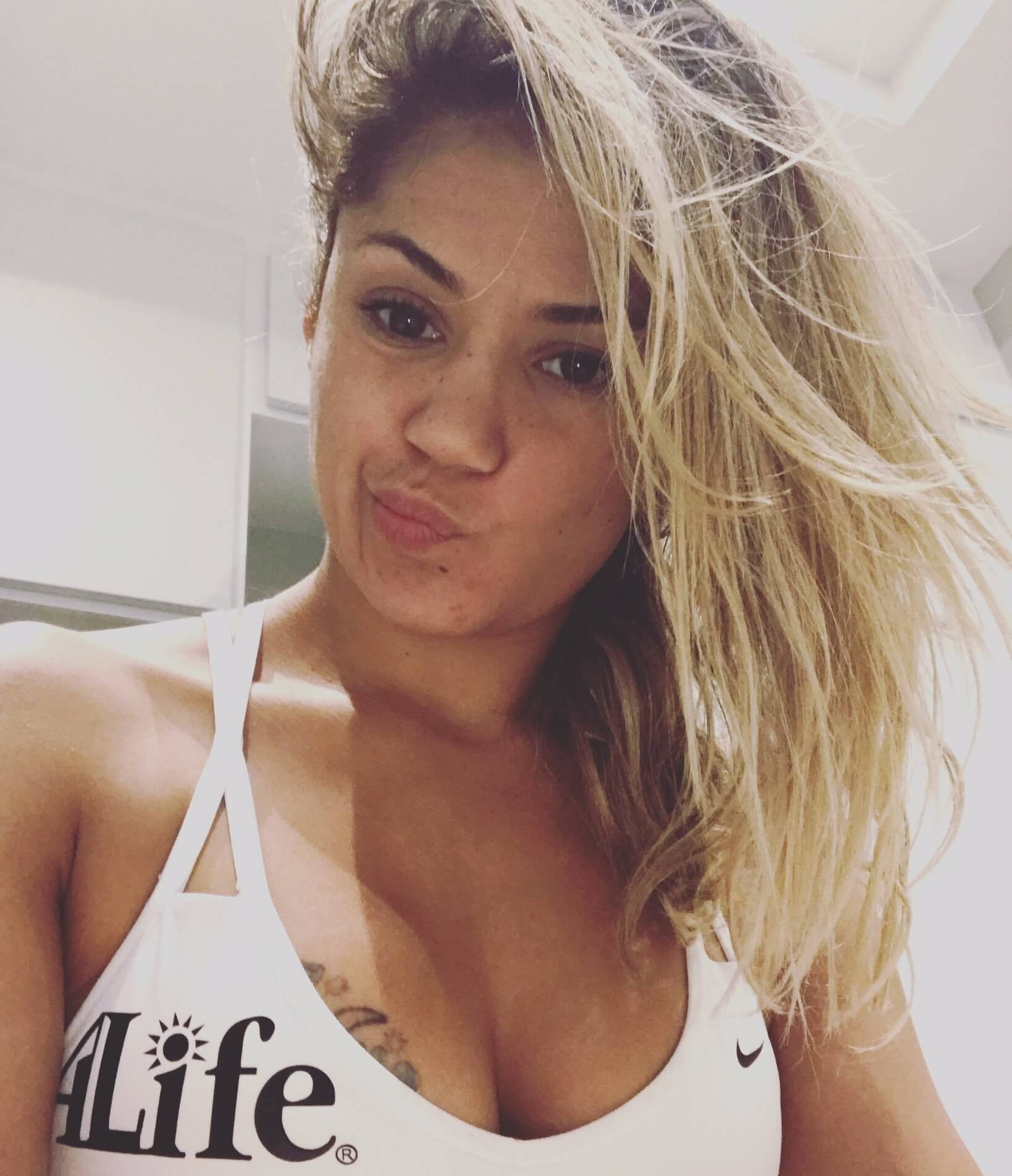 Bantamweight: Shanna Young (4-0) vs. Lisa Spangler (2-0)
Lisa Spangler is a late replacement for injured Raquel Pa'aluhi. Spangler began her pro career in Invicta with a points win over sarah Kleczca. A couple of months later she took an non Invicta fight against Kelly Clayton that she won via split decision. Taking a third fight in a four month period shows a real tenacity and desire to want to get in there. Either that or she's plain nuts.
Shannon Young is making her Invicta debut with a 4-0 record, the last time she fought being against Pam Sorenson in 2016. Another fight has been a long time coming as she has had two fights fall apart this year so finally gets to throw hands now. She wins the coolest nickname with Shanimal, and if she doesn't come out to Def Leppard I will be gutted.
Strawweight: Mallory Martin (3-2) vs. Ashley Nichols (3-2)
Mallory Martin turned may have suffered a  hard fought loss in her Invicta debut, but she bounced back well by beating Tiffany Masters with some heavy blows at Invicta 27 in January. Not waiting around she fought in April she fought for LFA and got a rear naked choke win against Linsey Williams. She was supposed to have fought against Maria Rivera in June but Rivera came to the weigh ins a whopping 18 pounds over the limit (you notice I said over the limit and not overweight? Cos there is a nice way of saying things). Martin is another fighter who
Ashley Nichols brought a wealth of striking and muay thai expereince to Invicta earlier this year. However she was outfought strategy wise by Sharon Jacobson, who took Nichols out of her comfort zone and wrestled her down repeatedly to grind out a points victory. Nichols has great skills but needs to make the adjustment to MMA which has seen talented kickboxers come a cropper by canny opposition.
Flyweight: Miranda Maverick (3-1) vs. Victoria Leonardo (2-0)
Miranda Maverick is freakishly strong from her work on the farm, very intelligent through her academic work and still only 21. If this is all sounding familiar it's because I wrote the same sort of thing about her in my Invicta 30 preview not so long ago when she was facing Brogan Walker Sanchez, a fight that saw her take her first loss by decision. Yes, Maverick lost but wanted back in the cage and only six weeks later she's facing Victoria Leonardo. (Honestly the way these fighters are jumping at fights after such a short amount of time since their last fight is making me feel bad about being lazy. But I'll live with it).
Leonardo made her pro debut for LFA in May and this is her third fight in a three month period (the women on this show are fighting the shit out of 2018). She's been a martial arts enthusiast since been a child, built up a 5-2-1 amateur record and judging by her one round victory against Hailey Cowan throws some crisp kicks and strikes and loves to take it to the ground. This fight may be the show stealer.
Atomweight: Kelly D'Angelo (2-2) vs. Lindsey VanZandt (3-0)
Kelly D'Angelo lost her Invicta debut a year ago to the very impressive Sunna Davidsdotter, which in itself is no disgrace. Kelly when not using her boxing skills to beat the crap out of people in a cage is a full time firefighter, which is where she got the fighting bug after taking part in charity police vs firefighter shows (I so want to go to one of these). Kelly lost another fight in March by decision and has recognised that her grappling and ground game has been behind her hand skills and says this is something she has been working on.
Lindsey Vanzant comes into Invicta with a 3-0 pro record. She looked particulary impressive in her second fight, beating Rachel Sazoff by wearing her down with strikes and then taking her down out of nowhere in the second round, tearing her apart with knees and elbows til the ref had to step in. Her last fight was a tough points win over Bi Nguyen where Vanzant scored points with her grappling but the decision really could have gone either way. With submission stoppages on the amateurs and ko victories in the pros she has a varied offence and a bubbly, charismatic interview style that promoters dream of.
Strawweight: Helen Peralta (2-0) vs. Kay Hansen (2-1)
Helen Peralta fights for the third time this year (that's it I'm declaring this card the craziest bunch of fighters in Invicta history. But did they drink in Carnival Court in Vegas every afternoon for ten days straight?), having started her pro career with Invicta in January. She got into MMA after seeing Holly Holm KO Ronda Rousey and saying "I could beat them." She KO'd Jade Ripley in January with easy, composed striking and in May gave judges little option to declare her the winner in a fight against Cheyanne Vlismas.
Last hard day at the office. It was so hot today! I almost threw up inside that mask 😅
Now time to chill and get smaller 😈#MadeItInOnePiece #FightWeek #InvictaFC31 #LastPush #Iansã #StopAtNothing #JustKeepSwimming #Obsessed pic.twitter.com/9SnvbFgNH6

— Helen Peralta Official (@HelenPeralta123) August 29, 2018
Kay Hansen stormed into Invicta with a vicious armbar victory over Emilee Prince back in late 2017. She gave up a lot of experience in her second fight against Kalyn Schwartz and was dominated, ending up on the end of a savage beating in the second round. Hansen ended up a bloody mess and really could have done with the referee could have stepping in sooner. Hansen bounced back with a month ago with a KO win over Gabby Romero for California Cage Wars. This was an open air show and if you wanna see low level MMA shows that some fighters have to appear on to make their name check out the fight on youtube. The effort these fighters put in deserved better.
Featherweight: Audrey Drew (1-0) vs. Holli Salazar (1-0)
Audrey Drew has been involved in martial arts since 1992 when she joined Guy Mezger's gym where she continues to teach youngsters there. She has competed in boxing and Jiu-Jitsui tournaments since 2000 and began amateur MMA in 2016. She finally made her pro debut in dominating fashion in January beating Roxy Ceaser at an XFO show.
Holli Salazar also made her pro debut in January with a TKO in the closing seconds of round two of an AFC show that aired live on fightpass. Holli loves to bang, her striking may not look the crispest but she is really powerful and any blow she lands seems to snap her opponents head back.
https://twitter.com/KayHansenMMA/status/1034951148455780352
And to start things we have a bonus fight which will be LIVE ON FACEBOOK. So is you don't have fightpass, check out the opening contest and savour the greatness of Invicta that I've been going on about on this fine site since the beginning.
Tune in (if they still say that) and you will see Chantel Coates and Ashlynn Kleinbeck making their pro debuts for your entertainment, both earning fight experience for the promotion Blue Corner battle based in Kansas City.
Watch Invicta this Saturday on fightpass, from Kansas.
Now I'm off back to bed.
And if any of these fights change they can bloody write their own previews.
See ya
Dazza