The Holy See-
Vatican City, where the grass is green and the girls aren't as cute as those damn alter boys, held a press conference earlier today to announce a partnership between the Catholic Church and the Make A Wish foundation.
While many terminally ill children want to meet their favorite athlete, rapper, or both (John Cena), another segment of that population wants to get closer to God and get laid at the same time.
When asked about the new program little Johnny Vandamere said, "Listen a lot of us ask Make A Wish for hand jobs and blowies all the time and they say no, so fuck it, we figured this way we meet a man of God, prepare for the end, and finally get to nut all in one swoop."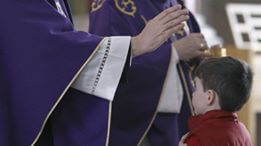 The controversial new program has many critics calling for it to be canceled. However, many celebrities are offering their help in any way they can. A virtual who's who in the kid touching world have reached out to the Church. Legends like Jared Fogle, Pete Townshend, and Gary Glitter would all like to be a part of the opening ceremonies.
"Listen a lot of us ask Make A Wish for hand jobs and blowies all the time and they say no, so fuck it, we figured this way we meet a man of God, prepare for the end, and finally get to nut all in one swoop."
Corey Feldman is torn between leading a protest of the event and accepting the Church's offer to perform and receive a lifetime achievement award, saying: "A gig's a gig man."
Stay Tuned