The following article  was originally published on the Comic Conversations site and is republished here to get you all hungry with anticipation for the opening episode of the long awaited television series Preacher.  Available  on AMC in the UK and on Amazon Prime for much of Europe. Watch it or I will hunt you down.
When you're a comic fan there's no better feeling than when you fall in love with a series to the extent that you're waiting for every issue to arrive in your local comic shop. The release dates become etched in your mind, your trip into town becomes almost a pilgrimage, there's a slight tingle of joy when you see that new issue with its glorious new cover there on the shelf waiting for you.
For six years there was such a comic in my life. It became a ritual for me, one Thursday a month I'd buy the latest issue on release day either before work or on my lunch break depending on my shift. I would never open the comic while at work, to sully the pleasure of reading it by doing so in the dire confines of the staffroom would be blasphemy. Only at home, in pleasant, calm surroundings would it seem appropriate to savour my favourite comic. Somewhere in the final year of it's run I even adopted the tradition of drinking a bottle of Budweiser as I read it. When I closed the page on the final issue I felt that intake of satisfaction that people who make it all the way through War and Peace speak of (or my mum who claims she's read it despite admitting she skipped most of the War bits).
The comic to which I was devoted so much, was my favourite comic of all time, Garth Ennis's Preacher.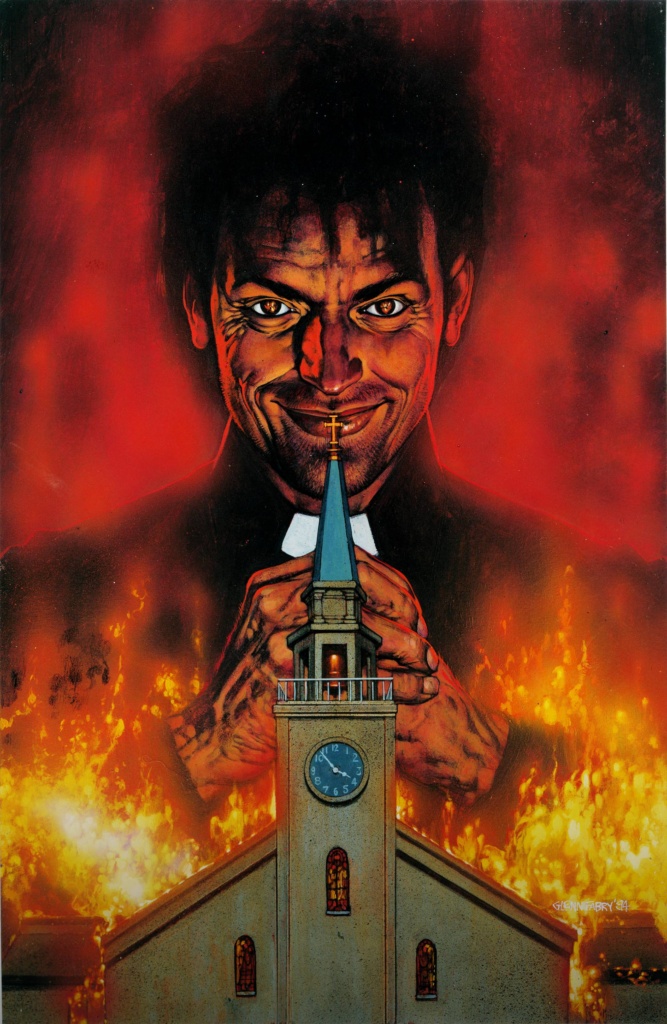 I'm going to be honest here. This piece is going to be nothing less than a gushing love letter to Preacher. I have total 100% unashamed bias for the most bone breakingly violent, jaw droppinly sexy, pants droppingly funny and cocaine buzz inducingly awesome comic ever. There will be no attempt at critical analysis, except in expressing how Goddamn awesome every single page in this comic was and remains so today with every revisit I make.
If you are a fan of comics and you have never taken the time to give Preacher a try, then first up you should go Fuck yourself. Seriously. You should. Which incidentally is what Sheriff Root actually does to himself in issue 7. Yes, this really does happen. In the 66 issues of Preacher (and several spinoff specials) a lot of crazy stuff happens.
Now I will give you a pass if you have strong religious beliefs and find Preacher offensive to your faith. But otherwise if you have even a passive interest in comics, you should be reading this.
Now: Dazza Preaches like a Preacher
The plot I'll sum up quickly. Troubled small town Preacher Jesse Custer finds himself with supernatural powers (namely the ability to wield the power of God and make others do his will) when he's bonded with Genesis, a powerful child like entity born after an affair between a demon and an Angel. Jesse discovers that God has abandoned the kingdom of Heaven, so begins his quest to bring the wayward deity to answer to his people, aided in his journey across America by a whisky drinking, Irish Vampire (Cassidy) and his gun toting, recovering alcoholic ex girlfriend (Tulip).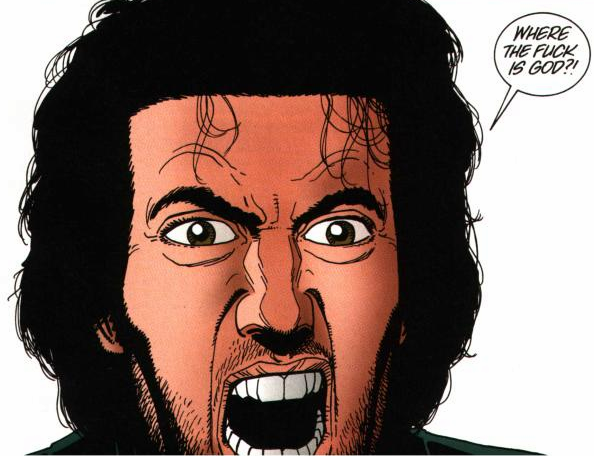 If that premise sounds over the top and bizarre, then wait until you meet the many colourful characters that cross our trio's path. Angels, serial killers, redneck killers, redneck cops, supercops, sex detectives, castrated mafia goons, inbreed hillbillies, cannibals, a hedonist who has sex with everything including an armadillo. These are just some of the unforgettable cast you'll meet in the first third of the story alone.
At it's heart, Preacher is a wild roadtrip through the American landscape. The search for God storyline becoming a vehicle for Jesse and co's freakish adventures as they encounter the delightfully oddball cast. Many of them are only around for an issue or two, but Ennis grafts compelling backgrounds for each of them that they are only too willing to share.
One of the monthly delights of Preacher was listening to these wacky narratives. My favourite was the rage filled monologue of one eccentric explaining why he spends his life spelling out the message "Fuck You" in the desert in letters big enough to be seen from space in one of the most hilarious speech bubbles I've ever read. (If this scene does not make it into the TV series I will be extremely disappointed. In fact series creator Seth Rogan would be perfect to cameo as the failed astronaut).
Jesse Custer is one of the coolest characters to appear in a comic. With all the attitude of a young Clint Eastwood, he' never shy of handing out a well deserved asskicking to scumbags and assholes unlucky enough to get in his way. He also has a romantic sense of honour and loyalty to his friends, always striving to do right by people. He's the embodiment of the classic western hero. Despite this, he's not adverse to stealing the odd car or using his word of God to inflict cruel punishments on those who have wronged him and his (like forcing a guy to count three million grains of sand).
Jesse also comes with one of the darkest and heartbreaking origin stories you will ever read. Be warned, it's a killer.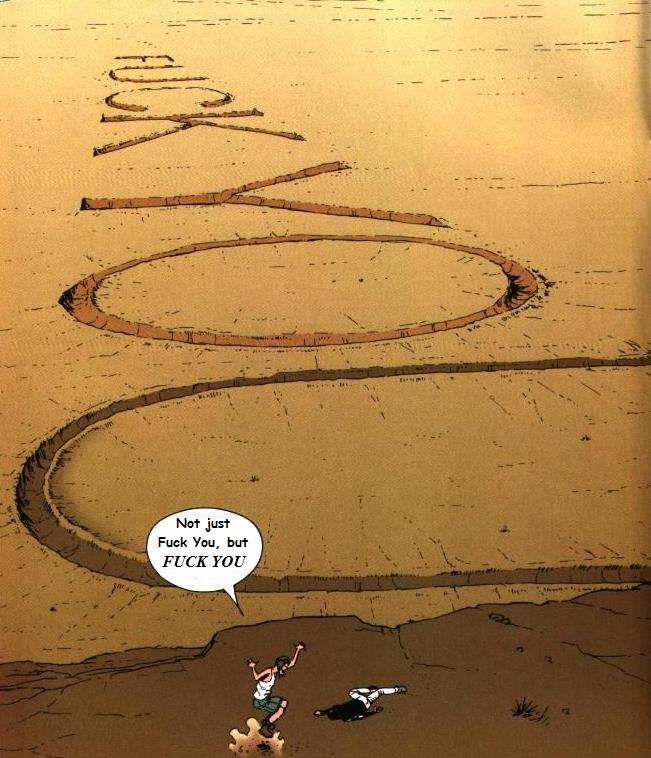 Facing him are a cavalcade of villains that are the envy of any comic.
There's Jesse's evil, bigoted grandmother, one of the most vile, sickening creatures ever drawn. Every word from her mouth drips with loathsome cruelty. I don't think I've ever hated a character so much as her. Her henchmen, the deliciously bad ass Jodie and animal raping T.J were so memorable they starred in their own one off special.
Then there's the Saint of Killers, an indestructible gun slinger from the wild west who never misses and racks up a slaughter driven bodycount with every one of his murder spree appearance.
When it comes to Old Odin of small town Salvation I can't even begin to explain what he's into.
And then there is Starr! The main villain of the story, Starr seeks to use Jesse and his powers to further the agenda of the mysterious Grail, a shadowy organisation that has been behind a global conspiracy since the crucifixion. Not only does Starr bring the danger, he also brings a string of rich one liners. Starr is hilarious, stealing any scenes he is in with his dry, biting sarcasm which grows as his conflict with Jesse slowly costs him his mind and body (literally). Whoever gets to play him in the TV series has a great role to get their teeth into.
But despite all these adversaries there are just as many problems from within his own small circle of friends. Jesse's flaw can be a  naivety and unable to see the problems stemming  from issues between Tulip and Cassidy. Cassidy in particular is a source of trouble, utterly charming and charismatic but dangerously selfish and unknowingly manipulative and a perpetual fuck up.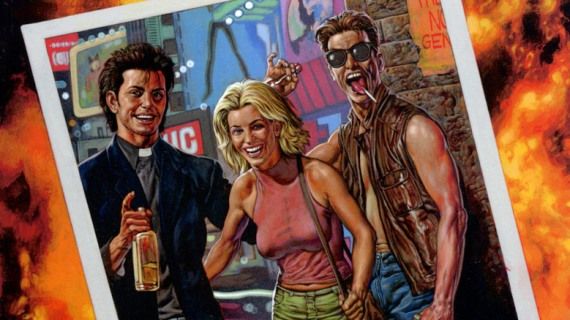 Aside from the craziness of the stories and characters, what makes Preacher so special and downright easy to get into is that Garth Ennis has a talent for slick dialogue. Anyone who exhibits a talent for dialogue seems to earn the tag "Tarantino like", but In terms of creating realistic but engaging conversations Ennis surpasses the film maker. There's real joy to be had from Jesse's heart to hearts with Cassidy and Tulip, pages of natural flowing talk fly by. Many enjoyable scenes can be found at a bar or passing the time on the road, simply through chatting and hanging out.
One of my favourite issues was simply involved with Jesse driving down the highway, chatting with a variety of hitchhikers and arguing by himself with the radio talkshows.
Garth Ennis has a reputation for violence, and there are lashings of that in Preacher with some astonishing fist fights and gunbattles. But to base Preacher's appeal solely on this is doing it a massive disservice. There is a real heart to Preacher. The themes of friendship and loyalty are always strong, Jesse often seems desperate to replace the family stolen from him as a child. You experience the joys he has of being on the road with his lover and best friend, and really feel for him when the trio falls apart. It's the relationship between Jesse and Tulip that we have one of the most genuine romance stories in comic history. It's a heartwarming story, that never falters into the sentimental, their love for each other is real and edgy.
In these articles it's become a cliché where I write how a comic started so brilliantly and then lost it's way. Thankfully this is not the case with Preacher. The quality never faltered throughout it's run. An issue never goes by where you are not laughing at some cutting piece of dialogue or gross out humour. Or wanting to cheer at some truly awesome feel good moment. Or being touched by something deeply moving (Amy may only appear in a handful of issues, but her final scene where she bids goodbye to Jesse and Tulip with her private revelation is heartbreakingly poignant.)
I miss Preacher, I miss those characters, but I'm forever thankful it didn't outstay it's welcome.  Preacher had a story to tell, and once that story was over it rightfully ended, the comic walked off into the sunset, still as vibrant and awesome as it was in the first issue.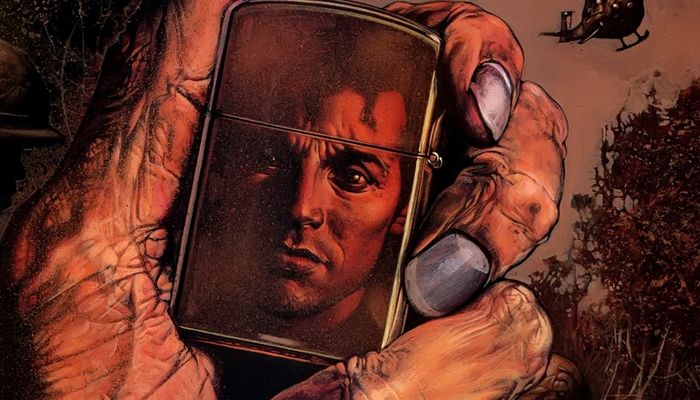 Yes, Preacher has being made into a TV series and if done right could rival the likes of the Walking Dead or Game of Thrones. Since it's announcement I've been nervous about raising my expectations for Preacher, but feedback from preview screenings (and there have been many which is hopefully a sign of confidence by the makers) has been wild with praise and excitement. There are so many great moments that could be replicated perfectly to the screen.
Tulip's heartbreaking plea to be allowed to kiss Jesse goodbye before Jody……oh I can't reveal that, I don't want to spoil things.
Or the moment that Jesse looks into Christina's eyes and realises…oh that would be an even bigger spoiler. How about Jesse yelling at the Klan guy "where the Fuck's your chin?"
Or the Saint of Killer's reaction to being hit by a nuclear missile.
Or Starr's statement "you can't fuck your sister and expect much good to come of it!" (The context of that entire scene is hilarious).
There are so many amazingly drop dead cool moments in Preacher, that I don't want to spoil because I can't really do them justice here and out of context of the characters that I really would love for people to get to know by themselves.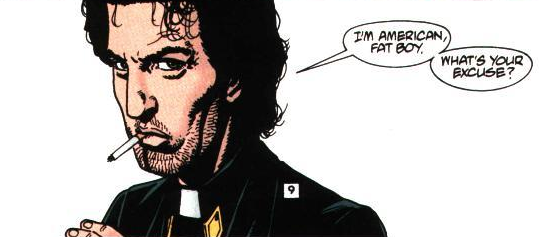 A few years ago I worked with a young lady who was curious about comics and asked me for a recommendation. I obviously went with Preacher and over the course of a few months lent her my prized collection of bagged issues. After a shaky start where I had to almost teach her how to read a comic (it's hard for us who grew up reading comics to appreciate how tricky a genre it can be read), she absolutely loved the series and devoured them, spin offs and all.
After she had finished the series she asked me for more, and I thought I'd created a new comic freak. However none of the comics she borrowed from me grabbed her anywhere close to how Preacher did and she drifted away from the genre.
It's probably not surprising, as I think Preacher is very accessible to new readers. It's a very down to Earth story, even the concepts of heaven and hell, angels and demons are presented in uncomplicated terms, avoiding the complex ideas that a comic like Hellblazer is based around.
Which is why I urge to people to give Preacher a try or recommend it to others. Yes, some people will be offended, but as an introduction to adult comics I don't think it can be beat.  I really think it's a comic that non comic fans could love. It's an amazing ride, that never lets up on any level.
I mean, what other story of any medium could make you feel affection for a character called arseface?
ARSEFACE!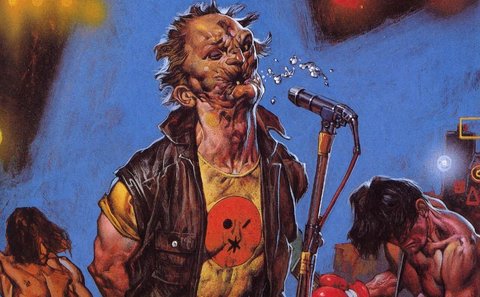 Til next time,
Dazza