The issue of open scoring in MMA has come to the fore lately (well alright one guy has made it his latest thing) so I thought I'd investigate the pros and cons of implementing such as system. I decided to start by canvassing the opinions of those effected the most by scoring that being the fighters and started by first reaching out to veteran Tonya Evinger.
Her response was "Open scoring? WTF is that?"
Realising that this was all going to be colossal waste of an Easter Sunday I decided to instead list my 12 greatest superhero fights of all time.
1. Batman Vs Superman from Dark Knight Returns issue 4
This is the real deal right here. An exciting, cleverly put together fight with the proper motivations that the film sadly missed out on. There's tons of emotion with the ageing Batman making his last heroic stand against a government serving Supeman in a battle that serves both the characters well.
There's a real purpose to this fight, that doesn't come clear until the end of the story but it works on so many levels anyway. The dialogue throughout the fight it a triumph and tells you everything you need to know about what drives the relationship between the two.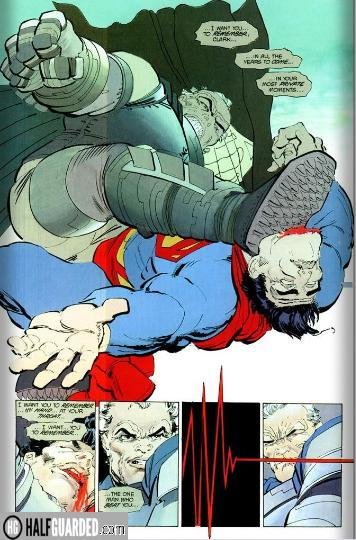 Bruce delivering that one final kick to Superman's head is one of my favourite panels of a comic book ever and Dark Knight Returns remains one of my most reread graphic novels of all time.
2. Wolverine Vs Lady Deathstrike from X-Men 205
Let's face it I could have filled this list with dozens of Wolverine fights but I'll settle for this one from 1986, a curious one issue story that for years I thought I'd actually missed the first part of a story as we're plunged right in the middle of a battle with Wolverine being hunted by in a snowstorm by Lady DeathStrike and her Reavers.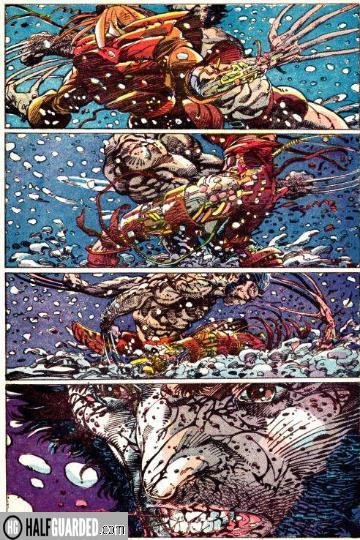 It's a crammed issue (in a good way) with Barry Windsor-Smith's artwork just incredible in portraying the violence as a bloodsoaked Wolverine takes out his foes one by one until he faces off with Deathstrike. The showdown is epic with the two absolutely tearing and slicing into each other and with a conclusion that's full of pathos as Wolverine laments of Deathstrike's choice to become the sort of weapon that he himself had forced upon him. The final scene where he leaves, denying Deathstrike the warrior's death she craves is the sort of poetic moment that made Wolverine under Claremont such a compelling figure.
3. Captain vs Captain America from Captain America 350
This one is all context as it comes at the end of a two year storyline that saw Steve Rogers surrender the Captain America uniform after refusing to become a government agent and the mantle falling to Super Patriot John Walker. Rogers became The Captain and between 1987 and 89 I was absolutely gripped as the Captain America comic featured their separate sagas, slowly building and teasing an eventual showdown between the two (a confrontation made all the more heated by the fact Walker had won their first encounter just before the saga began).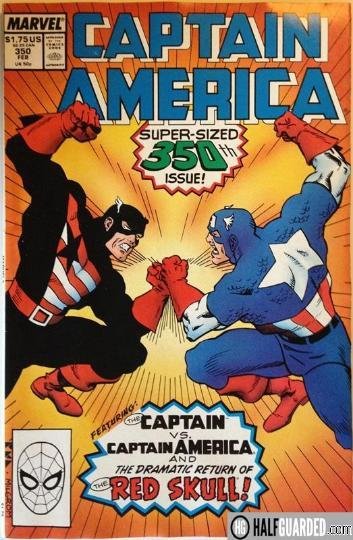 It's not the most violent fight on this list but as a conclusion to a well built feud it's immensely satisfying.
4. Superman vs Doomsday from a shitload of Superman comics in 1992
The Lois and Clarke TV show was shite. I mean Dean Cain looked exactly the same as Clark Kent as he did as Superman. But the one thing it did do is help create one of the most memorable stories in Superman history.
You see in 1992 DC wanted to finally have Lois Lane and Superman tie the knot in the comics, however the makers of the TV series wanted to do this first. So the comic writers scrambling for a big storyline to do instead went "fuck it, let's kill him." Hence a monstrous badass called Doomsday was created and the biggest slugfest in comics went down through the pages of the 78 monthly superman comics that DC was producing every month.
It's not a sophisticated story by any means, it's just one long fight between the two but it is done to such an outstandingly epic level, especially in the last three issues as the intensity of the fight rises with each page being made up of three panels, then two and finally the fateful issue made up entirely of splash pages.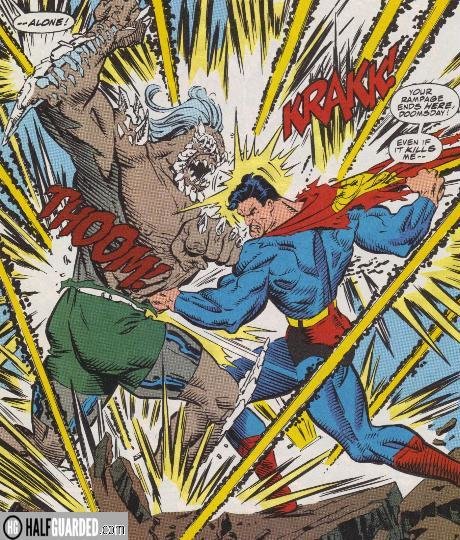 The final, gruelling moments of the battle are incredibly moving as Superman's loved ones and the rest of the world watches in horror at his demise. This is everything a superhero death should be, tragic, heroic and utterly devastating.
5. Jesse vs Jodie from Preacher issue 12
Ok, not strictly a superhero fight but this brawl between Jesse Custer and the man who had killed his father before his eyes as a child is dripping with so much hatred between the two I had to include it. It's a brutal, bonebreaking no frills fist fight to the death and after everything we've witnessed in the All in the Family storyline it's impossible not to be cheering on Jesse, especially because Jodie is such an evil shit.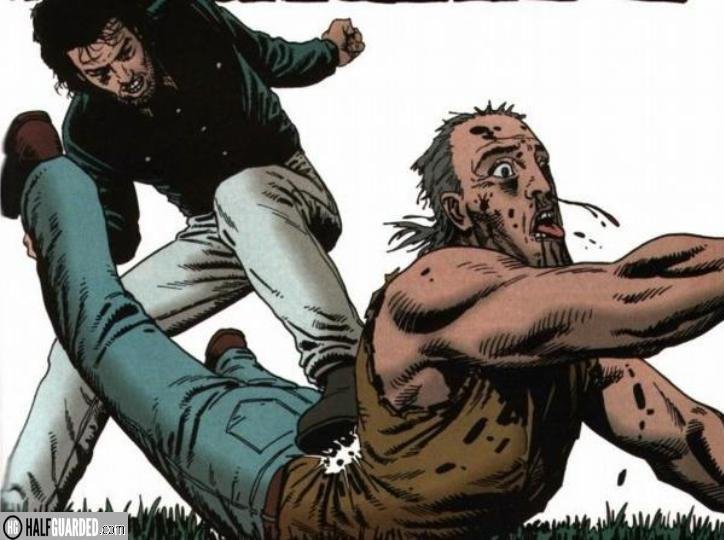 Jesse refusing to use his powers because he wants to beat Jodie fairly with his fists is one of those ultra cool moments that made Preacher my favourite comic of all time.
6. Captain America vs Hank Pym from Ultimates 9
This one rivals Sonny Corleone attacking his brother in law for hitting his sister for all time satisfying beatdowns. In the oh so great first Ultimates series we get a retelling of the wife beating scene between Hank Pym and the Wasp told in the Avengers in 1981.
Except in this one Captain America proceeds to track Pym down to a bar and kick the living shit out of him. Oh it is so glorious, especially as even when Pym uses his Goliath powers it doesn't prevent him from ending up a bruised and bloody unconscious heap. It's hard not to see Pym getting his head kicked in here and not go "Fuck yeah."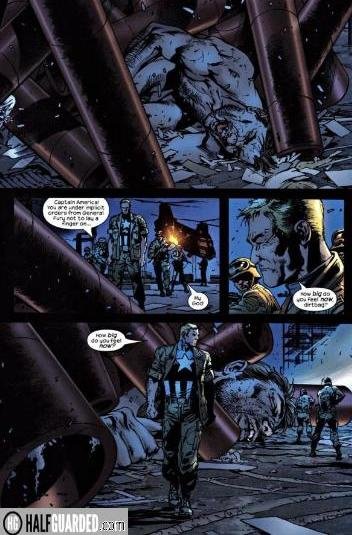 7. Daredevil vs Nuke from Daredevil 233
It may have seemed folly to have the big conclusion to possibly the greatest comic storyline of all time focus around a battle with a villain who'd only been introduced one issue before. But then again Miller had not put a foot wrong in the insanely epic "Born Again" so why would he here?
It helps that Nuke in one single issue had been introduced as a terrifying psychotic mass of muscle and his blistering machine gun assault on Hell's Kitchen had an air of frightening tangible reality to it.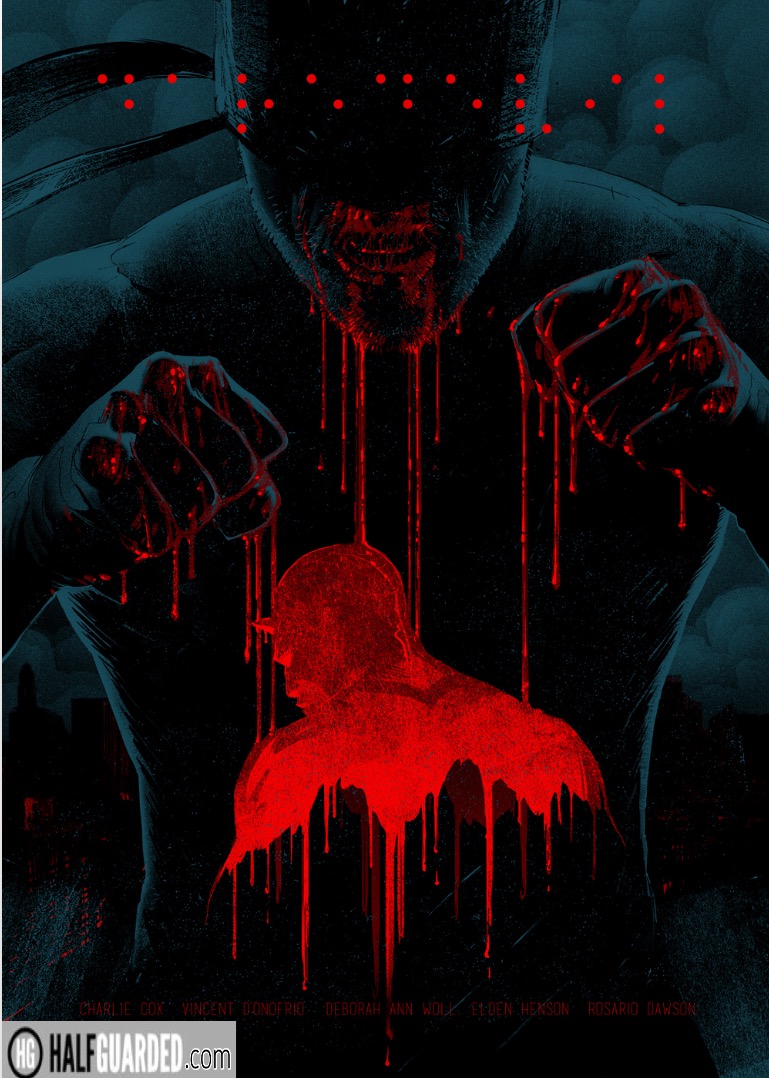 Daredevil is another hero who could fill a list with his acrobatic but down to Earth battles over the years. This one tops the list due to it emotional impact, this being Matt Murdock's return to action after being beaten down like no comics character ever before. Miller's narration in giving emphasis to every blow struck in the fight makes this an epic war.
8. Bullseye vs Elektra from Daredevil 181
And the Frank Miller lovefest continues with this battle of Assassins from his first run on Daredevil. The fight flows beautifully with the reader experiencing every lunge and parry between the two in a majestic ballet of violence. But it's in those final moments with Elektra bested and bloody looking up helpless at Bullseye who declares "You're pretty good…but me…I'm Magic" and cruelly and methodically taunting her before killing her in one of the most shocking moments in comics told in a silent subtlety that's missing today.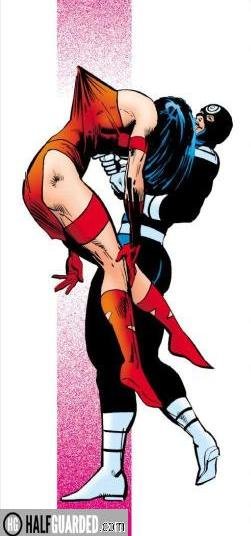 Just as good is the confrontation the next issue with an enraged Daredevil going after Bullseye for revenge with a conclusion in it's own way just as shocking.
9. Wolverine vs Sabretooth from Uncanny X-Men 213
Wolverine vs Sabretooth is one of those feuds that has existed for so long and seen so many battles that it's frankly become tiresome (although if Claremont's original plans for the two had come to fruition it could have been awesome). So it's back to one of the first encounters (well the first we actually saw in print) between the two where they engage in as violently and bloody an encounter as Marvel would allow at the time. Flesh is torn, limbs pierced as the two go at each other in close combat with the savagery of two rabid dogs and with a chilling narration panel "They so love what they do."
We even get a brief hint of their past courtesy of Psylocke that shows a young wolverine wounded on a mountain top, though sadly the way Marvel made a hash of Logan's past in their convoluted origin for him it's probably a false memory.
Another fun fight occurred many years later in the X-Men's mansion when Sabretooth was a prisoner and Wolverine was left alone to watch over him. Because of course nothing bad could ever come of that.
10. Spider-Man vs Green Goblin from Amazing Spider-Man 121-122
Once again Spider-Man is a character who had cracking fights every issue at one point, but this battle with his greatest rival of all the Green Goblin had an emotional element that had all the others beat. It's also pretty damn historic as the death of Gwen Stacey (all the more tragic as it was the whiplash from Spidey's web attempting to save her that ultimately snapped her neck) is seen as a turning point in the tone of mainstream comics towards a grittier edge as no popular character had received such an end before.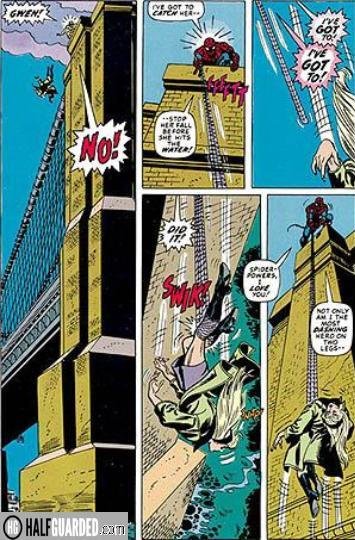 The following issue with a bloodthirsty Spider-Man driven by revenge is a side that had rarely been seen before and it was fitting with such seething hatred driving the fight (Spider-Man actually declares he's going to kill the Goblin) that the Green Goblin dies at the end of the battle. With the passing of two key characters this is one of the most important Spider-Man stories ever.
Of course Marvel would fuck all that up by bringing them both back years later.
11. Thor Vs Hercules from Thor 126
Now this one is just fun and is also a pretty inspired match up when you think about it. I mean this is the main guy in Norse Mythology taking on the main guy in Greek Mythology. Go back a few centuries and this would have been a pretty big deal, maybe, I don't know how the eras match up or if Ancient Greeks ever met Vikings but let's pretend they did.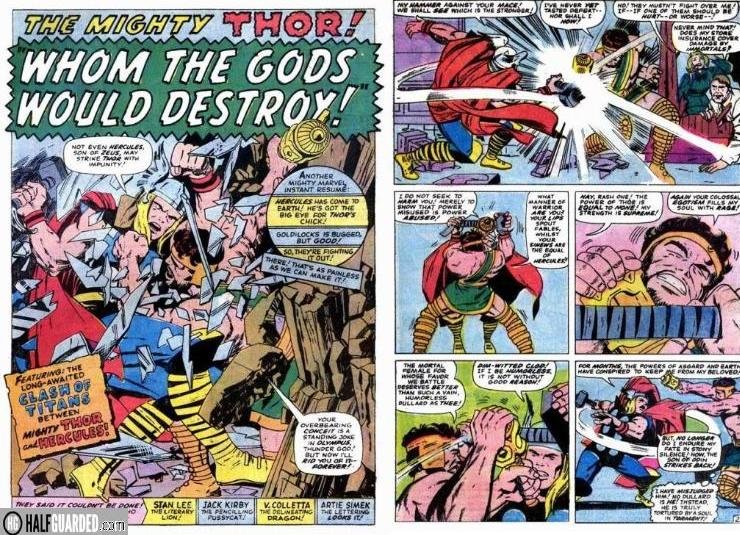 Anyway the cause for this epic encounter? Thor catches Hercules having coffee with Jane Foster and shit flies because of it. Yeah this is when comics were fun, when two heroes could act like complete arseholes over a woman and demolish half the city in the process. No need for villains to manipulate them to fight, some heroes are just musclehead morons. Lots of trading of blows and long convoluted speeches featuring "thy" "thou" and "knowest" lead to a fight that is a complete blast.
12. Punisher vs Bullseye from Punisher Max 11
If you want to have a battle between two of Marvel's most inherently violent characters you have to go outside the regular Universe to do it justice and have it in a Max series (they say "fuck" and everything in this imprint it's awesome). The whole issue is a massive scrap between the two, with guns, knives, gas, nails in heads and vomit. It's brutally nasty and all the better for it with one of the most sadistic portrayals of Bullseye ever.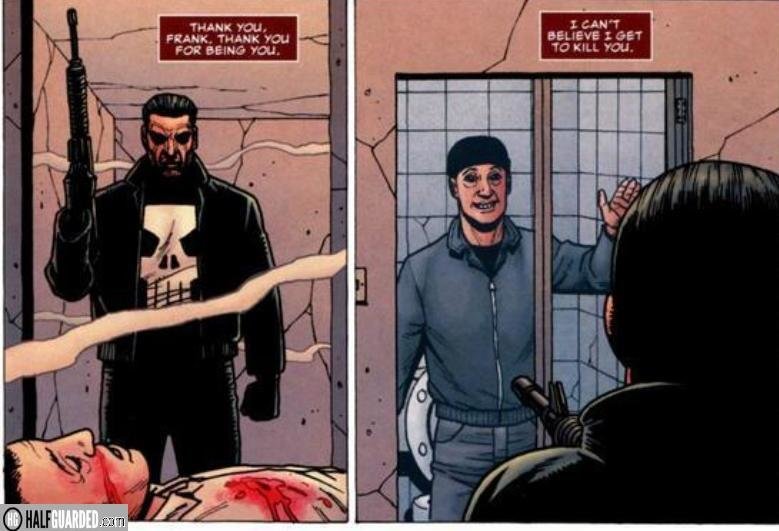 Seriously this storyline is one no Punisher fan should miss.
So here is my Easter gift to you all, the 12 greatest superhero fights of all time! Hoppy days to everyone (especially if Mike had posted this on Easter instead of his weird thing about the Easter Bunny…)
Dazza
Oh and open scoring is a load of bollocks.