Washington D.C.-
A bombshell was dropped at the Mueller hearings on Wednesday as Special Counsel Robert Mueller provided Congress with film of a 3 day crack binge that President Trump engaged in while kicking a set of newborn twins around a freshly polished hardwood floor.
Upon watching the video in which Robert Mueller narrated the action, Democrats seemed confident that they have a strong case for impeachment if just a few more chips fall into place.
In the video Trump can be seen smoking crack cocaine from a Diet Coke can and punting one of the twins through a doggy door and screaming "GOOOAAAAAAAALLLLLL".
Immediately after his lap around the kitchen, Trump decided to grab a push broom and pretended the second baby was a curling stone that he was trying to move it down the White House hallways shouting "FUCK NORWAY!!!"
House Speaker Nancy Pelosi commented on the situation:
"The American people need to remember this day because history was made. After seeing this evidence I will be immediately in 12-15 days ordering to hear from the twins who the President allegedly punted and curled. Once we get a subpoena for the babies and the person who sold Trump his crack cocaine, we will give it about a year and some change after extensive testimony before we decide if we should consider thinking about maybe, kinda, sorta imagining if we should think about impeachment proceedings that we'll think about considering."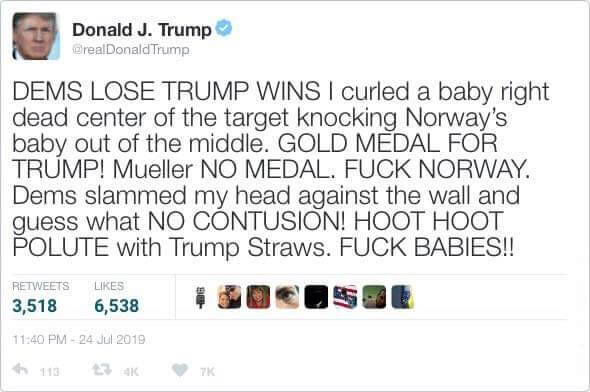 ---
Trump took to Twitter to celebrate what he saw as a huge win:
"DEMS LOSE TRUMP WINS I curled a baby right dead center of the target knocking Norway's baby out of the middle. GOLD MEDAL FOR TRUMP! Mueller NO MEDAL. FUCK NORWAY. Dems slammed my head against the wall (huge) and guess what NO CONTUSION! HOOT HOOT POLUTE WITH TRUMP PLASTIC STRAWS!!! FUCK BABIES!!"