Nitro Episodes 46 and/or 47 
So as I was looking through my audio tapes and I found that episode 46 and 47 were sort of mangled together… Anyway, here's what I have.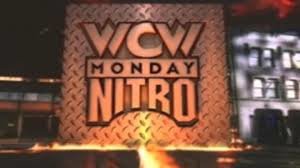 Nitro 46/47 was another episode from Disney.
Eric Bischoff: Brain, did we get that fat guy to stay for the second set of tapings?
Bob The Brain: Eric, we film live each week. Nobody stays. It's a totally new group of tards.
EB:  Oh yah, I forgot. That's why I'm able to give spoilers away from the World Wuss Federation.  HAHAHAHHAHAHA!
BTB:  This week we don't have as many fat guys, but we have a family of blacks that will be in the front row responding like they are seeing David Blane levitate.
EB:  Who the fuck is David Blane?
BTB: It doesn't matter, but these blacks will be doing tons of stereotypical black gestations, including drinking Sprite.
EB:  Love it.  So this is the big heat episode where the Outsiders lay out a bunch of dudes including Rey Mysterio getting lawn darted into the trailer.  They are gonna lay out Mark Bagwell, Scott Riggs, Arn, Rey, and maybe beat up a couple of goofs.  Now we want this to look realistic, so we're going to bring in the ambulances and put everyone in neck braces and do stretcher jobs on all four, even though that would absolutely not happen in real life. We're going to stretch this segment out soooooo goddamn long, people at Disney will start chanting boring. We want it to look real panicky, so everyone keep yelling and sobbing and get in the way constantly of the actual EMTs. Alex Wright, I really need to see your beautiful bowl cut in a lot of shots. Ok, Rey, we're going to need to remove your mask for reality.
Rey: What does that have to do with anything?
EB:  Well, you see, if you suspect a person to have a neck injury, everyone knows it's best to jostle the persons head in an effort to get a flimsy piece of latex off the face so the EMT's can stabilize your neck later. Also, we're going to need you to yell "quarto" a bunch because you saw four guys.
Rey: Uh, I've been speaking English for years, and even on many promos already in WCW. I know the english word "four." And anyway, it's quatro not "quarto." Dumb ass.
EB: Love it.  Moving on, Benoit, we need you really look out of it and totally psychotic.
Benoit: What's my motivation?
EB: I don't know, just pretend you… let's say… you saw your wife and your future child dead, at your own hands, and now you're contemplating taking your own life via strangulation on a lat pull down machine.
Benoit: That's oddly specific, but ok.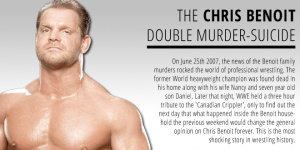 EB: Great, great. After all this has settled down, let's say after 40 minutes of non action, we'll pretend we are putting together some matches on the fly.
Schiavone:  I have a great idea. Let's put Rage and Kaos in a match with the Steiners. We'll sell that the Steiners are really disheveled and distracted by the beatings that just happened by the NWO, and then they can put over Rage and Kaos and we can start to push these guys.
EB:  Love it.  Love it. But, what if we do the exact same thing, and instead of Rage and Kaos getting the win, we just have the Steiners squash the shit out of them.
Schiavone: Uh, that's not really the way to get rookies over.
EB: Love it. Love it.  Now lets talk about this NWO paid advertisement we are going to air…
Schiavone: You, uh, you didn't really address my concern, Eric.
EB: Love it. And I totally agree with you Tony, we SHOULD do MY idea.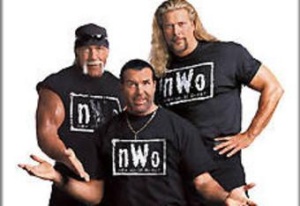 Schiavone: But that's the wrong…
EB: Love it.  Here Tony, enjoy this complimentary garbage bag full of Disney popcorn. Now back to the NWO commercial… We need Hogan wearing at least 2 crosses.  We want to portray that he's evil, but loves Jesus.
Tenay: Why?
EB:  Tenay, shouldn't you be in Mexico learning about La Parka's heritage? We don't use you at Nitro, or anything. You see, Christians are in our key demo. Also, we need Hogan to insult Ted Turner about being a billionaire. I know, that will really be a dig at Ted Turner. "Hey Ted, you've got more money than any of us combined will every make…" Burn!
Tenay: That makes no sense. What if we have the NWO call out guys they want to challenge to wrestle.
EB: Love it. Or we could have them make fun of how much money Ted Turner has! Love it.  Love it!
Tenay: You just said "love it" to your own idea.
EB: Love it. Love it. Now who wants big fat pay raises!
ALL: Love it!