TUF Season 5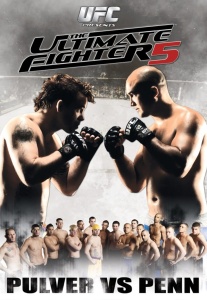 This was the first season to feature only one weight class. It was still the usual format of 16 guys fighting for a contract, but this time there was only one contract instead of two.
This was one of the better seasons. After all, Nate Diaz was on the show. There was tons of debauchery, lots of pranks, and a great backyard brawl. The coach's challenge was also epic.
Airdate: Spike TV April 5, 2007 – June 23, 2007
The Coaches: BJ Penn and Jens Pulver
Team Penn: Gray Maynard, Matt Wiman, Gabe Ruediger, Joe Lauzon, Rob Emerson, Andy Wang, Allen Berube, Noah Thomas
Team Pulver: Corey Hill, Nate Diaz, Brandon Melendez, Marlon Sims, Manny Gamburyan, Cole Miller, Brian Geraghty, Wayne Weems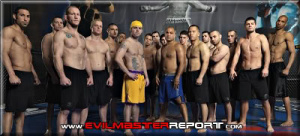 Highlights
Episode one was great, when coach BJ Penn just wanted to say "fuck it" to picking teams and just told the guys that if they want to be with him, raise their hands. Dana nixes this.
Berube lost to Miller but gets to stay because Dana hates sending guys home.
Emerson wrote, "Suck it Team Pulver" on the game room wall. Ouch.
Ruediger gets a colonic to try and lose weight: Note to fighters, this does not work.
Reudiger tries to cut 20lbs in the sauna and passes out.
Penn boots Wang for being a bitch and Dana puts him with Pulver.
Sims and Thomas get into a fight. Thomas tried to lock up an arm bar on the concrete and got dropped on his brain. Both men get axed, because Dana hates fighting on concrete. Berube also got five for instigation.
Diaz and Miller throw each other's mattress into the pool
A prank war ensued which included a fruit war and shaving a drunken Cole Miller's head.
Dana shows up and pits the coaches against each other in a $10,000 Ping-Pong battle. Pulver won the best-of-three series. Each member of Team Pulver got 1000 dollars.
The Finale – June 23, 2007
Manny Gamburyan beat Joe Lauzon by unanimous decision to move on to the finals to face Nate Diaz who defeated Gray Maynard via submission in round two. Diaz beat Gamburyan by TKO in round 2 to win the contract. In the main event, BJ Penn defeated Jens Pulver by submission (rear-naked choke) at 3:12 of round 2. Also on the card, Thales Leites defeated FLOYD SWORD! Awesome name.
Where are the winners now?
Nate Diaz: The 30 year old Diaz is really just hitting his stride. He has a less than stellar record at 18-10, but he recently dominated Michael Johnson in his first fight in over a year. With that performance, Diaz has earned himself a shot at the "Notorious" Conor McGregor with the recent injury of Raphael Dos Anjos creating the opportunity. It will not be for a title, but it's a big step in the right direction for Diaz. I'm only saddened that we only get a short two weeks of build. The trash talking is going to be insane.
BJ Penn: Penn recently expressed interest in a comeback, but that has been put on hold as some weird accusations have come out about Penn. At age 37, and with a 16-10 record, nobody needs to see BJ again, especially after his last "fight" against Frankie Edgar, where he did absolutely nothing. His last win was in 2010 against Matt Hughes.
Jens Pulver: At 41, Pulver retired with a 27-19 record. His last UFC fight was the loss to Penn.
Corey Hill: He's dead. He had that horrific leg break, never really fully recovered. Then he got sick, and died. It's quite tragic actually.