Like every other Raiders fan in the world who isn't serving a life sentence for strangling somebody to death at a campsite, I'm still plenty peeved about my team getting eliminated from the playoffs so dadgum early. I've literally been waiting 14 years for the team to make it back to the postseason, and had Derek Carr not broken his fibula on Christmas Eve, my boys would probably be playing in Super Bowl 51.
Alas, it really doesn't do any good to sit around being all mopey until September. Throughout Raider Nation, there's a whole lot of bitterness and resentment and anger and rage coming to a boil, and really, why waste such perfectly fine hostilities on the free agency period? I've been doing some thinkin', and recently, it just sorta' dawned on me:
How come we aren't using the Raiders fanbase to go after ISIS?
Yeah, it sounds a little weird at first, but hear me out. What is ISIS but a big old amorphous blob of anger-fueled young men who like to wear black a lot and wave flags while kicking the shit out people? If you factor out the whole "training five year olds to shoot hostages at point blank range" and "setting people on fire and putting it up on YouTube" stuff, you've pretty much got the core constituency of the Raiders faithful right there. And as we all know, with a villain as big and bold as the Islamic State or The Levant or Kool and the Gang or whatever they're calling themselves these days, you can't just send in any old troops and expect a swift and decisive victory. No sir, in this case, good can't beat an evil of this magnitude; instead, you've gotta' make it a bad vs. evil throwdown, and by now, we all know there ain't no group of people that aren't categorized as a hate group by the Southern Poverty Law Center that's as bad as Raider Nation.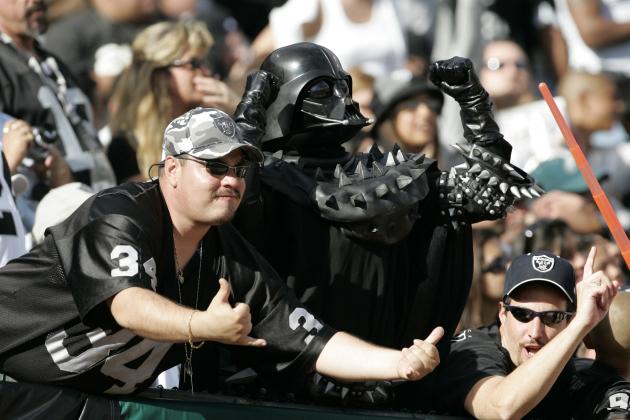 Alright, so here's my plan. Pay attention, 'cause I ain't repeating none of it.
STEP ONE – We round up every Oakland Raiders fan in North America – no small task, since that includes the entire country of Mexico – using phony Groupons for half-priced Khalil Mack jerseys. As soon as they put in their neighbor's credit card information, wammo, a video from the Department of Defense starts playing letting them know they've officially been recruited for Operation: Autumn Wind. The video gives them directions to their nearest Army recruiting station and a special codeword – "I hope the entire Kansas City metropolitan statistical area gets chlamydia" – so the higher ups know they're the select few part of the top secret mission.
STEP TWO – For three months straight we do nothing but poke, prod and generally infuriate 'em by making 'em sleep in Denver Broncos pajamas. Every night the audio from the Tuck Rule being overturned is played at 180 decibels and they only thing they're allowed to eat is strawberry Pop-Tarts and extra spicy Funyuns (which, come to think of it, really isn't much of a change from the aggregate Raider fan's diet.) The black op sites will offer free beer, but since all the Budweiser cans have the Chargers' lightning bolt on them, the entire stock remains untouched for the duration of the program.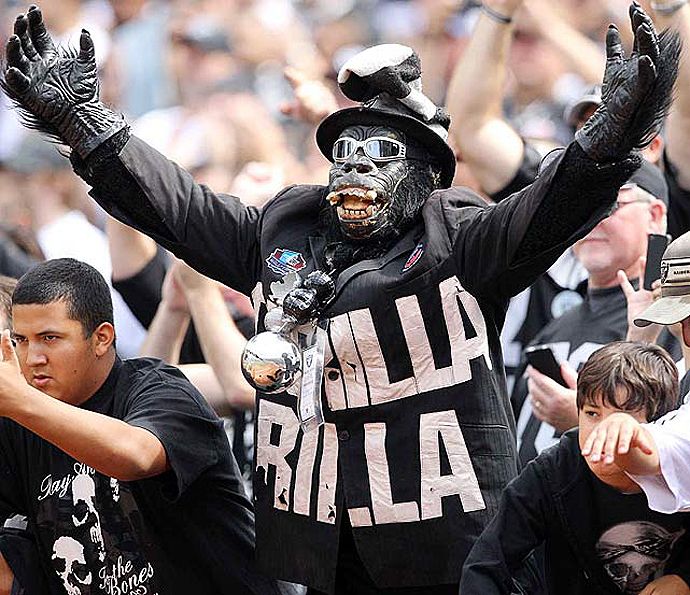 STEP THREE – Time to learn some basic combat skills. In lieu of the formal camouflage fatigues, each successful recruit is given a throwback Bo Jackson jersey with the 75th anniversary patch on the right shoulder. Seeing as how every Raiders fan worth his or her salt already knows everything there is to know about stabbing people, the brunt of the regimen involves firearms training. Of course, we won't actually give them guns – instead, we'll just give them as many bullets as they need and a giant paper mache John Elway head for target practice. By the time basic training is up, every last recruit will be able to successfully throw a shotgun shell 1,700 miles per hour, thus negating the need for projectile launching devices of any kind. And if you think that's an unrealistic expectation, clearly, you don't know how much Raiders fans hate John Elway.
STEP FOUR – Here's the part where we finally put some boots – well, Nike Air Trainer IIs, if we're being literal about things – on the ground. First, Team Stabler sneaks into Syria and under cover of night, shivs half of Raqqa to death (the survivors uncover the heaps of corpses the next morning, with the only clue as to their demises being mysterious graffiti declaring "Amari Cooper rules.") Then the Plunkett Company is going to mosey on into Mosul and wipe out the entire ISIS soldier population in broad daylight, with most of the terrorists killed by IEDs – Injuries incurred from guys wearing Riki Ellison and Hewritt Dixon throwbacks. And for the grand finale? That's when we're calling in Delta Force Madden, who's going to go into Dabiq – you know, that city where ISIS thinks Jesus himself is going to come down from the heavens to give the Iranians a chair shot while the ref's looking the other way – and they're all going to do their best Sebastian Janikowski 50-yard-field goal try imitations at the same time. The ensuing dust hurricane gives the 75th Howie Long Division all the time they need to sneak in through the backdoor, rescue all the hostages, bodyslam the enemy soldiers until their brains turn into tapioca and spray paint  "Aqib Talib Sucks" on every brick, rock and drive-thru falafel restaurant  left standing. Fearful of incurring the the same fate, the very next day Hamas, Hezbollah, al Qaeda, the Muslim Brotherhood and the entire city of San Francisco all announce they're surrendering unconditionally.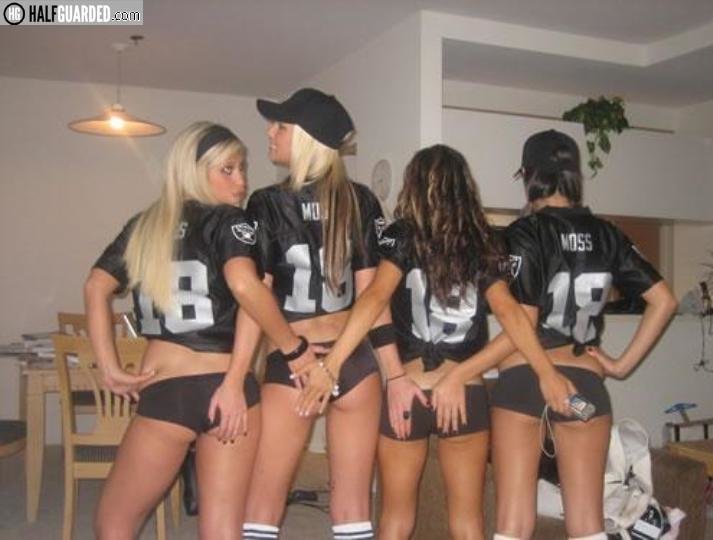 STEP FIVE – And with the scourge of militant Islamic extremism left about as potent as the Cleveland Browns' passing game, there's only one thing left to do: that's right, rebuild Syria into a Zionist stronghold for Raiders fans the world over. Granted, it might take a few years to build that 100,000 seat dome out in the desert (you think the city council in Oakland is stingy with public funding for retractable roofs, just wait until you have to wheel and deal with guys whose primary currency is chickpeas), but with enough immigrants, manpower and winning seasons, that damn thing is going to get built somehow, someway. After relocation talks in L.A., Las Vegas, San Antonio, Mexico City, Portland, San Diego, St. Louis and every major city in Canada break down, the NFL brass finally caves in and lets the team relocate to Aleppo, with the al Davis Dome doubling as a regional military installation/bitchin' place to hold monster truck rallies in the offseason. Meanwhile, with virtually all Raiders fans relocated to the Middle East, the NFL remains bamboozled by the drastic decrease in both stateside stadium beer sales AND arrest rates.
Of course, as a trial run, things may not turn out as well as planned (in geopolitical-strategizin' speak, we call that "Getting Jamarcus'ed") but I reckon the plan has more upside than downside. And if it proves even halfway effective? Boy, do I have a hell of an idea to overthrow the Kim Jong-un regime using half-starved, drugged-up and homicidal Philadelphia Eagles supporters …