Well folks, a new National Football League season is nearly upon us, which means fans of all 32 NFL teams – with a few glaring exceptions – have plenty of reasons to get excited. With so much movement during free agency, the entire composition of defensive and offensive units have changed, thus benefiting some long underachieving teams and really doing a lot of damage to some long overachieving postseason stalwarts. Add in the 2016 rookie class – plus the continual maturation of young stars, coinciding with the continual degradation of some formerly elite stars – and you have all the makings for one of the most unpredictable pro football seasons ever.
A couple of weeks ahead of kickoff Sunday, I've decided to throw out my predictions for all 32 NFL squads, plus my way, way too early picks for the playoffs contenders – and yes, even my prediction for the outcome of Super Bowl LI down in Houston.
Today is all about the North and the West.  And Mike, who is writing this sentence, is giddy like a moron because he can write HO! a lot.  WESTWARD HO!!!!!!!!!!!!
AFC North Preview
The Pittsburgh Steelers will triumph over the Cincinnati Bengals in a heated AFC North title hunt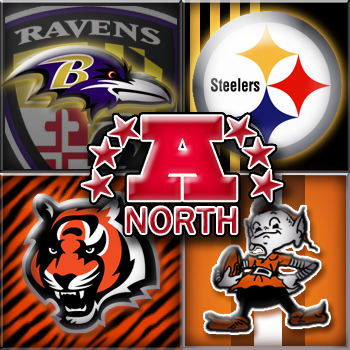 Let's just come out and say it: the Pittsburgh Steelers are the most stacked team in the American Football Conference. With Big Ben, Le'Veon Bell (even if he is only playing a maximum of 12 games this year), DeAngelo Williams and Antonio Brown – plus Martavis Bryant, pending he ever gets unsuspended – the Steelers are easily the most consistently productive offense in the AFC and are pretty much guaranteed to rack up tons of yards in the air and on the ground no matter what. Even with a defense that is middle of the road at best, expect Pittsburgh to have no problems racking up 10-plus wins this year – I've got them finishing 12-4 and picking up a first round bye in the playoffs.
The Cincinnati Bengals had their foot on the throats of the Pittsburgh Steelers in the opening round of the playoffs last January, but thanks to some boneheaded flags, they wound up fouling their way out of the postseason. Very well balanced on both sides of the ball – Jeremy Hill, Andy Dalton, AJ Green and Tyler Eifert are all pretty much locks for Pro Bowl play – there's no reason to believe Cincy won't make another postseason run this year; alas, even with a 10-6 regular season record, does this team possess that certain something-something that will finally get them out of the divisional round of the playoffs?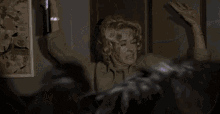 Although the Baltimore Ravens are definitely in rebuilding mode, that climb back to the top of the AFC North mountain may not be as long a trek as some are predicting. Joe Flacco may not be an "elite" QB, so to speak, but with targets like Steve Smith, Jeremy Butler and newly acquired Keenan Reynolds running routes downfield, he's got plenty of end zone options at his disposal. The run game remains problematic, and there were some big subtractions on defense over the offseason, but on the whole? This is a dangerous team capable of scoring more than one upset win against seemingly superior opponents. Their 7-9 record may not be enough to get them in the playoffs, but it's nonetheless a reason to be optimistic about the team's outlook moving forward.
The season hasn't even started, yet people are already penciling the Cleveland Browns in for the number one draft pick next spring. To be fair, looking at this roster doesn't exactly fill you with a whole lot of optimism: with the injury-prone RGIII taking over the reins from Johnny Eightball (get it? Because the team's former QB does a LOT of drugs!), a former Raiders quarterback their best receiver and a starting running back whose cop-hatin' rhetoric may or may not get him "bountied" New Orleans Saints-style, defenses everywhere are champing at the bit to put the pressure on Cleveland's wafer thin O-line – and if that wasn't bad enough, their defense looks like it's going to be even worse. Well, at least you've got the Cavs to keep you company once the 3-13 Browns are eliminated from playoff competition by Halloween, I suppose.
AFC West Preview
Three AFC West teams will win at least 10 games as the Kansas City Chiefs barely win the division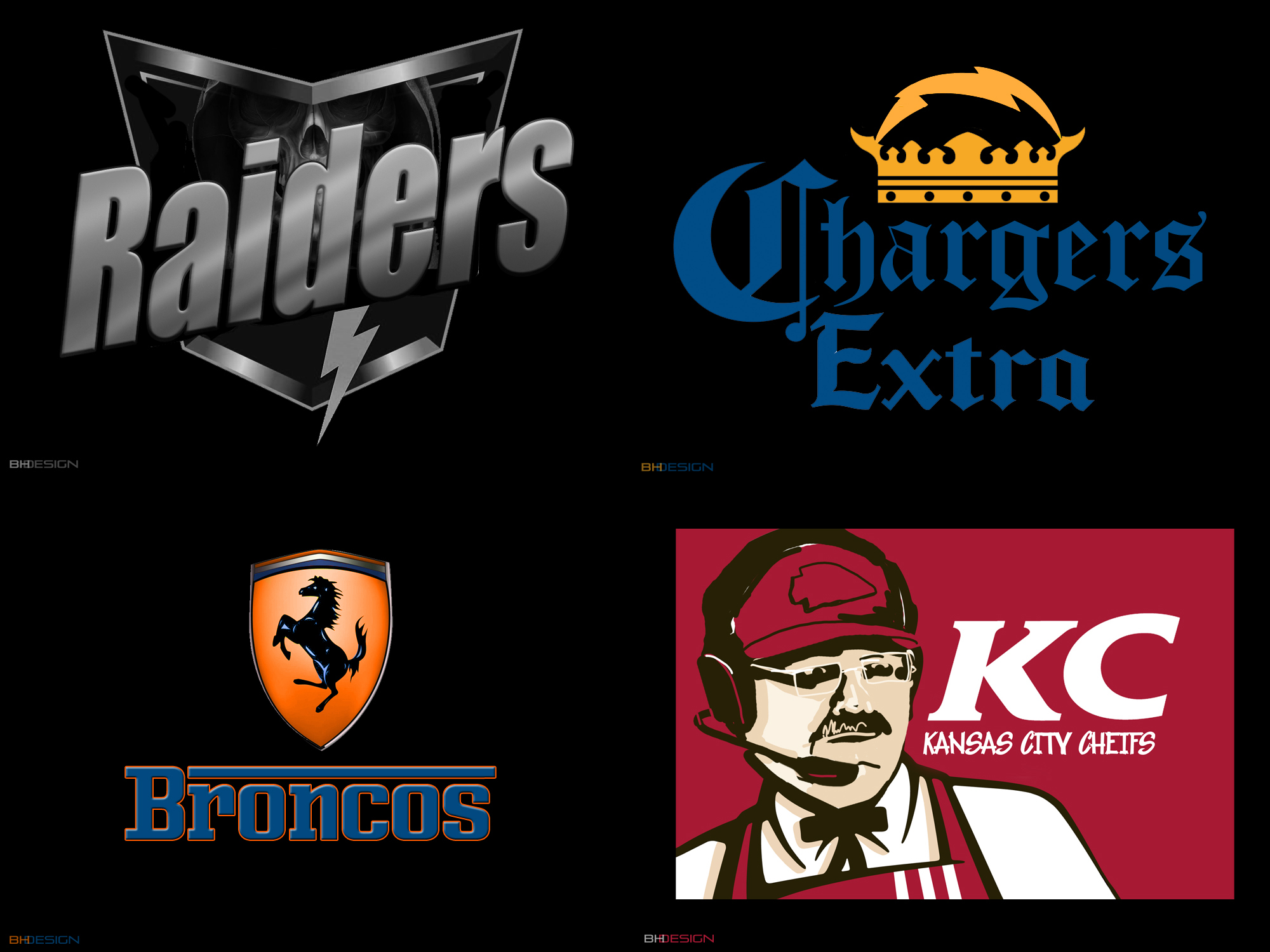 Few teams in either conference appear to be as well set up, offensively and defensively, for sustained gridiron success than the Kansas City Chiefs. Alex Smith is a rock solid passer, the duo of Jamaal Charles and Charcandrick West is among the best rushing tandems in the League, their o-lines and d-lines are both probably top ten and Eric Berry may very well be the game's best free safety. In what should be the most competitive conference in pro football this season, the Chiefs aren't going to have an easy path to the top of the mountain; regardless, I think they are talented enough on both sides of the ball to go 11-5 and end the Broncos' six-year streak as conference champs.
Yes, I am an Oakland Raiders homer, and yes, every year I go in overly optimistic. This season, however, the Raiders are destined to have their best showing since the 2003 Super Bowl run, thanks to a stellar free agency period that saw them snap up Reggie Nelson, Bruce Irvin, Kelechi Osemele and Sean Smith off the market. Complementing the beefed up defense and offensive line (which may just be the League's best) is the talent rich trifecta of Derek Carr (who very well could hit 4,500 yards passing by Christmas), Amari Cooper and Michael Crabtree, whom I can see hooking up for at least 20 touchdowns. The running back and cornerback positions have some doubtable elements, but beyond that? There's no way a team this loaded can't finish 10-6, lock up a playoff berth and … as you will soon see … go on to do some downright extraordinary things in the postseason.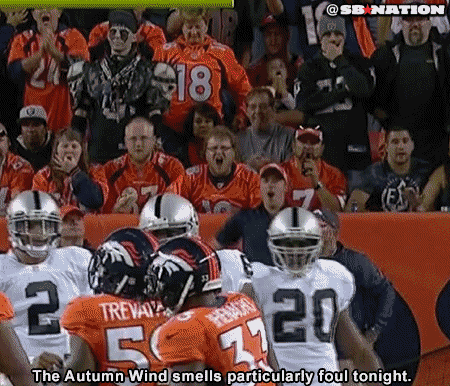 Yes, the AFC West is such a stacked conference that I've got the defending Super Bowl champions finishing third. We all know the Denver Broncos are a great defensive team. Heck, they might just be the best overall defensive unit in pro football. But as last year's Chiefs and Raiders proved, their lacking offense CAN be exploited, and this year there is no question that the Broncos are in far worse shape offensively than they were in 2015. Yes, Emmanuel Sanders and Demaryius Thomas are still legit receiving threats, but you'd have to be mindblind in every sense of the word to think that Mark Sanchez is going to be able to lob the rock into their arms consistently. A lot of pressure – perhaps too much pressure – is going to be put on Paxton Lynch's shoulders, and I just don't see him ready in his first year to deliver.  The Broncos defense – led by Demarcus Ware and Von Miller, naturally – will be enough to propel Denver to a 10-6 record, but a series of tough games late in the season – complete with a Week 17 Waterloo against the resurgent Raiders – will be enough to prevent them from experiencing postseason play.
The good news for San Diego Chargers fans? They will improve on their poor 4-12 showing last year. The bad news is that it won't be that much of an improvement. With Philip Rivers on his last legs, I'd imagine that he gets benched around the midway point of the season in favor of Zach Mettenberger, whose better than expected play will probably grant him the starting nod for the remainder of the season. The trifecta of Keenan Allen, Danny Woodhead and Antonio Gates will at least give the Chargers plenty of chances to taste end zone, but by that same token, their porous pass defense is going to give opposing quarterbacks plenty to look forward to. In what is almost certain to be the Chargers last season in San Diego, I've got them doing no better than 5-11 before agreeing to shack up with the Rams in L.A. next season.
Tomorrow: PLAYOFFS! (PLAYOFFS?!?)