@chris_najdek
Cnajdek27@gmail.com
Washington D.C.
In a rare phone interview with halfguarded.com, President Trump finally publicly denounced racism, but only against white people.
"I think racism is deplorable. There's no reason minorities should hate me or any other white person simply for being white. By the way, racism against whites is at an all time low! We're doing fantastic!"
When pressed about his seeming refusal to denounce racism against minorities in our country, President Trump again dodged the question.
"I mean why hasn't Colbert or Oberman apologized to me? I have feelings. He's not even that good of a quarterback."
"Are you talking about Colin Kaepernick? I didn't ask you about him?"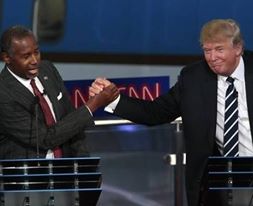 "I had nothing to do with that, he's just not that good. By the way, our country is hitting record highs in laminating sports collectibles. Huge. I'm doing fantastic!"
"Thank you for your time Mr. President."
One day we'll get him to say hating minorities is wrong. One day.