Everyone should go to Vegas, but if you're on this site you're probably an MMA fan and so you have absolutely no excuse to not make the trip to the mecca of all things involving people punching each other in a cage (unless you're a miserable git and hate having fun).
Vegas is wonderful and there is so much to experience beyond handing over loads of cash to the casinos and wondering if that hot girl who's walking towards you smiling is on a night out and really likes you or is a hooker out for all she can get (spoiler: it's the latter).
One of the really cool things to do that you won't find in the travel guides is to spend several fun hours in the company of the many live bands that have made a home in Vegas. All times of the day in bars up and down the strip there are bands playing their hearts for you to get chilled, knock back beers or those giant ass cocktails and get your drunken boogie shoes on to (it's Vegas so I can say boogie). It's also free entertainment, though make sure you throw some cash into their tip buckets to show your appreciation because theses performers deserve it.
So where do you find these fine acts? Well come with me cos I know Vegas baby, all this performers get the Dazza Vegas seal of approval.
Dollface
I stumbled across Dollface about four years ago while passing the awesome outdoor Carnival Court venue (close to Harrah's and the Venetian) and the sound of a female voice singing rock music drew me over like the sirens of old, leading to one of my favourite afternoons I've spent in Sin City . Since then I've made it a Vegas visit tradition to catch a performance of this wonderfully charming and entertaining female quartet as they belt out crowd pleasing classic rock and pop songs in a feel good manner perfect for holiday makers out for a good time. If I didn't get to see Dollface at least once it just wouldn't feel like a Vegas holiday.
During this time the heart of the band has been the insanely charismatic and bubbly lead singer Tiffany Martin and lovely rocker bassist Crystal Messina. After trying several guitarists and drummers 2015 saw Swedish guitarist Shirin Siavash and Japanese drummer Misai Chan join the band and the combination has clicked magically resulting in a tightly polished foursome that sound stronger than ever.
Dollface play all over the strip (Margaritaville is a really great venue to see them due to the stage and dancefloor) normally with four hour performances that are breathtaking in their pace and energy as they can slip effortlessly from a classic 80's rock song from Def Leppard or Journey to Michael Jackson's "Beat It" to a stripped down, rocky edged version of a current Lady Gaga or Taylor Swift Pop hit. Their catalogue of songs is varied and simply huge, and they are constantly adding new songs insuring the shows are always fresh and varied (Tiffany's parody of Cher one time was the most hilarious things I've ever seen a cover band perform).
These ladies ooze glamour, sing, dance and play their asses off on stage and the passion and enjoyment they appear to be having is infectious on the audiences. Dollface get better each year I see them and with their good time vibe and excellent sing and dance along song choices they are perfect for the out for a party Vegas crowd. Check em out, they are awesome and tip generously, they earn it.
Dollface also take tours away from Vegas so keep an eye out on their site in case you're lucky enough to be nearby.
http://www.wearedollface.com/
The Sax Man.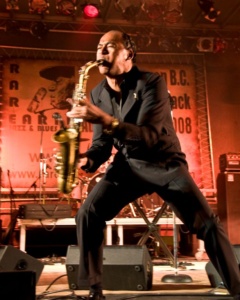 If you fancy a little soul on your Vegas trip then David "The Sax Man" Brown is your guy.
The Sax Man performs at the Times Square Bar in the New York, New York Casino in the afternoons which is the perfect time for those wanting to escape the insane heat and mellow out with a few beers and listen to some Jazzy, Soulful tunes. This one man act dances, sings and plays his Sax through loads of Mowtown style hits that fits perfectly with the New York vibe of the bar.
He has a wonderful rapport with his audience, bringing smiles with his friendly banter and antics that keeps people in the bar all afternoon. No matter the size of his gathering The Sax Man is always on form and you'll leave with a feel good spring in your step.
Once again don't be stingy with your tip.
The Whip Its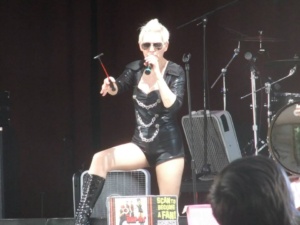 More nostalgia in the form of 70's and 80's rock songs can be found with the hilarious Whip It's. The Whip It's bring a comedy element to their act, fronted by a supposed German brother and sister double act in Sprocket and the riding crop wielding dominatrix Ivana Hump. The songs are inter spaced with lots of decidedly un-pc jokes and innuendo as the band throw off self depreciating jibes and banter with the audience.
And watch out for when Ivana leaves the stage to take her singing to the audience. She's quite handy with that riding crop as I found out at the bar one time.
The band can often be found on afternoons at the always lively Carnival Court which is the perfect venue for the cheesy and fun tone of the band.
And speaking of Carnival Court….
The Carnival Court Bar Staff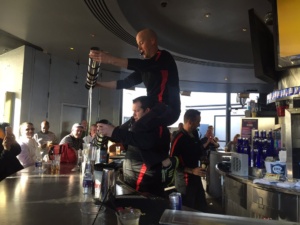 Ok so they're not a band but I have to pay tribute with them because within Vegas the bar staff at Carnival Court are the stuff of legend.
Carnival Court is a cool place to hang out whether on an evening or afternoon, due to being outdoor but fully air conditioned, having a stage with live music but above all having the greatest bar staff anywhere. They're a joy to watch as they juggle cups while making cocktails, slap tips to their foreheads and engage in all sorts of shenanigans with the punters around the circular bar. Typical naughtiness has seen women drinking from a cocktail skillyfully made from straws, whipped cream and cherries to form well a cock and served from between the bartenders legs.
At various intervals a bar member will balance a giant pyramid of glasses on his forehead and if he succeeds in walking around the bar with it everyone at the bar gets free shots, served directly from dispenser to mouth.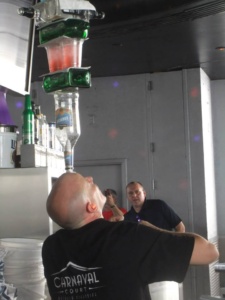 Last time I went one bartender rampaged amongst patrons dressed as a T-Rex, I was too drunk to question why.
It's a fun, party atmosphere that makes you feel part of the gang.
Freemont Street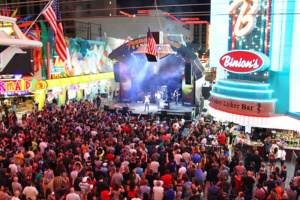 To round things off I need to make mention of Freemont Street which resides a few miles north of the strip and on an evening has loads of live music to enjoy. There are several stages playing a variety of music from tribute, cover bands, dance DJ's and sometimes even a well known act such as Joan Jett and Mellissa Etheridge have recently performed there. It's cool to wander from stage to stage to sample what's going on and often you'll find an act you really take to. I personally fell in love with a long haired rock chick singing Pink Floyd cover songs several years ago.
Once again this nightly mini music festival is free and fits in perfectly with the more raw, earthy tone of Freemont Street as opposed to the Strip (translation it's a bit rougher but still safe as it's always very lively).

In conclusion, go to Vegas it's magical and you'll get to see the original Eiffel Tower that the French based theirs on.
Til Next Time
Dazza