I am a simple man with a simple life.  As such, my routine is almost always the same.  Eat this, drink too much of that, drive here, drive there, usually with the same route.  In particular, my route as I leave the city and return home to the suburbs, where normal people live, is predictable to the point of death.  I'm fine with this.
Many of you do not live in Chicago.  That is good because it is cold sometimes almost always and this city is a shithole when it is cold. We also have bad traffic and Chicago billboards.  Lots and lots of billboards.  I think billboards speak about a city even state's priorities.  When I'm in Wisconsin, I see an abnormally high number of billboards with religious passages; the moment I enter Indiana (usually it's on accident) it is a non-stop cascade of guns, fireworks, liquor, and "totally nude" strip clubs – some sort of white trash Las Vegas.
Now then, allow me and my billboard aids to tell you the story of Chicago and her friendly suburbs.
Leaving the city, I head West – as so many of my forefathers did in an attempt to start anew – I first see this: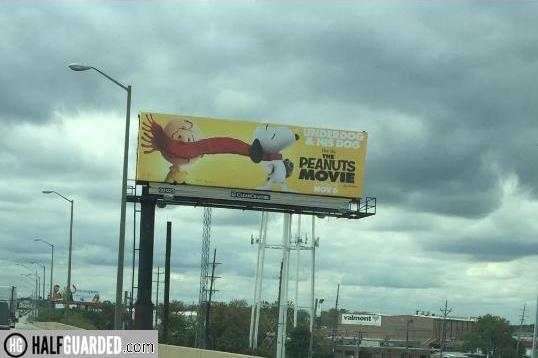 It is cute.  Quaint.  Hearkening back to a simpler time when all you needed was a dog and his boy to distract you from the gross civil rights injustices being brought down on people throughout the country.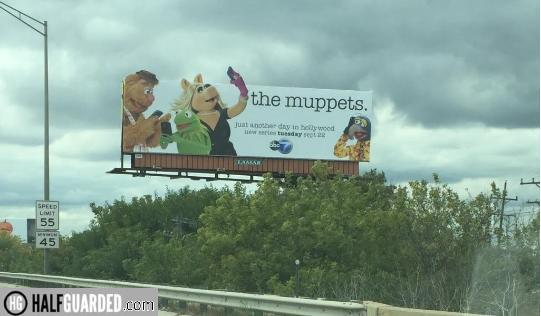 Then the Muppets appear.  They're after Peanuts, both on this journey and in time.  Still childish in appearance, they have an underlying cleverness to them.  Adult without being adult.  A cute gang of misfits coming together and telling the story of never giving up.  They also remind you – through the fact that they are outcasts and always have to try hard to just put on a production – that life is always tough, never gets easier, and you'll try until the day you die.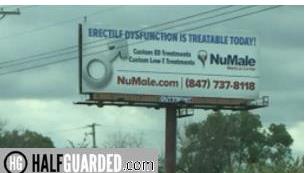 Finally, reality smacks you in the face with a wet noddle.  A sad, pathetic, useless, limp string bean.  No escaping reality, no (mis)remembering a simpler time, no coming together – no coming period!  Your dick. Does not work.  The very thing that makes you a man; that which allows you to feel powerful when you are anything but; which helped create life itself – is dead.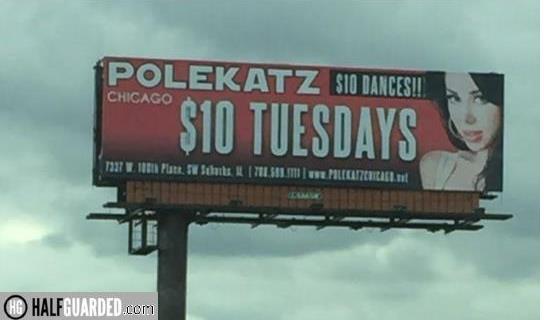 And then it ends here.  The chance to lie to yourself.  Salvation in the form of delusion.  For just $10 (TEN WHOLE DOLLARS!) you can experience a fantasy so real you could almost touch it (ALMOST being key).  It might even get you up and ready, so to speak.  The world will not exist inside the walls of Polekatz.  Instead, it is what every high school boy dreamed adulthood would be: wall to wall women, naked, serving you alcohol, and asking if they can hump you.
As soon as you leave, the world returns.  The bright sun will expose you even more now, depravity echoing off you, patheticness your stench, the light overwhelming you so much you squint as you stumble to you car.  You look down, telling yourself it helps avoid the sun, but really you don't want to face life.
Welcome to Chicago.