A new year is upon us, and that means we've got one last round of quality college football match-ups before we go into hibernation for eight months. Taking a look at the big seven bowl games, there are plenty of interesting contests – pass-happy offenses going toe-to-toe with stingy rush-crushing defenses, smash mouth offensive juggernauts taking on deep pass-denying secondaries and even some non Power 5 Cinderellas strapping on their helmets to prove their worth against ACC and Big 10 dynasties. Using a 14-point statistically-driven algorithm – encompassing everything from passing and rushing yards per attempt to turnover margin to third and fourth down completions – I've gone on ahead and made predictions for all seven of the Bowl games that actually matter … concluding, of course, with the Big Enchilada on January 11 in Arizona.
So go ahead and take out your kids' college savings and shred up that mortgage; the picks below are mathematically proven to be money in the proverbial bank.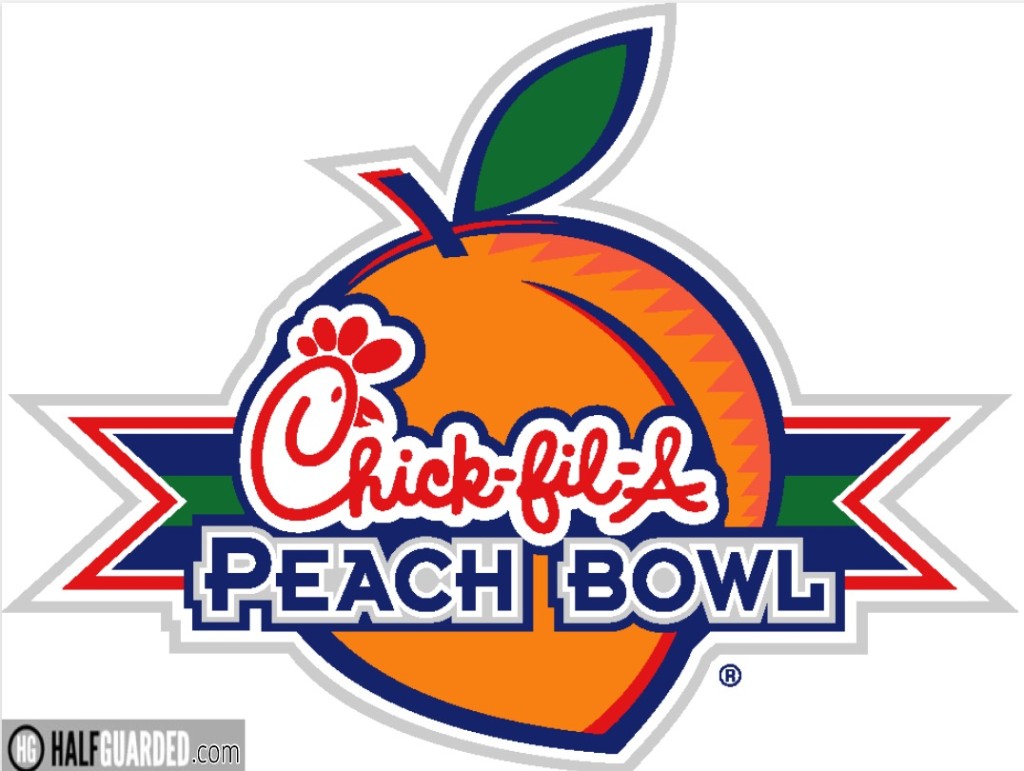 Peach Bowl (Dec. 31)
Houston (12-1) vs. Florida State (10-2)
Florida State is clearly demoralized heading into the contest. Had they not dropped that fluky game against Georgia Tech, there's at least an outside chance they would have wound up as the first or second team out of the National Championship Playoffs, probably playing Stanford or Ohio State on New Year's Day. As a two-loss team, however, they've got to prove their merits against the nation's top non-Power 5 unit not called "Notre Dame," and here, I'm eyeing a big upset. Marginally better passing the ball, Houston also averages close to fifty yards more per game than Florida State running the ball. Granted, Florida State does have a much better passing defense than the Cougars, but I think Houston actually has a better chance of containing the Seminoles' run than vice-versa. And if that wasn't enough, Houston also has Florida State beat in terms of third down conversions, fourth down conversions and turnover differential (+17 versus +4, if you were wondering.) Really, this one comes down to quarterback mobility, and Greg Ward Jr,'s nimble legs makes Houston a far more versatile offense than one commandeered by Everett Golson or Sean Maguire – and that's regardless of how awesome Dalvin Cook is in the backfield.
Official Pick: Houston 28, Florida State 14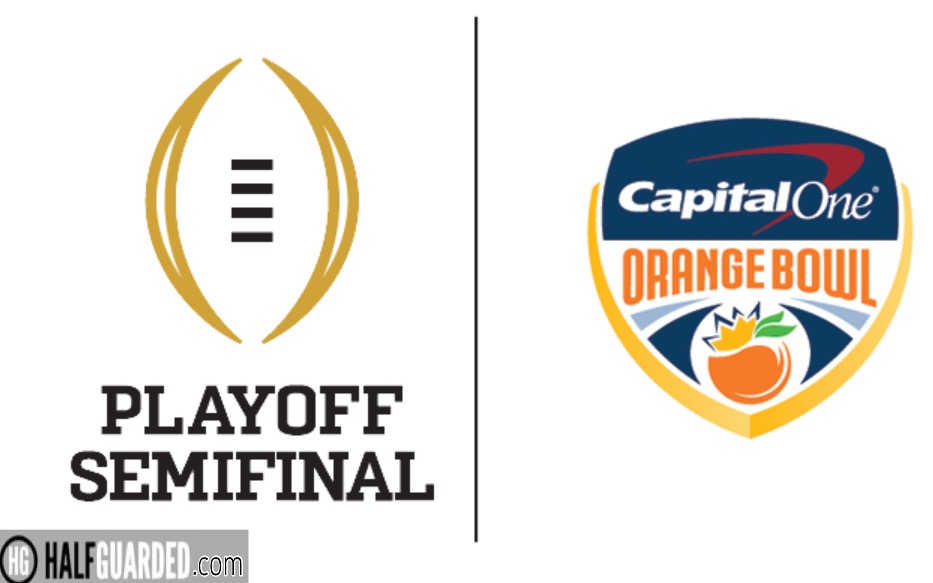 Orange Bowl (Dec. 31)
Clemson (13-0) vs. Oklahoma (11-1)
On paper, the Sooners are a much more impressive team, offensively. They're averaging 307.9 passing yards per game (compared to Clemson's 288.5) and 235 rushing (the Tigers, conversely, are only posting 235 rushing yards per contest.) However, the defensive numbers certainly favor the only undefeated team in the land, as Clemson has only allowed opponents to post 166.9 yards of passing offense and 128.8 yards of rushing offense against them per game this season. Clemson also has a better pass completion average than Oklahoma, and beats them in field goal percentage and both third down and fourth down conversions, too. Baker Mayfield is going to be looking for a lot of deep passes, but I think Clemson's secondary is efficient enough to shut down the most dangerous receivers (most notably, Sterling Shepard.) Samaje Perine is a fantastic halfback, but he's Oklahoma's only rushing threat; throw in Deshaun Watson's fantastic scrambling abilities alongside Wayne Gallman's steady, workhorse production and you've got a multifaceted run game that I just don't think the Sooners have an answer for. The Sooners are going to rack up a lot of yards in the air, no doubt, but Clemson will best them by collecting far more points on the ground.
Official Pick: Clemson 35, Oklahoma 21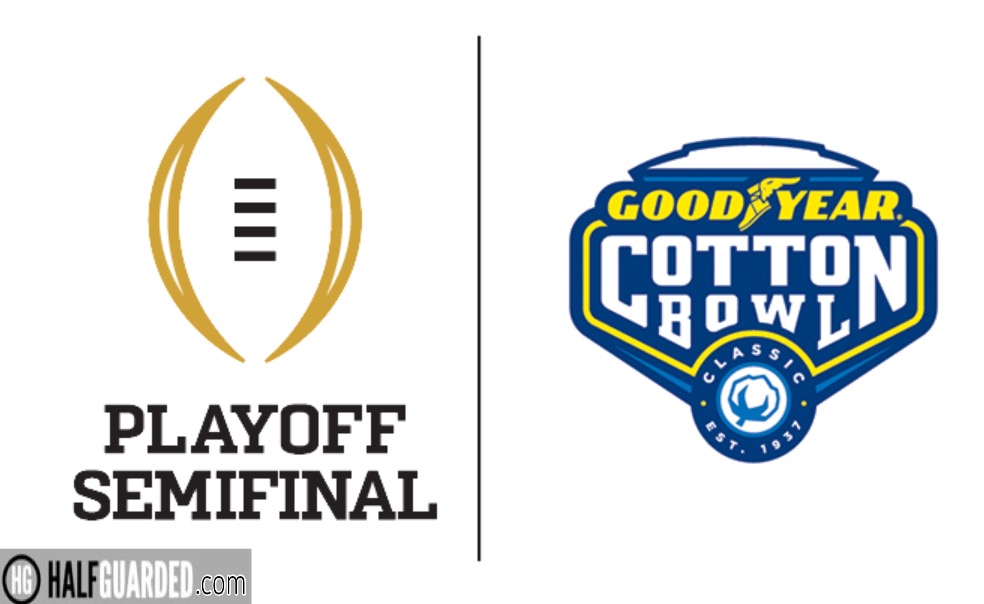 Cotton Bowl (Dec. 31)
Alabama (12-1) vs. Michigan State (12-1)
Going by the stats, this is easily one of the most lop-sided games of the Bowl season. Michigan State – powered by unheralded receiver Aaron Burbridge – is a far more explosive passing team than Alabama. I don't think anybody is going to pick Connor Cook over Jake Coker in the quarterback battle, either. That said, Alabama's run game – anchored by some guy named Henry or something – is ridiculously more potent than Michigan State's feeble rushing attack. Defensively, however, is where things get really absurd. The Crimson Tide is only allowing opponents' 184 yards of passing offense per game, and a ridiculously low 74 yards rushing. The Spartans, however, are giving up 229.8 yards of aerial offense per game, along with 113.1 on the ground. Of course Alabama is going to prevent LJ Scott from effectively running the ball, and their aggressive front seven is going to put a ton of pressure on Cook throughout the contest. Simply put, there's no way the Spartans' D can hold up against the Tide's rushing onslaught, and with Alabama's D constantly going after Cook, I just don't see Michigan State's passing game clicking on all cylinders. Unless Derrick Henry breaks his pelvis or something in the first quarter, I just don't see 'Bama dropping this one.
Official Pick: Alabama 21, Michigan State 7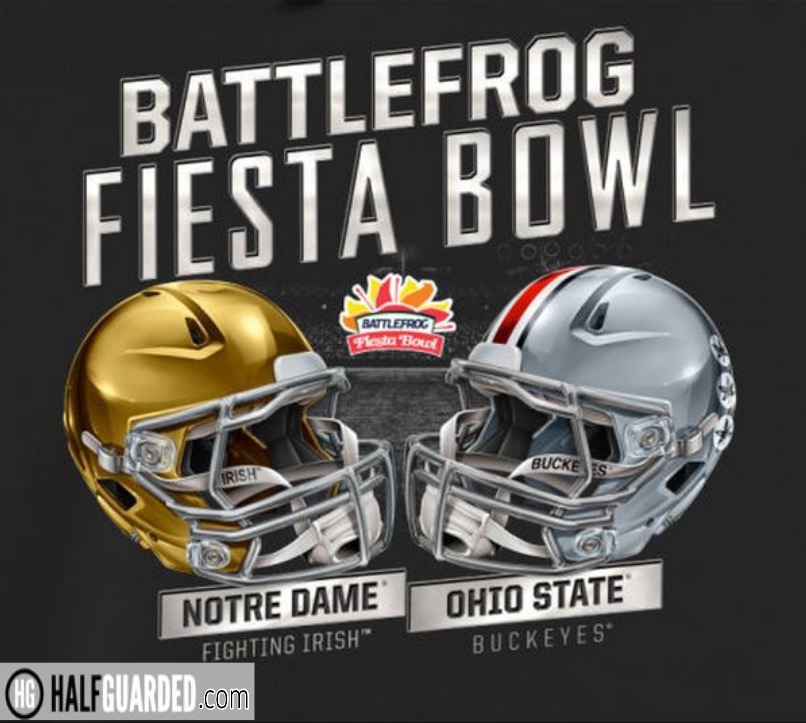 Fiesta Bowl (Jan. 1)
Notre Dame (10-2) vs. Ohio State (11-1)
Now this one is interesting. The Buckeyes – allowing just 176.2 yards passing and only 127.3 yards rushing – are obviously the better defensive team, but Notre Dame certainly has the more explosive aerial game (they're averaging 256.7 yards per game, while Ohio State is only averaging 187.) The key variable here is whether the Irish passing attack – doubly reinforced by DeShone Kizer's mad scrambling skills – has enough gas in the tank to outpoint Ohio State's rock solid rushing attack. C.J. Prosise is a great halfback and all, but Ezekiel Elliot is much more reliable – ultimately, I think Ohio State has a much better shot at shutting down the Irish run than Notre Dame has breaking through the Buckeyes' stingy run defense. Oh, and let's not forget about Ohio State's other halfback weapon, J.T. Barrett, who has just as many touchdowns on the season as Prosise has, despite collecting roughly half as many overall yards. It should be competitive for a few quarters, but eventually, the Buckeyes' smash mouth style of play will break Notre Dame down.
Official Pick: Ohio State 30, Notre Dame 18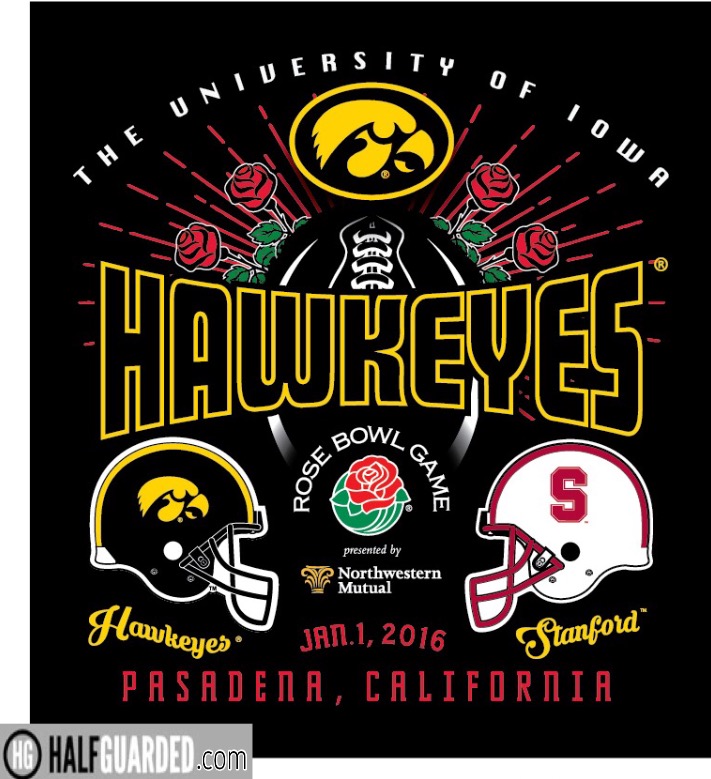 Rose Bowl (Jan. 1)
Iowa (12-1) vs. Stanford (11-2)
This is the old "irresistible force" meets "immovable object" chestnut. Stanford – posting 210.9 passing yards per game and 225.1 rushing yards per game – is clearly the superior offensive squad, while Iowa – allowing just 219.3 passing yards per game and just 114.9 rushing yards per game – is clearly the superior defensive unit. While most times I'm prone to go with the team with the better defense, Iowa's offense is so anemic that they'd have to win by kicking about six or seven field goals. The Cardinal (yes, it is singular, I checked) do indeed have a solid defense of their own, and on top of that, they have a talented quarterback, reliable receivers and arguably the nation's best running-and-receiving dual threat. The Hawkeyes have indeed managed to stop the run against teams like Michigan State and Ohio State (who, frankly, never really had that potent of a rushing attack in 2015), but Iowa's never seen a back quite like Christian McCaffrey this season. Iowa's defense may hold up for a quarter or two, but the speedy Stanford run game will eventually break the stalemate. I'm going with the California team, in a low-scoring, run-dominated contest.
Official Pick: Stanford 19, Iowa 16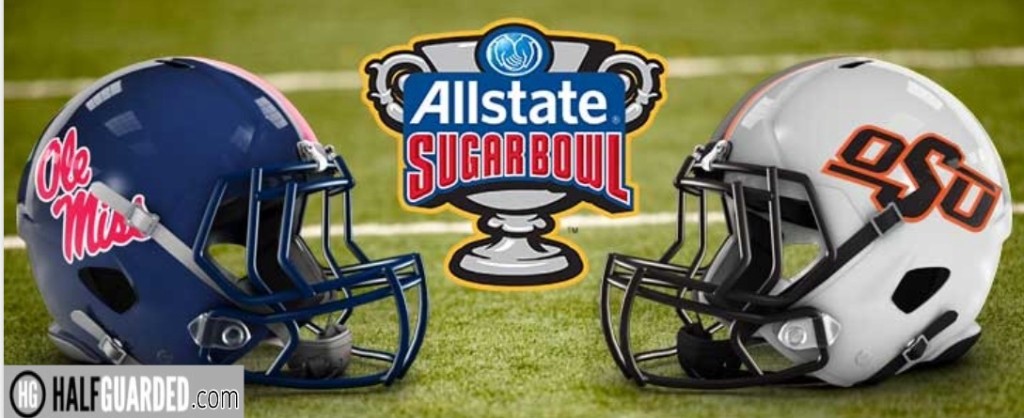 Sugar Bowl (Jan. 1)
Ole Miss (9-3) vs. Oklahoma State (10-2)
I'm still not entirely sure how the Rebels got in this one, seeing as how several two-loss teams (North Carolina, TCU and Northwestern, among them) all would have made more sense. Alas, Ole Miss is nonetheless in the match up, and on both sides of the run game, they match up pretty well against the Cowboys. In terms of the passing game, however, Oklahoma State is clearly the superior squad, posting 357.5 yards per game while only allowing their opponents to post 244.3 aerial yards against them in the regular season. Granted, that's a lot of ground to give up, but it's noticeably better than Ole Miss' pass defense, which gave opponents 255.1 yards per game in 2015. Still deflated from losing their last two contests of the regular season, expect Oklahoma State to give up a lot of ground early; by the third quarter, however, they'll find their passing rhythm and their defense will finally start pushing the Rebels backwards. It's going to be a tight one, but I've got Oklahoma State pulling out the W, even if it requires some extra time on the turf.
Official Pick: Oklahoma State 26, Ole Miss 20 (OT)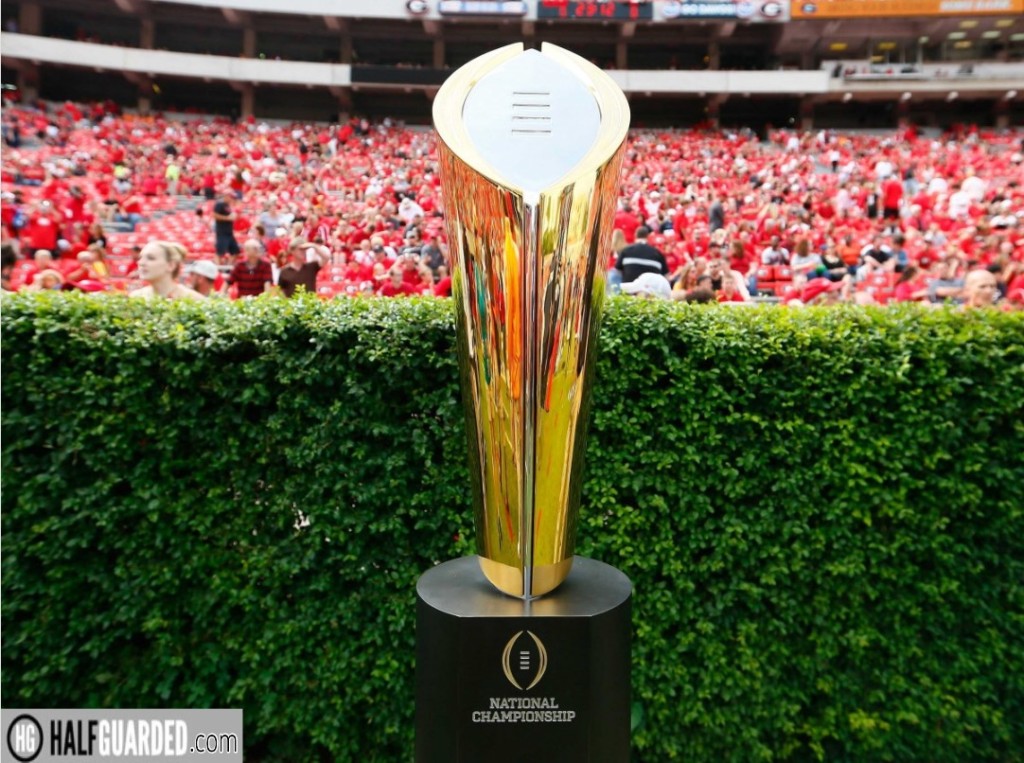 National Championship (Jan. 11)
Clemson (14-0) vs. Alabama (13-1)
Heading into the presumptive National Championship Game, I don't think college football fans really grasp how good Clemson's defense is, and how lackluster Alabama's offense has been at various points throughout the season. In terms of passing, Clemson is averaging 8.4 yards per passing attempt , while Alabama is only totaling 7.1 Believe it or not, Clemson also has Alabama beat in both rushing yards per attempt and total rushing yards per game. And perhaps most surprising of all when you look at the two teams' stats, Clemson is clearly the superior passing defense, allowing adversaries to pick up only 166.9 yards per game (while the Tide is allowing 184.2) As evident by Alabama's loss to Ole Miss and their early difficulties against Auburn, the Tide can be beat back with a sound dink and dunk passing game, and if you have a quarterback who can really air it out – and Deshaun Watson certainly fits that bill – the 'Bama defense that is so good at containing the run leaves itself open to some huge pick-ups down the field. It's not going to be easy stopping Derrick Henry, but I think Alabama is going to have far more difficulty chasing Deshaun Watson down in the backfield, especially with his O-line giving him ample time to make those deep passes. Receivers like Artavis Scott and Deon Cain may not have a whole lot of brand-name recognition, but they're going to be the decisive factors in this game. Expect Alabama to have some early success running the ball, but once Clemson starts floating those long-bombs, it's all over for the boys from Tuscaloosa.
Official Pick: Clemson 34, Alabama 14