Note: I was half way through writing this when the news began to filter through of the horrific events at Manchester which has so far claimed the lives of 22 people and injured many more, young girls being amongst the causalities. The Roxanne piece was pretty much finished as I wanted it, the rest (published tomorrow) I sort of rushed through and based purely on what I remembered from the card (normally I rewatch fights and take in as many post fight interviews and comments as I can to give a rounded story). 
I know this doesn't do justice to the efforts of the fighters, for some reason it feels apt  to leave this article in this raw form that I wrote on the night.  For what it's worth Manchester is the city I've visited most for recreational purposes (It's a wonderfully vibrant city in terms of culture) and music and live shows have always been an important part of my life and though I'm not directly affected by theses events this attack on people attending a joyous occasion is one I'm feeling and my heart and thoughts go out to all those who have been caught up in it.
It had been a long night. Six matches all going the distance, none of them with a hint of a finish and while not a bad show, it just wasn't clicking in the blow away entertainment way that Invicta has spoiled us with the last few years. It was more a  technically sound and interesting night rather than wildly exciting.
Well thank lord for the veterans and in particular thank the lord for Roxanne Modafferi long known as the Happy Warrior and now should be known as the Saver of Shows.
This co main event was the unlikely scene of a bit of tension at the weigh ins. Normally Roxanne brings a jovial atmosphere to proceedings, her cosplay antics always a hit with the fans. Likewise her appearance here as the Red Power Ranger and accompanied by her coach dressed as the White Power Ranger brought many a smile from those in attendance especially when she adopted the power ranger pose.
Everyone that is except for her opponent Sarah D'Alelio, who had a face like a slapped arse the whole time (translation for those of you not from Yorkshire "she looked very unhappy"). Sarah rolled her eyes, shook her head in disgust and come the staredown got right in Roxanne's face making her the Rita Repulsor of this match.
Roxanne's many supporters picked up on this and were fired up with support, willing her to get morphin and give a beatdown to her surly opponent like a big robot Tyrannosaurus smashing through a giant mutant monkey or something (I don't know what I'm talking about, Power Rangers was before my time and if Roxanne can dress as Optimus Prime next time up I can drop references left right and centre). But in the first round those fans had their hearts were in their mouths as in the first ten seconds as Roxanne was dropped by a loud cracking hard right hand. She bounced right back up and continued to take uppercuts until a couple of minutes later she landed a combination that backed up D'Alelio and pressed the attack with a flurry that put her opponent on her back.
Roxanne continued the attack on the ground with a variety of submission attempts until sinking in an armbar. However D'Alelio was able to hoist up and slam Roxanne hard to escape the hold, only for Roxanne to catch her again even deeper this time. D'Alelio again refused to tap and hoisted and slammed Roxanne again who held on and almost seemed to be in danger of being slammed on her head, but Roxanne was able to tuck her head in and instead land on her shoulders just as bell came for the end of a thrilling round which made it already the best fight on the show.
Roxanne started the second strong boxing with confidence and again knocked down her opponent as D'Alelio went for a high kick. Roxanne swarmed over her with some vicious ground and pound snapping D'Alelio's head back and once again going for the arm and although D'Alelio was able to get on top later Roxanne managed to wrestle her way back to get the mount and back and peppering her with hard shots.
Right from the start of round three Roxanne's much acclaimed improved striking came to play as she outboxed D'Alelio and staggered her with combinations and continued to assault her with precise strikes that for a moment she looked like she was on her way to getting a win via knockout.
However Roxanne instead opted for a takedown and getting the mount was able to trap D'Alelio's arms with her legs and relentlessly attack her exposed head with shot after shot absolutely battering the hell out of  her until finally she began to use her elbows on her opponent to devastating effect as she busted Sarah's head open. The claret began to flow and has D'Alelio's head turned as red as the Red Ranger Mike England was right there to stop the fight and give Roxanne a violent TKO finish and her most impressive victory in her Invicta career.
As Tommy Toehold put it better than I ever could "Roxy is the nicest person to ever beat the shit out of somebody."
Roxanne's fans have had a rollercoaster ride these past few years as she rebuilt herself time and time again and continuing to come back stronger from any hurdle she encountered along the way. And the best may still be to come, as Roxanne could once again be UFC bound as this week she intends to tryout for the Flyweight season of the Ultimate Fighter.
The saga of the Happy Warrior is far from done.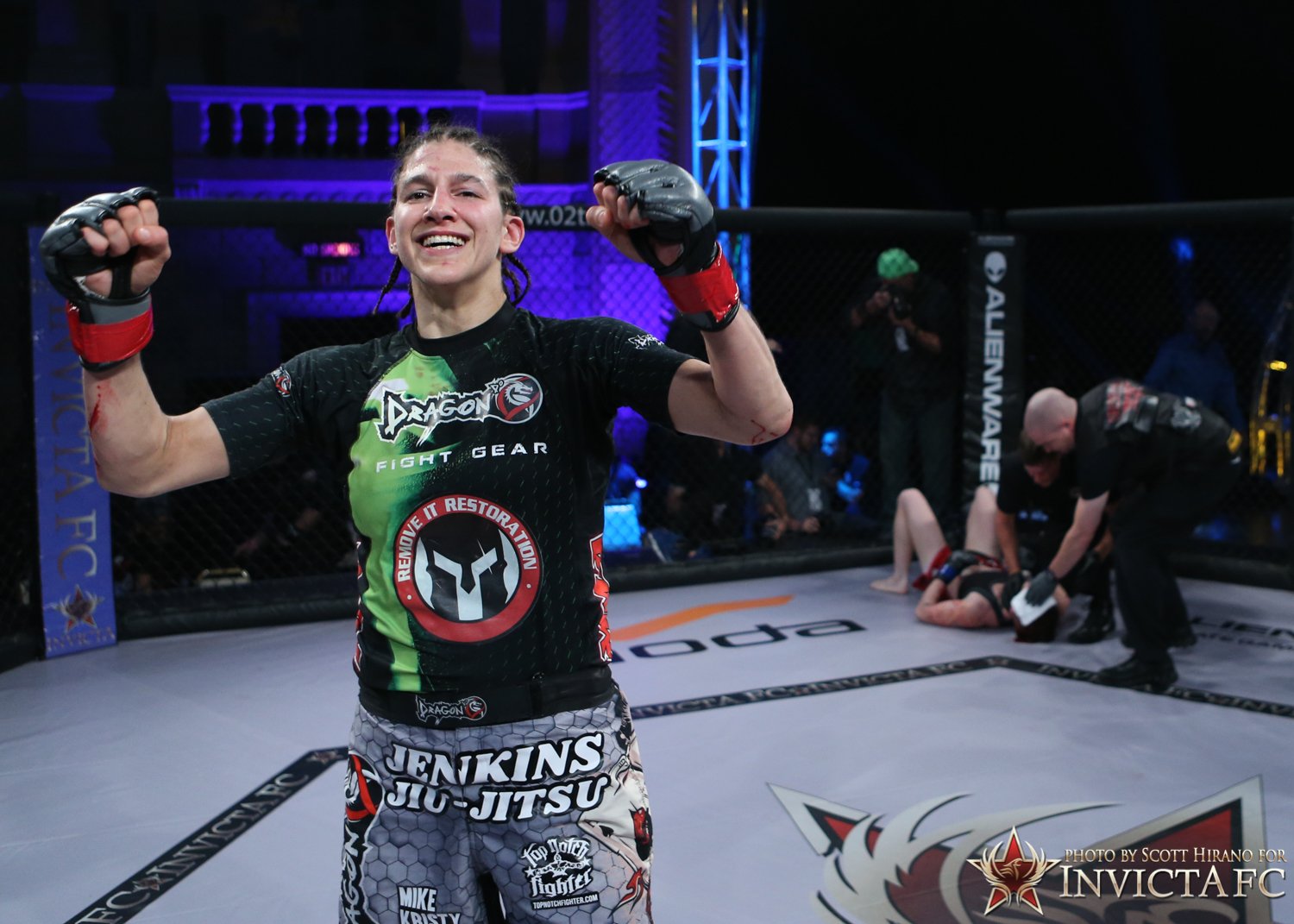 Dazza
And tomorrow, Dazza will be back with his thoughts on the rest of the show!