You know you're a wrestling fan when you can say you got yelled at in the face by a wrestler at a live show. Many years ago a defeated heel JBL screamed at a group I was with at a house show after we'd bravely heckled him from the safety of the barrier on the entrance aisle. We jumped back for split second and then fell about laughing, massively entertained and really no more threatened than if we were being chastised by a pantomime villain.
It was a very different story many years later, when a wrestler was able to cause me to feel what I can only describe as ice cold fear. The wrestler didn't need to yell, didn't have to motion threateningly towards me, all she did was look right at me and the violence in those eyes made me feel that one wrong move from me would be punished by a fury that would respect no security barrier.
That was the night I meet Sweet Saraya.
I'd managed to get second row tickets to a Shimmer show in New Jersey on Wrestlemania weekend back in 2012. Saraya was defending her Shimmer title in a cage match against Cheerleader Melissa and being from the UK I'd got the bright idea of taking a Union Jack with me to the show, thinking I could wave it at her and in true heel fashion she'd probably tell me to "shove it up your arse" and it would be caught on camera for the DVD and wouldn't that be a fun story to tell the folks back home?
Except my bottle went (translation: lost my nerve), as Saraya made her entrance, her face a raging thunder of seething hatred and having to be restrained from physically attacking what few fans were prepared to get into it with her. As she walked towards the cage she seem to glare at every fan she passed with eyes ablaze with anger and for a moment she seemed to be looking directly at me.
If I'd been a cartoon my adams apple would have bulged In and out with a loud "gulp" noise.
Any ideas I had of forcing some light hearted interaction vanished and self preservation took over, I barely had the nerve to meekly hold up the flag higher than my waist, frankly not wanting her to notice me too much. She looked furious, dangerous and unhinged, almost resentful of us for being in the audience and she scared the hell out of me. No way could this be an act I thought to myself.
After being defeated in the match Saraya once again walked by where I was stood and she was even more terrifying. At one point she just stood and glared at us all, her wild, silent snarl reduced us all to an unsettled hush and once again I felt a chill go through me as she seemed to look right at me (funnily enough many people came away thinking the same thing). Hunched in a battle stance, she had a longing to pounce and tear into us and if she had there would have been a stampede towards safety and I would have been the first one out of the exits.
I don't know what she did to get herself in that zone but she was more believable than any performer I'd ever seen in causing pure terror on an audience.
As far as I'm concerned that night I saw one of the greatest wrestlers ever to come out of the UK. Yes, we've produced great technicians and grapplers that have won respect around the world for their skills, but Saraya as well as been a damn great hard hitting, rough house wrestler has developed a compelling character that has thrilled and terrified audiences around the world.
Intriguingly real life Julia Hamer-Bevis often in interviews refers to Sweet Saraya as a separate person, something that wrestlers generally don't tend to acknowledge (preferring to credit their in ring persona as an exaggerated extension of their own personality). In an interview for F4W she made mention of the day when she retires and puts Saraya to rest forever and feeling like it will be like a death in the family. Julia credits Sensational Sherri, Elizabeth and Luna Vachon as inspiration for the Saraya character and one suspects that she tapped into her own background and experiences fromo the streets as well.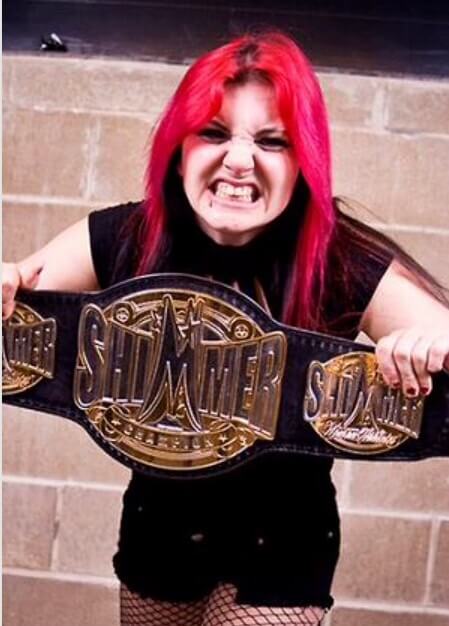 At this point I could easily source a bunch of interviews and produce a copy and paste biography of Julia's early life. I won't do that, I instead would urge everyone to seek out her appearance on Colt Cabana's podcast. The story of her tough upbringing and the hardships she's had to endure is one that deserves to be heard in her own words. It's one of the most open interviews I've heard on a wrestling show, heartbreaking but inspiring that she's managed to build a life and family out of such a harrowing youth.
Julia's introduction to wrestling came while she was working at a holiday camp and met wrestler Ricky Knight (whom she sneakily served an extra piece of chicken, the way to any travelling wrestler's heart). The two fell in love and Julia ran away to join the wrestling circus and learned all the aspects of wrestling, from setting up the ring to being a manger and finally taking the step into being a wrestler and in 1996 Sweet Saraya was born.
As a teacher she couldn't have found better than Ricky Knight. A refreshing promoter in British wrestling in that he understands his market and has always realistic expectations, leading to an old school approach that actually meant he could run his touring promotion and schools as an actual profitable business. As such he's still around today while other UK promotions of the modern era that tried to conquer the world at the first sign of any momentum crashed and burned on a sugar rush of good intentions.
Knight's WAW has managed to retain the tough roots of traditional British wrestling (mixing in the elements of American style that fans have now come to expect in wrestling), something which suited Saraya greatly. Her matches have become generally as violent as her hate spewing promos, resembling tough, heated scraps that are driven by her sound psychology and her intense personality which flavours every single bruising move.
When she began actual wrestling the women's scene was practically extinct in the UK and represented little better anywhere outside of Japan. Saraya still managed to make a name for herself with a reputation for tough matches and being able to work a crowd into a frenzy. When a healthy base of women's wrestling arrived on the independent circuit she was in a strong position to feature as a key player.
Of all her matches and feuds none became more memorable than her issues with Cheerleader Melissa, especially when the fictional stoylines threatened to blur with an almost tragic reality.
The Legacy of Sweet Saraya
Melissa's hard hitting style was always going to prove an intriguing mix with Saraya and fans were provided a taste when the Chickfight VII tournament was held in the UK in January 2007. The two had a punishing match, which ended in chaos when Saraya had her neck caught in the ropes and Melissa continued to attack, clashing with members of Saraya's family in the process.
In June of that year the two would clash in a rematch which descended into one of the most disturbing nights in British wrestling. Before the bout could even begin Saraya and Melissa were brawling in the crowd and outside the arena with such stiff, aggressiveness that it looked as things were in danger of spiralling out of control. While fans ran for cover Saraya was accidently slammed onto a coke can that sliced apart her knee. Despite howling screams of pain from Saraya, Melissa bizarrely continued to work the injured and bleeding leg and when officials bought an end to the match even those used to Saraya's intensity knew that something had gone very wrong. An eerie silence filled the hall except for Saraya's blood curdling screams of agony while spitting threats at Melissa that she was going to "Kill her."
The injury threatened to end Saraya's career and there was serious animosity at Melissa as evident by a stunningly emotional interview where an injured, tearful Saraya promised their paths would cross again with the war cry of "OYE BITCH!"
Although Saraya would make a miraculous return to the ring, it would be five years before her feud with Melissa would resume. This time it would be in America for the Shimmer promotion and over their world title. Despite the animosity the two were able to work together in a storyline that played off the incident back in 2007 (Saraya won the title after a worked ambush that saw her "injure" Melissa's knee).
As well as gaining her a run with the Shimmer title her feud with Melissa exposed her to a brand new audience. The cagematch finale to the feud in particular won her new admirers, with many in attendance praising her whole performance as a highlight of the Wrestelmania weekend that year.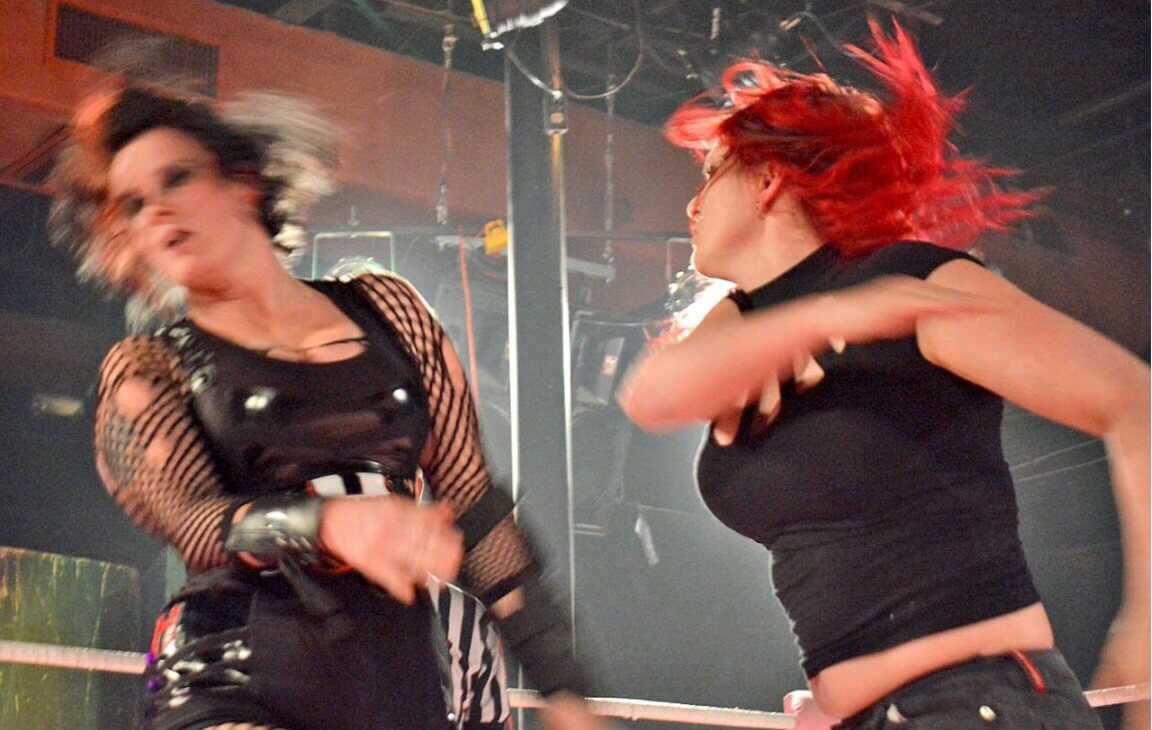 As such she's never been in more demand, a regular on Shimmer and Shine shows, her performances showing no signs of mellowing from the chaos and bloody violence that she revels in. Back over in the UK she's founded Bellatrix a sister promotion to WAW dedicated to women's wrestling.
Watching Saraya wrestle is an experience that few other wrestlers can inflict on an audience. Her scrappy, intense style opens up so many storyline and unique match possibilities. There are many imposing, large female wrestlers around, but for all their size none of them are able to match Saraya's sheer vibe of danger. Her stiff style peppered with snarling, biting, screeching rage takes you to suspect that what you are watching could very easily slip into being real at any second and that in her mind it's practically there already.
While watching her in the ring it's hard to spot how much is Saraya and how much is Julia Harman, so it makes for fascinating viewing the Channel Four documentary that focused on the Knight family and daughter Paige (real name funnily enough Saraya) taking her first steps to WWE stardom. In it we saw the real person behind Saraya, the loving mother (the scenes of her crying at the airport as Paige left for America leave a lasting impression) and member of a close, loyal family in a very extraordinary world.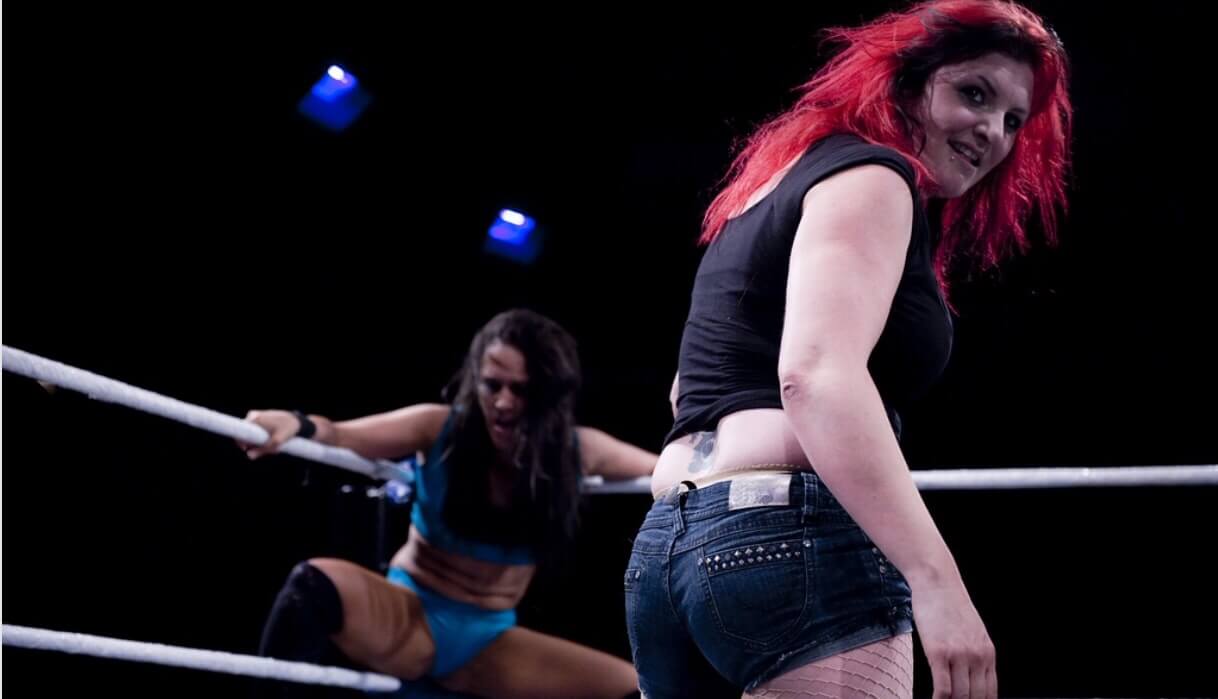 The documentary showed the real "sweet" side of Saraya, the one that those fans who have heard her on podcasts are very familiar with. A funny, charsimatic and down to earth lady.
But as nice as the real Julia comes across it won't stop me from been ready to run if I'm ever front row of a Saraya match again.
Say you want a revolution? Imagine you have a popular, adored babyface. But instead of her facing bitchy, catty, stuck up "Divas" she was facing a really dangerous, borderline psychotic women. One that caused fans to actually fear for the safety of the girl they had taken to their hearts. 
There is so much storyline and emotional potential in women's wrestling and a true revolution means change, a departure from the endless women falling out with each other cliches we've been fed since the "Divas" became a part of our Monday Nights.
That's my two cents.
Til Next Time
Dazza