Legend, noun: a famous or important person who is known for doing something extremely well
He is famous. He is important. He is known for doing something extremely well. He is Conor McGregor and he became a legend in Las Vegas at UFC 194 on December 12, 2015.
The time for arguing and debate is over. We all need to recognize it and embrace it; McGregor has a combination of fighting ability and charisma that is unmatched in the history of mixed martial arts.
If you cannot accept this, or understand it, I am truly sorry and sad for you. On the biggest weekend in UFC history, against the greatest Featherweight in MMA history, McGregor did exactly what he predicted. He knocked Jose Aldo out in the first round. It only took 13 seconds. For years, McGregor had called his paths to victory. On the grandest stage, against his toughest opponent, he did it again. It was legit legend. Stuff like this just does not happen in MMA or any other sport. Appreciate it and enjoy it because we are standing witness to something truly extraordinary. McGregor's run won't last forever, but while it does we should revel in it.
Now, today in 2015, with the age of the internet, Twitter, and forums, critics will say McGregor "got lucky," that he is "bad for the sport," "he is feuding with Dana White," and so on. Some people just have to complain. It's ingrained deep in their souls. Do NOT let these people sour you on McGregor and his accomplishments though. This is once in a generation-type stuff right here.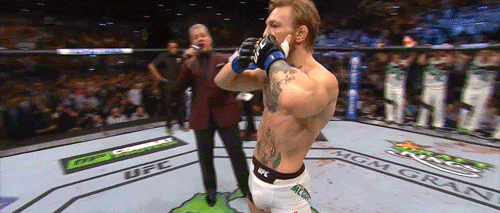 Breaking it down simply, McGregor is 19-2 (7-0 UFC). Six of his seven UFC wins have come by KO or TKO. He has gone past the second round once in his UFC career (and that was with a torn ACL and MCL). He has won performance bonuses six times. With wins over Aldo, Chad Mendes, Dustin Poirier, and Max Holloway he has proven he is much more than an exceptional self-promoter; he is one of the best fighters in UFC history as well.
Obviously, at 27 years old, McGregor still has a lot to prove, but his UFC career, thus far, has been more dominant and spectacular than all of his contemporaries. This generation's greatest champions did not begin their UFC runs like McGregor.
The former Featherweight Champ, Aldo, began his UFC career at 7-0. Five of those seven wins were decision victories though (Hominick, Florian, Edgar, Lamas, and Mendes). McGregor is on the same 7-0 streak to begin his UFC career, but only has one win by decision.
The most dominant women's fighter ever, Ronda Rousey went 6-0 in the UFC, and then lost by KO. McGregor is 7-0.
Jon Jones, despite having a much longer UFC run than McGregor, went to a decision in his first two UFC fights, against Andre Gusmao and Stephan Bonnar. Again, McGregor only has one decision victory in his first 7 UFC fights.
Even dominant champions like Demetrious Johnson, TJ Dillashaw, Fabricio Werdum, and Luke Rockhold suffered losses in the early parts of their UFC careers.
Historically, the only fighters that began their UFC careers with such dominant performances were Cain Velasquez and Anderson Silva. That is some legendary company right there. McGregor is very different from Velasquez and Silva though. He is not only amazing in the cage, but he is also on another level outside of it.
McGregor can promote fight and draw in fans like very few others. At the moment, UFC 194 is trending at over 1 million buys, which was his seventh UFC fight. In his sixth fight, with Chad Mendes, at UFC 189, McGregor brought in 825,000 buys. In comparison, Anderson Silva's sixth (against Dan Henderson) and seventh (against Rich Franklin) fights drew 325,000 buys each. Velasquez brought in a paltry 240,000 buys for his sixth fight (against Big Nog) and 1,050,000 buys for his seventh fight, which was against the best draw in UFC history; Brock Lesnar. McGregor, at a mere 145 pounds, has a MMA win-loss record that compares to Anderson Silva and Cain Velasquez, but at the same points in their careers' McGregor was a much bigger draw.
In other words, McGregor really is the total package. He can talk, promote fights, and knock the best fighters out in minutes. Literally, no one has ever begun their UFC career in such spectacular fashion. The biggest draws (Brock, St. Pierre, and Rousey) all had losses in their first seven UFC fights. Silva and Velasquez started their UFC runs at 7-0, but were nowhere near as popular as McGregor at the same time. McGregor is on a different level than EVERYONE else EVER.
Questions remain though. Will his run in the cage continue? Can he hang with the fighters at lightweight? Will fans tire of his bravado and cockiness? When will overexposure occur? All of it remains to be seen, but for now we know two things.
Inside the cage, at 7-0, with 6 KO/TKO, McGregor is off to one of the best starts in UFC history.
After five UFC fights, he became one of the best draws in MMA due to his charisma and interview ability.
It's almost hard to comprehend. The combination of skill and charisma is uncharted.
So, let's appreciate what we are witnessing here. It is something that we rarely get to see. McGregor has lived up to the hype. He has backed up his words and predicted his victories. Don't crap on it.
He is legend.
And don't forget, all month long we'll be featuring our 27 UFC Gifts for the Fight Fan in your life post just for you so you can make Christmas easier on yourself while also being a hero!