This week the winner of the 2017 Booker prize was announced with George Saunderson taking the prestigious award for his book "Lincoln in the Bardot." For almost fifty years the Booker Prize has been the leading award for literary excellence, highlighting the most intellectually profound works that have taken the written word as a vehicle to expand the horizon of true literature to express the  highest form of creative consciousness.
But bollocks to that shit, I'm here to talk about books that FUCKING ROCK!
Novels that have end to end violence, action so intense and relentless that the paper threatens to shed blood as you turn the pages. We're talking bullets, explosions, swords, car chases with cool and sexy characters strutting from paragraph to paragraph with biting one liner worthy dialogue. Books with the coolest covers ever and written by writers who are Goddamn having fun and aren't above throwing a girl on girl love scene into the story, not because it's warranted but because it would be bloody hot!!!!
So I'm presenting the "Fucker Prize" where a judging panel consisting of ME will judge some of the most action packed and above all fun books I've ever read.
Gladiatrix (2008)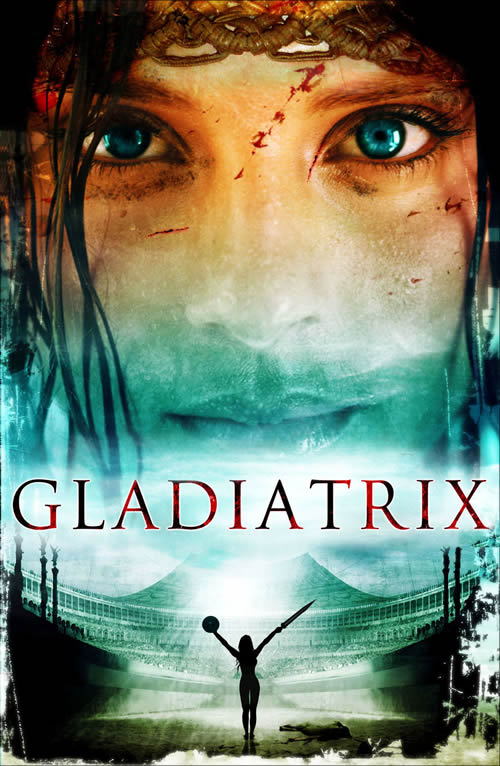 To describe it in one line Gladiatrix is like Gladiator but with women. It sounds like a fun but cheesy premise with a hint of exploitation movies about it. But surprisingly Russell Whitfield's debut novel excels way beyond it's concept with not just an exciting, action packed adventure but also an engaging story with a lot of heart and genuinely emotional moments.
A lot of credit for the enjoyment of Gladiatrix has to go to the portrayal of lead character Lysandra, a Spartan warrior who is enslaved and forced to compete in gladiatorial combat against other female characters. Lysandra is tough, courageous and charismatic which wins her the adulation of the crowds and as a reader you really start to root for her. Through her trials she gains the respect of some of her trainers, but the hatred and lust of others and while falling in love with one of her fellow Gladiatrix in a touchy relationship she is drawn into a deadly feud with the top fighter Sorina.
Being emotionally drawn into the journey of Lysandra gives added bite to the already excellent and brutal fight scenes (one of them in particular is especially heartbreaking) which draw you in like a Rocky movie. The tension and build for the various showdowns is also absolutely riveting.
Gladiatrix is great and like the best of historical fiction has been obviously researched by Whitefield to give an authentic feel of the spectacle of Roman times.
Moneyshot / Chokehold 
Try reading a novel by publishing house "Hard Case Crime" on a train and check out the looks of disgust you get from other commuters. "Hard Case Crime" specialises in publishing real pulp style novels, both with reissues of more obscure titles from masters of the genre in it's post war prime and with new novelists who have embraced the attitude of pulp and brought it back within a 21st century setting.
A hallmark of these exciting novels are the eye catching, lurid and explicit painted covers, gloriously recreating the feel of the dime store books that sat on shelves up to the 60's. My favourite of these are the two novels  feature the adventures of "Angel Dare" the gun toting, sexy heroine brought to  life by the no compromising imagination of Christa Faust.
In Money Shot we meet Angel, a legendary porn star who's tricked into a bogus filmshoot and is drugged, assaulted and framed for murder. However her captors botch the attempt to end her life and Angel goes after the villains who destroyed her life in a bloody rampage of revenge and an attempt to clear her name before the authorities catch up with her.
Narrated in sassy style by Angel Dare herself, this is a modern hard boiled tale of mystery, sleazy hoodlums, vengeance, gritty action and a murky depiction of the various crime and porn underworlds. Angel is wonderful, tough, smart and with an unbridled sexual appetite and pretty good when it comes to handling a gun which she needs as she goes up against an entire mob racket of sex slavery.
In the sequel Chokehold, Angel is trying to start a new life for herself when she ends up once again fleeing for her life after a shootout at a diner and is drawn into the fortunes of a young MMA fighter who has an audition for a reality show in Las Vegas to win a contract with a fight organisation. Once again she's up against gangsters and has to use her smarts and gun skills to survive.
I loved these books and naturally ended up with a crush on Angel, the kick ass woman who shows a heart of gold with her tendency to put herself at risk while helping others.Writer  Christa Faust has also promised that there well be more to come in the life of Angel.
I heartily recommend checking out the work of  Christa Faust, who began writing in her teens while skipping school on the New York subway. She sounds as kick ass as Angel Dare with a love of hardboiled novels and movies and before getting established as a writer worked in the infamous peep shows of Times Square which  inspired her to write the comic Peepland. She also wrote a novel called Hoodtown about a crime ridden neighbourhood inhibited by lucha Libre wrestlers, which I really need to track a copy down of somehow.
Christa also has an excellent website where amongst other things she reviews some really obscure but tantalising film noir movies.
Bear v Shark (2002)
Who would win in a fight between a bear and a shark? This is the question that grips the American public in this canny satire on the media obsessed society by Chris Bachelder.
In Bear v Shark a young boy wins an essay contest to attend live this epic computer  simulated clash in a Las Vegas arena and with an avid, massive American PPV audience (actually a rematch after an attempt to use robots ends up a farce, a bit like Shamrock v Gracie II). As the public divides into Bear and Shark fans, the public is consumed by endless debates in a way that predicts the more nonsense direction that the internet and social media has taken society into.
There's a slight feel of the anarchism and disillusionment with 21st century society of Fight Club about this novel (there are even references to an underground circuit of real fights between Bears and Sharks) with the story and the unconventional writing styles. There's some fourth wall breaking along the way, half way through the book the writer conducts an interview critiquing the story so far and there is even a chapter devoted to real life experts from natural history and science given their opinions on who would win between a bear and a shark.
This is an original piece of work both in story and execution and has the weirdness of the the works of Pynchon and Vonnegut but is totally relatable  and accessible. This for a long time was a book I championed for book customers wanting something cultish and different.
Kung Fu (2016)
Ryan Gattis is one of most exciting crime authors to come along in years. Unlike many crime authors he hasn't fallen into a formula, with each of his books having a unique story and setting.
In Kung Fu (called Kung Fu High School in the US) the setting is a school which has slipped into anarchy and under the control of a druglord. All students are drafted into one of six gangs who are in a constant state of war, competing against each other with one on one martial art fights to score wins that count towards the tally to win the Grand Championship at the end of the year. Imagine the houses of Hogwarts, but instead of poncing with broomsticks and wands they're kicking the shit out of each other.
The novel focuses on the school year of Jen a member of the "Waves," trying to survive at at school and home and her life made more complicated with the arrival of her cousin Jimmy. Jimmy is a world class competition martial artist, but who has turned his back on violence and refuses to join in the day to day violence that has gripped the school.
It's growing pains mingled with a dystopian nightmare, a modern day Lord of the Flies even. As far out as the premise seems the story voiced by Jen comes across as scarily authentic. The tensions and violence simmer along until the breakout of an apocalyptic gang vs gang free for all riot that is one of the most insane battles I have ever read in a novel. It's relentlessly violent and action packed as Jen and her cousin fight through the corridors and classrooms, battling waves of rival gang members in their quest to reach and end the reign of Ridley the ganglord.
It's an uneasy read at times (especially the violent imitations all the students have to endure) brutally violent and one of the wildest, fast paced reads I have ever read.
Assassin (1990)
And so we come to the Michelangelo's ceiling of the pulp action novel. A work so wildly action packed and insanely great fun it's one of the few books I've chosen to read more than once.
Like any self respecting teenager of the eighties and nineties, at one time most of the novels I read were horror. And I thought my reading taste was so edgy because I devoured the works of Stephen King, Dean Koontz and James Herbert. Then I became aware of another Horror writer due to his appearance on a Friday night television show called the James Whale Radio Show. This guy seemed different from other writers I'd seen on television, very down to earth without pretension and dressed more like a drummer in a pub rock band than a figure of the literary community.
When it came time to give my mum a list of the books and albums I'd like for Christmas I wrote down that guy's name, Shaun Hutson. Sure enough that Christmas when I opened one of my presents I found myself looking at the amazing cover of what looked like the rotting hand of a zombie in the midst of fire a revolver.
I began reading Assassin over that Christmas holiday and the only way I can describe it is imagine a music fan who the hardest sounding rock band they've listened to is Poison and then out of the blue playing them the entire album Appetite for Destruction by Guns n Roses at full volume.  And then sending in an incredibly hot rock chick to take their virginity during the song Rocket Queen. That's the sort of shock to the system I endured. And I loved it!!!!!
Assassin beat the shit out of every horror novel I'd read up to that point. Not just because of the more intense violence and gore in Hutson's novel, but there was a really alternative Heavy Metal feel when I was reading it that I really embraced. While most horror novels would quote a line from Lovecraft or Milton at the start of their novels, Hutson quoted KISS with a line from "All hell's breaking loose."
And that line was totally apt, as Assassin is an absolutely incredible action packed, thrill a page ride. Carter is a bodyguard for one of London's top gang bosses Harrison who's beautiful girlfriend Tina he is having a very risky affair with. This tense situation explodes into gang warfare when an unknown rival gangster makes a move on Harrison's empire and in an attempted hit on the boss Carter is injured and his brother killed.
And everything goes batshit crazy from this point on. Harrison takes on all the London bosses with the help of an American hitman who comes into town like a Wild West gunslinger and who likes to listen to Rock songs on his walkman while carrying out his assassinations (one gunfight through a graveyard is accompanied with the lyrics to Welcome to the Jungle).
Meanwhile a Manson Family style group of killers have started a murderous class war crusade across London's rich and famous and have Harrison in their sights with a plot to kidnap Tina to get to him.
Oh and there is also the little matter of six dead gangsters who were murdered by Harrison on his rise to power who risen from the dead and these rotten corpses are out for revenge.
Assassin is an incredibly fun, giving no fucks, action novel. There is not a chapter where someone is not getting shot, murdered, punched, mowed down in a carchase, slaughtered or giving a blowjob to a animated corpse and ending up with a mouthful of maggots. It's a blistering, over the top read that culminates in a fantastic gangsters vs zombies shootout in an abandoned shopping centre.
Assassin moves at the pace of action movie and it begs the question, how has no one thought to adapt this onto the big screen? Assassin would make an awesome low budget movie, the trailer alone with Guns n Roses playing as a soundtrack would be worth it alone. In fact if I ever score a massive lottery win, I'm getting this puppy into production.
Hutson apparently got into writing when reading a horror novel about giant crabs. He found the novel so inspiring not because he thought it was great but because he couldn't believe people made money from writing such absolute shite! Fortunately Hutson's own work was infinitely better as he progressed from writing gore such as "Slugs" (which was actually made into a film) to his own style of anti hero based horror. Assassins appears as a watershed, as from here the out and out horror element made way to be more crime and action orientated.
Assassin isn't just one of my favourite horror novels. It's not just one of my favourite action novels. It is legitimately one of my favourite novels, actually fuck that, it is my favourite novel. And if I ever meet my Hutson I would gladly buy him a bottle of hardy English beer.
All of the above novels I heartily recommend, although some I should warn may cause offence, but then again it's not my fault if your parents raised weak children.
Some sadly are out of print, but in this day of the internet it shouldn't taken too long to track down second hand copies. And if you must there is always those fancy electronic devices you could download to if you really have to, but I probably won't be your friend.
Til Next time
Dazza
READ WHAT HE TOLD YOU TO BUY