Although 2016 still has a little bit of life left in it, unless Obama declares war on Russia sometime between now and Trump (That was a Mike joke, btw), I think it's safe to say we can comfortably reflect on the year that was. Just about every publication out there wraps up their year with some kind of "in-review" article, which usually comes gussied up as some sort of non-existent awards ceremony. Well, why let lesser outlets like CNN and Sherdog and ESPN declare themselves the sole arbiters of what was important and outstanding over the last 365 days when you got your good buddy Jimbo right here to give it you straight and simple?
Below, you'll find a few quick hits running down everything you need to know about the year that was in MMA, boxing, wrestling, movies, music, sports, literature, video games and even geopolitics. And I guess it also doubles as a Holiday shopping guide, too, so hooray for multi-purposing!
ELECTRONIC DIVERSIONS DIVISION
VIDEO GAME OF THE YEAR:
Forza Horizon 3
To be honest, I don't really know a hell of a lot about those PS4s and Xbox Ones and all that stuff, but I know a damned fun time when I see it. Combining the technical brilliance of the top of the line Forza Motorsport series with the brass-balled insanity of the Burnout games, Forza Horizon 3 is pretty much the next gen arcade racer to end all next gen arcade racers – and with so much to unlock and absolutely stellar online play, you're definitely going to be playing this one for a long time to come.
MOST OVERRATED VIDEO GAME OF THE YEAR
Pokemon Go
Is it possible for something to become passe as soon as it becomes popular? If so, that thing is Pokemon Go, the annoying, personal-info stealing cell phone app that cajoled millions of hive-minded kidults to run around rummaging through garbage to throw invisible balls at make-believe Japanese Gremlins. Compared to this overblown fad, the Pet Rock craze seems downright sensible.
BEST VIDEO GAME (THAT SUCKED) OF THE YEAR
Homefront: The Revolution
By all accounts, videogame journalists (what an oxymoron, eh?) crapped all over this one, but come on! It's a game about North Koreans hacking our iPads and using 'em to invade Philadelphia, with only a ragtag band of dirt bike riding street warriors lugging bow and arrows standing between us and a total commie takeover. My pimply, dateless inner 15-year-old would've loved spending a summer break with this one – it's everything that crappy Red Dawn remake from a few years back should've been and then some.
ALBUM OF THE YEAR
"Hypercaffium Spazzinate" by The Descendents
The first Descendents album since 2004 is a no-frills, no-gimmicks-needed, half-hour shot of pop-punk-rock bliss that – alike it's title – feels like the audio equivalent of an espresso enema. There's plenty of memorable toe-tappers on this one, running the gamut from "Shameless Halo" to "Spineless and Scarlet Red," and the lyrical content even dips into some fairly unexpected waters – including songs about the overdiagnosis of mental disorders in children and, yes, being told to stop eating so many damn hamburgers by your doctor.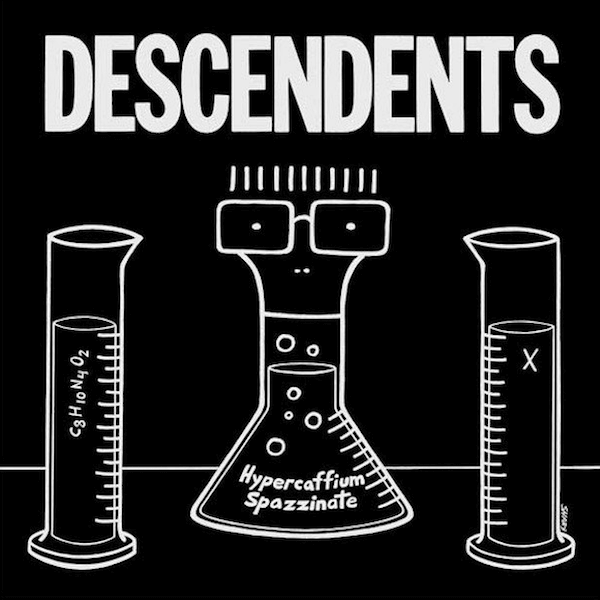 SONG OF THE YEAR
"America" by Teen Suicide
Admittedly, it was pretty hard pinpointing one song that seemed to sum up the entire musical landscape in 2016, so I instead went with the one that shook me the most. Imagine, if you will, Superchunk and Neutral Milk Hotel forming a supergroup and having a jam session about disillusioned immigrants' perspectives on the American Dream. Yeah … it's as soul-crushing as you'd expect it to be.
MOST OVERRATED ALBUM OF THE YEAR
"A Sailor's Guide to Earth" by Sturgill Simpson
I can't tell you how many people came up to me yammering on and on about how this guy was the next Johnny Cash and Merle Haggard. Sorry, folks, but I just don't see what all the hubbub is about – and that cover of Nirvana's "In Bloom" just flat out sucks.
REISSUE OF THE YEAR
"Philosophy of the World" by The Shaggs
Give it up to indie label Light in the Attic, their Criterion Collection edition of arguably the greatest album that sucks of all-time is an absolute beaut. The remastered LP of "Philosophy of the World" sounds incredibly crisp, making such all-time classic shit-rock tracks as "Who Are Parents" and "It's Halloween" sound equally low-fi and high-gloss. You've never heard anything like this before … and you're going to love it, in spite of yourself.