Although 2016 still has a little bit of life left in it, unless Obama declares war on Russia sometime between now and the next few weeks, I think it's safe to say we can comfortably reflect on the year that was. Just about every publication out there wraps up their year with some kind of "in-review" article, which usually comes gussied up as some sort of non-existent awards ceremony. Well, why let lesser outlets like CNN and Sherdog and ESPN declare themselves the sole arbiters of what was important and outstanding over the last 365 days when you got your good buddy Jimbo right here to give it you straight and simple?
Over the next few days, you'll find a few quick hits running down everything you need to know about the year that was in MMA, boxing, wrestling, movies, music, sports, literature, video games and even geopolitics. And I guess it also doubles as a Holiday shopping guide, too, so hooray for multi-purposing!
COMBAT SPORTS DIVISION
FIGHTER OF THE YEAR
Michael Bisping
The dude began the year outpointing Anderson Silva in a legit fight of the year candidate, then he followed it up by KTFO out of Luke Rockhold to win the Middleweight Championship. And to wrap up the year? He survived getting his face nearly rocked off by arch-nemesis Dan Henderson and went on to beat the man who immortalized him as a meme in front of his own countrymen. If anybody tells you anyone else had a better year in MMA, they're lying through their damn teeth.
BOXER OF THE YEAR
Andre Ward
The talented Light Heavyweight pugilist went 3-0 in '16, collecting three straight decision victories. After besting Sullivan Barrera, Ward beat Alexander Brand to win the WBO International Light Heavyweight championship. To wrap up the year, he defeated Sergey Kovalev in one of the biggest money fights of the year, in the process picking up the WBA and IBF light heavyweight straps, too. A potential fight against undefeated mauler Gennady Golovkin would undoubtedly be one of the biggest bouts of 2017 – if not the absolute biggest of the entire year.  
WRESTLER OF THE YEAR
A.J. Styles
Even before he made his WWE debut at the Royal Rumble, he had already put on a legit match of the year candidate with Shinsuke Nakamura in Japan. Like dropping Batman into the Marvel Universe, the long-time TNA stalwart's battles with the denizens of Vinny Mac-Land have been – pardon the pun – absolutely phenomenal, with his bouts against John Cena, Roman Reigns and Dean Ambrose representing some of the best damn old school 'rasslin matches the WWE has put on in a long time.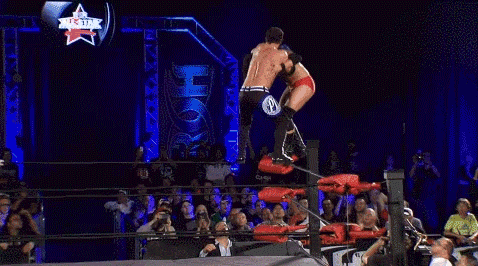 MMA FIGHT OF THE YEAR
Conor McGregor vs. Nate Diaz (August 20, 2016)
The 170-pound rematch was just nonstop action from bell-to-bell, with the tides of battle shifting seemingly every minute. Both competitors looked dangerously close to getting KO'd, but to their credit, McGregor and Diaz never took their feet off the gas pedals. Not only was this one of the most exciting matches in UFC history, it very well could be the greatest UFC main event ever.
BOXING MATCH OF THE YEAR
Francisco Vargas vs. Orlando Salido (June 04, 2016)
These two super featherweights gave it everything they had, and if you're looking for a fight to restore your faith in the sweet science, this is mandatory YouTube material. In one of the most evenly-matched fights you'll ever see, Vargas and Salido slugged it out for 12 rounds en route to a dead heat decision. The 12th round, in particular, has to be seen to be believed.
WRESTLING MATCH OF THE YEAR
Kazuchika Okada vs. Hiroshi Tanahashi (January 04, 2016)
Yes, the best match of 2016 occurred just four days into it. Alike Ric Flair and Ricky Steamboat before them, Okada and Tanahashi's storied rivalry keeps outdoing itself, with their Wrestle Kingdom 10 outing arguably the best match in their already legendary array of matches. The two went back and forth for nearly 40 minutes, with a molten hot Tokyo Dome crowd freaking the hell out from start to finish. The final ten minute stretch may very well be the most exciting wrestling sequence in at least a decade … hell, maybe even two of 'em.
CARD OF THE YEAR
UFC 199 (June 04, 2016)
This one had it all. An out of nowhere dark horse fight of the year candidate in Marco Polo Reyes vs. Dong Hyun Kim (but, uh, not that Dong Hyun Kim.) Dan Henderson rattling off a shocking KO of Hector Lombard in one of the sport's biggest feel good moments of the year. Max Holloway and Ricardo Lamas putting on a technical clinic, Urijah Faber riding off into the sunset in a title bout that put Dominick Cruz over huge and for the grand finale? One of the sport's most beloved veteran fighters finally won UFC gold, as Michael Bisping flatlined Luke Rockhold in the first to take home the Middleweight belt.
ASS KICKING OF THE YEAR
Khabib Nurmagomedov vs. Michael Johnson (Nov. 12, 2016)
There were plenty of one-sided drubbings to reflect upon this year. Of course, you had C.M. Punk getting wasted by Mickey Gall, and who can forget Cris Cyborg's husband getting his skull literally caved in by a dude who threw a Pokeball at him? But just in terms of sheer brutality, nothing eclipses the mauling of Michael Johnson at the hands of Lightweight killing machine Khabib Nurmagomedov at UFC 205. Over the course of 13 minutes, the Ruskie absolutely obliterated his talented American adversary, landing 94 blows – the majority of them while Johnson was virtually helpless on the mat – before Johnson mercifully tapped at the halfway point of round three.
DEBACLE OF THE YEAR
Dada 5000 vs. Kimbo Slice (February 19, 2016)
You really have to work hard to be the worst match of the night on a card that also included Royce Gracie defeating Ken Shamrock by first round knee-to-the-testicles, but by golly, these two somehow managed to deliver the goods. Indeed, Dada 5000 apparently had two heart attacks in the bout, and it looks the physical duress of the fight on Kimbo probably had something to do with him experiencing a fatal heart attack just a few months later. On the plus side, though? The bout does contain arguably the greatest knockout of all-time … one in which the sheer force of Kimbo's strike was so powerful, it somehow managed to knock out his adversary despite the punch missing by a good three feet.