The last time we saw Georges St-Pierre in the cage, none of us knew what the hell was going on. In the eyes of many, the longtime Welterweight title-holder had just received an undeserved split decision victory over Johny Hendricks. Having looked absolutely dominant in the cage since late 2007 – not just beating but completely outclassing top-tier grapplers and strikers like BJ Penn, Jake Shields, Nick Diaz, Carlos Condit, Jon Fitch and Josh Koscheck (twice) – the showing was certainly the worst St-Pierre had looked since his shocking loss to Matt Serra at UFC 69.
In a barely intelligible post-fight interview with Joe Rogan, St-Pierre kept emphasizing his need to "take some time off." While St-Pierre never came out and directly said he was retiring, it was obvious that it was going to be awhile before we saw GSP back in action. Rumors quickly circulated. Was it concussion concerns? Blackmail? A hitherto unmentioned drug problem, or some sort of unstated mental illness? Remember – this is a guy who once claimed to have been in contact with alien creatures before, furthing commenting that he "suffered" from frequent "gaps in time."
We will probably never know why GSP took the last three years off. If I were a conspiracy theorist, I'd bet the house that GSP was forced into semi-retirement by the UFC brass, in much the same way the NBA allegedly forced Michael Jordan into his two-year "retirement" in the mid-1990s. Can you imagine the negative press had it been made public that the literal face of the sport had incurred some sort of major brain injury at the ripe old age of 32? Alas, that's the kind of thing we're just going to have to hypothesize about. Listening to St-Pierre ramble on in weird broken English interviews, I wonder if even he knows why the extended vacation from the sport was required.
Whatever the reason for his hiatus, the break from MMA officially came to an end June 20, when St-Pierre publicly proclaimed his desire to once again strap on the four ounce gloves and do what he does best – jab people in the face until their eyes swell up and mash them so hard into the canvas, their backs almost touch the earth's mantle.
As arguably the greatest technical fighter of all-time (he's certainly the best pure grappler the sport has ever seen), methinks the UFC is very open to the idea of St-Pierre reentering the Octagon. The timing of the "un-retirement" puts GSP and the UFC on a perfect timeline to set something up for their big Madison Square Garden debut this fall, which, naturally, raises the question: who should "greet" Georges back to the cage in his first fight in nearly three years?
After working out the MMA math, here's my five nominees for the best presumptive opponents for GSP's return fight:
The winner of the Robbie Lawler/Tyron Woodley Bout at UFC 201
Well, this one is a no-brainer. Considering GSP's pedigree, I think it is hardly controversial to give him a title shot right out the gate, and what do you know, the UFC's current 170-pound champion will be defending his strap against Strikeforce vet Tyron Woodley in Atlanta next month (which, pending our outstanding founder Mike Coughlin can procure the necessary paperwork, I will be covering live as the event's official HalfGuarded.com media correspondent – I'M WORKING ON IT!.) No matter who wins the upcoming title fight, the victor would prove an interesting foe for St-Pierre. Can GSP's stellar wrestling overcome Lawler's relentless striking? Is St-Pierre's stand up enough to weather a slugfest against Woodley? Will the three years' worth of cage rest be enough of a factor to allow GSP's adversary, whoever it may be, to eke out a five round decision victory? All intriguing questions to consider, which makes the urge to see them answered in the Octagon all the more exhilarating.
Michael Bisping
Since GSP had no problem clearing out the Welterweight division, maybe it's time the Montérégie native tried his hand (and feet) at the 185-pound weight class? Such a move has been bandied about for years, and seeing as how crazy the division is these days, throwing St-Pierre into the mix would make arguably the most interesting division in all of MMA even more awesome. While there are plenty of intriguing Middleweight bouts for GSP to mull, the one that makes the most sense heading into the big MSG show, of course, is a clash with the current 185-pound champ Michael Bisping. Outside of giving us a "dream bout" between two of the most dynamic veteran fighters in the sport, the matchup also provides us an intriguing styles clash, with the Brit's meat-and-potatoes brawling versus the Canuck's slow and steady wrestling. It's good old fashioned brute force up against sheer technique – you know you want all of this right here.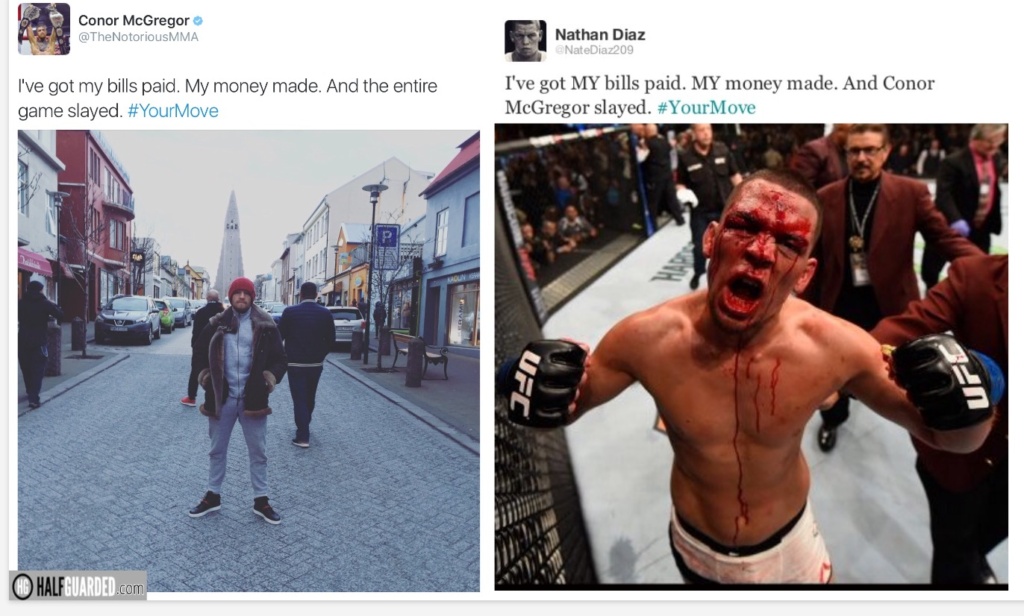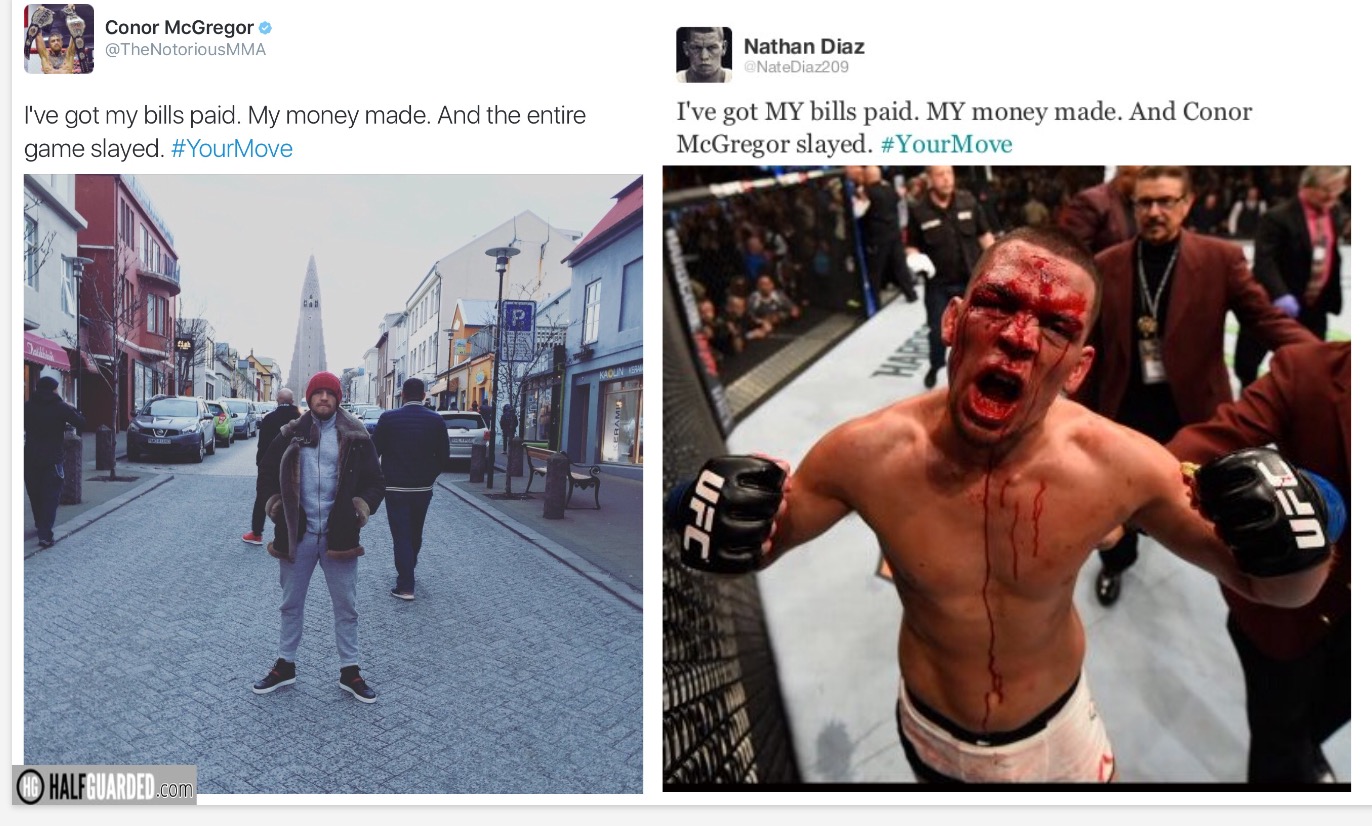 The winner of the Nate Diaz / Conor McGregor Bout at UFC 202
If GSP is fighting, it's going to draw a lot of PPV revenue. In fact, the income from French-speaking Canada alone would probably double the buyrates. But let's say that, for his big return fight, you don't just give GSP the Welterweight or Middleweight champion. Let's say you give him the absolute biggest star in all of MMA in an epic "old school vs. new school" contest that would more or less be the modern MMA equivalent of late-1970s Muhammad Ali taking on early-1980s Mike Tyson.
Of course GSP vs. McGregor would make an insane amount of money, but in the interest of fairness, let's make the "reward" of fighting St-Pierre the prerogative of whoever wins the Nate and Conor throwdown at UFC 202. Even if Diaz "ruins" the script by beating McGregor (again), it nonetheless sets up a really fascinating clash of techniques. And in a five round war of attrition, we'd all love to know once and for all which is mightier: the Stockton Slap or the Quebec Takedown?
Dan Henderson
There are a lot of interesting bouts at 185. Chris Weidman, Luke Rockhold and Ronaldo Souza could all lay claim to number one contender bouts against GSP, but for St-Pierre's first go-at-it since 2013, how about we set him up against a less obvious opponent – one who, despite being in the twilight of his career, just rattled off one of the most impressive knockouts of his illustrious career? Although a GSP-Hendo donnybrook seems like it would've been more explosive circa 2006 than 2016, the unpredictability of the matchup nonetheless lends itself to some potentially enthralling outcomes. While GSP has had no problem getting past feared strikers like Dan Hardy and Thiago Alves, would the greatest technical fighter in UFC history have the wherewithal to evade the "H-bomb?" Empirical wisdom would say GSP has this one in the bag, but considering all of the crazy upsets going on as late – plus the variable of St-Pierre's time off – there are certainly no guarantees about anything once the fists start flying in this one.
Anderson Silva
Looking at the Welterweight title fray, there are a lot of dangerous matchups for GSP. Stephen Thompson would pose a versatile striking threat that the venerated Canuck has never really encountered before. Demian Maia's superb BJJ would likely prove a greater ground threat than any adversary GSP has tussled with. And of course, we all know what Johny Hendricks is capable of – even if he's slowed down considerably, that left hand and tremendous takedown defense probably still gives St-Pierre nightmares. As interesting as those scenarios are, perhaps the most interesting matchup of all would put St-Pierre up against a fighter who not only isn't in the 170 pound weight class, but isn't even considered a "contender" in the 185 pound division at the moment. For a huge chunk of the late 2000s and early 2010s, there was no bigger "dream match" in MMA than Anderson Silva vs. Georges St-Pierre. Almost diametric opposites in terms of fighting techniques, the UFC teased us numerous times but could never deliver the goods. With Silva likely a year or two away from calling it quits, it's now or never for Dana White and company to book the fight that's had MMA fans the world over salivating since Barack Obama took office. Although GSP would almost certainly by the favorite, that three-year layoff (not to mention questions a plenty about whether St-Pierre has the speed to evade Silva's erratic striking) makes this a very unpredictable bout. And as a lead-in to Ronda Rousey's main event return, it would give die-hard and neophyte fans everywhere a chance to see the two best fighters of a generation – albeit a few years late – go one-on-one. It may not be the most obvious pick for GSP's long-awaited comeback, but considering the circumstances of his return – and the rapidly changing face of the sport – it may very well be the best option on the table: a legend versus legend mega-bout that symbolically closes the post 2005 boom period … and at the same time, sets the perfect tempo for the MMA titans of tomorrow to follow.