You know how the abortion debate is often framed as "a woman's right to choose?"  Let's go with that and encourage the four female leads of the 2016 Ghostbusters Vagina Monologue aka Walking Abortion to exercise that right.
Melissa McCarthy is the first one who needs to find a hanger and stop Baby Hitler of Movies from coming.  Then Kristen Wiig, just because her name is stupid and she looks kinda weird and seems to fluctuate between semi-comedy and semi-serious but always shit movies.  Kate McKinnon, who I *think* is on SNL but I asked 4000 people and no one watches so that's up in the air.  Leslie Jones?  Legit never head of her.
I just looked up Jones and wikipedia says this:
She intended to become a lawyer, but changed her mind and changed her major a few times, including business accounting and computer science and eventually ended up majoring in communications.
You don't "major" in becoming a lawyer in undergrad.
Communications.  LOL.
This lead to her being on SNL.  Because if there's one thing that'll help a movie, it's more present day SNL cast members…
Anyways.  Those are the four responsible for the raping of my childhood and rape is one of those semi-agreed upon exceptions for allowing abortion.  All we have is one photo and – and I swear I'm not exaggerating for effect – it looks worse than I even imagined.
Leave Ghostbusters alone.  The first one is nearly as perfect a film as can ever exist.  The plot is original and fun but it was this perfect cast, that all mixed so well together.  NONE of these women are Bill Murray and without Bill Murray, there is no Ghostbusters.  He was the ectoplasm that held the entire team/movie together.  Ghostbusters 2 was a drop off from the first one – severely, really – and this piece of shit cannot succeed.  (And Ghostbusters 2 wasn't awful or anything, it's just that Ghostbusters was so great.)
I know, this is the age where Hollywood just remakes shit, and sometimes that's OK.  Some old movies have cool plots that could use updating or whatever.  21 Jump Street is the one that comes to mind, though I never saw the TV show, but the movies were funny.  Umm… I dunno, I'm sure there's some other example.
Again, look at this fucking photo: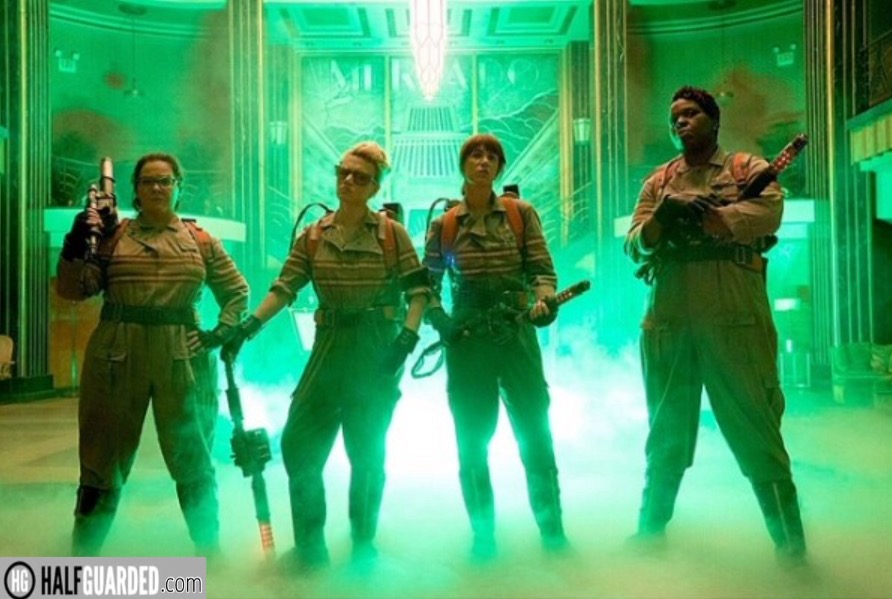 It looks like they're all playing dress up and giving the ol "wink wink, aren't we clever by turning this on its head."  FUCK. OFF.
This is a golden age for the female comedy.  McCarthy is certifiable box office draw (never saw that coming when I watched Gilmore Girls, I'll admit)(YES, I WATCHED IT).  And she's made some amazing movies (Spy seems to have been passed over but she was outstanding in it).  And there's been Bridesmaids, which while again just a derivative ripoff of The Hangover shit, was funny.  And even Tina Fey is getting in on the act with her attempt at the "women can be crude and funny" zeitgeist.  This will not be funny.  It'll do more to set back women than ten Donald Trumps.
I know the plot is gonna be, "We fight ghosts and maybe McCarthy farts a lot, makes a joke about how she 'Let out a little pee' and we'll all laugh because Thor is the receptionist and isn't it FUCKING HILARIOUS that they've flipped the gender roles in such a clever manner." (Oh, mind you: Janine wasn't supposed to be conventionally sexy – at all – in Ghostbusters.)  Beyond that, this is what wikipedia says:
Erin Gilbert (Kristen Wiig) and Abby Yates (Melissa McCarthy) are a pair of unheralded authors who write a book positing that ghosts are real. A few years later, Gilbert lands a prestigious teaching position at Columbia University, but her book resurfaces and she is laughed out of academia. Gilbert reunites with Yates and others when ghosts invade Manhattan and she and her team have to save the world.
I mean, what the fuck?  She writes a book saying ghosts are real and this gets her laughed out of a college?  Have these writers been to a college anytime in the last two decades?  Do you know how many completely bullshit made up classes there are?  I literally just googled "Columbia College classes" and the Columbia in Chicago (yeah, yeah, not the one in NYC) offers:
Jewelry Workshop
Making 1
Making 2 (TWO classes on "making" things)
Toy Design
But a book on ghosts and that's too much.
Leave Ghostbusters alone.  I know it's a hopeless cause because they're already filming but, then again, you have to have something growing before you can vacuum it out.  I wish they'd used protection from the beginning so it didn't come to this but it has: abort it.