Just in case you missed it, professional mixed martial arts became legal in New York state last spring.  It was a momentous occasion for MMA, the UFC, Dana White, and the Fertitta Brothers.  After years of lobbying and battling with the New York state legislature, MMA was finally permitted in all 50 states.  With New York, and more importantly New York City, the largest, most lucrative market in the United States was finally open for business.  It had been a long time coming.  At the time, the headline on the UFC website read, "UFC Announces First NY event at MSG."
That article was published on April 14, 2016, immediately after New York Governor Andrew Cuomo signed the MMA bill into law.   It was also made clear that UFC 205 would take place on November 12 at Madison Square Garden.  Back in April, the headline at UFC.com certainly told a nice story.  The "first UFC" sounds some important and historic.  Unfortunately, it also totally ignored history and reality.  It forgot that the UFC actually held an event in Buffalo, New York on September 8, 1995.
The event was titled "UFC 7: The Brawl in Buffalo." Ken Shamrock vs. Oleg Taktarov, in a UFC Superfight Championship match, headlined the card.  The fight turned out to be dull, dragged on and on, and ended as a draw after 33 minutes.  Due to the length of the main event, this show turned out to be a bit of a disaster.  The pay-per-view actually went off the air for many viewers before the Shamrock-Taktarov fight had ended.
In addition to the long main event, the show also featured an old fashioned one night eight man tournament.  Marco Ruas made his UFC debut, dominated the competition, and won the tourney when he beat the much larger Paul Varelans in the finals via brutal leg kicks.  At the time, Ruas looked like a killer and the most well-rounded fighter in the game.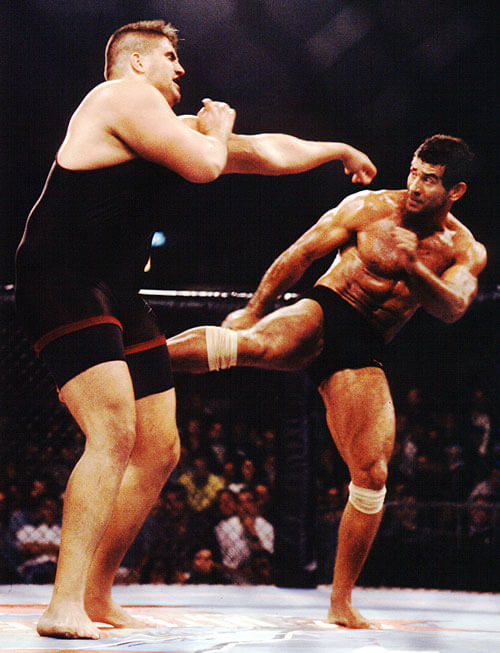 The show was purchased by 190,000 people on pay-per-view and was considered a financial success at the time.  This show actually set the all time live attendance record for a UFC event, with an estimated crowd of 9,000 people.  Despite the technical issues with the television broadcast, this was a successful show that featured Ken Shamrock, Oleg Taktarov, and Marco Ruas.
Interestingly, a google search for "first UFC event in New York" only provides links and articles pointing to UFC 205. Granted, no one is really seeking out UFC 7, but it's interesting that the UFC and most mainstream articles are either ignoring UFC's history in NY or are just unaware that UFC 205 is actually the second UFC show in the state.
UFC 7 way back in 1995 was the first UFC event in New York.  Don't forget it.
Matt is excited for UFC 205.  He thinks it's a great card, with loads of intriguing fights.  You should buy it and watch it too.  Check out our live streaming UFC 205 play by play here