That's a headline you don't see everyday.  Now, I can't say entirely if it's true, because I haven't spoken with Rousey.  And I don't have access to her drug tests, but my guess is that since she's regularly tested by USADA, Ronda Rousey does not have HIV or AIDS.
It's true that I also don't have cancer, you don't have the Black Death, and my dog does not have wings.  But this is something that needed to be addressed because Twitter is an evil shit hole.
RONDA ROUSEY HIV
I was plugging something with a Ronda hashtag, probably the piece where I beg you to help me get rid of my girlfriend, when the tag suggestion came up with "#rondarouseyHIV."  That was a new one.  Surely, I feel like I would've heard more about one of the biggest mainstream stars in MMA history having contracted HIV.  Could Edmond be to blamed?  Travis Browne?
Of course not.  Because Ronda Rousey does not have AIDS.
I get a kick out of dark humor but this one was just sad.  Someone took a story and did the photoshop thing that all the kids are doing these days and made it look as if a story had been written revealing this amazing news.  See: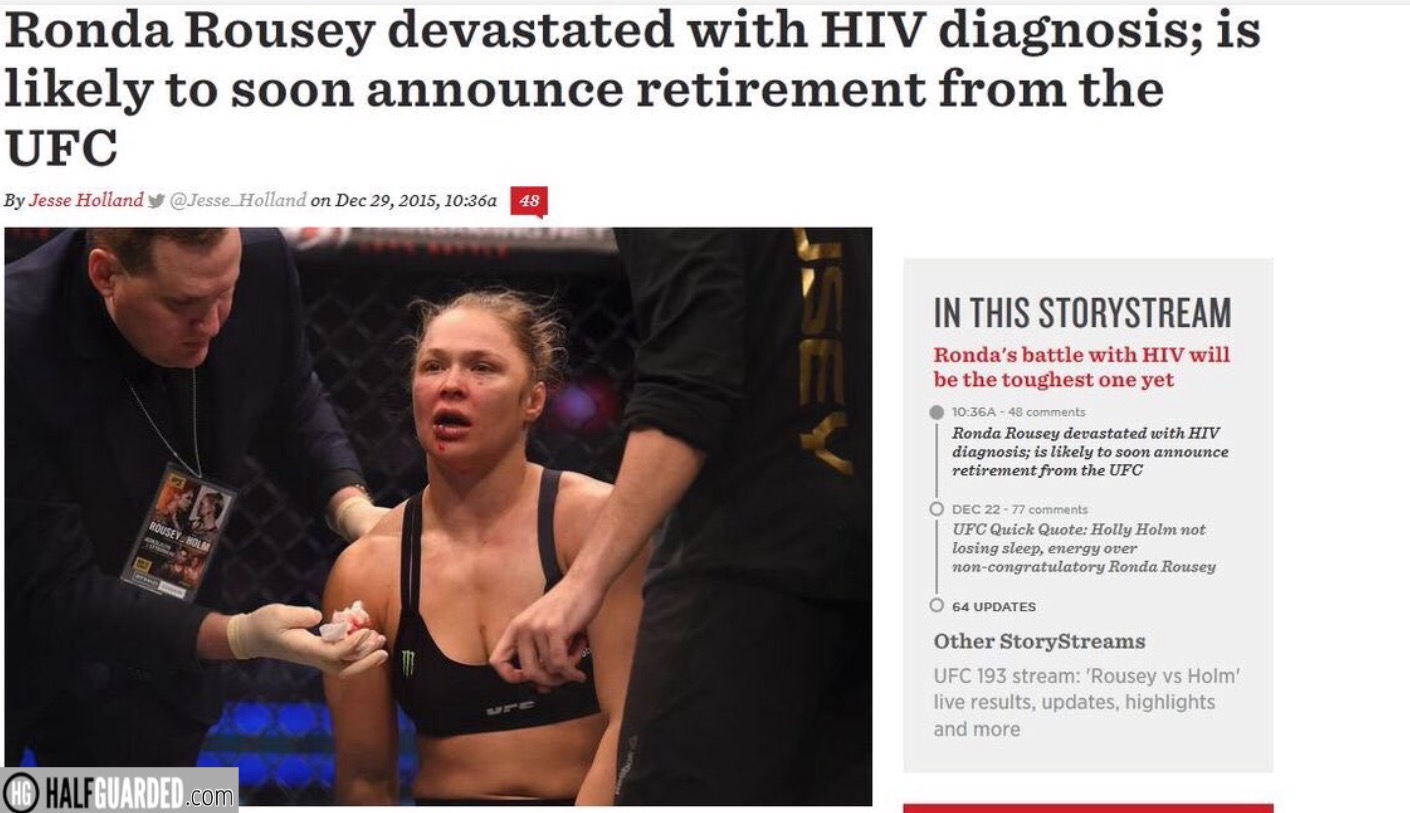 Now, anyone with half a brain would notice that the article is dated from December and that we're in the third week of January.  Even if this little site broke the story, it wouldn't take three weeks for Twitter to notice.  Nonetheless, Twitter started to act up based on the Ronda Rousey AIDS hoax and the hashtag immediately had thousands of comments.  Hell, I just checked and people are still commenting, with many thinking it's real.  And of those that think it's real, the ugliness of the Internet is in full effect.  It mostly is some variation of "Haha, she sucks as a fighter. She deserves this.  Can't act.  What a bitch.  KARMA!"  Like, I mean, come on.  Ronda has her flaws, and I'm fine if people are annoyed with her public persona, but wishing AIDS on a person because they trash talk before a cage fight is insane.
I know that we often engage in hyperbole from behind our computers.  I'd guess that those wishing that Ronda Rousey has HIV, if confronted in person, would admit they don't really want her to die.  I don't know if it's good for the world that we have an outlet to just spew the most evil version of what's in our head.  But we do.
And that's why I'm writing about a Ronda Rousey HIV AIDS hoax started by one guy that probably was just screwing around, but which revealed the sadder side of us all.