@mattfgrady
The second biggest draw in combat sports, a 135 pound woman, named Ronda Rousey, won another massive MMA fight this past Saturday night.  Again, she did it in spectacular fashion, defeating top contender, Bethe Correira, by knockout in 34 seconds.  It was quick, brutal, and decisive.  With the victory, Rousey further cemented her reputation as the world's greatest female MMA fighter.
The sports world was abuzz last Saturday after the fight ended.  Twitter was blowing up.  National sports radio shows were commenting on the quick finish.  According to Dana White, the show was trending at levels above UFC 189.  Without a doubt, this was another great night for MMA.
The fight had been a wild success for Rousey, professionally and financially.
Following every big fight, though, an inevitable question looms.  What's next?
Besides, starring in a movie based on her life story, Rousey has a third matchup with number one contender, Miesha Tate, lined up as the best option by White and the UFC brass.
Many fans and MMA writers had another opponent in mind though; Cristiane "Cyborg" Justino.
Although lesser known to the general public, Cyborg has managed to amass an impressive win streak through destructive, powerful, and vicious striking unseen in women's MMA.  She has fought successfully in the Strikeforce and Invicta promotions at 145 pounds for years, but has never stepped inside the UFC cage.
Most experts and hardcore MMA fans consider Cyborg the only real threat to Rousey's throne.
Unfortunately, there has been a ridiculous amount of debate and a number of issues with a potential fight between Rousey and Cyborg.
The biggest issue is weight.  They are in different divisions based on their size.  MMA has weight classes to aid in the protecting of fighters.  Simply put, they reduce the possibility of mismatches.  A 155 pound fighter cannot fight an opponent who weighs 255 lbs.  It just would not be fair to throw two people in a cage with drastic differences in weights, reaches, etc.
Granted, Rousey fights at bantamweight and Cyborg fights at featherweight.  There is not a huge size difference.  They are only 10 pounds apart.
But, this is where things get a little more complicated.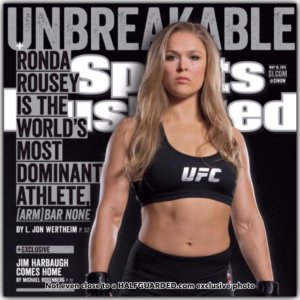 Cyborg, who is unusually muscular for a woman (or man), tested positive for stanozolol, an illegal anabolic steroid in 2011.  She claims that she is physically unable to make the weight of 135 pounds.  She walks around at roughly 175 pounds and has been unable to cut down to even 145 pounds in the past.  She and her management team have been consistently persistent that 135 pounds is an unhealthy and even dangerous weight for her.
Critics of Rousey have claimed she is scared to fight Cyborg and wants the matchup to happen at 135 pounds because it will sap Cyborg of her power, energy, and cardio.  The ridiculous term, "coward" has been hurled at Rousey because she wants Cyborg to come down in weight and fight on her terms.
Rousey, meanwhile, argues that Cyborg could diet down to 135 pounds if she was not a cheating, juicehead.  Lose some muscle, diet, get off the steroids and fight at bantamweight Rousey would contend.
Proponents of Rousey have claimed that Cyborg could easily weigh 135 pounds if she was not abusing performance enhancing drugs.  If she weighed in at 145 pounds on steroids, why can't she weigh in at 135 pounds off them?  Some would claim that Cyborg is the "coward" for using steroids and beating up smaller, weaker women.
In sum, coming down in weight is a serious problem for Cyborg and moving up in weight does not make sense for Rousey.  It's an interesting back story to an even more interesting fight.
To be clear, though, this fight is Rousey's choice.  She is the star.  She has made millions of dollars already in MMA and there are millions more to come.  She does not need to fight Cyborg.  She and the UFC, will be just fine without this fight.
To cement her legacy and be an all time great, she doesn't have to move up in weight either.  Georges St. Pierre never moved up to fight Anderson Silva.  Jon Jones hasn't moved up to heavyweight.  Chuck Liddell didn't change weight classes.  Rousey is no different.  In fact, she has dominated her weight class in a way GSP, Anderson, Jones, and Liddell never did.
She is already on the Mount Rushmore of MMA, without fighting Cyborg.
So, what should Rousey do?
The Miesha Tate matchup would draw well.  Rousey vs. a high school gym teacher could make big money right now.  I think we all know how a third Rousey vs. Tate matchup ends however.  There isn't any real intrigue there.  People will watch, but it's boring and will likely end predictably.
There aren't any other great contenders in the UFC that weigh 135 pounds either.  The options are extremely limited.  Holly Holm doesn't cut it.
Honestly, the best option is the dream fight.  Rousey vs. Cyborg should be booked, at a catchweight of 140 pounds.  They meet halfway, with stringent drug testing, in their primes.  These fights don't come along often and need to be signed while they make sense.  Both fighters make a slight concession, regarding weight, and the fight happens.  Simple.
If Rousey loses, her mystique and drawing power isn't damaged because she moved up in weight and lost to a potentially roided up cheater.
If Rousey wins, her legend grows.  She moved up in weight, beat an unstoppable monster, and proved she was the greatest ever.
As it should be, the ball is in Rousey's court.  She can be stubborn and refuse to fight Cyborg at anything but bantamweight, beating a thin, weakened, dehydrated opponent.   Or Rousey can take her career to another whole level by meeting Cyborg at 140 pounds and thrashing her.
Win or lose, a catchweight fight with Cyborg, Rousey will come out as a bigger star and gain in the long run.
It's Rousey's best choice right now.