"When two tribes go to war, a point is all that you can score," said Frankie Goes to Hollywood and I have no idea on Earth what that means, but the video of it was cool and it acts as a really striking introduction to my latest article. You see, the last time I wrote about comics I listed my favourite comic fights of all time (and please check it out if you haven't already, as the more hits I get on my work the more members of my family Coughlin lets go). However I later realised that all the fights were one on one encounters, nowhere was there an example of that great comic book institution the superhero gang fight.
For some reason teams of superheroes battling teams of supervillains (or just as many times other superheroes) is something that just doesn't seem to be done that well nowadays. But there was a time when the prospect of two superteams meeting up in a deserted parking lot and duking it out would get all us older fanboys excited as hell.
So In honour of this fine tradition (and to stall for time before I do my proper Civil War retrospective) I give you my favourite team vs team fights in comics.
1. X-Men Vs Marauders Uncanny X-men 221-222
This feud was absolutely epic and it's violent, guerilla war style feel meant I could have filled this list with Marauder vs X-Men encounters alone. However I decided to settle on this beauty which began with the X-Men staking out a hospital while coming to the aid of Madelyne Pryor and from the moment Psylocke detected Marauders closing in on her and Wolverine yelled "Rogue, go!" this shit was on! The battle spread in all directions all across San Francisco and naturally featuring a wolverine tussle with Sabretooth on the Golden Gate Bridge.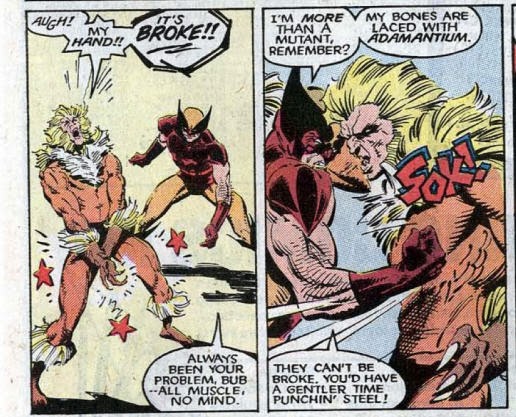 It's a great fight, tons of skirmishes weaved beautifully together and the first big test of the third generation X-Men lineup. Highlights include then hot headed and kick ass Rogue (she was my comic crush at this time and I'm allowed to say this cos I was a kid) getting some revenge on Sabretooth, Dazzler overcoming her fears to save her team mate Rogue and Havok having to come to terms with Polaris being possessed by Malice.
Lots of charcter moments amongst the action this is everything a fight issue should be.
2. X-Men Vs Marauders from X-Men 211
You know what? fuck it, this is my article and if I want to have more than one X-Men vs Marauder fight I'll do it. Who's gonna stop me? No one that's who! (Mike: Oh yeah…)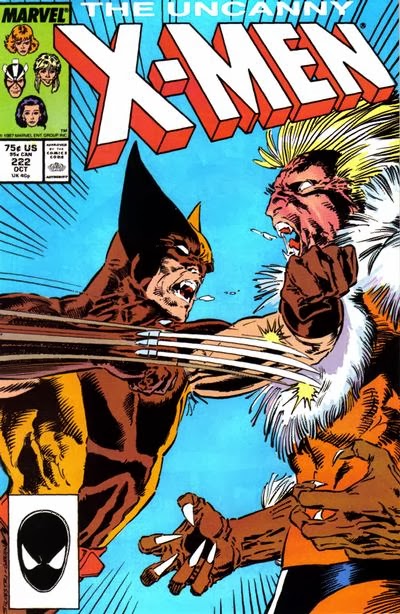 Seriously how can I not feature this claustrophobic war in the Morlock tunnels, so brutal and vicious it had a death count of innocents never before seen in a comic and three core X-Men members would be sidelined for the next few years. Simply put issue 211 is one of my favourite comics of all time, full of tension and unbelievable acts of cruelty that made the Marauders one of the greatest set of villains ever (Scalphunter's mocking of Annalee before gunning her and her children down establishes him as a major bastard). By the time the battle ends Colossus has been driven to murder (the panel of him in the shadows still clutching a dead Riptide by the throat remains a striking moment) Rogue is wanting to do the same and Storm gives Wolverine carte blanche to kill in one of the greatest lines ever in comics. The X-Men are out for Marauder blood and after the ride they've been through as a fan you're right with them.
3. Avengers vs Masters Of Evil from Avengers 273 to 277
The Avengers are another team that have had some major tussles with other teams through Marvel's history but in 1986 readers knew something big was brewing with glimpses of villains being recruited for a mysterious new group. It wasn't until 273 that the full roster of the new Masters of Evil was revealed, an army specifically put together with the purpose of taking out the Avengers through sheer numbers and with an actual game plan unlike the clichéd approach of turning up at a Press Conference or wedding to start a fair ruckuss.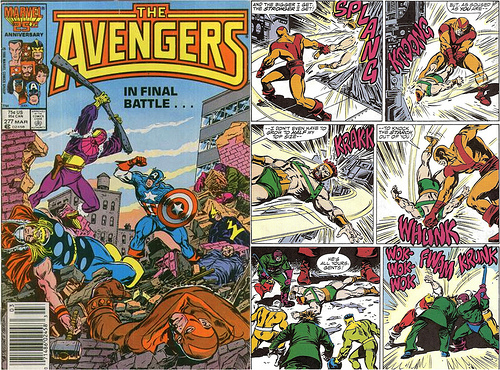 Dubbed "Under Siege" the story saw the Avengers beaten to their lowest ebb like never before, with the Mansion occupied, Hercules hospitalised and only the Wasp remaining free from capture to organise a fightback.
It's one of the best remembered Avengers stories from any era and as an example of pure action and drama done really, really well it's tough to beat.
4. Heroes vs Villains at Secret Wars from Secret Wars issue 8
Ok so the first Secret Wars was not exactly Shakespeare but I still have fond memories of this series and I had a lot more fun reading it than that giant, metaphysical bullshit waste of time series of the same name from last year. If nothing else the original series was at least punctual in it's release schedule.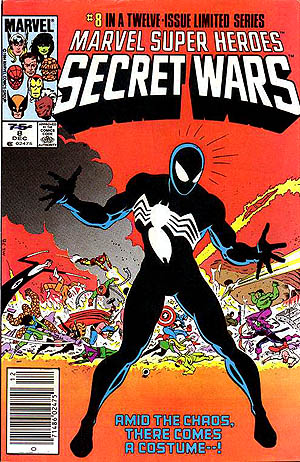 The first series had a least a strong narrative structure, especially with the back and forth fortunes in the "war." The story built well and by the time we get to issue 8 where the heroes finally get to march on the villains fortress to beat the shit out them as a young reader I was totally invested. Tosh it may be, but after the horror seeing She Hulk battered to an inch of her life by the Wrecking Crew, Absorbing Man and Doctor Octopus I was eager for the heroes to get their revenge, cheering as Spiderman beat the daylights out of Tiatania and Cap knocked Enchantress out cold with his shield and BY GOD THAT'S A LOT OF MAN ON WOMAN VIOLENCE IN THIS ISSUE.
Shit!
And people think Lucha Underground is disturbing.
5. Dinobots vs Predacons from Transformers 135-136 (UK version)
"One of things is not like the other, one of these things does not belong."
In the 80's there were two lines of Marvel Transformers comics. There was the American poorly drawn monthly that seemed to be there to merely introduce whichever toys Hasbro wanted to highlight that month. Then there were the stories from the UK weekly, created by the UK team to fill in issues whenever it ran out of American stories to reprint. For once I was lucky to live in the UK as the homegrown stories were quite good and always fun especially when finding a way to have the key Autobots and Decepticons face off with each other. When a new team of five Decepticons called the Predacons arrived on Earth who could transform into various vicious creatures a clash with fan favourites the Dinobots seemed a natural match up.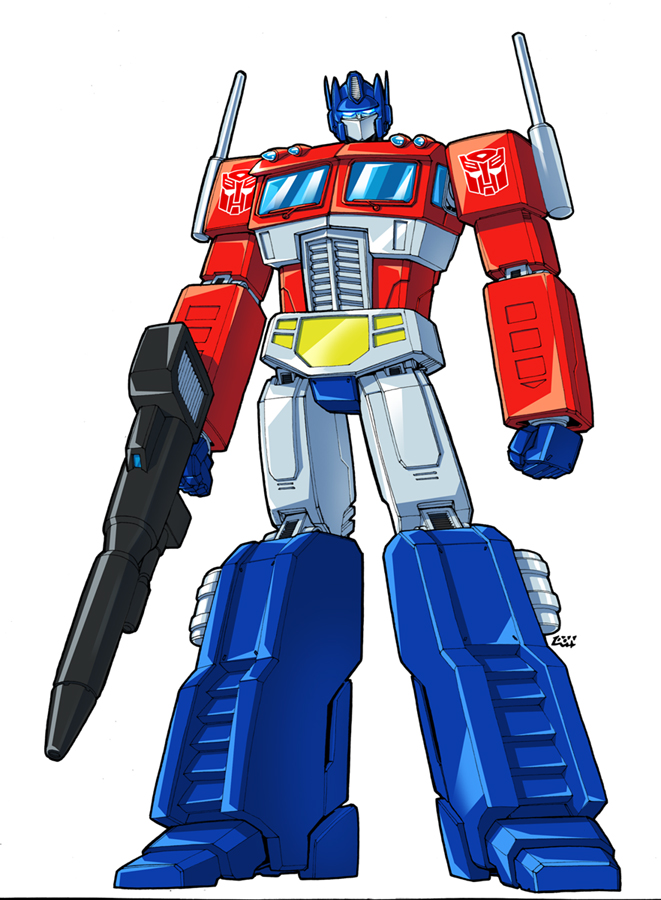 The two teams went head to head in issues 135-136 in a story simply entitled Grudge Match and was a pretty fun scrap notable for being one of the rare times the Dinobots didn't get their arses handed to them. Again Shakespeare it ain't but there is a least a motivation for the battle in that Swoop has a long standing grudge against the other team's flier Divebomb as he defeated him back on Cybertron, stole his name and knows Swoop's deep, dark secret that his life was saved once by Optimus Prime (Dinobots don't like Prime).
Like I said, not exactly Hamlet in it's complexity, but then again Shakespeare never had a giant robot with a lazer sword turning into a T-Rex so fuck him. This story could have led into a really cool feud between the two teams but like a lot of the plot threads in the UK Transformers it was kind of left hanging.
6. Ultimates vs Liberators from Volume 2 of the Ultimates 9-12
The first two Hollywood baiting series of The Ultimates are amongst the strongest stories Marvel has ever done and the battle between the Ultimates and the invading anti American coalition The Liberators is nothing short of epic. The Ultimates fight to take back Washington from the invading force is huge in scale and intensity that only an artist of Bryan Hitch's calibre could handle.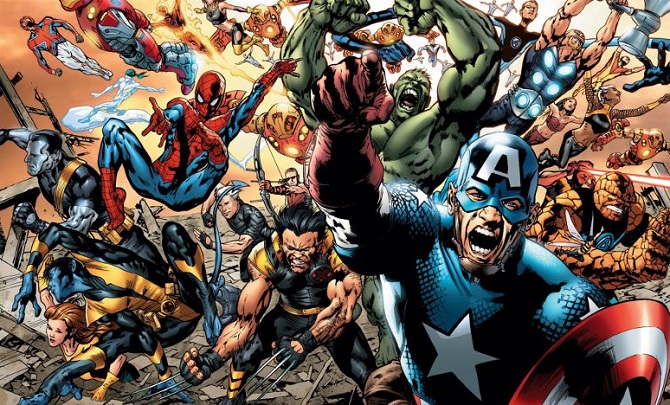 Utterly thrilling, intense and exhausting it's an absolute triumph in comic action. It's one misstep is perhaps the race to save President George Bush from being publicly executed (I mean really who gives a toss).
7. Avengers Vs Inhumans from Avengers Annual 12
When the United Nations discover the existence of the Inhumans homeland on the Moon and in possible striking distance of Earth the Avengers are sent on a diplomatic mission to assess any potential threat.
This of course could go two ways:
A. everyone gets on really well, they have a lovely time and go off to the Apollo landing site for the day and take pictures;
B. the Avengers and Inhumans end up kicking the shit out of each other.
If you picked A you're obviously a nice person who really needs to read comics more. Or maybe not, maybe we should all learn from you and write comics about Doris Day, I don't know.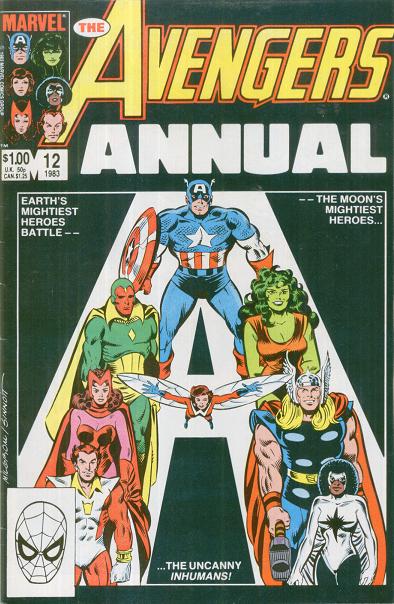 Anyway this is a fun, old school fight between the two sides, with lots of chatting and explanations of each other's powers as they knock the hell out of each other. This was also back in the day when the Annuals were eagerly awaited events, based upon giant sized stories backed with some major star studded confrontations.
8. Team Captain vs Serpent Society vs Serpent Society from  Captain America 341-344
The Serpent Society were a major storyline in the pages of Captain America in the mid 80's and I loved them. The idea of a Villain team that were motivated only by making a profit and ran their affairs like a business was one I found fascinating. Not only that but the female society members were hot, I mean Diamondback with her pink hair? whoohoo…I had issues as a teenager, I really did.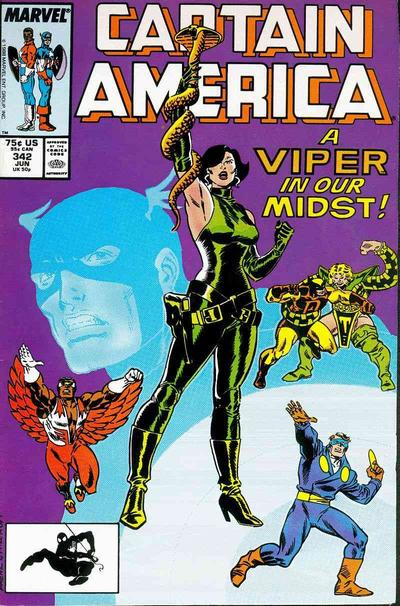 Captain America clashed with them a lot, but this battle that ran from 341-344 is the best. It starts with a battle between the regular Serpent Society and a rival Serpent faction, ultimately drawing in Steve Rogers during his stint as The Captain and his band of sidekicks (Falcon, Nomad and D-Man). There are some fun fights here that leads to a bigger story that eventually draws in the New Captain America and Battlestar who end up battling members of both groups. Heroes vs Villains, Villains vs Villains, Heroes vs Villains, this four way campaign really has it all. Oh and Ronald Regan turns into a snake.
Remember this is the movie that Civil War could have been.
9. Squadron Supreme Vs Redeemers from Squadron Supreme issue 12
If you want a forgotten classic from the history of Marvel check out the twelve issue Squadron Supreme limited series from the 80's. It may seem a little dated in terms of dialogue and art (I personally love that style but that's just me), but it is ahead of it's time in terms of characters, storytelling and themes such as authoritarianism and personal freedoms as the Squadron under Hyperion essentially take control of the US government in order to force a better world.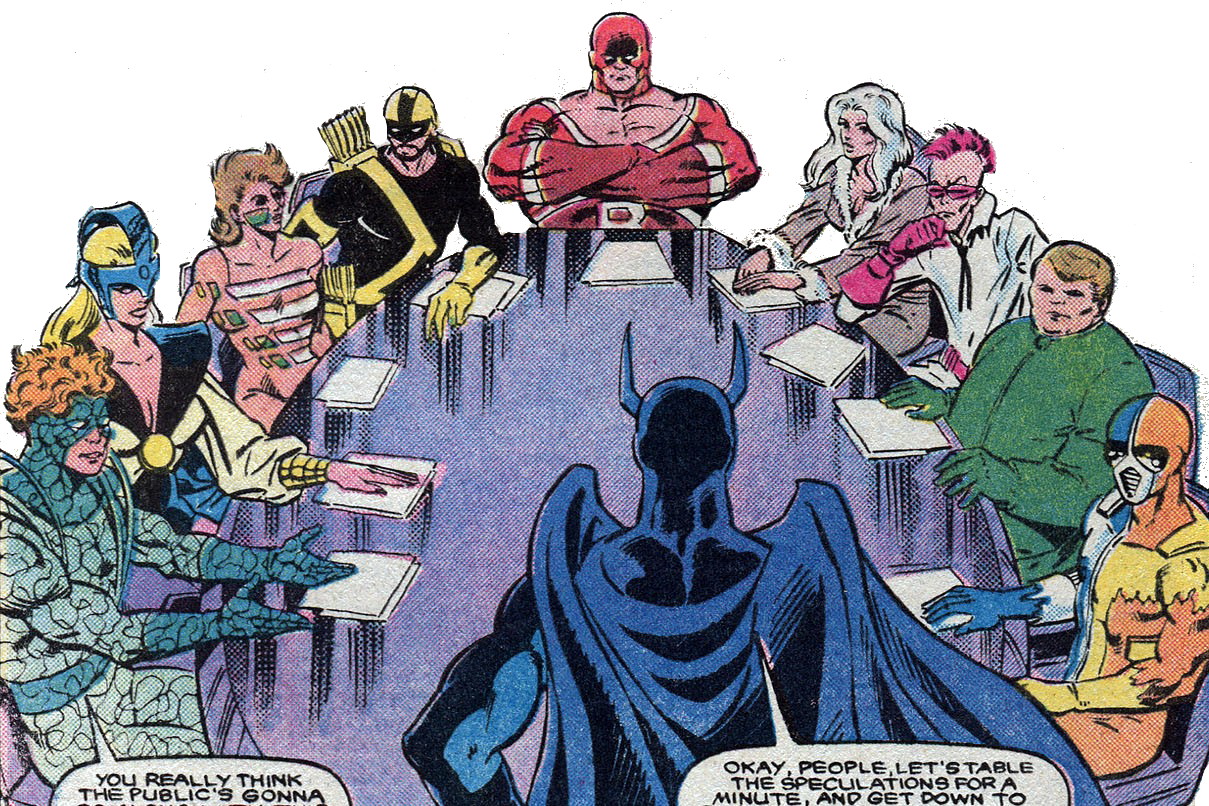 Nightwing leads a resistance group called the Redeemers and the final battle between the two groups is a beauty and surprisingly violent. Because it's made by mainstream Marvel line this series hasn't had it's due for deconstructing the superhero mythos in the same way other comics have around that time. Seriously worth checking out.
Funfact: the Graphic novel I have of this series apparently has traces of Mark Gruenwald's cremated ashes in them…..I'm not joking.
10. Kingdom Come
The excellent DC elseworld's series Kingdom Come is a beautifully illustrated (Alex Ross) story depicting a dark future where the next generation of DC heroes are wild, violent and out of control. A disillusioned, world weary Superman brings together members of the original Justice League to knock some sense into the little fuckers. Naturally it doesn't quite go swimmingly and in the final issue we get a war of apocalyptic proportions between the two generations of super powered folks.
You could read this story many ways. The clash of old school values vs lack of modern values. The rising tide of social disorder in modern life. The change in comics from the Golden Age Heroes to the Dark Age Heroes. There is a lot going on, but above all it's a massively epic Superhero war that has the scale that Civil war really should have aspired to be.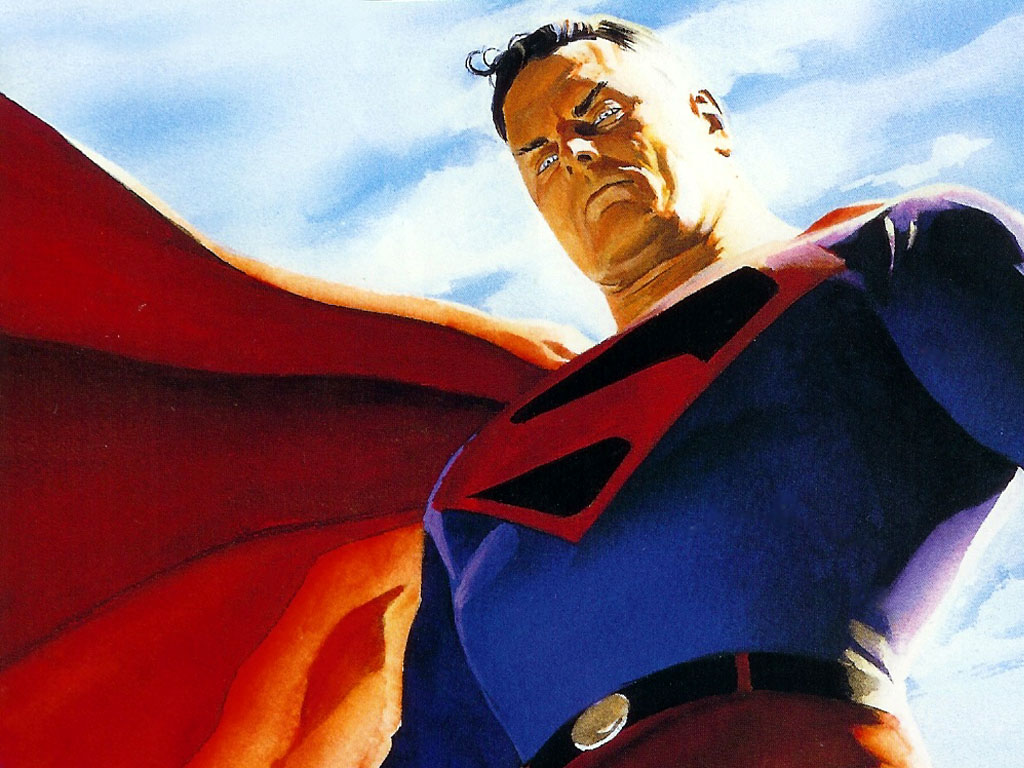 Now one massive super powered group brawl that should have been on this list that isn't is the battle for Asgard in Siege. Why isn't it in? Because it's frankly crap and is indicative of the problem with fights in comics these days in that they totally miss the mark of doing them with any semblance of drama or flow.
Siege should have been a great fun storyline but it missed out on so many levels.
Therefore coming soon, in a total one off (because I don't want to be one of those guys who goes, "oh this story could have been so good if they'd only listened to me") Dazza's guide to how they could have made The Siege awesome.
So til next time,
Dazza
And stay out of the gangs…unless they're the really cool ones.