In 2012, Chael Sonnen published a book called The Voice of Reason. It was sort of a hybrid autobiography and political screed, filled to the brim with the ex-UFC middleweight contender's unique – and oftentimes, irreverent – brand of Brazilian-baitin' humor. Indeed, the treatise is pretty much a must-read for any and all MMA fans, but the nearly half-decade old book is especially worthwhile for those who have only a passing knowledge – or no cursory understanding – of what fighting is all about.
Yes, the bulk of The Voice of Reason is about fighting. Chael recounts living out in the woods as a child and wrestling Bloods and Crips from the mean streets of Portland as part of some juvenile detention alternative program. He talks about the feeling of being in an actual UFC fight, all of the thoughts that come roaring through your brain as you attempt to punch another man unconscious and avoid having your arm yanked out of its socket by some guy who speaks an entirely different language than you do. But more than that, The Voice of Reason is about having a life that revolves around fighting more than it is fighting itself.
You may think you know what to expect out of a book written by Chael Sonnen, but you'd be surprised. There are entire passages dedicated to his favorite movies (he considers The Exorcist, A Clockwork Orange and Aguirre, The Wrath of God among them, so you know the dude has got cinematic taste), the best walkout songs (he includes songs by Matthew Sweet and Monster Magnet, so he automatically wins in my book) and even describes why Richard Nixon was an underrated president. Oh, and there's tons of stuff in there, too, about trips to 7-Eleven, how hard it is to find a decent mouthguard, what it's like to lose a father, what to do if you're ever charged with racketeering and how crooked the NSAC drug testing protocol is, but I figure you expected him to talk about that kind of stuff.
I know it's going to sound like hyperbole, but the way Sonnen writes remind me quite a bit of National Review founder William F. Buckley, with more than a few shades of Andrew Breitbart thrown in for good measure. In fact, there may soon come a day when Sonnen's tome is praised as some kind of mini-masterpiece of post-neoconservative rhetoric. Just for giggles, I decided to revisit the book for the first time in four years and frankly, I was shocked by just how relevant the book remained. Not only is The Voice of Reason every bit as resounding as it was during the heyday of Mitt Romney, it's actually even more poignant and timely now.
Think I'm kidding? Check out these 13 passages from The Voice of Reason below, and try and tell me we don't need Chael Sonnen doing weekly fireside chats like FDR used to…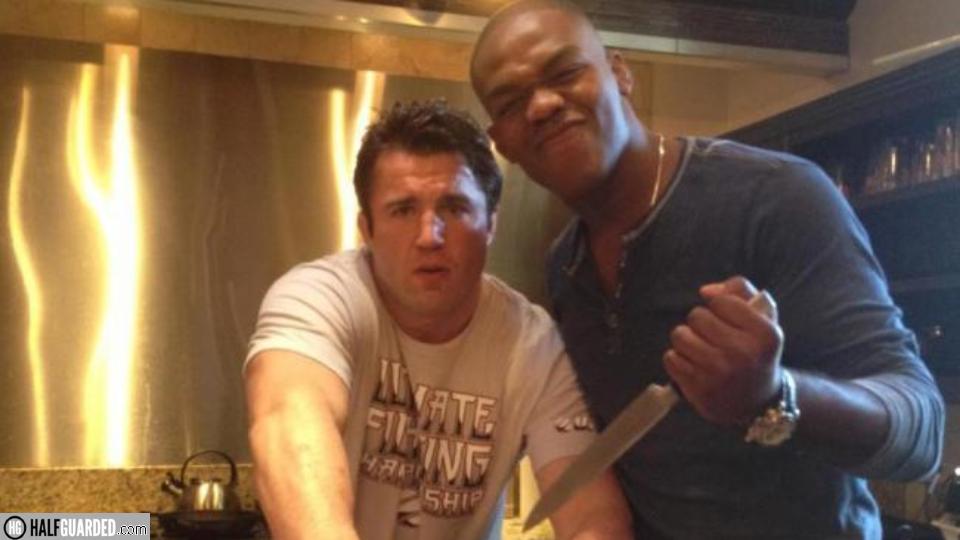 Chael Sonnen on the inner peace of violence:
"I've heard that many people who commit suicide seem strangely upbeat in the days leading up to the actual task of killing themselves, and having been a fighter for some time, I'm pretty certain it's because the decision has been made, the hard work's been done, and the pressure is off. The only thing left is that act. I can understand and appreciate that mind-set. After the weigh-ins there is nothing left to do but eat and defend myself—in that order. Those are very basic, primal directives, and when you know that those two things are all that is expected of you, it brings a kind of tranquility and focus."
Chael Sonnen on why nobody should like Democrats:
"And yes, ladies and gentlemen, liberal politics is the policy of hate and aggrievement, first and foremost. Just listen to liberals speak. Watch their actions. You can literally hear and see the hatred leaching out of their bones, forming a poisonous cloud that infects everyone around them. Let me make a few things very clear:
Liberals don't love the poor; they hate the wealthy.
Liberals don't respect justice; they hate and seek to destroy anything they perceive as unjust.
Liberals don't even love their own ideas; they just hate everybody else's.
Liberals do not respect the rule, or even the intent, of law as a construct of civilization; they see it only as a weapon to dismantle their ideological opponents—to punish those with different ideas, different circumstances, different objectives.
Liberals hide behind the ever-shifting, amoral curtain of "social justice" to attack, destroy, and scatter the bones of industry, wealth, individual excellence, and personal achievement.
Liberals use the Darwinian concepts of natural selection and survival of the fittest (even though they are actually the ideas of Alfred Russel Wallace, one of his contemporaries) to force-feed the theory of evolution down every child's throat as a government-mandated absolute in public schools. Then they discard the notion completely when it comes to human beings who work harder, achieve more, and succeed in favor of a very hazy, nonscientific, constantly shifting notion of "equality" and "social justice," both codes for "hate," which they then use to strip from the fittest among us all the benefits of being fit. ("See that guy with the Porsche? He's better than all of you. Elect me so I can get rid of him, so we can all be the best together!")"
Chael Sonnen on The Conquest of the Americas:
"How in God's name do you think Cortez or Pizarro, with fewer than two hundred men each, conquered empires with huge standing armies and populations in the millions? The men under Cortez's and Pizarro's command were not even professional soldiers. In fact, many of them had no military training at all. It's not like Ferdinand and Isabella sent the Best and Brightest, the Flowers of the Soldiery, fresh from the Moors, to handle the grumpy natives of the New World. So just how did they do it? Do you think they had flying suits like Tony Stark in Iron Man? They had some horses, yes. And they had some guns. But they did not have many of either, and certainly not enough to make even a slight dent in the empire of either the Aztecs or Incans. But they showed up, and within a few years they took over. How?
By having the support, endorsement, and gratitude of the millions of Native Americans whose cultures had been shattered and people murdered, mutilated, enslaved, tortured, and forced to pay astonishingly cruel tributes of goods, services, and human sacrifices by the Aztecs and Incans. When Cortez and Pizarro showed up, there was no shortage of Native Americans ready, willing, and able to throw in with the New Guys with the beards and bang-sticks since virtually anything was considered better than how they were already being treated. The unremitting horror of their existence under Aztec and Incan rule was argument enough for hope and change. They were eager to join the Spaniards and take up arms against their oppressors—who were from the same place, had a similar culture, and worshiped many of the same deities yet who slaughtered and destroyed them as quickly and brutally as they could. They joined the Spaniards as a form of cultural survival, a form of last-chance self-salvation, brought about by the most unimaginable conditions that had been imposed upon them by fellow Native Americans, not by "Whitey from Across the Water." Without the support of untold Native Americans, the Spanish expeditions would have been wiped out in weeks."
Chael Sonnen on hippies:
"Your attitude and behavior are direct ideological descendants of the student-protest movement of the 1960s. It shares that movement's overwhelmingly self-mythologizing, self-referential, colossally reckless, insensitive, and vile aesthetic. Just so you know, the student protesters of the '60s weren't all students. They were a small group of semi-professional agitators who didn't fit into society and rode herd over a bunch of lost, dimwitted, self-impressed, highly impressionable, sub-adults ripe for indoctrination and processing. In theory, structure, and practice, the leaders of the protest movement marched in philosophical lockstep with that other world-weary, grizzled, pimp and failure Charles Manson. And let me ask you this—did your ideological predecessors ever stop to think about how the lives of the overwhelming majority of college students were disrupted and derailed thanks to their protests and attacks? Of course not. For the protesters, what they believed in, what they wanted to tell the world, was the only thing that had value to them.
Thousands upon thousands of students, many of whom may have opposed the Vietnam War themselves but chose to manifest that opposition by voting and maintaining society, were inconvenienced. They had their entire academic lives upset and defined by the actions of a scurrilous few who occupied buildings, disrupted classes, and made unlawful and ridiculous demands on society and the institutions of higher learning that they targeted. Hopped up on illegal drugs, they fomented showdown after showdown with the forces of reason, law, and order—with disastrous results. I often speculate on the actual nature of that famous photo taken at Kent State: a young hippie woman, looking, I should observe, not unlike Squeaky Fromme, kneeling down over the prone body of some male hippie, her mouth frozen in a scream, her agony captured for all time by a clever and fortunate fellow hippie photographer. I wonder if that young man lying there, instead of being the victim of some justified act of self-defense meted out by some heroic National Guardsman, isn't actually just laid out in the middle of the street in a narcotic haze from a bag of really potent dope. I also wonder if his aggrieved female counterpart isn't just screaming to their dealer across the way for another bag, so she can join him in the land of Nod for a while."
Chael Sonnen on environmentalists:
"Trees. Got to save the trees. Majestic giants, leafy wonders, your bark-covered blood brothers. Right. Gotta fight those evil lumberjacks. Don't let the fact that natural occurrences, like floods and lightning-ignited forest fires, kill more trees per year than human logging. Inconvenient truth, and leaves you nothing to scream about and no one to scream at. It's frustrating, I know, because how can you feel morally superior to a swollen river or an electrically charged thundercloud? Neither of them cares about you, and neither of them will throw fifty dollars of guilt money into a paper envelope and send it to your annoying tree charity of choice, just to make you shut up and go away. So that leaves us for you to annoy, and pester, and feel better than. As for me, I like the fact that trees exist so they can be cut down, and used to build things, like hospitals, and schools, and airports, and research labs. I like that. I want more of that. The older and bigger the tree that gets cut down, the better. It's had a wonderful, glorious, long life. It is getting closer (by dint of probability) to dying every second in a fire, or flood, or by disease, and getting rid of it will open a hole in the forest canopy that will let sunlight in, which will then help to make the area ready for a new tree, which would never have existed had that selfish old bastard of a tree, and an idiot accomplice like you, had their druthers. In fact, two or three trees might be able to grow, and thrive, in that old tree's place. So what are you saving it for? We need building materials. We need paper. What do you want to do, wipe your ass with an old cat?
And how old is old? How big is big? Where do you draw the line as far as which tree to protect and which goes into my next roll of double-quilted, extra-soft TP? How tall? Fifty Feet? Sixty? Eighty? And how old? A hundred years? A hundred and twenty-five? A hundred and fifty? What qualifies as salvation worthy? You'll sit there in the leaf litter, tearfully bemoaning this poor "elder" as the chain saws get fired up, as long as someone is paying attention to you. But you haven't sent your own grandmother a Christmas card in eleven years. You'll chain yourself to an old-growth redwood as long as a guy with a camera from CNN or the Discovery Channel shows up, but you won't volunteer at an old-age home or a homeless shelter.
See, it's not about the rhinos, or the whales, or the trees. It's …
about …
you.
The constant in any radical ecological movement is not a concern for nature. It is a humongous, overarching narcissism. It is the belief in, and subsequent practice of, a form of enlightened fascism, a sense of entitlement, and a kind of conservationist noblesse oblige that dictates that attention be paid to you, and what you believe, and what you want. And, quite frankly, I don't care about you, or what you think should be done about any particular animal or plant. And raving at me about it, and making an ass out of yourself to get my attention or the attention of a very busy world, does not improve matters, and it does nothing for the species you claim to care for.
Chael Sonnen on the homoerotic undercurrents of the first Dirty Harry movie:
"God, I love this film. This film sprang from the fertile ground of mid-'70s San Francisco and became an unintentional landmark of gay cinema. It held strong elements of the city's import to the national restructuring of cultural themes of sexual identity— macho pestering; the louche, lurid appeal of sexual slumming; the "rough trade" ethos. When Harry Callahan's antagonist, who is also Harry's gay "femme/bottom" alter ego, sees Harry's gun, he lasciviously intones, "My, that's a big one." This is mere seconds after Harry has spurned another anonymous potential male sexual partner in the rambles of Golden Gate Park in the middle of the night. That self-same antagonist, I should point out to you kids who aren't on board yet, is named Scorpio, an overt reference to Kenneth Anger's masterpiece film Scorpio Rising, commonly referred to as the Gayest Film Ever Made. Dirty Harry Callahan—an insane, inhibited, dangerously listing cargo vessel of repressed homosexuality, torpedoed below the waterline by his own unrequited urges, lurching ever closer to wrecking on the shoals of his own misunderstood masculinity— shoots what he can, beats what he can't, and ignores the opposite sex entirely. What a great cop movie, with such an interesting subtext."
Chael Sonnen on music snobs:
"Bring up the subject with some music-fan friends. Mention the fact that you think Hendrix is a bit overrated, and that in your opinion there are a few guys who were just as good, and perhaps even a few who were better. Watch as they refuse to even consider your opinion, as they ridicule you, and as they question your ability to make such a pronouncement. Listen as they question your motives for making such a statement (including leveling charges of cultural bias and racism), and attack you personally. You may also notice, as I have, that the virulence of the attack is often directly proportional to the attacker's reputation and status (self-created and self-maintained) as a "liberal" and "free thinker." You will not be given a chance to bring up contrary evidence (say, by playing "Cowgirl in the Sand" by Neil Young). You will be ganged up on and shouted down by your friends. They will accuse you of ignorance, stupidity, and worse. Individuals like, I don't know, MMA Color Commentators, who fashion themselves as free-thinking libertarians, will become Lockstep Liberals who stand for freedom, justice, and diversity—as long as you think like they do.
Keep this in mind the next time you decide to enter into a conversation with your most "enlightened," "democratic," "liberal" friends about just how good anything—from something as silly, subjective, and meaningless as Hendrix was (or wasn't) to issues like global warming. You might see them a bit differently."
Chael Sonnen on the Occupy Wall Street Movement:
"The Occupy movement interests me on an intellectual level. Thousands of unhappy people who wanted something but couldn't quite articulate it banded together to create a big urban camping party and yelled, hoping that someone in the "one percent" would notice, read their minds, and then give them what they wanted in a gift-wrapped package without any political consequences whatsoever. Why did I ever run for office when there are so many much more brilliant analytical minds in the world? I'll tell you why, because I know that if I want the government to listen to me, I have to speak like an economist. I can't just, like, you know, man, I can't just think about how the world is, like, so messed up and stuff. I have to put my thoughts into a coherent message, approach the appropriate agency with my thoughts, and explain why my needs and the government's needs are compatible.
It has never been quite clear what the movement wants. Apparently, it's equality, but no one has offered any suggestions for how to accomplish that. People wanted their work to matter, so they quit actually going to work so they could park their butts in a public place. They wanted to create more jobs, and so they railed against companies that employed thousands of people. They wanted redistribution of wealth, but to no reasonable ends. Worst of all, they didn't bother to think through how they expected these demands to be met because they were more concerned with having other people get the job done for them. They wanted change, but a poem about a tree is not a credible voice, nor is an acoustic-guitar song about peace. Change needs to be quantified, calculated, and weighed against alternatives by people who are neither biased nor lazy.
Here is my point: The Occupy movement hasn't attracted brilliant people who have real ideas for change; it has attracted the worst elements of the human race to what has amounted to a high-minded excuse for a party. Mask an acid trip and a few sexual- assault cases with civic responsibility, and suddenly all the liberals are behind it. That makes about as much sense as leaving education policy in the hands of Playboy bunnies, who have clearly benefited enormously from learning how to read, write, and tally some numbers."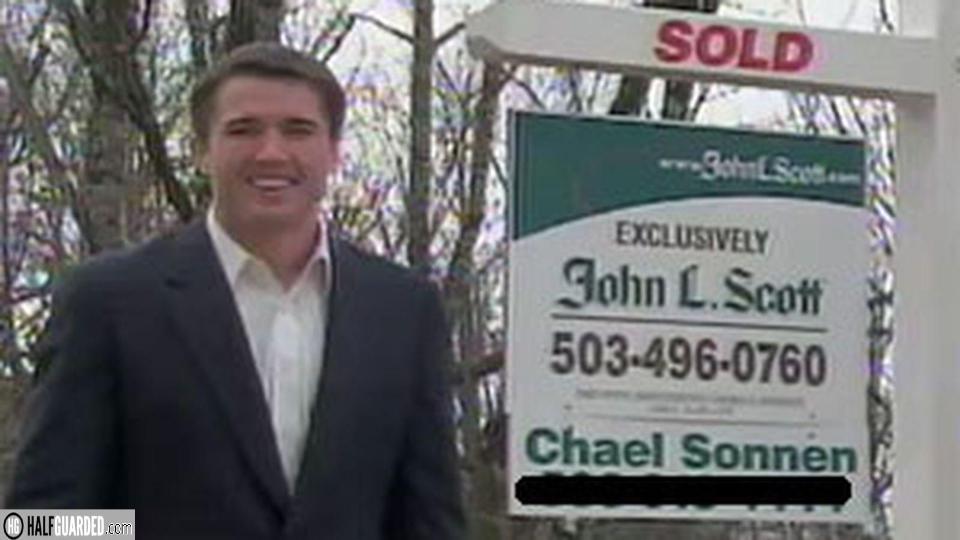 Chael Sonnen on Bill Maher:
"Traditional ideas, values, systems, principles, and even people get cast aside as the new wave of righteousness rolls ashore. The waves crest higher and higher with the shrieks and complaints of the American Left.
Among those complaining and shrieking loudest and most often is Bill Maher, a lefty political pundit masquerading as a comedian. On his show, Maher crowns himself dictator of America and then creates the "new rules" Americans must abide by, or else suffer the consequence of not getting to sit at the table with the cool kids. Every week Maher goes over his set of rules, cleverly disguised as punchlines at otherwise low points in the show, followed by a three-to-four-minute description of said rule in action, delivered in a manner that is half-comedy and half-seething vitriol."
Chael Sonnen on the art of wrestling:
"Who knows how long wrestling has been around. In prehistoric times, all the real men were out wrestling sabertooth tigers, and all the liberal-arts majors failed to survive childbirth. It wasn't until we began coddling and subsidizing the liberal-arts wieners that articles were written about the sport. The bottom line is that for as long as men have had arms, they've been wrestling. To solve disputes. To stay in shape. To sharpen body, mind, and soul against any and all challenges they might face in their brutal existence. In short, every little society on earth that had two brain cells to rub together independently realized the great heights that can be attained by having the young men of their culture grab each other and toss each other to the ground."
Chael Sonnen on boxing:
"Boxing is a true thinking man's sporting contest. Not content with the no-holds-barred brawls dominating the streets of Scotland at the time, John Douglas, 9th Marquess of Queensberry, endorsed a new set of rules governing fights. "Fair play," as it was termed, dominated the landscape. No longer were men concerned with winning at all costs. Suddenly, winning as a gentleman was thought the highest honor. The rules encouraged gloves, a "fair" chance to get back up if you fell down from exhaustion, and short rounds to allow the men adequate rest for their weary bodies. Fast-forward a hundred years, and the gloves are now little more than decoration for punches so hard they can break through cement, standing eight counts give a concussed opponent a chance to wake up and take another beating, and the short rounds encourage all-out action for short time periods, subsidizing the knockout punch. Boxing, designed to be noble and sophisticated, became the surest way to develop traumatic brain injury. If you've ever had aspirations of dying in the ring, you need to do only two things. Take up boxing, and wait."
Chael Sonnen on P.C. culture:
"You're not helping anyone by sparing his feelings and letting him get away with terrible work. When you allow stupid, lazy, incompetent, indolent people to make themselves into victims, you're shirking your own responsibility as a member of culture, society, and civilization itself."
Chael Sonnen on the intrinsic meaning of the fight:
"The whole "Peaceful Warrior/I Consider This a Sport/I Have No Anger" act is a complete fraud, a construct; it is as artificial as a Mardi Gras parade float, and just as fragile.
Peaceful people do peaceful work.
Peaceful people dig wells in third-world villages.
Peaceful people become Doctors Without Borders.
Fighters fight for a reason.
If you have no anger, if you have no rage, it is next to impossible to fight successfully against people who do have anger and rage. All you fighters out there playing that "nice guy" angle. …
You can fake the funk all you want to get sponsorships. You can give the fans that whole "aw shucks" bit, and smile like a bashful schoolchild taking his class picture. But in your head, you're just as much of a beast as I am.
I can't tell you why. Nobody beat me with a belt or held my hand on a hot light bulb or starved me when I was a child. Nobody, and no thing, or event, or syndrome made me fight. But I was compelled to fight. I was drawn to combat, even as a child. I wasn't a bully or a terror in school. I was just someone who made a decision, based on factors that I felt without understanding, to fight. So fight I did."