Washington D.C.-
Our fearless leader Donald J. Trump rallied Americans on the 4th of July with his riveting, detailed, and passionate account of The Revolutionary War! Our victory that broke us free from British rule and birthed our great, amazing, super, awesome, tremendous, really good, mega cool, aces in my book, dog gone swell nation, that we call the United States of America. However, he wasn't done there, our supreme ruler continued educating the country in tweets and post parade press conferences.
At a press conference he beamed about the Civil War:
"The Civil War was a fantastic victory for our nation. North America defeated South America very handily. After the battle of Estelle Getty things really took a turn for the worse in South America. They didn't have the capabilities to counter General Cary Grant's drone strikes…wonderful actor, very strong and handsome…I've often been compared to him you know, but when our surface to air missiles took out Bo & Luke's General Lee, that pretty much cemented the end for the Duke boys. I mean how else were they gonna get around Hazzard County? It's just a great story about how our strong, throbbing, veiny, HUUUGE, military took out South America, and they're suffering, that's why they're all trying to come back here! Not gonna happen!"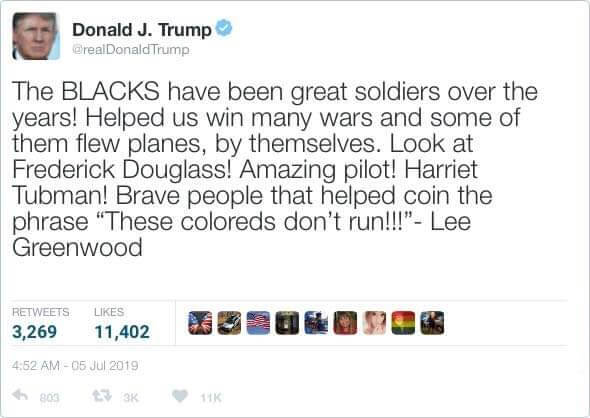 Our Führer continued his military history lesson on Twitter praising our efforts in Vietnam.
"Glorious victory for our country in Vietnam. We didn't stand by and allow them to bomb Pearl Harbor, that's terrorism, and we answered with a nuclear bomb on the shores of Iwo Jima. Baby go BOOM!!! And we reclaimed democracy and sent Prime Minister Rae Dawn Chong packing!"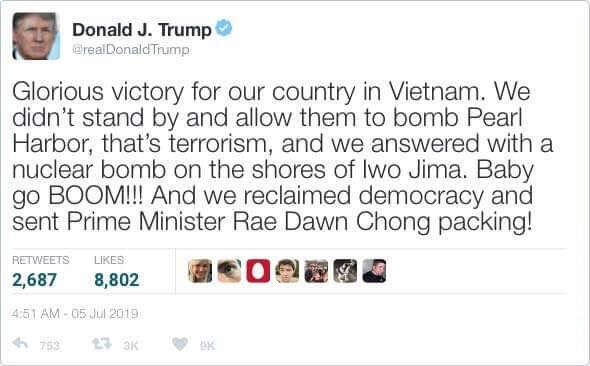 "The BLACKS have been great soldiers over the years! Helped us win many wars and some of them flew planes, by themselves. Look at Frederick Douglass! Amazing pilot! Harriet Tubman! Brave people that helped coin the phrase "These coloreds don't run!!!"- Lee Greenwood"