Washington D.C.-
Controversial Rapper Tekashi 6ix9ine, real name Daniel Hernandez, was arrested Sunday evening on racketeering chargers along with 3 former business associates.
As the rapper's latest bout with the law has his detractors laughing, one man doesn't find it funny at all. President Donald Trump, a big fan of Tekashi 6ix9ine has called the charges "A joke" and the entire investigation "a witch-hunt".
As we know through his many tweets, Trump is a big fan of xxxTentacion and has mourned his death for months. It turns out he loves 6ix9ine and will be assigning Judge Kavanaugh to his case even though he's on the Supreme Court and Trump really can't do that at all.
Trump tweeted: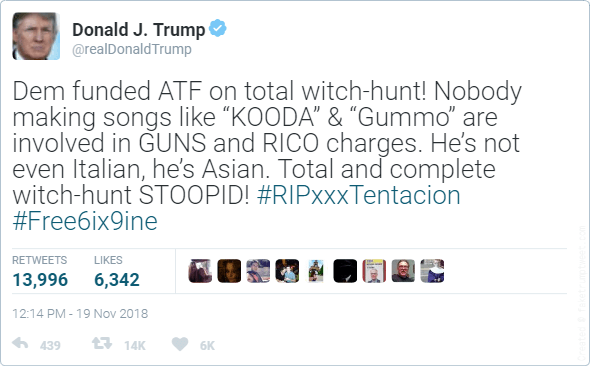 "Dem funded ATF on total witch-hunt! Nobody making songs like "KOODA" & "Gummo" are involved in GUNS and RICO charges. He's not even Italian, he's Asian. Total and complete witch-hunt STOOPID! #RIPxxxTentacion #Free6ix9ine"
Trump has even cut a remix of Tekashi and Nicki Minaj's billboard hit "FEFE" with President Barack Obama.
Please enjoy: