@chris_najdek
Chris_najdek IG
Cnajdek27@gmail.com
Washington D.C.-
As the nation continues to make fun of what they assumed was a slip of the tongue from our fearless leader, it turns out the joke is on us. Those "mistakes" were calculated subliminal advertising ploys for the next HYYYUGE business endeavor by Donald J. Trump.
"Trump's Thigh Land" will be the next major attraction in the newly named Yosemight National Park. Through an executive order issued earlier today, the park's name change will prove Trump said it correctly, so there!
As for the chicken restaurant/strip club, Trump feels it's a genius move as he explained on Twitter:
"Who doesn't like fried chicken and strippers?!?! Unlike CNN, these poles will not be fake! Get it? Also, no implants. Our breasts will be real, on the girls and chicken! The people of Yosemight will love it!"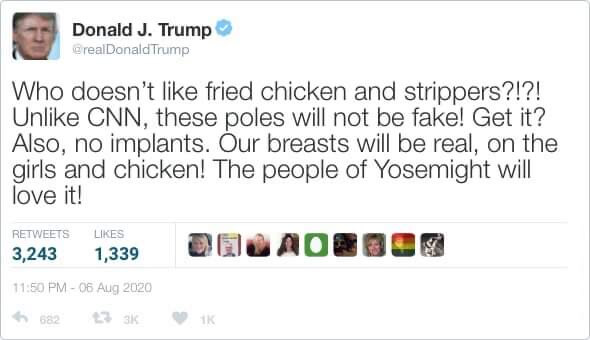 Some of the menu items will include:
Trump's Bigly Bucket of Chicken
Vladimir's Mashed Putatoes
Cole SLAW & ORDER
The All Lives Platter
And of course, Trump Fingers dipped in Pence's Secret Sauce
As for the dancers, Melania will be in charge of hiring the girls because she "Knows a guy."

Loading ...