TUF Season 4 – The Comeback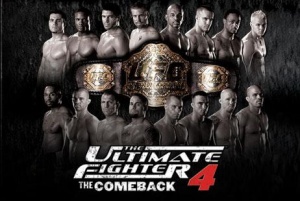 After just three seasons, UFC goes to the gimmick well for season four. This season, instead of rookies, the UFC selected UFC veterans who had never had a title fight. The weight class winners, this time, would receive a championship bout. This resulted in one of the biggest up-sets of all time.
Since these guys were already trained fighters, the coaching was a little different. The coaches instead acted as advisors, and they were Randy Couture, GSP, Mark DellaGrotte, Marc Laimon, Rich Franklin, Chuck Liddell, and Matt Hughes.
Airdate: August 17, 2006 – November 11, 2006
Team Mojo
Middleweights: Pete Sell, Scott Smith, Patrick Cote, Edwin DeWees
Welterweights: Shonie Carter, Chris Lytle, Matt Serra, Din Thomas
Team No Love
Middleweights: Travis Lutter, Charles McCarthy, Gideon Ray, Jorge Rivera
Welterweights: Rich Clementi, Mikey Burnett, Jeremy Jackson, Pete Spratt
Highlights
Matt Serra was basically the coach of Team Mojo
White announces that eliminated fighters will get to stay and train instead of being sent home. You have to commend Dana on his soft spot; he hates sending guys home.
GSP comes by the house to watch UFC 60, which featured Matt Hughes destroying Royce Gracie. In 2016, Gracie is actually scheduled to fight, or just fought Ken Shamrock (depending on when this is posted). GSP and Hughes are retired yet GRACIE and SHAMROCK will take place a decade later! These two guys were done in 2006! Hell, they were done in 1996! Ahh, Bellator.
Everyone gets staph. White claims it was brought in, and that it was NOT already there. Uh, that's not how staph works. We all have it, all over us, at all times. That's why it's important to clean wounds. It's everywhere. It's on mats, towels, benches, saunas, showers, etc.
Jeremy Jackson got booted for sneaking out of the house to go plow some trim. He got caught.
Carter is intentionally being annoying by leaving his art projects everywhere. "That's my painting man!" – Jeff Hardy (fast forward 1 min)
Rich Franklin goes to the house and gives bad advice.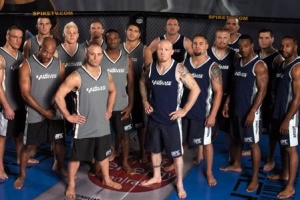 The Finale
In the welterweight tournament finals and main event of the evening, Matt Serra defeated Chris Lytle by split decision.
In the middleweight tournament finals, Travis Lutter defeated Patrick Cote by submission in round 1.
Where are the winners now?
Matt "The Terror" Serra: Age 41, retired with an 11-7 record. Serra famously earned his championship bout against GSP at UFC 69 – Shootout, April 7, 2007. He went in as a +800 underdog and proceeded to KO GSP in round 1. He lost the rematch a year later. He only fought three more times, a loss to Matt Hughes, a win over Frank Trigg, and a loss to Chris Lytle. Then he decided that eating is more fun than fighting and got really fat. He still coaches and works with the UFC and is on that stupid new show with Dana White, "Looking for a Fight." He's a big fat annoying grease ball.
Travis "The Serial Killer" Lutter: Age 42, retired with a 10-6 record, everyone thought that Lutter had a great chance to beat Anderson Silva for the middleweight championship because his jits was so good. Unfortunately, he came in fat, missed weight, but got to fight anyway (just non-title) which didn't matter because Anderson Silva submitted him in round 2. He only fought once more in UFC, a loss to Rich Franklin, and fought two more times ending in a loss to Rafael Natal May 21, 2010.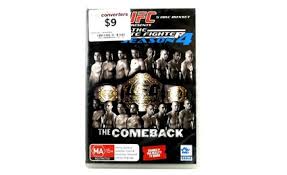 Summary: The show was lackluster at best. Seeing the grizzled veterans compete was cool, but the antics were mild. I like the concept of the guys picking the fights. This is not a team sport. There is no need to have coaches. Maybe Dana could do this concept again in season 25, or preferably, just end the show.