TUF Season 6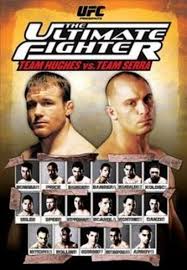 Airdate: Spike TV September 19, 2007 – December 8, 2007
The sixth season of The Ultimate Fighter kept the one weight class concept from season five. This time, only welterweights were on the show, which included the coaches, Matt Serra and Matt Hughes. Serra and Hughes were set to fight for the Welterweight Championship after the show ended, at UFC 79. Serra got injured and instead we got Hughes vs. GSP for the Interim Welterweight Championship, which GSP won, setting up GSP avenging his loss to Serra and reclaiming his rightful spot as Welterweight Champion, forever.
The other difference in the show was that the winning fighter's team did not get the next fight pick. The teams would alternate picking matches in the first round.
The Coaches
Team Hughes: Matt Hughes, Robbie Lawler, Matt Pena, Marc Fiore
Team Serra: Matt Serra, Ray Longo, Pete Sell
The Fighters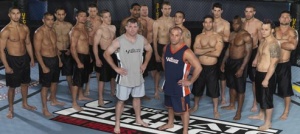 Team Hughes: Dan Barrera, Blake Bowman, Mac Danzig, Paul Georgieff, Billy Miles, Dorian Price, Jared Rollins, Tom Speer
Team Serra: Joe Scarola, George Sotiropoulos, Matt Arroyo, John Kolosci, Ben Saunders, Troy Mandaloniz, Richie Hightower, Roman Mitichyan (replaced by Jon Koppenhaver a.k.a. War Machine)
Highlights
Scarola quit because he's a baby.
Price got into it with the camera crew.
Georgieff's cousin died.
Hughes' team lost five in a row.
For some reason, Mac Danzig ordered a hummingbird feeder.
The coaches' challenge was bowling. Serra won the challenge and got 10k and each of his boys got 3k.
Somebody dropped a deuce in the toilet tank, pulling off the rarely seen "upper decker" prank.
The Finale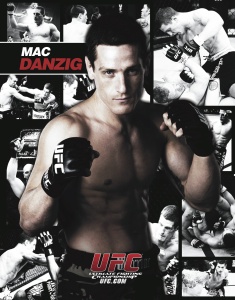 Mac Danzig submitted John Kolosci in the semifinals, and Tom Speer KO'd George Sotiropoulos to face each other in the finals. Danzig submitted Speers in the first round to win the Welterweight Tournament and the contract. In the main event, Roger Huerta defeated Clay Guida by susmission.
Where are the winners now?
Mac Danzig: The 36 year old Danzig is currently 21-12. Rumor has it he is retired, but you know how that goes. He's riding a three fight losing streak, and his last fight was December 2013, a loss to Joe Lauzon by decision. He's probably done.
Summary: This season was boring, even with War Machine. The best part was Serra being a fat idiot.