Philips Arena
Atlanta, Georgia, BUDWEISER
Bear witness, one and all, to our UFC 201 Results and Recap coverage. This will be updated throughout. If people fail drug tests, we'll cover it (Peach, we're gonna need a piss sample). If a guy pulls out, we'll cover it. If a ring girl gets pregnant… don't look at me! Updates right up until the very second the PPV starts. Then… we'll keep updating it because why would we stop? With Lawler defending his welterweight title for a record 523rd time, this could be legendary! (My numbers may be off.) Our UFC 201 Results and Recap will be better than everyone else's on Earth! I can't speak to the coverage on Mars. I'd imagine it'd pretty fucking unbelievable if martians have the technology to somehow pick up a UFC PPV stream…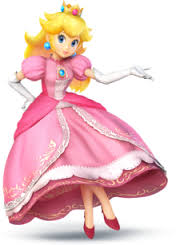 Peach's Top 10:
There's a better than good chance I'll skip out midway and go check out the 311 concert around the corner… I went last night, but fuck you! They're one of the few things that keeps me from putting a gun barrel in my mouth. That, and owning a gun. If that happens, Mike will take back over, and since I haven't told him this, expect him to be druuuuuuuuuunk.
As for that piss test, unnecessary. I fail. Clomiphene is just absolutely dripping out of my pee hole… I hope…
I'm adding a section entitled "Peach's Predictions." I've picked each fight finish through Tapology.com so you can read those now. Keep in mind, I did these weeks ago.
Mighty Mouse is hurt and won't be defending his belt. That sucks. Poor Wilson Reis now gets… Sean Santella. That sure is just as exciting!
An Ian McCall fight was added. Huzzah! And it's cancelled.
Iiiiiiit's fight week! Yay!
Peach is gonna be live and in person (in the men's bathroom no less) so that means Mike gets a night off and YOU get a night of quality PBP for once.
Weigh in results!!! (Scoggins doesn't even try to make weight – sigh.)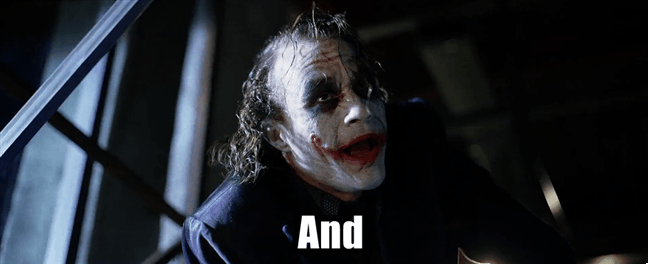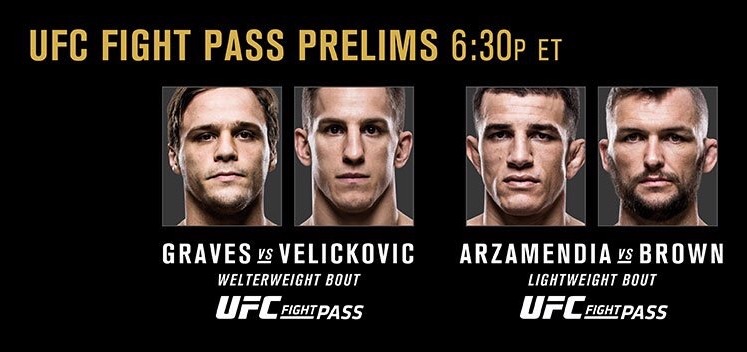 UFC 201 Results and Recap from our UFC 201 FREE LIVE STREAM of consciousness – Least Important Undercard Fights Happening on FIGHT PASS – 700/600/500/400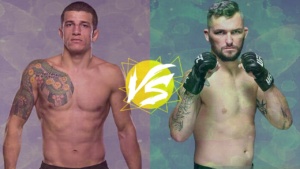 César Arzamendia vs. Damien Brown
Lightweight
Peach's Prediction: ARZAMENDIA by unanimous decision
What Happened?
R1) I bet 11 to win 10 bucks on Brown for some reason right before they went to the cage. Could be big. Here we go! Damian dropped him with a huge shot and almost finished, but Arz caught a heel hook and went full bore on it. Damian survives! That was in deep too… Clean left by Arz connects on the jaw. He was in trouble but looks like HOLY SHIT! Amamazing combo blitzes Arz in the face and it is over! I'm up 10 quid.
Damien Brown wins by Knock OUT at 2:27 of round 1.
Should You Watch?
Absolutely. 6 stars.
Damien Brown:
"I had him rocked early and I could tell right away it was going to take work to put him away, he was far from out the first time and he's a really tough guy. The heel hook he got on me was tight, it was really tight, he had the hook but he didn't have his bottom leg in position so I knew I could get out of it. I took two months off from my job to train for this fight and I will continue to do that for at least the next couple of fights so that I can continue to put on performances like that. I don't call people out, but I don't want to leave this sport without fighting the best so I hope whoever is next is someone good."
Michael Graves vs. Bojan Veličković
Welterweight
Peach's Prediction: GRAVES by KO in 3
What Happened?
R1) An early USA chant erupts. Is it just me or does anyone else feel like chanting that is slightly xenophobic? Anyway, a lot of dancing early. I bet 22.50 to win 10 on Graves. I just went by what I felt on the hype video. Ah shit. Now I see @PaulAceFontaine has Graves too. It's never good when we both pick a guy. Like this one time up in Canada and we were at the peelers and we thought what was a woman, and… never mind. You can read that story (or similar stories) by picking up your copy of Deuces Wild, written by Ace himself. I don't know how you get a copy, but I'd imagine if you tweet him that would be a good start. I read it, and if you like professional wrestling, this book is an interesting look at the independent scene… See, I can write about whatever because nothing is happening. I refuse to give this round a score, but my guess is that the judges go 10-9 Graves because he was pushing forward.
R2) Graves gets a takedown and quickly back control and looks for the choke. BV doing some good defense. I'm telling everyone, I've been saying it, the new guaranteed finish is getting back mount, body triangle, flattening the guy out and then punching like Donkey Kong to the ears. Refs always stop it even if you're not landing. Well, Graves ended up in BV's guard. Now he has the back again. He's still fighting hard for that choke. Not much damage, but total dominance. Is that a 10-8? I think so.
R3) I'll betcha Graves goes for the takedown. It's actually BV who shoots in and gets a takedown and now is working for Graves back, but he drops off and looks for a Kimura sweep. And now Graves has his back again. Graves did a shitty job of keeping it and now we're back on our feet. Graves looks as tired as my mom watching an episode of Monk on DVD at 8:15 pm on a week night. Yes, she has Netflix and still orders the DVDs. Greaves doing nothing on the feet. He needs to go. He could have lost round 1 and nothing's for sure in this one either. And it goes the boring ass distance. I guess I have it 10-9 Graves so 30-26? That doesn't feel right.
Majority Draw on scorecards of 30-27 Graves, and 28-28, and 28-28. I have no fucking clue what happened. I'll put the scorecards up as I get them.
Should You Watch?
NO! Worst 6 ever. But I got to the bottom of it… One judge went all 10-9 for Graves and the two others gave BV rounds 1 & 3 and scored Graves a 10-8, thus 28-28.
Michael Graves:
"Obviously I wanted my grappling to be enough to earn me the win. If I could've done more on my feet I feel the fight would have been mine. Defensively I felt good, but I just couldn't get anything going offensively. I couldn't let it go like I wanted to. I'd like to fight again in November or December and keep it rolling."
Bojan Velickovic:
"I knew I won the first round, the second round he was all over my back so I knew the third round was going to be the key. Mike has never been taken down and I took him down in the third, I landed more shots in the third so I thought the fight was mine. Overall, I think the draw was a pretty good decision, but I'll need to watch the fight again. I don't mind fighting anyone in my division, I think Mike and I will both go far in the sport."

UFC 201 Results and Recap from our UFC 201 FREE LIVE STREAM of consciousness – MOAR Important Undercard on Fox Sports 2 … TWO?! – 8/7/6/5
Wilson Reis vs. Sean Santella
Flyweight
Peach's Prediction: REIS by unanimous decision
What Happened?
R1) An amazing flurry, and Santanella may have him hurt. He's unloading huge overhand rights. Reis has seen enough of those bombs tracking for his brain, so he shoots a deep double leg. He got the back, got the hips extended, and Santella taps out to the rear-naked choke. I also had 33 on Reis to win 10… Well, after the fact, I went to check my bet, and I'm a retard… I had accidentally placed the bet on Sergio Moraes over on WSOF! The odds were similar and I guess I overlooked it. Oh well. Come on SERGE!
Wilson Reis wins by submission (rear-naked choke) at 1:49 of round 1.
Should You Watch?
6's all across the board. Fun fight!
Wilson Reis:
"I expected him to come hard because he's so heavy handed. I watched his tapes when I was preparing and he's got okay jiu jitsu, but he didn't show much defensive jiu jitsu so I knew there would be openings. I had enough motivation entering this fight after the fight with Demetrious was called off, but that would have been a life changing fight for me. Next, if Henry Cejudo or Joseph Benavidez gets hurt, I'd like to step in for one of them. Ian McCall on a quick turnaround would also be a possibility, but I'd have to talk to my coaches first."
Hector Sandoval:
"I was really excited to make my UFC debut, but I got caught and things didn't go my way tonight."
Anthony Hamilton vs. Damian Grabowski
Heavyweight
Peach's Prediction: GRABOWSKI by KO in 3
What Happened?
Round 1: I'll bet I don't have to write Round 2. Well, I just did it. That totally defeats the purpose. I bet 10 on Grabowski to win 12, mainly because in the episode of the Simpsons where they go to New York City, homer is supposed to meet officer Grabowski. Well, Hamilton beat the fuck out of him and stopped it early.
Anthony Hamilton wins by KNOCK OUT at 14 seconds of round 1.
Should You Watch?
Cha-CHING! 6! 6! 6! – Grabowski was knocked out for the entire commercial break. He still hasn't gotten up during the promo. Finally they get him on a stool just as Rogan starts in on his interview.  The interview is over and he's still on the stool. He was down for a good five minutes but now he's walking out on his own, so that's good.
Anthony Hamilton:
"This is amazing to hear that was the second fastest knockout in heavyweight history, I can't even believe it. I knew I needed to get better with my striking. I have a great boxing coach in Seattle, Robert Morrison. I have great coaches and training partners at Jackson's down in Albuquerque and that's a recipe for success. I miss my family, I can't wait to get home and see them."
***I gotta wonder, what percentage of the audience enjoy the pulsating, blaring, non-stop techno music in between fights? I'm guessing less than five percent. Fine, play music, but adults like to talk to each other as well without screaming. This isn't a fucking club. I seriously walk around just to give my ears a break.
Ross Pearson vs. Jorge Masvidal
Welterweight
Peach's Prediction: MASVIDAL by KO in 1
What Happened?
Both of these men have horrendously boring and forgettable entrance music. It's so simple. Listen up fighters. Good or bad, your song needs to represent you! More importantly, it's not for you! It's for the fans! That's how you get over. So fuck your personally inspiring music. The song needs to connect.
R1) I have Masvidal as part of a couple of different parlays. A very close round with both men throwing a lot and connecting. Pearson looks comfortable at 170. Masvidal is having a lot of fun. He's been playing to the crowd a bit. 10-9 Masvidal.
R2) Unfuckingbelievable exchange! Masvidal has him finished! He's looking to stop it. The ref says continue. Pearson survives! Masvidal with a big takedown and is teeing off! Pearson says bring it and fires back! The crowd ERUPTS! This is fighting! Pearson catches a kick and gets a takedown and the crowd erupts! Masvidal back to his feet with just under a minute. Masvidal being rather coy. Pearson survives the round. Oh shit, Pearson thinks the fight is over but it's just round 2 ending. Well, he was nearly decapitated earlier. 10-8 Gamebred.
R3) Masvidal is talking to him. This would be a tremendous comeback if Pearson can connect. Masvidal's reach is just too much. Pearson's touching him a lot. He could steal this round. Pearson's round 10-9, but not enough. I have it 29-27 for Masvidal.
Jorge Masvidal wins by unanimous decision on scores of 29-28, 29-28 and 30-27.
Should You Watch?
The Pearson comeback from death in round 2 is worth the watch alone. 6 Bay Bay Bay Bay Bay Bay! Masvidal said he wanted to fight again in 6 weeks. This is getting ridiculous. You want to talk about watering down the sport with too many shows? Now add in the same guys every time. I swear I've seen Smilin' Sam and his pregnant wife 19 times this year.
Jorge Masvidal:
"My heart sank when I heard Buffer say 29-28. It wasn't until I heard 30-27 that I knew I had it. I finally got a decision! He really didn't do anything, I don't understand the 29-28 score. I slipped and he held me down for about thirty-seconds, but that's it. I want the winner of Matt Brown and Jake Ellenberger as soon as possible. I want to fight quick. I'm just going to stay healthy and in shape so I can fight immediately."
Ross Pearson:
"I was healthy after my last fight and I want to test myself against the world's best. The timing was right to take this fight, but I need to think about switching things up. I hit as hard as any of these guys out there and I know I can be a force at lightweight or welterweight. I don't think I lost that fight and it definitely wasn't unanimous. It's hard to lose another one like that."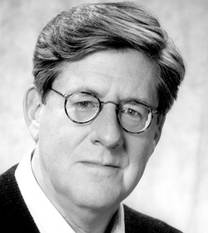 Ed Herman vs. Nikita Krylov
Light Heavyweight
Peach's Prediction: KRYLOV by KO in 3
What Happened?
R1) I have Krylov in a couple of parlays as well. NK comes out gunning. Herman looks like a ginger Tom Lawlor. NK fires and connects. Hermie looks awfully flat footed. Herman appears to have knocked NK down but it was right in front of me and it was a combo trip and block. NK has him up against the fence and unloads. Herman is in trouble. He audibly said "fuck" after a combo connected on his chin. Herman is standing so flat and squared up. He's just a target. 10-9 Krylov.
R2) IT'S ALL OVER! A walk off KO for Nikita Krylov! Holy ASS!
Nikita Krylov wins by KNOCK OUT at 40 seconds of round 2.
Should You Watch?
An unbelievably clean left kick to the jaw was the culprit. Herman is still down. Another vicious knock out, this time by the young gun Nikita Krylov. Keep your hands up everybody. And now he's back on his feet in time for the decision. Just remember this moment when Ed Herman commits a double murder / suicide.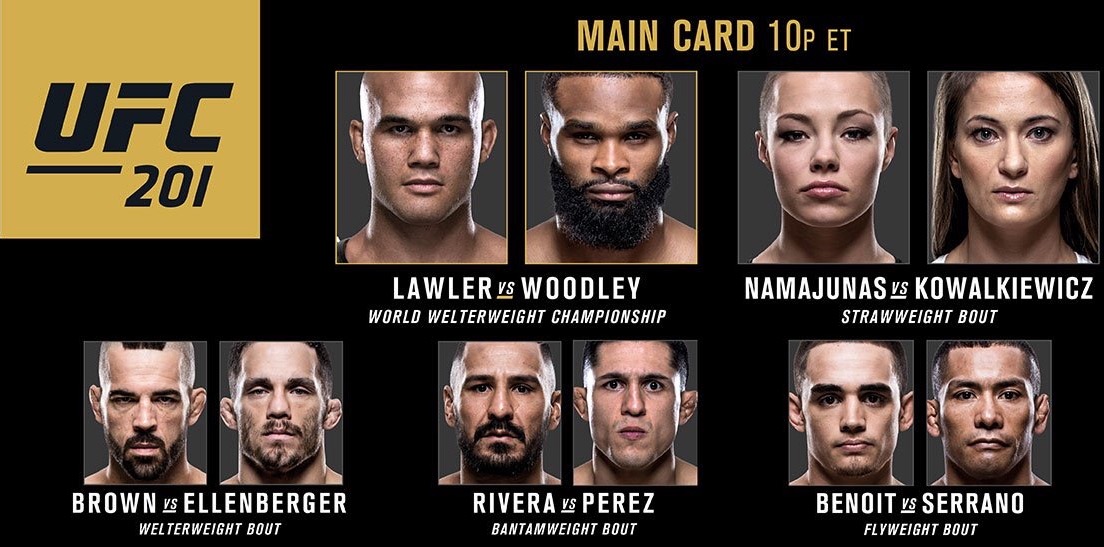 UFC 201 Results and Recap from our UFC 201 FREE LIVE STREAM of consciousness – MAIN CARD on PPV – 10/9/8/7
Ian McCall vs. Justin Scoggins (because Scoggins is an idiot)
Ryan Benoit vs. Fredy Serrano
Flyweight
Peach's Prediction: BENOIT by unanimous decision
What Happened?
R1) Did the entrance music picker go to the library to rent CD's? Where are they getting this diarrhea! I hope Benoit runs a conga line butt fuck on Serrano for subjecting me to this. Benoit's chopped and screwed dub step sound vomit isn't much better… Here we go, and some stiff exchanges early. Serrano gets a big takedown! Now back up and Benoit stuns him with a shot, but he got too aggressive and Serrano nails another huge takedown into side control. Benoit back up! The crowd is loving this. Serrano shoots a wild superman punch that misses. Note to fighters, you should opt for either the tights or the board shorts, and NOT the Muay Thai shorts. They just seems to fit weird on everyone. Serrano is favoring his ankle as Benoit goes for a sweep kick like Liu Kang. And we get a heated exchange as Benoit went after him a little bit after the horn. Serrano attempted to shove Benoit as he turned his back and the crowd booed that one. Serrano apologizes with a bow and the crowd accepts.
R2) Serrano shoots for a takedown and Benoit half attempts a guillotine. The crowd boos as they rest. Serrano hits another takedown as Benoit pulled guard. It was a hard slam. Serrano doesn't want any on the feet. Both men firing. Serrano gets a single leg and Benoit fights it off. Both men look tired. I just noticed Serrano is wearing yellow. Holy shit someone needs to show Benoit how to stuff a takedown. Serrano is hitting the laziest shots and landing them. Now in north – south. Serrano is striking with his thigh. Odd. Serrano 10-9.
R3) Serrano takes him down. Benoit pulls guard. The ref stands them up. Predictably, Serrano shoots and Benoit sprawls and now works to pass. Serrano his a SOMERSAULT! I loved it. The crowd booed. Serrano is just making shit up. Both men are gassed out. This round is going to be interesting. Serrano is clowing and Benoit is kicking but neither are really doing much. Benoit flexes as the horn sounds. IDK. 10-9 Benoit?
Ryan Benoit wins by split decision on scores of 29-28 Serrano 29-28 Benoit and 29-28 Benoit
Should You Watch?
IF you bought the PPV then watch it, but if you're watching a month later on Fight Pass, skip it. The crowd booed. I have no idea why. He won… Well, now you can boo him. His promo was sickeningly bad.
Ryan Benoit:
"I expected him to shoot, I didn't expect those crazy kicks he kept throwing. When he hit me with that first axe kick I thought 'well, that was awful!' then he hit me with it again. Luckily I found my rhythm after that and they didn't bother me anymore. I've never had anyone attempt those kicks on me and they really are awful. I think I could've finished it if there was one more round. I know I was starting to gas a little bit, but I could hear him starting to breathe heavier and I should have finished him."
"I was really eager to get another fight, that's why I took this one on such short notice. I was really down and kind of depressed after my last performance, so I needed to get out of that funk. Eight days' notice is never a good thing, but if I'm going to do it, Fredy is the type of opponent I want. I fought an Olympian and I won. I'm really proud of myself."
"I want another really similar fight to that one next. I'm not afraid to step up and fight anyone. I fought an Olympian on 8 days' notice – I'll fight anyone." (Peach's note: Someone will die on one of these short turn arounds. This is a dangerous precedent to keep setting.)
Francisco Rivera vs. Érik Pérez
Bantamweight
Peach's Prediction: PEREZ by unanimous decision
What Happened?
R1) Foolishly, I picked Perez. I've had UFC overload since Vegas. I can't remember most of what I watch. I just see a blur of gloves, kicks, and terrible tattoos. It's like watching the Matrix but these fighters actually do know Jiu Jitsu. Speaking of, I don't recall Neo ever using one BJJ technique, unless you count running upside and doing a fancy back bend as Jiu Jitsu, and I don't… Both men are swinging recklessly but no one seems to be landing much. Perez came forward more and was the aggressor so I'll go Perez 10-9.
R2) Both of these men foolishly chose the short shorts. Bad move. You look like you're a boy in the 7th grade who thinks he's maturing and doesn't want to wear tighty whitey's anymore so you tell your mom to buy you boxers, but it doesn't matter because your scrawny non androgenated leg muscles are still bird like. Perez has his mouth open. Rivera has a bloody temple. One of these guys is landing. I just can't tell which. Rivera appeared to take a nut shot. The ref says play on. 10-9 either guy.
R3) Rivera says bring it! Perez agrees! They bring it! Both men swinging wildly! Both men drop! The crowd roars! They're going for it! Holy hell! What a turn around! And now Perez falls on top into guard as both men recover. That was the definition of a hot minute. Bloodied and beaten, these warriors gasp for air, and the crowd BOOS! "We have no time for your respite!" They struggle to their feet and with the final ten second clack, Rivera demands another wild exchange and Perez politely declines. 10-9 Rivera. I guess I got to go 29-28 Perez, but who knows.
 Eric Perez wins by unanimous decision on scores of  30-26, 30-26, and 29-28.
Should You Watch?
I barely watched and I'm 15 feet from the "action." The crazy exchange to start the third was awesome but not worth sitting through all 15 minutes.
Erik Perez:
"I got crazy in the third round. Maybe I wanted a little extra bonus money. I want to have more exciting fights, I'm Mexican, we're known for that in our boxing fights. Francisco Rivera has very powerful hands so I wanted to make sure to set the pace. I would love to fight in Mexico City next. Mexico City, or there's a card coming up in Hidalgo, Texas, I want to be on one of those two cards."
Matt Brown vs. Jake Ellenberger
Welterweight
Peach's Prediction: BROWN by submission in 3
What Happened?
R1) HOLY SHIT! Big overhand right by Ellenberger and Brown barely survives! Now he's got Jake backing up. And Ellenberger lands a body kick that drops him and Brown covers up and it's all over! Jake Ellenberger fucks up my parlay! I knew it would be him too. He's cost me money so many damn times the other way. Good for him, I guess.
Jake Ellenberger wins by TKO at 1:46 of round 1. 
Should You Watch?
Not if you're me. Or Matt Brown's family. Fighters, please understand why you're given a mic. It is to make you more famous and sell more merchandise. Be a character! Make me care about you!
Jake Ellenberger:
"I think the key word is preparation. The guys that I train with at Kings MMA have really pushed me. I did a lot of southpaw stuff this camp to learn to switch my stance up, but like I said the guys I train with really deserve the credit. I knew Matt was a durable guy, he's really tough. Master Cordeiro is brilliant; I knew I needed to step up and make some changes and he definitely helped me accomplish that. I'm going to get back in the training room and just continue to move forward."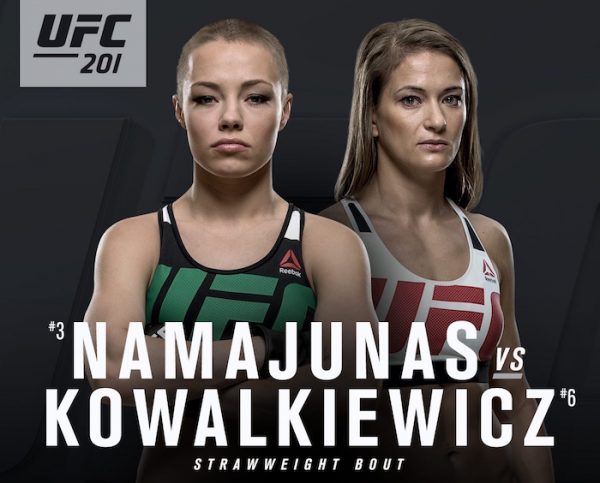 Rose Namajunas vs. Karolina Kowalkiewicz
Women's Strawweight
Peach's Prediction: NAMAJUNAS by submission in 3
What Happened?
R1) Remember five hours ago when I was itching to see some fighting? That itch is back! Rose gets it, or at least appears to get it. I've been noticing a lot of people adding the leg punch to the arsenal lately. Why? I first noticed this retarded technique from Bendo about three years ago. Slowly and ineffectively, it's making its way into many arsenals. Unless you're fighting a sibling, punching limbs is ridiculous. Rose is lighting her up by the way. KK is frustrated but she's bringing it. Now it's a fight! KK gets the mean face! Head and arm throw by Rose. Rose finishes on top and wins the round 10-9.
R2) Both ladies are huffing. Fastball right hand lands for Rose. KK wants the clinch and knees. Rose is attempting to take her back from standing. Seems like a waste of energy. All my parlays are shot. I don't care. Some hard exchanges. Both women landing hard shots. Tough to pick a winner but I'm going with KK 10-9. Let the third decide it!
R3) Some how this ended up on the ground and Rose was close with a few submission attempts but KK did a lot of damage from the top and I think she did enough to win the round 10-9 and the fight 29-28.
Karolina Kowalkiewicz wins by unanimous decision on scores of 29-28 Namajunas, 29-28 Kowalkiewicz,  and 29-28 Kowalkiewicz.
Should You Watch?
I'm a big fan of the women's 115 division for some reason. I think it's because I really wanted to hate it but watching Joanna and these others tear it up, I'm a fan. YES! Watch this! 6 fucking stars. Joanna Champion vs. KK is next. Copy paste.
Karolina Kowalkiewicz:
"I am one step closer to making my dreams come true. Rose is very strong and she's a very good fighter. I'm happy I won and now I want a fight with Joanna Jedrzejczyk."
Rose Namajunas:
"I was landing more shots and besides the clinch, I feel like I won every area. Even when I was on the bottom I was trying to finish. She wasn't doing any damage and I know I hit her with some big shots. I let it go to the judges though, it's my fault. I need to train harder and work on my clinch I guess."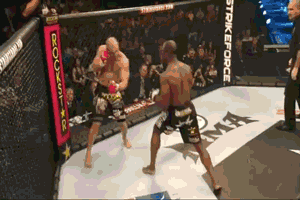 Robbie Lawler (c) vs. Tyron Woodley
UFC Welterweight Championship of the World
Peach's Prediction: Lawler by unanimous decision. However, I've actually placed a 20 dollar bet that the fight will end in a draw. I've also got a 2o dollar bet that Lawler will get the KO in 3.
…Call me crazy, but Woodley looks really dry. Like he didn't warm up. He's been sitting back there all night and he's never done this main event stuff in the UFC recently. I'm liking Lawler to finish early. I just put 100 on Lawler in 1. You're welcome, T-Wood.
Lawler is a huge baby face. This place is only about 60-70% full. Lawler didn't draw well. But I'm not gonna tell him that.
What Happened?
R1) A loud "Robbie" chant starts. Remember when UFC fans used to give the guys a minute to feel it out? Not anymore. Not even for the champ. You get 30 seconds and you'd better start swinging or we're gonna let you hear it. Lawler playing very cautious. That's not what I bet on! "Let's go Lawler," starts. And LAWLER IS OUT! T-WOOD DROPS HIM! HOLY SHIT! NEW CHAMP!
Tyrone Woodley wins by Knock Out at 2:12 of round 1!
Should You Watch?
NEW MOTHERFUCKING CHAMP! Tyrone "The Chosen One" Woodley! 6 GODDAM STARS! What a performance. I was way off.
Tyron Woodley:
"You say 'And new' and I say thank God. This isn't the first fight I would pick, he's a friend of mine but I've been envisioning that belt around my waist my whole life. My boys, your dad is the world champ! When I saw the opening I went for the right hand, something kept telling me the right hand would be there. He had the belt and that's what I was going for."
Robbie Lawler:
"It is what it is. He feinted me and my hand went down and he caught me. I expected that kind of stuff but I was sitting back and not moving like I should and he took advantage."
Summary: New Champ. Polish #1 contender. I lost most of my money. A lot of KO's! An amazing card. T-Wood is an amazing athlete and from my hometown of St. Louis! Congratulations T-Wood, from the Lou, to Mizzou, to the big time. You're the champ Bay Bay! Enjoy it!
UFC 201 Results and Recap from our UFC 201 FREE LIVE STREAM of consciousness
(Winner in BOLD  and underlined)
César Arzamendia vs. Damien Brown
Michael Graves vs. Bojan Veličković – MAJORITY DRAW
---
Wilson Reis vs. Hector Sandoval
Anthony Hamilton vs. Damian Grabowski
Ross Pearson vs. Jorge Masvidal
Ed Herman vs. Nikita Krylov
---
Flyweight Ian McCall vs. Justin Scoggins
Ryan Benoit vs. Fredy Serrano
Francisco Rivera vs. Érik Pérez
Matt Brown vs. Jake Ellenberger
Rose Namajunas vs. Karolina Kowalkiewicz
Robbie Lawler (c) vs. Tyron Woodley