Before getting into the fights at UFC 205, perhaps we should start by talking about the two that didn't take place. Rashad Evans vs. Tim Kennedy and Donald Cerrone vs. Kelvin Gastelum are both intriguing match-ups, to be sure, but I don't think losing either of them really impacted the overall quality of the show. Hell, even with just nine fights on the FS1 and PPV portion of the card, the whole shebang didn't wrap up until nearly 2 a.m. on the East Coast. And in the end, the scrapped fights wound up carrying over to UFC 206, a show direly in need of some solid undercard filler (lest we actually end up with John Makdessi vs. Lando Vannata on the PPV part of the show), so I reckon dropping the two bouts from UFC 205 actually worked to company's benefit. Still, Kelvin Gastelum is an absolute douche – how in the hell do you manage to show up ten pounds overweight for the biggest match of your life?
It's kind of the same deal with Thiago Alves being unable to make weight, but then again, Alves really isn't a guy whose career is on an upward trajectory anymore. For that alone, it was a hoot watching Jim Miller drub him out for a decision victory on the under-undercard.
I really don't have much at all to say about the Liz Carmouche/ Katlyn Chookagian bout, except how much it reinforces the notion that outside of the top five rankings, there really isn't a whole lot of marketable talent fluttering around in the women's bantamweight division.
On any other night, Vincente Luque's knockout of Belal Muhammad would've been a sure-fire KO of the Night nominee. As it turns out, it wasn't even the best knockout of the half hour segment. (Also Muhammad's nickname – "Remember The Name" – is just about the worst thing I've ever heard in my life.)
I don't know how many of you realized it, but Tim Boetsch's knockout of Rafael Natal represents his eleventh victory in the UFC and his 20th fight overall in the company since 2008 … and that's not even counting three additional fights he won while goofing off on the indie circuit in 2009 and 2010.
Oh god, that Khabib Nurmagomedov/Michael Johnson fight. That thing should've been stopped by the three minute mark of the second round – that Johnson managed to weather the storm and not die over the next six or seven minutes undoubtedly proves two things: a.) Johnson is one of the toughest sumbitches you'll ever meet, and b.) it's only a matter of time until somebody gets killed in the cage under the non-observant eye of one "Big" John McCarthy.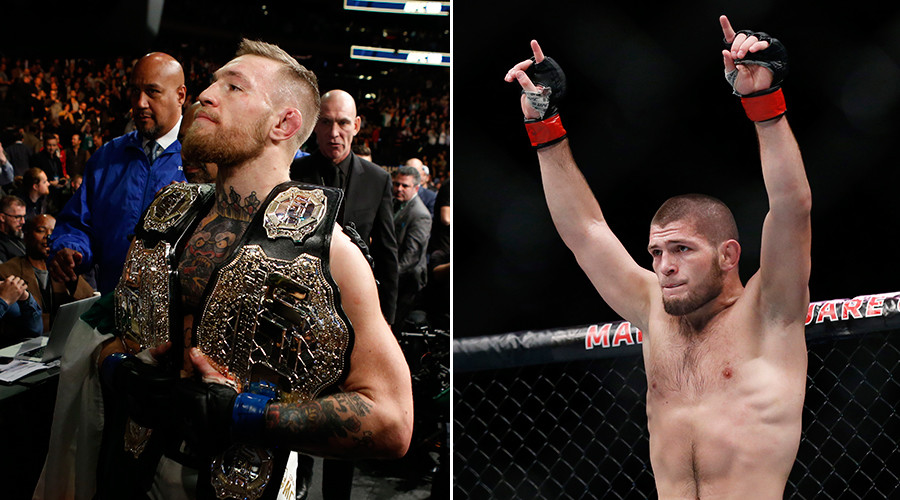 That said, Khabib's post-fight interview with Joe Rogan was just pure gold. Between calling out Conor McGregor as a chicken and highlighting the population discrepancies between Ireland and Russia, it totally sounded like a Nikolia Volkoff heel interview from 1985.
Frankie Edgar vs. Jeremy Stephens was my pick for fight of the night. Just two lightning fast dudes going in there and punching each other silly, but with enough takedown skills on display to make it something a bit more refined than your dime a dozen slobberknocker. Neither one of these guys should be fighting on a non-PPV broadcast ever again.
The whole MSG retrospective stuff was nice, but it dragged on a bit too long. Yeah, we know it's important for the UFC to headline a show in New York, but does it really require a 10 minute long documentary narrated by Anthony Bourdain?
I can't say I'm surprised Miesha Tate retired after that bad decision loss to Raquel Pennington. Her mauling at the hands of Amanda Nunes at UFC 200 was proof her heart wasn't in it anymore, and a loss that bad to someone who will probably never challenge for the bantamweight strap at UFC 205 is surely a sign it's time for her to locate greener pastures. The UFC on Fox paychecks aren't worth the guaranteed CTE risks, I assure you.
The ending of the Yoel Romero/Chris Weidman bout had me legitimately terrified that we had just watched a dude get killed on live television. Knees to the head are no joke (just ask Mr. Cris Cyborg), and with all of the blood spraying over the canvas, there's at least a 50/50 chance that thing would've wound up on a Faces of Death tape. Chris Weidman … you are a very, VERY lucky man.
The grim spectre of Death aside, how great was the interplay between Romero and Michael Bisping in the post-fight? Although I must say, I am a bit sad Yoel never used the mic time to bring up another tirade about "no for gay Jesus."
Outside of the fourth round, I thought the Joanna Champion vs. Karolina Challenger bout was a real crowd-killer. I guess that's just one of the risks you run putting on a three-title fight show … you just never know when you're going to get Strikeforce: Nashvilled.
Furthermore, the women's strawweight division DIRELY needs some American competitors … or at the very least, one or  two potential headliners whose last names don't use the letters "z," "r" and "w" as vowels.
The fourth round of the Tyron Woodley/Stephen Thompson fight was some of the most harrowing stuff I've seen all year-round. How Thompson was able to get out of there without being knocked out, choked out or too punch drunk to remember which stool he was supposed to go to is simply beyond me.
That said, I still don't know how two judges managed to score it 47-47. To me, it was definitely a 48-46 at the worst for the defending champion, with rounds 1, 2 and 4 clearly going to Woodley. Still excited as hell for the rematch, though.
Forget Bruce Buffer's "Steve Harvey" moment reading the scorecards for the co-main event. What he should be embarrassed about is that god awful sparkly sequin jacket he was wearing. Even Liberace would've thought that shit was too much.
And yeah, I'll eat crow: I thought Eddie Alvarez would soundly defeat Conor McGregor, and McGregor outclassed him in just about every way a fighter can be outclassed. I am now convinced that McGregor has to have the hardest left hand in MMA – the way he's flatlined iron-chinned dudes like Aldo, Diaz and now Alvarez, I don't even think it's debatable anymore.
Another McGregor win, and another all-time classic post-fight promo. "I'd like to take this chance to apologize … to absolutely nobody, the double-champ does what the fuck he wants" is something I soooo want to use as my high school yearbook quote, retroactively.
So moving forward, we've got a ton of unfinished storylines. Will McGregor defend the 145-pound title first or the 155-pound strap first? Will he have to vacate one for the other? Are his sojourns in the welterweight division over and done with? Will he really refuse to fight until he gets some equity in the company? As both Featherweight and Lightweight Champion, there's no shortage of "money" matches to be made, with possible 145 tilts against Jose Aldo, Frankie Edgar, Max Holloway and Anthony Pettis and probably about ten 155 pound clashes that would sell a million-plus PPVs, including hypothetical hoedowns with Tony Ferguson, Nate Diaz (again) and Donald Cerrone.
But the big one hanging overhead has to be a potential fight against Khabib Nurmagomedov, which presents far and away the most intriguing stylistic matchup in either weight class. Does the unbeaten Russian's deadly ground and pound game spell McGregor's doom, or will McGregor's world-class, pinpoint accurate jabbing be enough to hand Nurmagomedov his first professional loss? More than anything else, that's the fight I'd love to see happen the most, and it's absolutely perfect fodder for the UFC's annual Fourth of July PPV.
If that can't happen for some stupid ass reason, my backup plan would be McGregor vs. Aldo II with Nurmagomedov vs. Ferguson as the co-main around Cinco de Mayo, which – with some "fortuitous" booking bounces – would pave the way for another MSG show in November hopefully facilitating an Ireland vs. Russia mega-bout. As a matter of fact, I really like the idea of the November MSG show becoming the UFC's equivalent of WrestleMania or the Super Bowl, with at least one champion vs. champion uberfight on the docket. Make it so, WME. Make it so.
From there on out, the show's fallout is pretty obvious. We're doing Woodley/Thompson Dos for sure, and Romero vs. Bisping is pretty much a given for April or May 2017 (you know, pending Romero doesn't piss hot again … which is something that could never, ever happen.) The UFC is going to have to work doubly hard to make the women's strawweight division have even a modicum of the appeal the women's bantamweight division has, though, and it's a damned shame that so many great fighters at 145 and 155 like Edgar or Johnson will likely never get a crack at either title because of Conor McGregor's division-fluid dealings. All things considered, however, I'd chalk up UFC 205 as a downright fantastic card from start to finish, although I still think UFC 199 remains the high watermark for 2016.
And holy hell, what I wouldn't give to see Conor McGregor and Michael Bisping in a tag team match against Khabib Nurmagomedov and Yoel Romero – the promos alone would be worth the PPV asking price.