CM Punk is set to appear at Wrestlemania as the former pro wrestler turned mixed martial artist returns to World Wrestling Entertainment, sources confirmed to halfguarded.com late last night.
The deal is part of a newly evolving relationship between WWE and the UFC's parent company, WME IMG. Since the sale of the UFC last July, WME IMG has been making significant changes to the nature of the company. With a $4 billion investment to recoup, WME IMG has been keen to make immediate splashes, resulting in so-called dream fights like Conor McGregor vs Eddie Alvarez at last November's UFC debut in Madison Square Garden and the upcoming George's St. Pierre vs Michael Bisping middleweight title fight.
The genesis of Punk's return to the world of scripted theater traces back to that MSG show. Sources close to the situation have told halfguarded.com that WWE actually had an existing deal in place with MSG that gave them exclusive rights to the World's Most Famous Arena whereas it concerned Pro wrestling and mixed martial arts. In order for WWE to wave that exclusivity, the UFC needed to make a concession. CM Punk appearing at Wrestlemania was that concession.
Punk, real name Phil Brooks, made his fighting debut last September, when he lost to Mickey Gall in minutes at UFC 203. The unsuccessful performance from Punk lead to immediate speculation that his time in MMA would be short-lived, speculation that has proven correct.
Unlike former UFC owners, Zuffa, WME IMG is much more open to crossover opportunities for its roster of fighters, said a high ranking official with the company. WME was instrumental in many of Ronda Rousey's movie deals, Paige VanZant's reality TV endeavors, and has secretly been the driving force behind the Conor McGregor vs Floyd Mayweather rumors.
WME IMG sees the fighters as entertainment properties, to be mined and farmed out for the most profit possible at any given moment. One source indicated that April is looking to be a tight month, fiscally, for WME IMG and the company is looking to quickly make fast cash on the return to WWE by Punk. A key player in the company said that WME IMG would be receiving 33% of the revenue from Wrestlemania as part of the deal.
WWE will welcome the returning Punk with open arms. WWE has traditionally had a very poor post-Wrestlemania season and the inclusion of Punk to the roster is expected to help retain the momentum built over the past few months. With a recent "brand split," more than ever, WWE needs stars to fill its seemingly endless number of hours of programming.
Punk's absence from the world of pro wrestling has been hard felt by WWE, as there have been weekly chants for Punk nearly every time WWE executive Stephanie McMahon appears on screen. Those chants have not fallen on deaf ears. With McMahon's husband, Paul Michael Levesque – known to wrestling fans as The Game, Triple H, The King of Kings, HHH – openly negative on Punk, a WWE source indicated to halfguarded.com that it was Paul Heyman who orchestrated the deal from the wrestling company's side.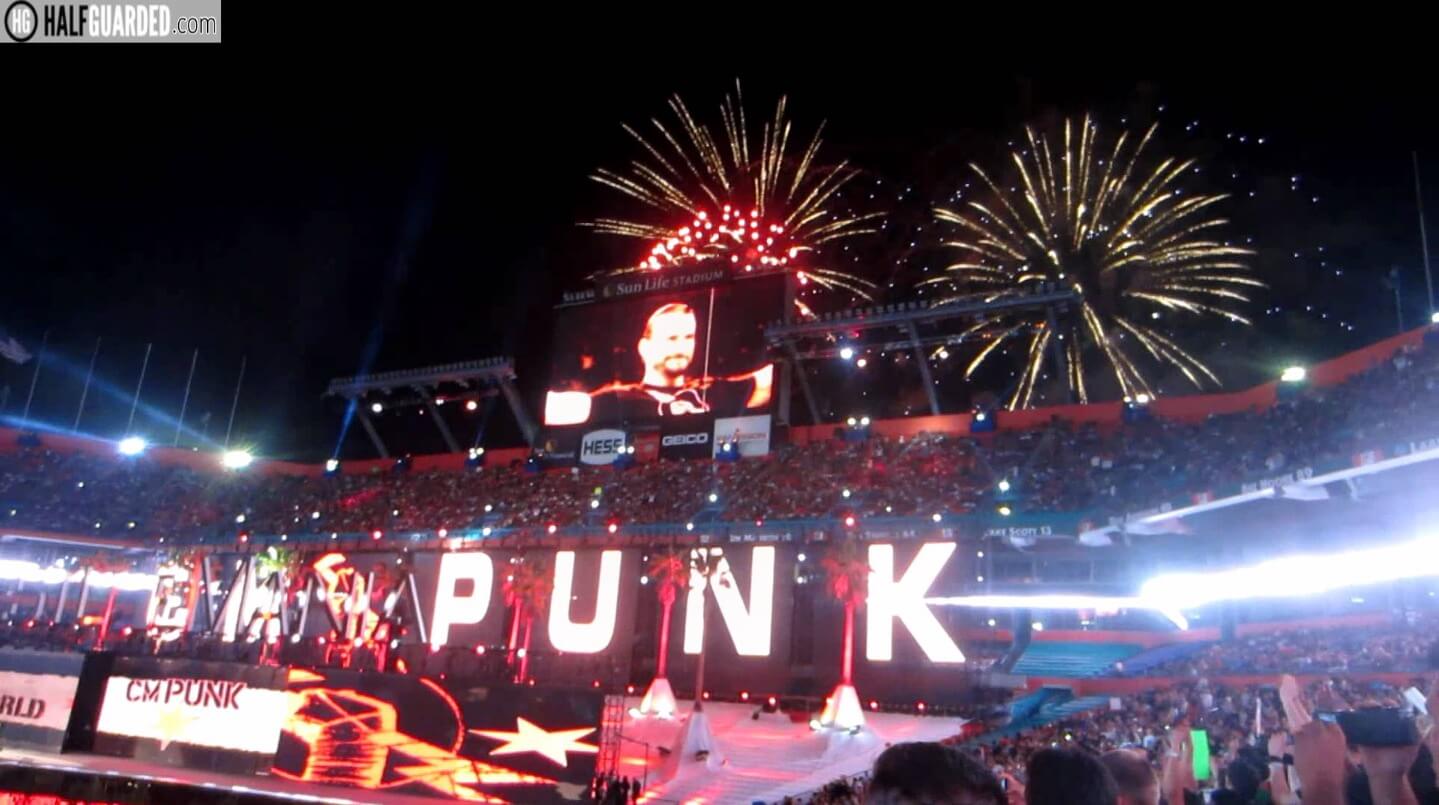 Heyman was a chief advocate for Punk during his previous tenure with WWE. He gave Punk his breaks at every level and the two formed an on-screen partnership that was wildly successful. Heyman is now the mouthpiece for former WWE and UFC Heavyweight Champion, Brock Lesnar. With Lesnar's professional fighting background, and the obvious Heyman connection, whispers are that Punk will be involved in a program with Lesnar, leading to a match at WWE Summerslam later this summer.
Where this leaves Punk's fighting career is yet to be decided but Punk is said to be adamant that he can be a professional wrestler while maintaining his vigorous professional fighter training regimen. Sources worry that Punk will not find the time to hit a heavy bag for upwards of 30 minutes a day, as had been the case prior to his Foolish UFC debut.
More on this blockbuster story as it comes available.