T-Mobile Arena
Las Vegas, NV, America
This is a post for the UFC 216 PPV, a show the company has decided will be headlined by an Interim title fight.  I think they do this just to stick it to me (Mike).  Fuck you, it is too possible.
And, as always (sometimes), the fine, fine men at The Internet is in America are gonna provide us with most of the meat here; I'll probably just end up sleeping in my own filth. Again.
HAHAHAHAHAHAHAHAHAHAHA. Derrick Lewis is out! His back hurt him or something so the fight has been scrapped. I'm even more depressed now that Lee made weight, this thing was almost a legendary disaster.
And Walt Harris is now stepping in because, I guess, someone wants to see a black man fight a Brazilian.
BTW. I'm dead serious: Paul Felder is outstanding on FOX. Very smooth, blends knowledge and humor well, while demonstrating personality. Legit think he might be the future of UFC color men. Not sure what he sold to the devil for this natural ability, what with gingers have no soul, but he got his money's worth.
Ok. This is interesting:
Earlier this week, we had the chance to interview Dr. Jeffrey Davidson, the UFC's chief medical physician, who's also the head of ER at Valley Hospital here in Vegas. He helped save lives after Sunday's shooting. I won't soon forget our chat. https://t.co/iSirqKbHmO

— Ariel Helwani (@arielhelwani) October 7, 2017
That's a legit doctor, I think. Or maybe kissing ass and being a weasel works in medicine too. My experience watching House tells me it might.
---

Loading ...
---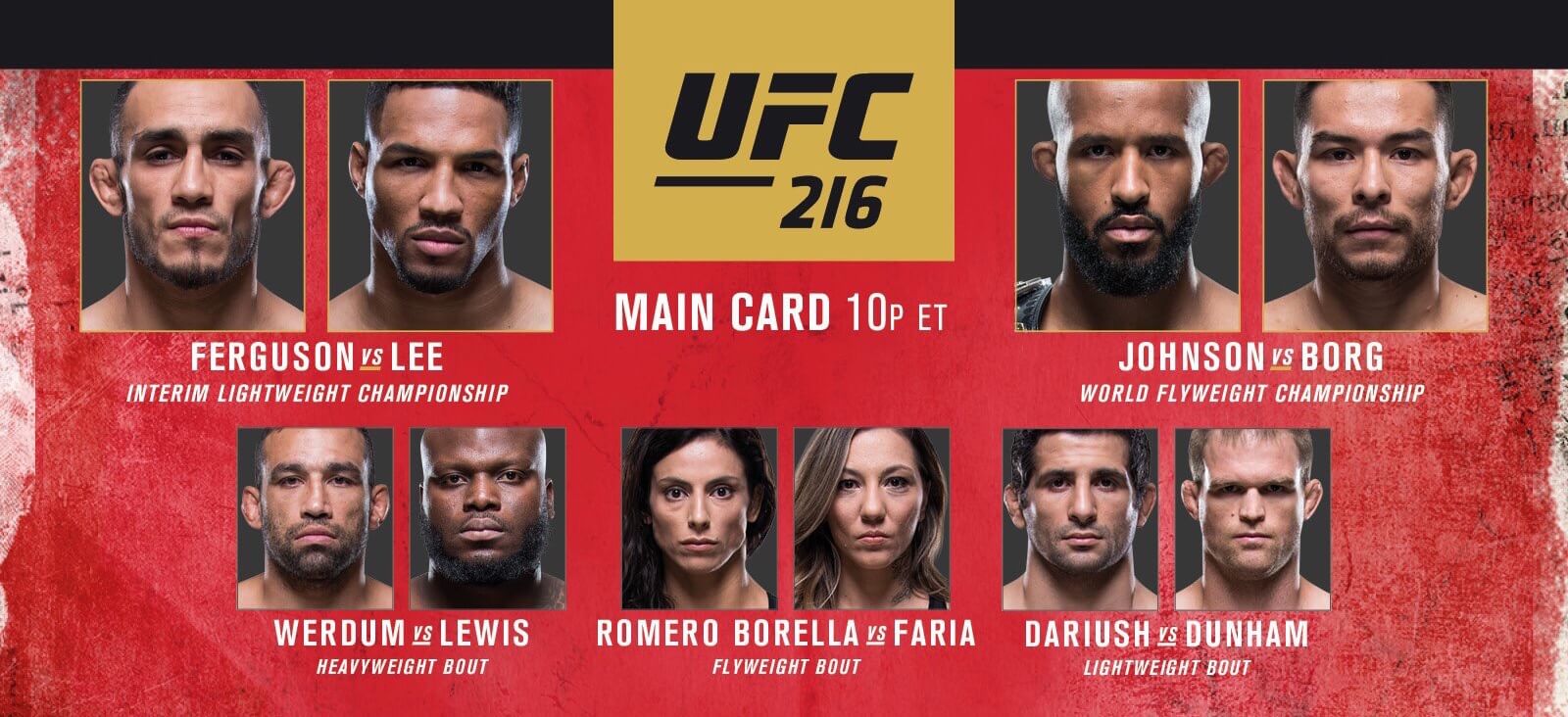 UFC 216 FREE LIVE STREAM
Pay Per View Card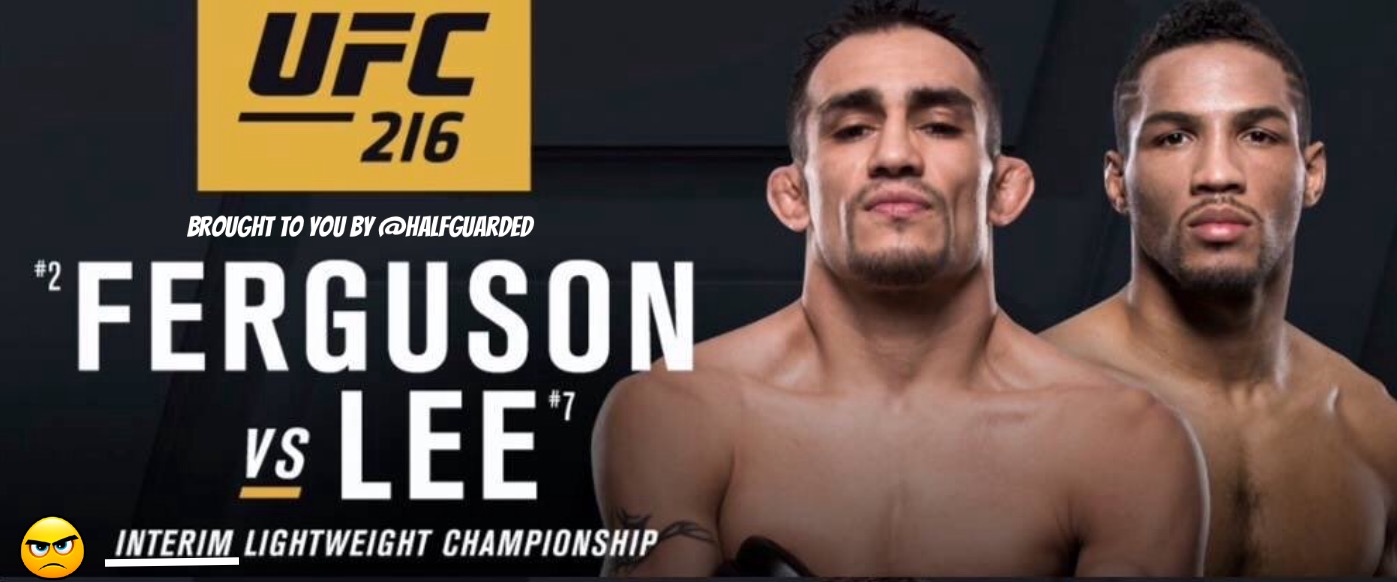 Tony Ferguson (HG #3) vs. Kevin Lee (HG #8)
For the Interim UFC Lightweight belt
Preview
As we all know, Conor McGregor SHOULD be defending his Lightweight title against Khabib Nurmagomedov in Madison Square Garden, but because Conor wanted to engage in some extra-curricular activities and Khabib is apparently still recovering from that weight cut that almost killed him back in March, we've got to make do with Tony Ferguson fighting Kevin Lee for the placeholder gold instead. Not that what we've got here tonight is necessarily a bad little match-up. Ferguson is currently riding a nine fight winning streak, having bested Rafael dos Anjos, Lando Vannata and Edson Barboza in his last three fights. Lee, on the other hand, is riding a five-fight winning streak, with his last outing in the Octagon resulting in a submission win over Michael Chiesa. Of course, Lee also had just a wee bit of difficulty making weight for the bout, so that may or may not be a factor heading into our (substitute) championship contest …

What Happened?
Lee comes out first. Seems like he's mostly getting boos. Oh fuck, it looks like he has a staph infection on his left titty, and Joe Rogan is going nuts. Ferguson comes out to something that sounds like it came off the soundtrack for Breakin' 2: Electric Boogalo. Anik praises him for his, and I quote, "self-belief," which I think we can all agree is an oft-overlooked MMA skill. Then Rogan celebrates him for making his own training equipment.
Yep, Lee's getting the shit booed out of him. There's probably a reason why, but I've been out of the loop for awhile. Both men are from Grand Valley State. Never heard of it, personally. "Ole, ole" chant. Lee with a high head kick early. Lee whiffs on another kick. Lee misses on an overhand right. Lee drops him, then Tony gets right back up and drops Lee. That was crazy. But not as crazy as the following sequence, where Ferguson locks in an armbar, goes for an omoplatta and winds up with Lee getting in the north-south position on the mat. Lee in side control. Lee in the full mount and he's raining elbows on that motherfucker. Ferguson survives, but just barely. And it looks like Lee got a free shot after the bell. But he only gets a warning for it, though. A fucking insane first round.
Round two. We've got ourselves a heated jab exchange early. Ferguson is winding up his arm like Donkey Kong in Super Smash Bros. No, for real. Loud "Tony! Tony!" chants. Both guys trying to fake each other out like Anderson Silva and it's fucking beautiful. Tony with a hard elbow to the face. Tony with a leg kick. Lee with a hard right hand. Ferguson leads Lee on significant strikes, 24 to 16. Lee with a hard kick to the body. Lee can't land the takedown. They exchange leg kicks as the round ends.
Round three. "Tony Ferguson is a patient wolf," Rogan comments. Lee with a takedown. The ref keeps admonishing Tony for grabbing the fence. Tony is right back up. Lee throwing some high kicks. Tony whiffs on a big swing. Tony with a kick to the stomach. Lee whiffs on another huge kick. Lee with a takedown. Tony looking for an armbar. Lee gets out of it – that was some impressive rolling. Tony hitting Lee on top of the head with some elbow shots. Tony going for a triangle. AND LEE TAPS OUT!
And Lee immediately starts crying like a little bitch. He even stomps his feet like a toddler when Tony is announced as the winner. Anyway, the official time is 4:02 of the third. In the post-fight, Tony says the victory is, and I quote, "wooooo, fuckin' amazing." On McGregor: "Where are you, McNugget, you motherfucker!" Time to hear from Lee. Fuck, that is the whitest-sounding black dude of all-time. He makes Bryant Gumbel sound like Mr. T. And LOL at Rogan calling him "Tony" to add insult to injury.
And here's one more UFC 217 promo to close out the night. I'll be back first thing in the morning with some follow-up thoughts. But first … sleep.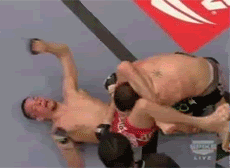 Should You Watch?
Yes.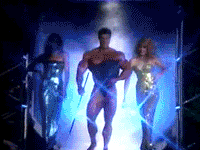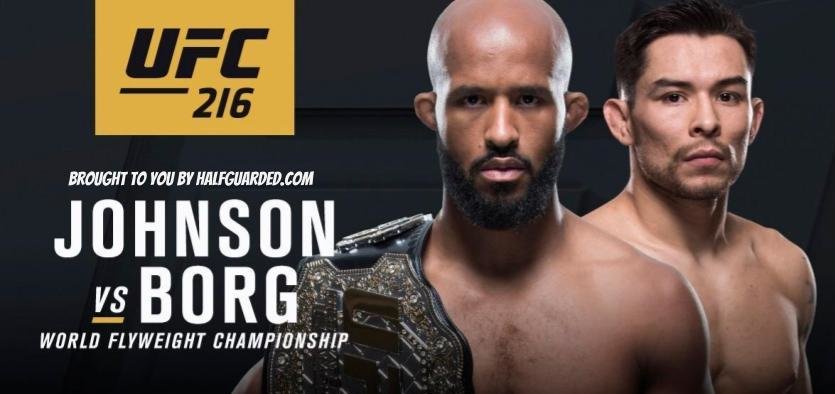 Demetrious MIGHTY MOUSE Johnson (c) vs. Ray Borg (#4)
For the UFC Flyweight Championship
Preview
NOTE: The following is what I wrote in advance of the scheduled UFC 215 main event that never materialized. I'm reprinting it in full here because a.) I'm lazy as shit and b.) it's not like anything has fucking changed since early September, anyway …
At this point, what more can be said about Demetrious Johnson? He's short, he kicks everybody's ass (as long as they weigh less than 125 pounds), he thinks Dana White has it out for him and he draws money about as well as Michael J. Fox does with an Etch-a-Sketch. IF he can beat Ray Borg tonight, that'll be his eleventh-consecutive successful title defense, which obviously, would be a new UFC record. But is there an off-chance Ray "The Tazmexican Devil" actually upsets Mighty Mouse tonight in Alberta Nevada? Well, seeing as how Borg has missed weight in two out of his last four bouts, I'd surmise that his championship chances are about as good as Richard Nixon's odds of being elected president in 2020 (you see, it's funny because Richard Nixon has already been elected twice, and also, he's been dead since 1994.) Anyhoo, this one ought to be a one-sided drubbing, but at least it will be a HISTORICAL one-sided drubbing, which I think we can all agree is the best possible kind of one-sided drubbing there is.
What Happened?
Borg comes out to "Shout at the Devil" by Motley Crue. Well, he wins having the best entrance theme of the night, anyway. Johnson gets the classical Bill Goldberg intro, with the security guards escorting him out of his dressing room. His entrance theme is, uh, music of some kind. Sorry, but I don't listen to much of the newer stuff, folks.
Borg with low kicks early. DJ retaliates with some inside leg kicks of his own. DJ whiffs on a high kick. Borg with a right uppercut. DJ with a kick to the body. Johnson has Borg's back. Borg's right back up. Borg shoots for a takedown. He has DJ down to one knee. Borg still has hold of the leg, though. "Mighty Mouse" chants break out. DJ spins out and grabs Borg's back. DJ has Borg splayed out on the mat. DJ is elbowing the fuck out of him. Now Johnson is in side control. And there's the hop into the full mount. He's in side control now, looking for a kimura, perhaps. Now Borg is working for a guillotine. DJ is in side control again, working a kimura. Borg looks for a kimura of his own as the bell sounds.
Round two. DJ with a leg kick. Borg shoots for a double leg. DJ with some potshot knees to the stomach. Johnson with more knees in the clinch. Borg working a guillotine. Borg loses it, but he keeps DJ tied up against the cage. BORG GETS THE TAKEDOWN. DJ is back up, but Borg wrestles him down AGAIN. Borg takes DJ's back, but he literally just shakes him off like a flea. DJ working from side control again. He's kneeing Borg in the ribs over and over. DJ with a ton of knees to the stomach. Borg clinches him against the cage. DJ with a takedown, but Borg tries to get a guillotine in as he falls down. Johnson is leading on punches 62-1. No, that isn't a typo. Borg is seated against the cage. DJ hits some shoulder butts as the round expires.
Round three. Well, my WiFi went down for half the round, so we join in progress with about two minutes left and DJ is in side control just walloping the fuck out of that poor sap. Now Johnson is in the full mount. Now he has Borg's back. Borg scrambles out and he goes for a guillotine. DJ is out in like half a second. Now we're standing. They trade like crazy and Borg FINALLY locks in a guillotine just a few seconds before the bell sounds.
Round four. Borg shoots for a takedown and he slams THE FUCK out of Johnson. Now Borg is in the full mount. Johnson is back up. Now Johnson is on top of Borg, pounding his skill with elbows. Yep, Johnson is in side control again. DJ grinding him out against the cage. They keep kneeing each other in the pelvis and it's kinda funny. Borg goes for a guillotine (again) but DJ ducks and knees him in the stomach instead. DJ with a massive slam. DJ has outstruck Borg by more than 100 blows in this fight. No, for real. DJ in side control again. He's elbowing Borg at will. Borg back to his feet. And DJ sweeps his ass to the ground again. DJ looking for an armbar in the waning seconds of the round.
Round five. DJ with a takedown already. And surprise! He's in side control. DJ with more elbows and knees to the body. DJ with another takedown, and Borg can't lock in the guillotine. What do you know, Johnson is in side control again. Johnson trying to get Borg's back. Borg scrambles out and DJ hits him right in the sternum with a hard knee. HOLY FUCK, DJ just turned a German suplex into a fucking float-over armbar IN ONE FLUID MOTION. That shit just broke every rule of physics you can think of. Borg fights it for a couple of seconds, but he HAS to tap.
The official time is 3:15 of the fifth. That finish is going to be replayed from now until the end of all-time. In the post-fight Johnson thanks the first responders and says he doesn't want to get concussions "because that shit is overrated." And like that, we've got a new record holder for most successful title defenses in UFC history. 
Mike: it was unreal. One of the best submissions of all time, done by the greatest of all time, as he sets the record for the most title defense of all time. Fuck you, UFC, this man should headline and it shouldn't matter if it makes money. Make it make money.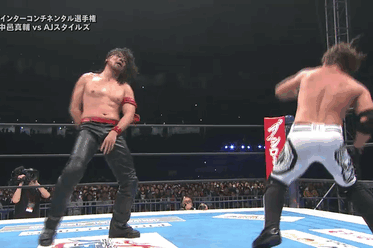 Should You Watch?
Fabrício Werdum (#3) vs. Walt Harris (…?)
Heavyweight
Preview
(Mike: see above laughing at the UFC for this.)

What Happened?
Harris, whose nickname is "Big Ticket," comes out to some of that there rapping music all the kids are into these days. Meanwhile, Werdum comes out smiling ear-to-ear, like he just knows he's about to pick up the easiest paycheck of his career.
Werdum whiffs on a spinning high kick. Werdum gets the takedown and is in the full mount already. He's got the legs grapevined. Werdum has an armbar in, and Harris taps. That was barely a minute, ya'll.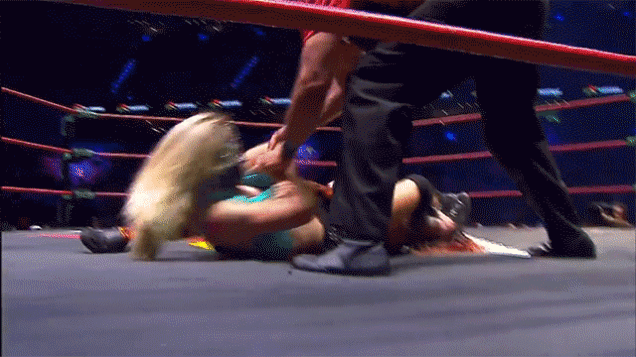 Should You Watch?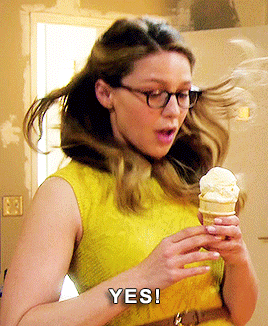 Women's flyweight action!

@MaraRomeroBorel takes on @KalindraMMA at #UFC216! pic.twitter.com/QPxsxnZHdN

— UFC (@ufc) October 7, 2017
Mara Romero Borella vs. Kalindra Faria
Women's Flyweight
Preview
This has to be the most random-ass UFC PPV main card fight ever. Both of these broads are making their UFC debuts tonight and neither one of 'em has a Wikipedia page yet, so I had to go to fucking Sherdog to learn who they are. Not that anybody reading this gives even an iota of a sprinkle of a shit, but Borella is on three-fight winning streak, while Faria is also riding a three victory tide. Also, Faria got her ass kicked by Karolina Kowalkiewicz two years back, so at least she's got ample practice for being a divisional floormat. Apologies if I mysteriously disappear for the next 15 minutes, ya'll …
What Happened?
Faria comes out to some gangsta' rap sounding shit. Also, her skin is like zombie/crank addict purple, and it's terrifying. Borella's theme music is literally just slave drums getting gonged over and over again. And for an Italian chick, she looks suspiciously toffee-colored. Just sayin' …
Borella has a half foot reach advantage, by the way. The ring girl is named Brooklyn. Well, I wouldn't mind visiting her borough, if you catch my drift. Borella has the takedown already. She's in the full mount and throwing some punches to Faria's ribs. Borella has this bitch in the straight up missionary position. Now she has Faria's back. She's looking for a choke. It's in. And Faria taps. Well, that was a squash.
The official time is 2:54 of the very first round. Mara says some shit in Italian through a translator. Yeah, she'll probably be the favorite for when that women's flyweight title tournament gets set up.
Time to pimp the upcoming Donald Cerrone/Darren Till show two weeks from now. And now, our announce crew gets to do their best hard sell for a fight featuring Walt fuckin' Harris. Now this, I gotta' hear.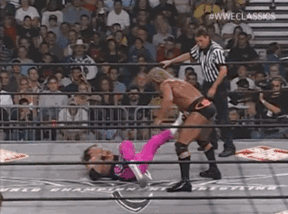 Should You Watch?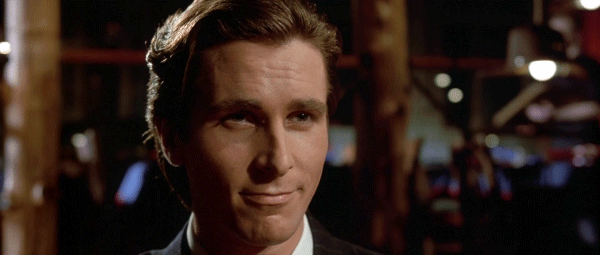 Beneil Dariush vs. Evan Dunham
Lightweight
Preview
Fuuuuucckkk … remember when people were talking about Evan Dunham being potential Lightweight Championship material? That was, like, five years ago, wasn't it? Oddly enough, Dunham is on a four-fight winning streak as of late, with has latest Octagon sojourn resulting in a decision win over Rick Glenn, who is probably better known by his unofficial nickname "Who the fuck is Rick Glenn?" Meanwhile, Beneil Dariush is our token Iranian, whose last in-cage appearance ended with him eating a nasty flying knee from Edson Barboza. So all that to say – I probably wouldn't expect fireworks here. Sparklers, maybe, but definitely not the cool shit.
What Happened?
Dunham comes out waving the Nevada state flag. His theme music is CCR's "Fortunate Son."And in case you're wondering, no, he isn't related to Lena – even though they do kinda look alike in the face. Now Daniel Cormier's microphone is fucking up something fierce.
Dariush comes out looking like he's praying. And his music is this really soft, piano music with some broad singing. Yeah – a real specific description on my part, I know.
Is it just me or does Dariush kinda sorta look like Ben Stiller a little? LOL at this guy in the crowd booing Dariush and pointing to an American flag JPG on his phone. Dunham rattles off a combo. Dariush with a hard knee to the jaw. Dariush controlling the tempo early. Dariush with a hard left hand. Dariush drops him with two NASTY elbows. He has Dunham's back. Dariush is just fucking him up with elbow shots. Dariush is in the half guard. He's shoving Dunham's head into his sternum. Dunham grabs a leg and Dariush is drilling his skull with elbows. Dunham momentarily has a heel hook in. Dariush with MORE elbows. Thirty seconds left, and Dunham is back up. Dariush whiffs wide right on a looping overhand. How the fuck Dunham survived this round is beyond me.
Round two. One of the ring girls was actually at the country music shooting. She's also wearing low cut pants that show off half her ass – not that the two are related or anything. Dariush goes for a jumping knee and Dunham takes him down. Dariush is back up and Dunham is popping him with elbows up against the cage while the crowd makes Ric Flair "woo" noises. Dariush with a nasty leg kick. Dunham grabs Dariush's leg and hits a few hard elbow shots of his own. Dariush with underhooks in. Back in the center of the cage again. Dariush rattles off some more low kicks and he smothers Dunham up against the cage as the round expires.
Round three. Hey, did you know you can get UFC Big Gulps at 7-Eleven now? Because you can. Dunham with a high kick, but he doesn't connect on all of it. Dariush retaliates with some more low kicks. Dunham with a HARD right jab. More "wooing" from the crowd. Dunham shoots for a takedown. He's crushing Dariush against the cage. Now he's firing off some punches to Dariush's side in the clinch. Dunham whiffs on a head kick. Dariush follows with a good leg kick of his own. They exchange knees to the midsection. About a minute left. Dariush misses on a jumping knee. Dunham's swinging for the fences, but Dariush is smart enough to keep his distance. He gets one last knee in as the bell sounds.
The judges have it 29-28 for Dariush and two 28-28's to make it a majority draw. The crowd, naturally boo like motherfuckers. In the post-fight, Dariush says he hopes Jesus Christ gives the victims of the shooting comfort. Huh – the Iranian dude is a Christian. That's news to me. (Mike: he's a Coptic Christian.)Meanwhile, Dunham says he's from Vegas so he don't quit and he don't give up and that he wanted to fight Dariush because he's really good and he wanted to test himself. Then they play "Last Dance With Mary Jane" by Tom Petty, because shit just ain't maudlin enough tonight.
Time to pimp UFC 217. And that's my cue to walk a puppy. Be right back.
Should You Watch?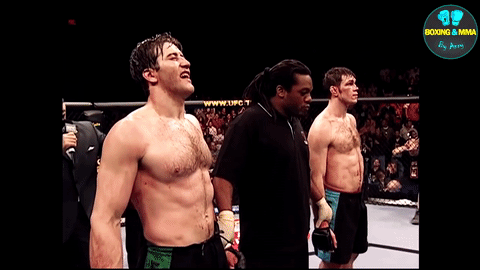 ---

UFC 216 FREE LIVE STREAM
Main Prelims on FX (?)
Paige VanZant vs. Jessica Eye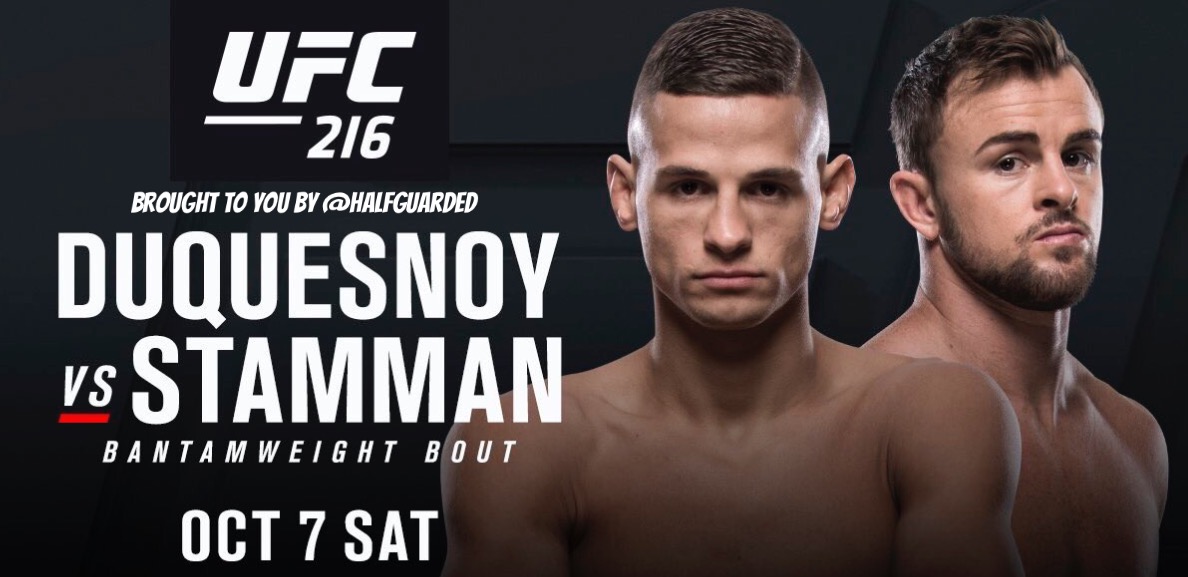 Tom Duquesnoy vs. Cody Stamann
Featherweight
What Happened?
Should You Watch?

Matt Schnell vs. Marco Beltrán
Flyweight
What Happened?
Whose bright idea was it to honor #VegasStrong by covering up the ring girls? #UFC216 https://t.co/t65hZk2iue pic.twitter.com/YkmMjjUMnf

— ⒽalfGuarded (@HalfGuarded) October 8, 2017


Fight was absolute garbage. Schnell did … I don't even know. This was horrendous. Rogan, DC, and Anik all riffed on what constituted a significant strike during the third. The answer is: anything that isn't what happened here.
Should You Watch?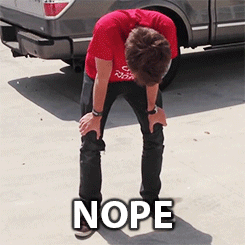 Will Brooks vs. Nik Lentz
CANCELED DUE TO EXCESS FAT FROM LENTZ.
https://twitter.com/ufc/status/913145724681953280
Bobby Green vs. Lando Vannata
Lightweight
What Happened?
War is what happened, including a Lando knee in the first That was deemed illegal by the law but was fuel for Green. Blood everywhere as two grown men refused to bow to one another and threw leather like there was a cattle surplus. Green jabbed and lead hooked; Lando bobbed, weaved, and did spin shit until his heart was content. And then with five – FIVE – seconds remaining, Green slammed bone into Lando's skull – but Lando did not fall.

And then IT WAS A DRAW.<\b>
Should You Watch?
It was very good. Not the best fight in the history of man but Good still.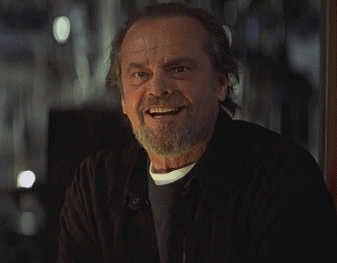 Pearl Gonzalez vs. Poliana Botelho
Women's Strawweight
What Happened?
Thank goodness the 31 year old Pearl who in no way is here because of her looks does have those looks because otherwise this would be – oh, wait, no. It still was shit. Pearl literally – LITERALLY – did nothing but try to smother the Brazilian against the cage and fail at a TD. It was like being Bill Murray in Groundhog Day just with sweaty women. But worse.

Poliana Botelho won, in case you care.
Should You Watch?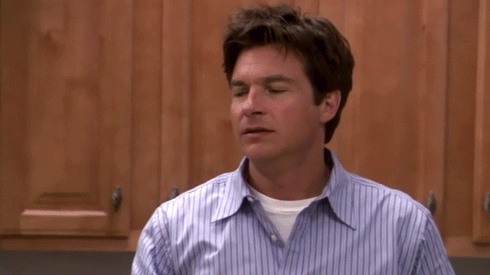 ---

UFC 216 FREE LIVE STREAM
Early Prelims – UFC Fight Pass
Walt Harris vs. Mark Godbeer

John Moraga vs. Magomed Bibulatov
Flyweight
What Happened?
Moraga with a Death right hand in the first halted the hype train.

Should You Watch?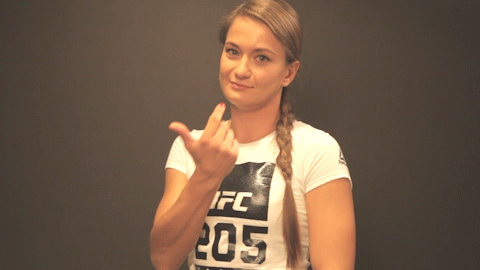 Thales Leites vs. Brad Tavares
Middleweight
What Happened?
I wanted to vomit at times as en route to his victory, Brad kicked Thales's leg so much the subcutaneous purple bleeding was a hurricane 4 storm surge. Leites couldn't stand by the time the 3rd round rolled around. It wasn't pretty or exciting but it was brutal in that way where you know Leites will feel this every time he moves for the next month.
Should You Watch?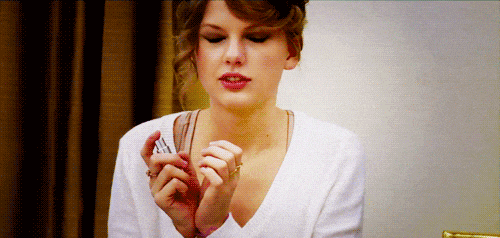 ---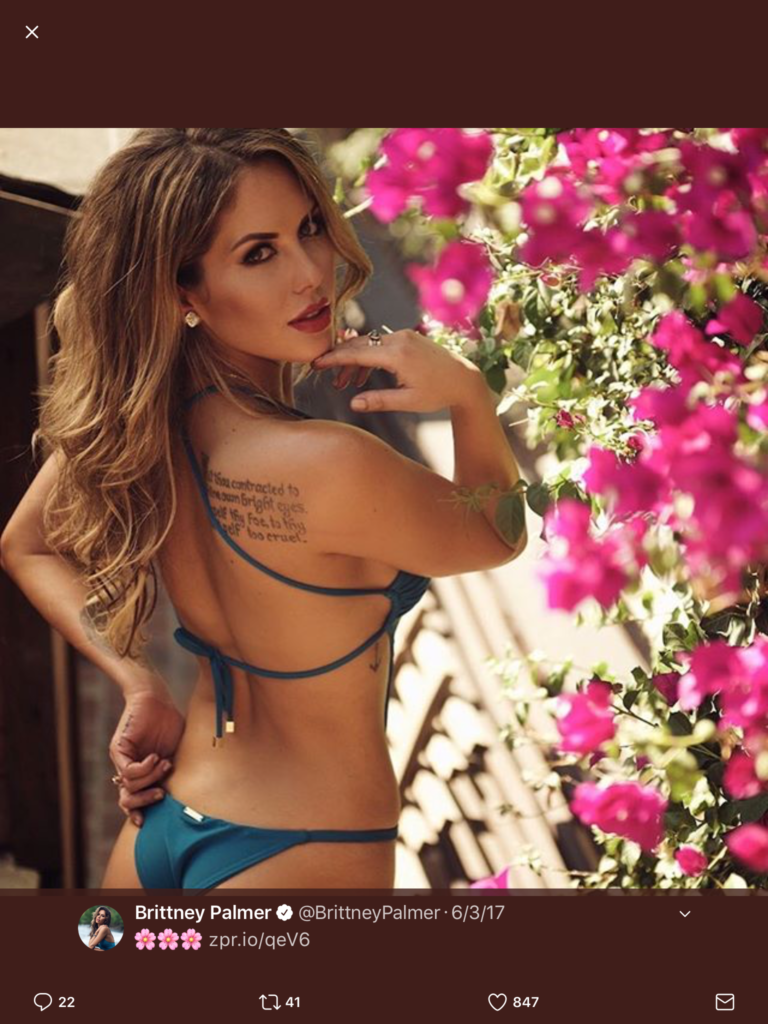 UFC 216 Results
(Winner in BOLD)
Lightweight Tony Ferguson vs. Kevin Lee
Flyweight Demetrious Johnson vs Ray Borg
Heavyweight Fabrício Werdum vs. Derrick Lewis
Something WeightMara Romero Borella vs. Kalindra Faria
Lightweight Beneil Dariush DRAW Evan Dunham

---

Featherweight Tom Duquesnoy vs. Cody Stamann
Flyweight Matt Schnell vs. Marco Beltrán
Lightweight Will Brooks vs. Nik Lentz
Lightweight Bobby Green DRAW. Lando Vannata
Women's Strawweight Pearl Gonzalez vs. Poliana Botelho

---

Flyweight John Moraga vs. Magomed Bibulatov
Middleweight Thales Leites vs. Brad Tavares

UFC products you can actually buy!