Bristol, CN
Las Vegas, NV
Dana White is probably having a good day.  While not confirmed, USA Today reports that ESPN and the UFC have inked a 5 year television deal worth $1.5b.  This is in addition to the other deal they made with ESPN+.  At least, I think it is.  Honest to goodness, despite writing for what is the most widely distributed newspaper in America, if not the world, the author of the piece shat out this:
ESPN wrested control of UFC's television rights from Fox Sports as the Disney-owned network has agreed to commit $1.5 billion total over the next five years to broadcast and stream the sport, a person with knowledge of the agreement told USA TODAY Sports on Wednesday. The person requested anonymity because the deal had not been publicly disclosed.

ESPN will pay an additional $150 million to broadcast 27 events, the source said. Earlier this month, ESPN and UFC agreed on digital rights – also worth about $750 million over five years – that will be part of the network's new streaming service, ESPN+.
Seriously, what in the what?  A Sports Business Daily piece (whoever the fuck that is) wrote it like this:
ESPN in a shocking turn of events will go all-in on the UFC, taking the entire package from Fox Sports, which has carried it since '11. The deal goes into effect in January. Sources said that ESPN outbid Fox Sports for the UFC rights, agreeing to pay a total of $1.5B over five years for the entire package — a figure that includes the previously announced $150M-per-year deal with ESPN+, sources said. For months, Fox Sports was considered a prohibitive front-runner to retain the rights. But ESPN, under the direction of new President Jimmy Pitaro, showed a newfound interest in the property. Pitaro showered praise on the MMA space at the Sports Business Summit in N.Y. on Monday, describing the UFC as an ascendant property and touting its young and diverse demos.

ESPN two weeks ago cut a five-year deal worth $150M annually for 15 UFC events that it will stream to its ESPN+ OTT service. Today, the two will announce another five-year deal for $150M per year for 27 more events, including 10 full events and 12 PPV prelims on linear. Five more events will go to ESPN+. UFC will keep the rights to 12 PPV events, the same number it carried this year. ESPN's emergence as an interested bidder in the entire package comes as a surprise, especially given press reports from a month ago that mistakenly had ESPN and Fox Sports teaming up on a joint bid. NBC Sports and Turner Sports also kicked the tires on UFC, though neither showed as much interest as ESPN.
I mean, it's not my money, so I don't give a shit, but someone get their stories straight.  NO GAY SHIT, k?  Can't ever tolerate any gay shit in a sport like this: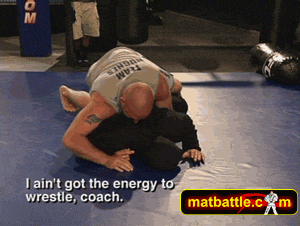 Someone will try to compare this to the fake ass shit from WWE and what they're getting, because I think Smackdown! is moving to Big Fox for $1b over five years but keep in mind that's 52 weeks a year of 2 hour original programming.  I think the UFC is gonna give ESPN like half that.
Point is: pro wrestling sucks and is definitely gayer than MMA.