It's the Friday before a show which means it's time for some free videos.  The UFC has a grand total of … TWO! free fights on their YouTube page for this show.  A show, I add, that they really don't seem to give a flying fuck about.
In an act of pure marketing genius, they have the KOREAN FUCKING ZOMBIE fighting and one of the free fights is him vs Leonard Garcia – BUT NOT THE ONE THAT'S THE GREATEST FIGHT EVER AND WHICH WOULD GET PEOPLE PUMPED FOR HIS RETURN!
Instead, it's the one where he pulls off a twister.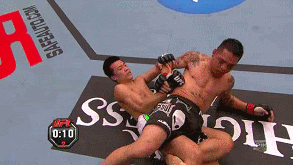 It's a good fight just nto GOAT.  And I know I misspelled "not" just now but I'm too lazy to change it.  Fuck you, that's why.
Bermudez looks scary good in his fight too.  I'm gonna try Vimeo and see if it has anything so there may be more than two videos by the time the four of you read this. (I did, and there are.)
FREE UFC VIDEOS
Featherweight Dennis Bermudez vs. Chan Sung Jung
Women's Strawweight Alexa Grasso vs. Felice Herrig
Lightweight James Vick vs. Abel Trujillo
Light Heavyweight Ovince Saint Preux vs. Volkan Oezdemir
Heavyweight Anthony Hamilton vs. Marcel Fortuna
Women's Strawweight Jéssica Andrade vs. Angela Hill
---
Heavyweight Adam Milstead vs. Curtis Blaydes
Featherweight Chas Skelly vs. Chris Gruetzemacher
Bantamweight Ricardo Ramos vs. Michinori Tanaka
Women's Strawweight Tecia Torres vs. Bec Rawlings
---
Welterweight Alex Morono vs. Niko Price
Light Heavyweight Khalil Rountree vs. Daniel Jolly