Airdate: Sept 4, 2013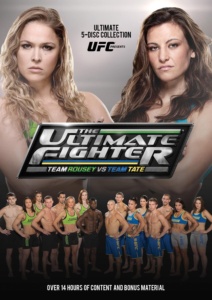 Who the fuck would ever have thought that as of this writing in 2016, Tate is the Women's UFC Bantamweight Champion, and Rousey isn't even booked on UFC 200. My how the world changes quickly. As you may recall, Tate wasn't even supposed to coach. It was actually supposed to be Zingano but she got injured right before hand so they swapped in the Cupcake. I was intrigued by the female coaching perspective but only because I thought guys may not want to be coached by girls. Turns out, nobody had a problem with learning how to kill from the two toughest bitches on the planet.
This season was also a little different because they went back to two winners. For the first time, both men (bantamweight) and women (also bantamweight) trained together but competed in separate tournaments. So Rousey and Tate were training both men and women on their respective teams.
The Teams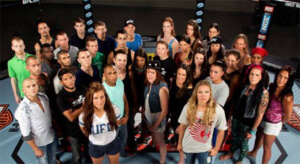 Team Rousey
Female fighters: Shayna Baszler, Jessamyn Duke, Peggy Morgan, Jessica Rakoczy
Male Fighters: Chris Beal, Davey Grant, Anthony Gutierrez, Michael Wootten
Team Tate
Female fighters: Julianna Peña, Sarah Moras, Raquel Pennington, Roxanne Modafferi
Male Fighters: Cody Bollinger, Chris Holdsworth, Josh Hill, Tim Gorman (*Louis Fisette)
Highlights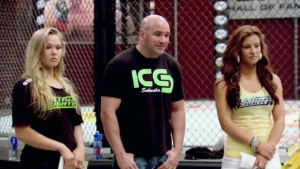 Team Tate's Chris Holdsworth admires the situation and debates the possibility of sexual relationships as the season progresses. The women continue to state how seriously they are taking the competition and nothing will interfere with that. Boners killed.
Both teams gets a private suite at Red Rock Casino to watch the latest UFC fight. While there, Rousey and Tate get into a verbal altercation at the bar when Tate feels Rousey is standing too close to her boyfriend/trainer Bryan Caraway. Rousey then rehashes what Caraway tweeted in March 2012 how he wanted to knock her teeth down her throat on Twitter which he had previously apologized for.
Former UFC fighter Dennis Hallman joins the blue team as a guest coach and gets a chilly reception by Team Rousey's trainer Edmond Tarverdyan who "eyeballs" him up and down. On camera, Tarverdyan challenges Hallman to a fight. Off camera, the Armenian is tempted by Hallman to engage in combat for strange reasons. Tarverdyan claims he is being targeted to give producers a reason to kick him off the show. Rousey then confronts Hallman and tells him if he wants to "look like a fucking man," he will fight Tarverdyan when there are no cameras around.
Tate goes over to Rousey and her trainers to shake hands and once again, they flip the bird. Rousey says that Tate is acting like a "fake bitch" by insulting her behind her back and then being nice to her face. Rousey then calls it a battle of "fake nice vs. real mean."
Rousey stops by the fighter house to bring her team's fighters some fast food, and also mixes drinks and shares shots with them.
Roommates Raquel Pennington and Peña become agitated towards each other as the close quarters, daily routines and monotony of the house sets in. This causes Peña to call all the female fighters "Mean Girls," after the Lindsay Lohan film. It had to happen, and I had to comment on it.
The feud between Rousey and Tate reaches new heights when they are tasked at racing up an indoor rock climbing wall during the Coaches' Challenge. Rousey and Tate were neck and neck until the champion pulled ahead at the end to win her team $10,000 ($1,500 each), and also beating Tate once again in the process, as she screams "fuck you bitch!" and flips the bird on the way back down. This is the fight to make, UFC.
Since Rousey flipped Tate off the entire season, Tate decides to give the judoka a parting gift of a pair of socks that have the middle finger on it. But when she holds them up in front of Rousey's face during their stare-down, the champion smacks the socks out of Tate's hand and gives her the finger, as her adversary blows her a kiss goodbye.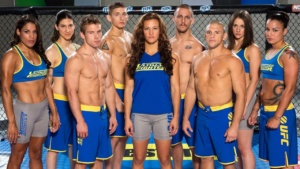 The Finale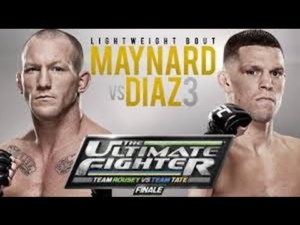 Bantamweight: Chris Holdsworth def. Davey Grant Submission (rear-naked choke) at 2:10 of round 2.
Women's Bantamweight: Julianna Peña def. Jessica Rakoczy TKO (punches and elbows) 4:59 of round 1.
Lightweight: Nate Diaz def. Gray Maynard TKO (punches) at 2:38 of round 1.
Where are they now?
Chris Holdsworth: Good question… He must be retired because he's only 28, he's 10-0 and last fought in May 2014 defeating Chico Camus by decision. He has no fights scheduled. That's how you rock an MMA career. Did it, dominated it, moved on.
Julianna Pena: The 26 year old is currently 7-2 and is scheduled to face Cat Zingano at UFC 200. She's primed to strike for the belt if she can get this big win here.
Nate Diaz: He's Nate FUCKING Diaz! THE MAN who shut the mouth of McGregor. You know where he is.
Summary: This season was pretty good. I'd give it an A- only because it's season fucking 18 and it's got to be amazing to get a solid A. This was really good, but not great TV. Rousey is a star and Tate is now the champ. This is the fight that needs to happen before any other.